Dove x Playmade Peach Perfect Series
If you like foam both atop your BBT as well as in your body wash, well then, your dreams just came true. Dove and Playmade have teamed up on a Peach Perfect Series. It consists of Peach Green Tea with Cheese Foam by Playmade and a peach-scented Cloud Foam Body Wash by Dove. 
Playmade Peach Green Tea with Cheese Foam
When Playmade entered the bubble tea market in Singapore in 2017, almost everyone was excited about their unique flavoured pearls including Pink Cactus, Black Sesame and Burnt Caramel. 
Thanks to this collaboration, you can welcome peach flavoured pearls into the family, along with Playmade's first-ever foam drink, Peach Green Tea with Cheese Foam. In hot, humid Singapore, a cup of refreshing Peach Green Tea topped off with thick, creamy cheese foam is guaranteed to steal the hearts of BBT and cheese lovers alike. 
Playmade's Peach Green Tea with Cheese Foam costs $4.80 for a Medium cup and $6.20 for a Large cup. Instead of the plastic cups, you can also opt to store your drink in a BBT tumbler to play a part in saving the earth. 
Dove Cloud Foam Body Wash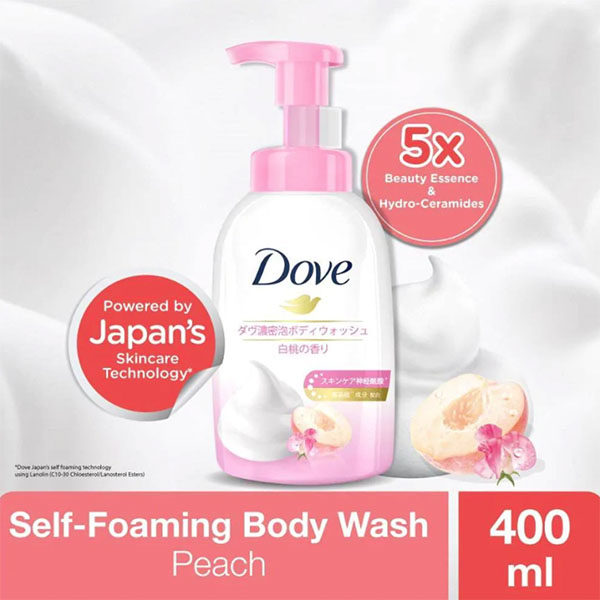 Source
Dove's contribution to this collaborative series is the Cloud Foam Body Wash. Formulated with a peach fragrance, 5x beauty essence and hydro-ceramides, the self-foaming body wash will help keep your skin feeling soft and moisturised.  
While it sounds as delicious as Playmade's cheese foam, Dove's foam is, unfortunately, inedible. Do stick to Playmade's cheese foam to satisfy your foam cravings instead. 
Dove's Peach Foam Body Wash is retailing for $9.90 on Watsons and Guardian's websites. 
Dove x Playmade Peach Series Is The Early Xmas Gift That We Needed
Playmade's Peach Green Tea with Cheese Foam will be available at all Playmade outlets from 11 December 2020. Westies, however, can rejoice because this foam drink is already available at Playmade's Westgate branch, so you can look forward to trying it today after work! 
Also read:
This New Bubble Tea Shampoo Is Made With Brown Sugar, Milk And Tea Just Like Your Favourite BBT