Engagement Ring Tips
You've been together with your partner for a while now and you know that she's the one for you. You're ready to promise her a love for a lifetime, but before anything, a proposal has to come first. No matter if you're going for a fancy proposal or a quiet and intimate one, surely you can't miss out on the most important thing— the engagement ring. 
Not all of us are as well-versed in the jewellery department as a gemologist is. Thus, the issue of finding the perfect engagement ring might become an additional weight of stress on your shoulders. To help clueless boyfriends who've been frantically seeking Google for help, we asked experts from Love & Co. and 5 Singaporean men who've been there, done that for their top tips on how to choose the right engagement ring.
1. Customise your preferred diamond setting & style based on colour scales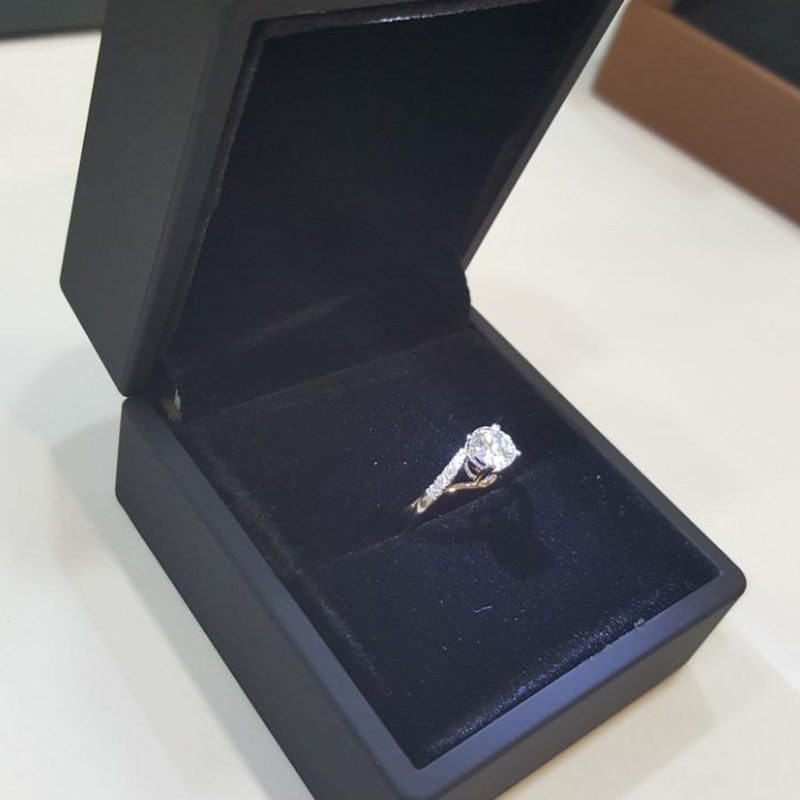 Image courtesy of Winson Chin
Winson proposed to his wife in September 2016 and they've been married since June 2017. Luckily for him, his wife already had a preferred ring design she had in mind even before he had the intention to propose. 
To Winson, one of the key things to take note of is to set a budget and criteria of what you can accept. "I set a minimum criteria of 0.75 carat and above, excellent cut, and made my way from there."
The ring's aesthetic purpose is important to him too, as he explains, "I like rose gold and my wedding ring is in a twisted band rose gold design, [so] my engagement ring must complement it well." 
From there, Winson moved on to decide the grade, carat and colour. He filtered his choices with the top 3 GIA colour scales, D, E and F. As a man who loves simple designs, he felt that "a round diamond with 4 prong settings was sufficient for [him]." Additional diamonds were added to sides of the bands for a final touch to suit Winson's fondness for diamonds. 
Tips for stressed boyfriends: "Start early so that you can decide and compare prices. Don't feel that the bigger the carat, the better it is. Don't be pressured by friends either. Ultimately, it must be something you can accept and afford. Most importantly, marriage is between the both of you. Don't compare. You just have to meet your own standards."
— Winson Chin, 33
Tips from the experts: Look for a jewellery brand that offers a wide assortment and custom-made options so that you can choose one that fulfils all the criteria you have, like design, diamond size and budget.
2. Ensure that the shape and size of the diamond fits her finger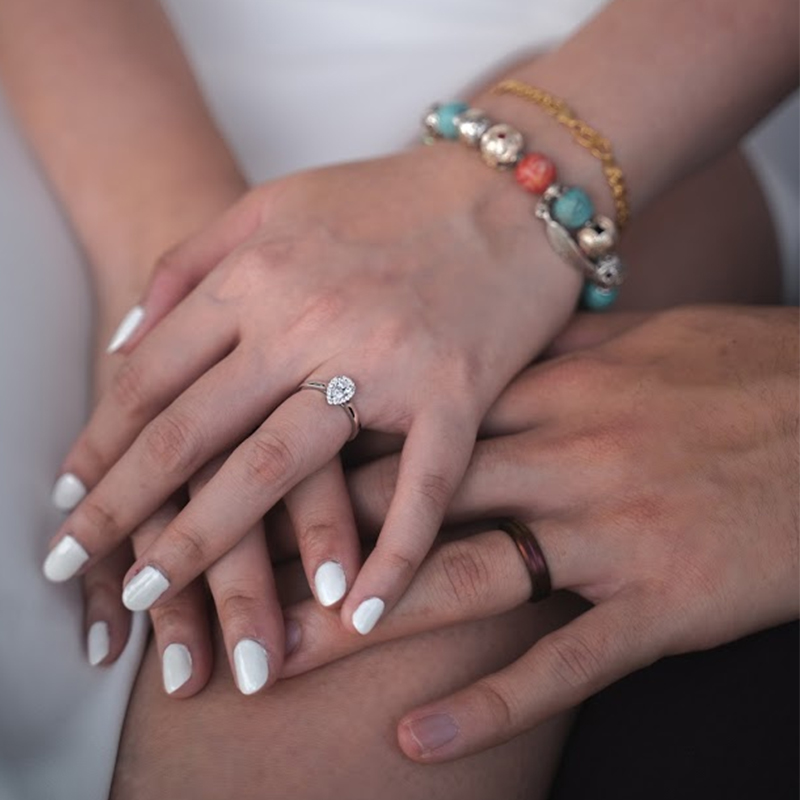 Image courtesy of Jonathan Chua
Jonathan and his wife were engaged in December 2020 and they married in June 2021. Interestingly, he wasn't secretive with getting her ring because he knew she's very particular and loves unique shapes. She shared with him that she wanted a single band with 3 prongs, topped with a pear-cut diamond.
It was through this request that Jonathan discovered there were many different types of diamond shapes he didn't know of before. From there, he felt that "pear shapes are really rare as not every store has this [design]". He managed to seek help from the salesperson to show him the different sizes, as he didn't want the diamond to be "too big" so that his wife wouldn't find it "awkward or heavy".
After deciding on the shape and size, Jonathan agreed with his wife's preferences too, as he felt a 3-prong setting is best for a pear-shaped diamond. He finished his design by adding a diamond halo around it to make the diamond look a little bigger.
Tips for stressed boyfriends: "Do lots of research! You could always ask what she likes and her opinions subtly. Otherwise, [you can] be like me and wait for her to let you know. Afterall, in the Singapore context, getting a BTO first is more or less like a proposal."
— Jonathan Chua, 25
Tips from the experts: The diamond ring should fit her finger nicely, thus the right size, shape and design are important. Find a ring that is custom to her liking and one that she will fall in love with repeatedly. Go for a jeweller that has a guided bespoke process so that you can get a ring that is specific to her.
3. Opt for lab grown diamonds as they are more affordable and environmentally friendly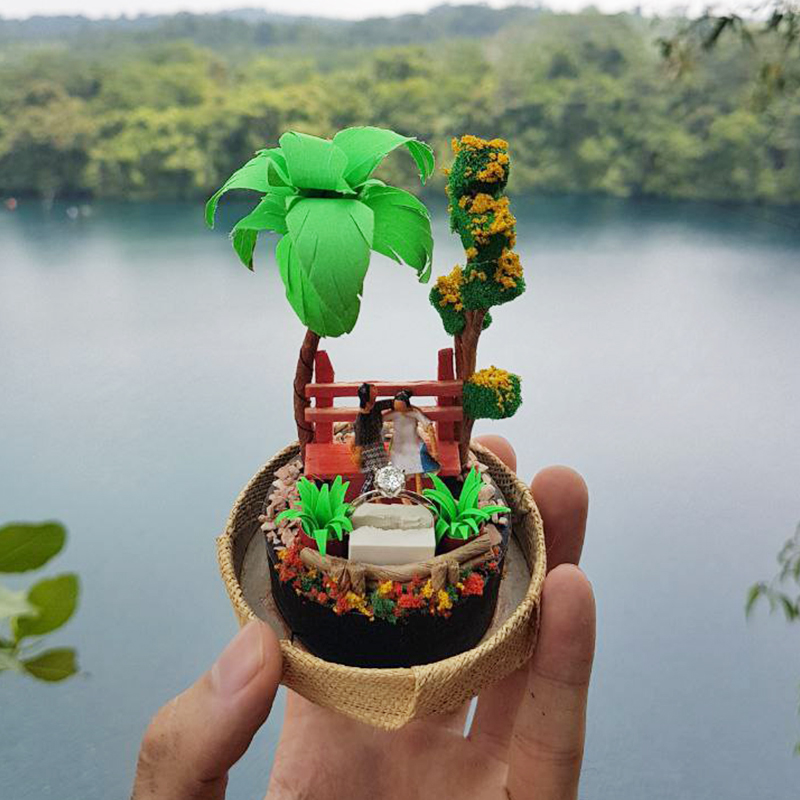 Image courtesy of Ng Han Rong
Han Rong proposed to his fiancée in August 2020. He shares that boyfriends should "try to get creative" when sneakily finding out their girlfriends' ring size. For example, you can "go to a ceramic workshop and get a figurine of her hand." 
Han Rong ended up getting a ring that was 1 size too big though, but he reveals that you can always buy adjusters online or send the ring for reconfiguration.
He also feels that getting a diamond ring can be costly, but lab grown diamonds are always an option. There isn't much difference either, as he shares that lab grown diamonds "have the same chemical composition as a mined diamond and shine." Additionally, it is less expensive and doesn't require exploitative labour. The cost savings also comes from the reduced labour cost and the distribution of mined diamonds. A big plus for saving money and the earth at the same time, he says lab grown diamonds "helps the world move forward in a way."
To Han Rong, the most important part about a diamond is that "it needs a good colour and cutting to make it really shine". 
Tips for stressed boyfriends: "Go and look around with your friends first to get a feel of what engagement rings look like. Then, try your best to get your girl's preference. At the end of the day, she is the one wearing it so you have to make sure she likes it. Otherwise, just go find the engagement ring with your girlfriend. That way, she will never be disappointed." 
— Ng Han Rong, 26
Tips from the experts: Lab-grown diamonds are not only light on your pockets, but they can also meet varying needs and wants in the buying process.
4. Choose colours based on her personal preference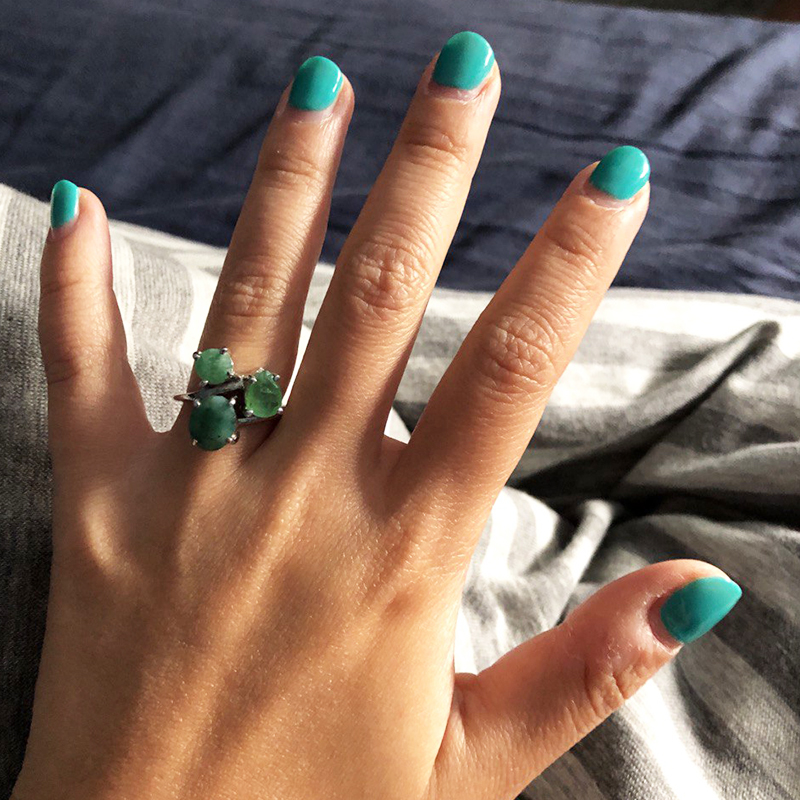 Image courtesy of Matt Sekiya
Matt proposed 2 years ago in November 2019 and has been engaged since then. Making a bold move, he decided to be upfront with his fiancée and brought her to a jewellery shop to check her ring size. Of course, she didn't know how and when he was going to propose. Unfortunately, Matt didn't manage to get the right ring size even after measuring. He reveals that he "bought the ring in Japan and the sizing might've been a bit different."
The engagement ring he chose for his fiancée was based on her personal preferences. She mentioned to him that she is more fond of emeralds and floral patterns, so he "wanted to give her something unique". He decided on a ring with a straight silver band, with 3 bespoke emeralds shaped like a clover. Upon seeing the ring, Matt said that "it just felt like it was the ring to get."
Tips for stressed boyfriends: "Listen to what your partner likes and wants in an engagement ring. It's a ring they'll be keeping for life, so it's best to get them something they want if it's within your means."
— Matt Sekiya, 28
Tips from the experts: If your significant other has a specific style of engagement ring design she wants, go for bespoke options where you can customise the ring exactly the way she dreams it to be.
5. Choose a setting style and thinner band that make the diamond stand out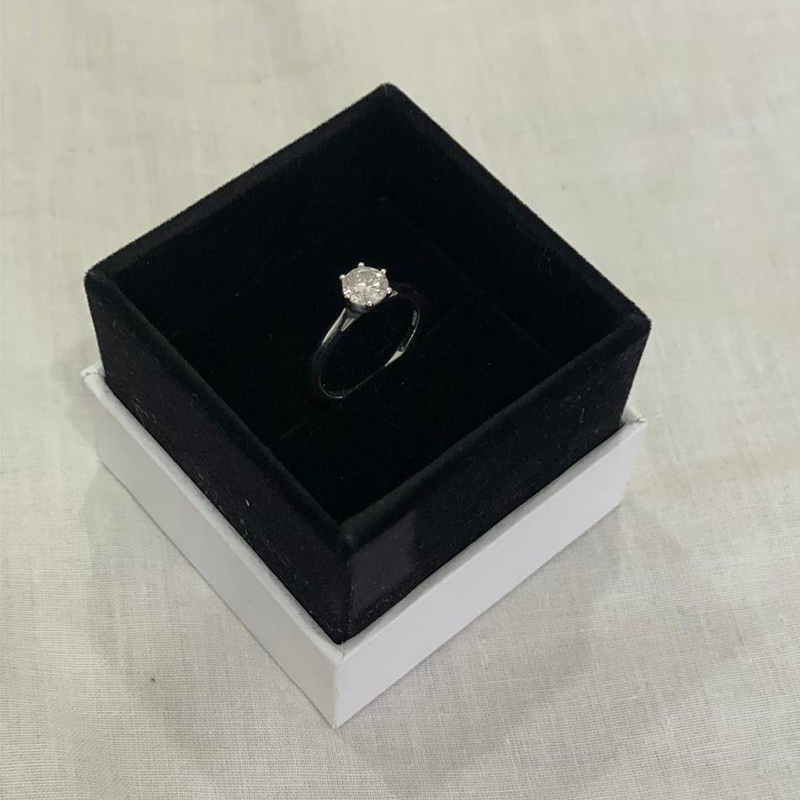 Image courtesy of Alex Lee
Alex proposed to his wife in 2018 and they've been married for 4 months now. He originally had plans to get a "classic" type of ring, feeling that "an engagement ring with side stones would cause too much distraction from the main diamond". Since he wanted the diamond to stand out more, he picked a thin band with 4 prongs holding the diamond stone. 
Sticking to his plan of getting a classic ring, he went with white-gold bespoke diamonds "so that [he] doesn't have to worry that it will not look good with certain outfits." He also did a lot of research before narrowing down on the diamond, buying the ring online so that he could choose the colour, cut, depth and width of it according to his preferences given its price point. 
Alex also shared that "there wasn't enough time for [him] to make an engraving given the planned proposal, but [he] would have [done so] if [he] had enough time." 
Tips for stressed boyfriends: "Do your research as there were a lot more things to read up than I expected before committing to it! Most importantly, get the right size."
—Alex Lee, 32
Tips from the experts: Even with research, it is always good to consult the experts at the jeweller who can guide you along your ring shopping journey – this makes the process less stressful since you can have all your concerns taken into account when choosing the ring.
Love & Co.'s LVC Precieux Collection
Similar to a wedding ring, getting the ultimate engagement ring is equally important as it symbolises a proposal of your love forever.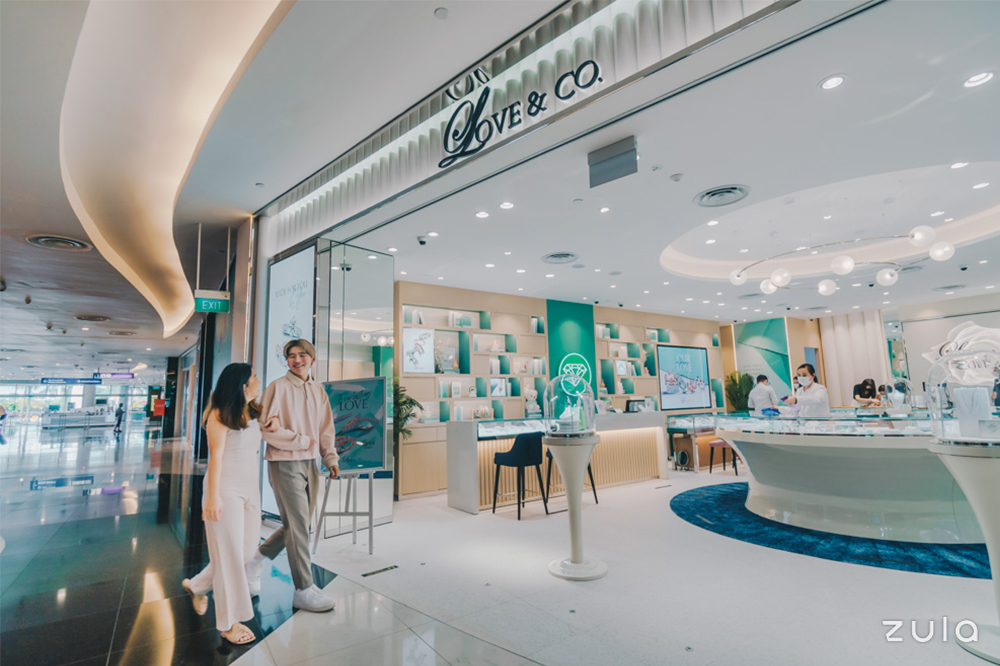 Some of the most common pain points guys face were shared through the above examples. They have shown us that shopping for an engagement ring is not an easy task as a lot of time, love and care go into finding the most suitable ring for their significant other. The key challenge isn't just customising her dream ring, but to also meet other important factors such as fulfilling the budget and getting the right ring size. 
Love & Co. is a one-stop destination for finding the perfect engagement ring for her. Plus, there are experts on hand who will help you tick all the boxes and solve any challenges you may face during your ring-hunting. 
If you're looking for a bespoke engagement ring to solve these issues so that you can pop the big question, Love & Co.'s LVC Precieux collection has unlimited choices for you. "Precieux" means "precious" in French, an apt meaning behind the large variety of sustainable lab grown diamonds available to spoil your girl.
Different styles and signature designs

Love & Co.'s Destiny Ring
You'll never be short of options with Love & Co.'s Signature Ring Collection. The Destiny Ring features an infinity logo hidden beneath the diamond as a promise of eternal love, while the Journey Ring has a heart logo for a cute look.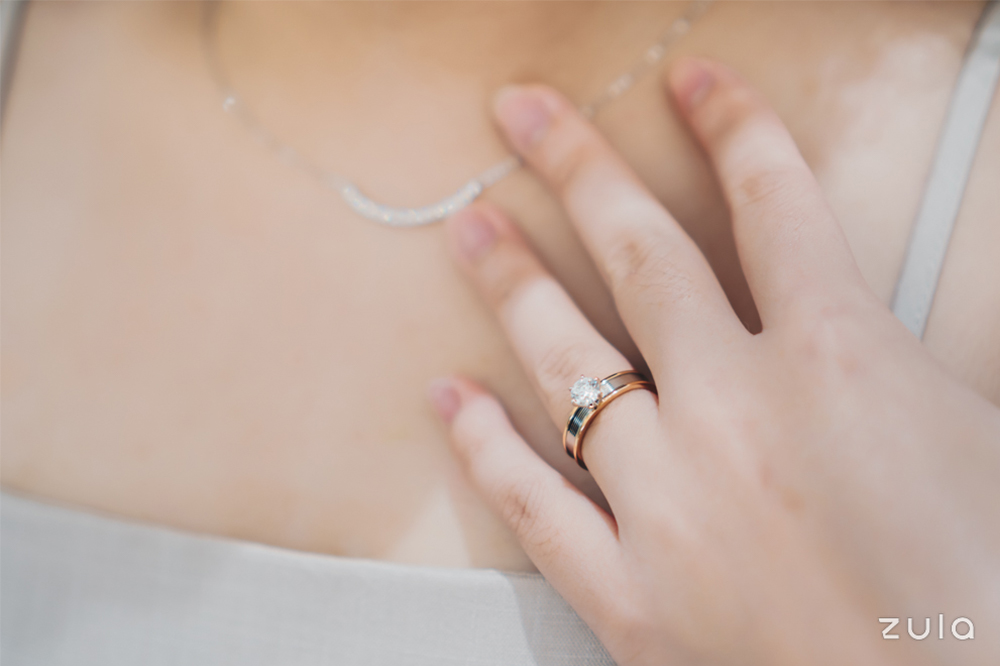 Love & Co.'s Promise Ring
For a modern twist, you can also consider Love & Co.'s Promise Collection, where the rings come with a thicker band for ladies who prefer this over thin bands.
If you want to make a bolder statement without being too flashy, opt for the rose gold colours for an elegant and chic look. You may also switch things up by choosing something more exclusive and rare: blue diamonds. Just like any colourless diamond, blue diamonds offer the same unrivalled sparkle to the eye. The difference lies in the dreamy blue look it presents as an ideal centre stone.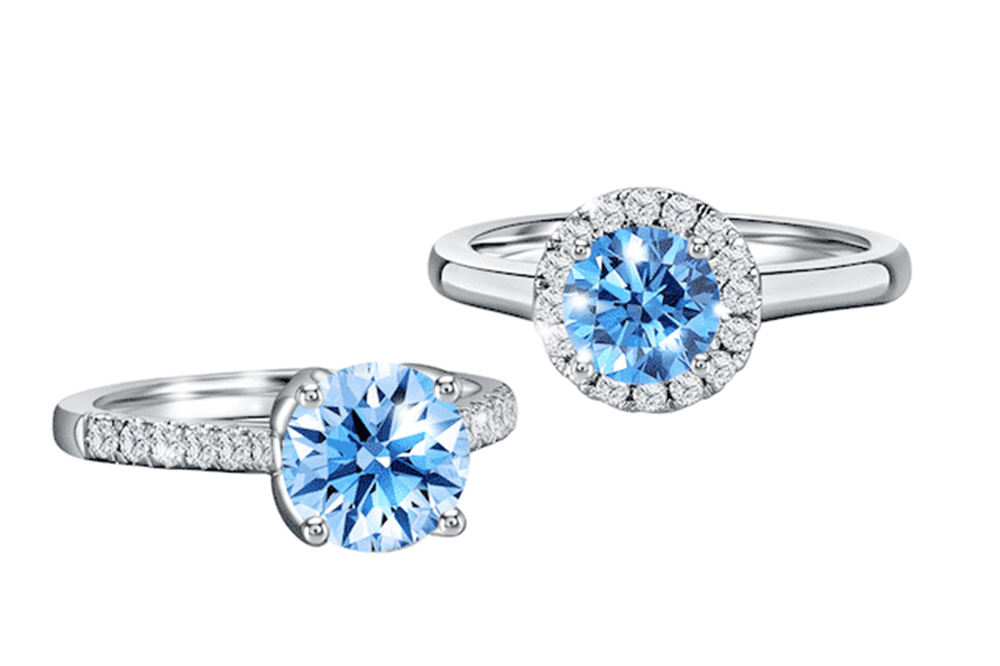 Image courtesy of Love & Co.
Love & Co. – One-Stop Destination For Engagement Rings
Love & Co. seeks to redefine jewellery traditions with sustainably created diamonds – ideal if you're looking to be more environmentally-conscious while taking your relationship to the next level.
Some of the guys we interviewed also mentioned how setting a budget is important when choosing an engagement ring. Love & Co.'s LVC Precieux collection makes sure that you won't have to cause a major dent on your bank account before the actual wedding ceremony.
Lab grown diamonds that are budget-friendly
Often, lab grown diamonds are up to 50% less expensive than the usual mined diamonds. With this, you can gift the love of your life bigger diamond carats at a smaller price. Don't worry about appearances, since both lab and mined diamonds are physically and optically identical— even up to their chemical composition.
Diamond shapes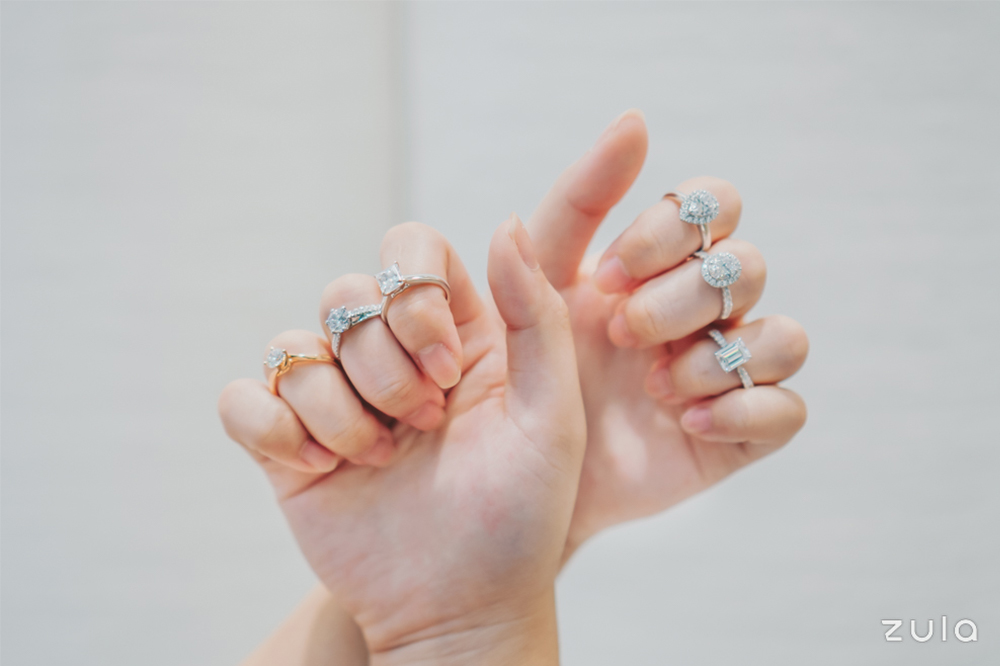 Many might not realise that there are a variety of diamond shapes available apart from the standard round stone. Additional cuts such as pear, princess, oval and emerald, along with the diamond setting and metal type, can be customised with Love & Co.'s Bespoke Collection at more economical prices.
Different band options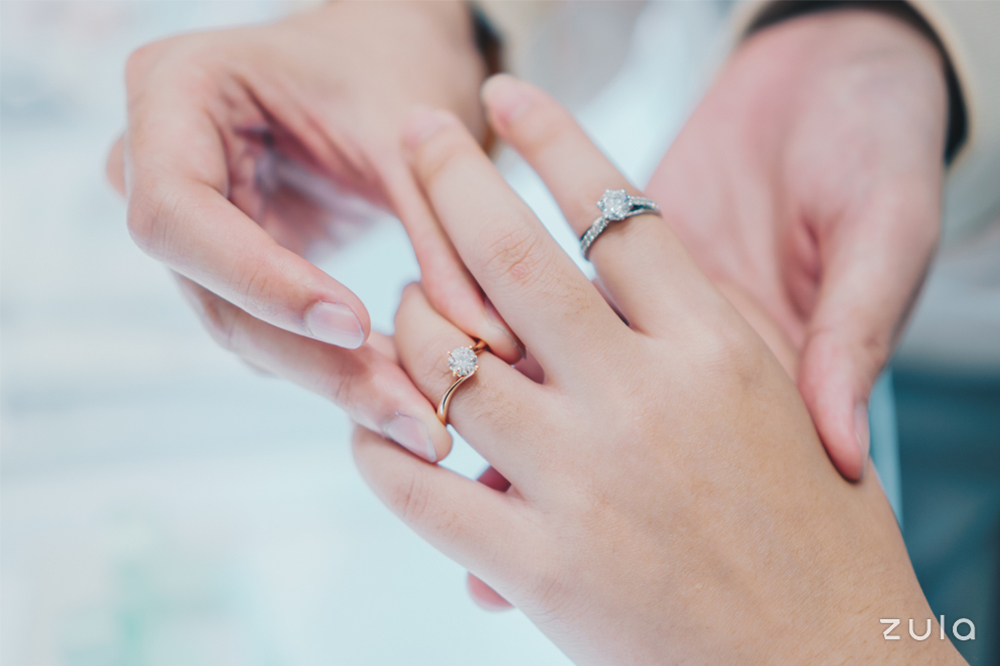 Depending on the style and preference you are looking for, you can customise your ring with the assortment of band types available to choose from. Select from the all-time classic straight band, a vintage twirl band or the popular tapered band that accentuates the beauty of the center stone.
For something more unique, you can also opt for the twisted or double band that gives a modern and bolder style. Ultimately, seeing the different types of band in person at Love & Co.'s bespoke section will help you make your decision better.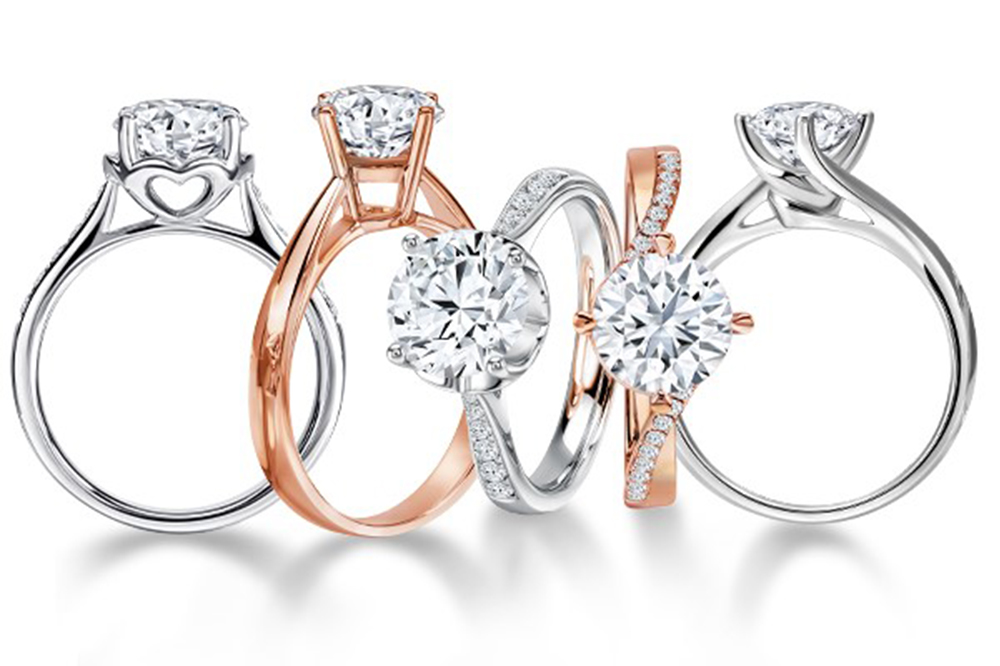 Love & Co. has different band types to suit various preferences
Image courtesy of Love & Co.
Personalised engraving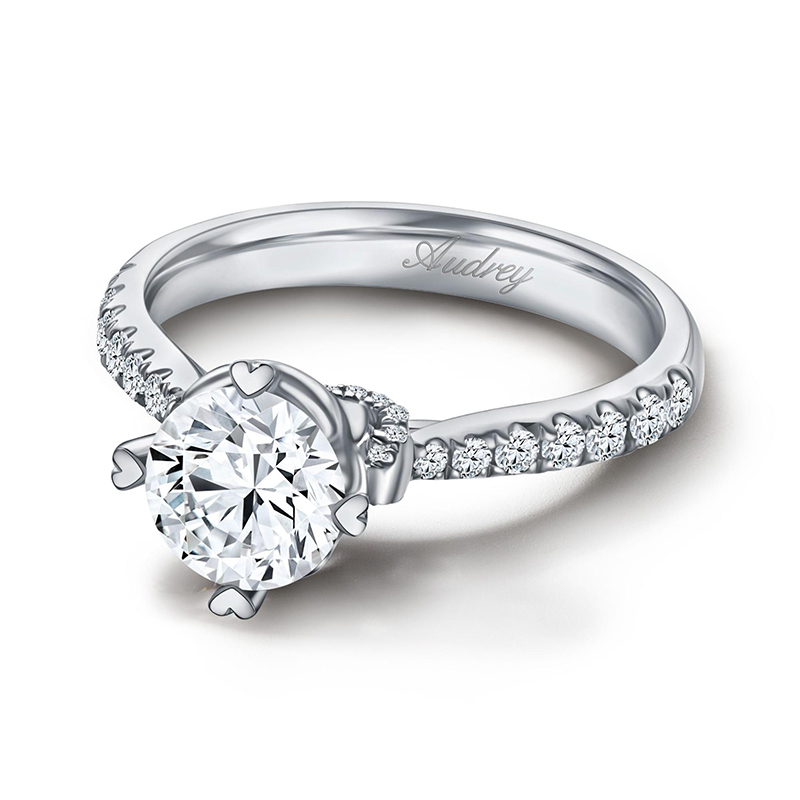 You can opt for engraving options at Love & Co.
Image courtesy of Love & Co.
There's no reason why engravings should be exclusive to wedding bands only. Your engagement date is just as important as your big day. Don't be shy to engrave both your initials or a special date inside the band. Now you can sneakily check her ring every now and then in case you ever make the rookie mistake of forgetting your anniversary.
Love & Co. Signature Crystal Box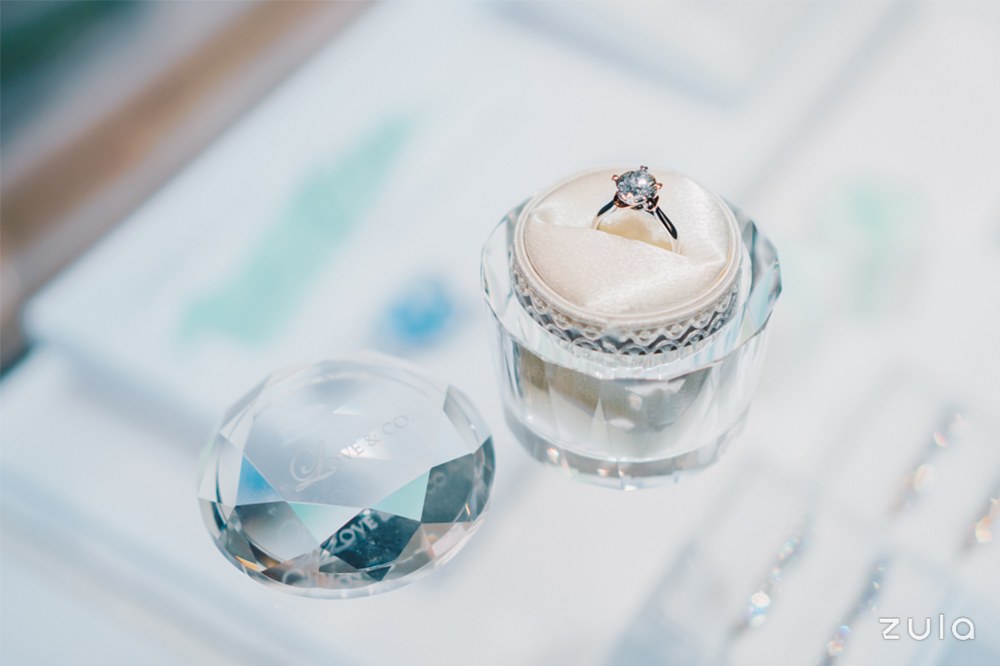 While the ring is the most essential part of the proposal, ring boxes are just as important for your future fiancée to safely store her jewellery. Only at Love & Co., customers who purchase an engagement ring (0.9 carat and above from the Precieux collection) will be able to receive a beautiful crystal ring box – perfect for adding that special touch to the proposal.
Love & Co.'s LVC Precieux Collection – A Smarter Choice For New Age Couples
Nowadays, spending a bomb on an engagement ring doesn't necessarily mean that it is luxurious. Yet, there's no need to settle for less. Couples prefer looking for rings that are long-lasting and beautiful without hurting mother nature or your wallet.
As many of us are moving towards a more sustainable and ethical lifestyle, Love & Co's Precieux diamonds are 100% traceable to its source, giving us greater assurance that it's not made at the expense of the environment.
On top of sustainability, they're also more affordable for the guys, so you won't need to cause a dent in your account just to own that 1 carat diamond ring for your proposal. Rest assured that the LVC Precieux diamonds are of top quality too, certified as Type IIa diamonds that radiate every detail and are considered equivalent to the world's top 2% of mined diamonds. 
With these encouraging advice from men who have succeeded in their marriage proposals, we hope that you'll be able to find the ideal modern ring for your girl too. Head over to Love & Co. stores in Singapore to check out more from this collection.
This post was brought to you by Love & Co.
Product photography by Chan Hui Wen.
Responses have been edited for grammar and clarity.
Also read:
14 Unique Wedding Venues in Singapore So You Can Avoid Having A Typical Hotel Banquet