Singaporean Makeup Mistakes
Makeup is a form of artistic expression, so it's no big deal if you break the rules.
However, if your goal isn't to make a statement but to genuinely look more approachable, we've compiled 10 common makeup mishaps and how to fix them.
1. La Pi Xiao Xin Eyebrows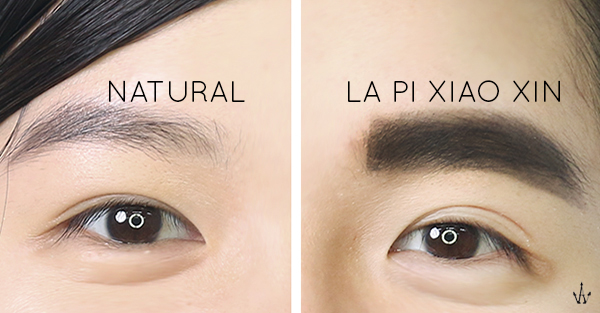 Problem:
A lot of girls who try to pull off a Cara Delevinge end up looking like La Pi Xiao Xin. Truth is, only a minority of girls can pull off a strong brow without looking like a drag queen. But even then, they usually have the right balance of makeup. Having thicker brows is no excuse for one-dimensional marker-like brows.
Solution:
The start of your eyebrow should be slightly faded out to create a colour gradient so it's not as defined and dark as the arch and tip of the brow. Even if you want to don the fuller brow, never square off your eyebrows. If you have light-coloured hair, use a pencil 2 shades darker. If you have dark eyebrows, go 2 shades lighter.
2. Dewy-turned-oily Korean Complexion
Problem:
Thanks to dewy Korean-looking skin goals, some girls end up looking like an oil spill with makeup melting off their faces. Richly hydrating products may not be suitable for girls who don't need the excess moisture in Singapore's humid weather.
Solution:
For your morning routine, opt for lightweight products that are easily absorbed by the skin. An oil-controlling primer will help your foundation glide on better, but the trick to long-lasting makeup is powder. You can still achieve that dewy look by gently patting powder only on smudge-prone areas like eyes, brows and chin.
3. Sadako Skin
Problem:
Clear skin glows because of its luminosity, not because of its fair or light tone. Makeup in the wrong colour can make you look like a hungry ghost during the 7th month.
Solution:
Go for makeup that matches your overall body tone to even out your complexion. Choosing a foundation that's slightly lighter is okay, provided you warm the contours of your face with a bronzer like how Korean makeup artist Pony does (below). For nighttime, avoid makeup with high SPF because it reflects light in flash photography, leaving a white cast on your face.
4. The Blue Contacts 'No Makeup' Look
Problem:
Not all girls can pull off blue contact lenses alone without looking like a white-walker. Unnatural-looking coloured contacts can wash you out if the rest of your face is too pale.
Solution:
If you want to spice up your look, it needs to be balanced out with eye makeup and filled brows.
5. Curtain Lashes
Problem:
Lest you end up looking like an ostrich, dramatic false eyelashes do not compensate for sparse eyelashes. Heavy falsies can overwhelm your features, being too stark in contrast.
Solution:
Choose lashes with more separated strands that vary in length and thickness to flatter your features without being too distracting.
6. Floating Eyeliner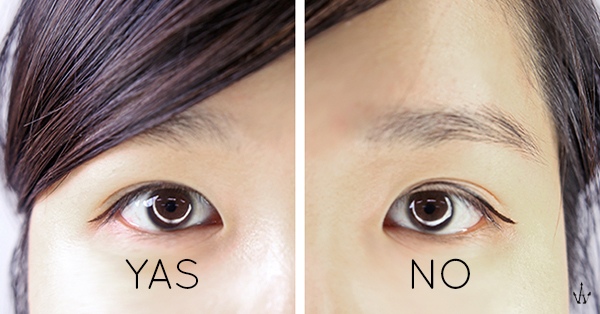 Problem:
It won't matter how fleek your eyeliner wingtip is if you neglect your water line. If your eyeliner is visibly floating above the lash line, it will look incomplete.
Solution:
Fill in the visible gaps in between your lash line and eyeliner. Eyeliner is supposed to make your lash line look fuller and defined. Don't open your eyes fully if your liquid liner hasn't dried as it may smudge. Alternatively, you could opt for waterproof pencil liners or set your eyeliner with black/brown eyeshadow.
7. Asian-flushed Blush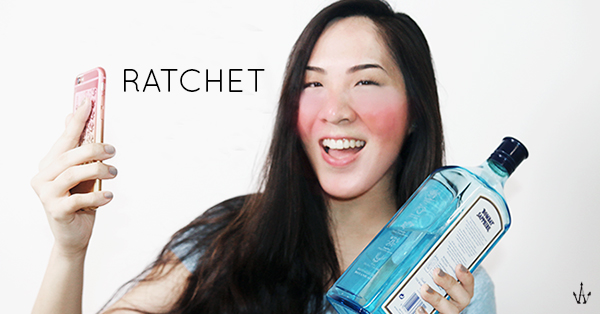 Problem:
We don't blame you if you've applied blush only on the apples of your cheeks like everyone says you should. Blusher can add a flush of colour and warmth to your face but can make you look like you're a drunk Asian when applied with a heavy hand.
Solution:
How blush applies is affected by each individual's facial structure, like the infographic below. For a more natural look, don't press too much blusher on the balls of your cheeks. Gently pat the colour on and sweep it towards your temples. You can also opt for a lighter shade of blush in coral or orange, instead of fuchsia or red.
8. Wayang OTT Makeup
Problem:
Do you know the natural looks you see in Korean dramas take hours to perfect? Sometimes less is more. Although it's great for photos, strong and dramatic makeup colours on every feature can look a bit jarring in real life.
Solution:
Your face is not Pokemon, you don't need to catch em all. There should be a balance between eyes, lips, and cheeks. The heavier the eye makeup, the more chill you should be with blushers and lippies. Vice versa.
9. Smokey-turned-burnt Eyes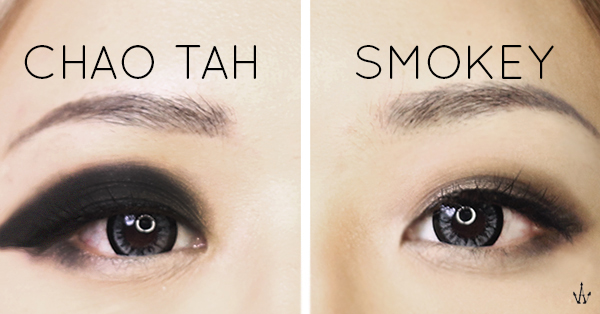 Problem:
Unlike the typical caucasian eye shape, oriental Asians don't usually have deep-set creases that add dimension to eyeshadow. When we colour our entire eyelid without proper blending, it can look like our lids were burnt off — especially when we close our eyes.
Solution:
Do not bring dark eyeshadow too high up to the browbone, even when you're going for a grunge-chic look. The hot mess will close your eyes and make them appear smaller. Blend out harsh lines for the gradual eyeshadow gradient.
10. Inverse Panda Eyes
Problem:
Using a concealer that's too light will make your dark circles/eye bags more obvious, especially if you take photos with flash while intoxicated. The redness will show, creating a harsh difference under your eyes.
Solution:
If you have dark circles, use a colour corrector before applying concealer. To minimise as much concealer as you can, try stippling more foundation first that will provide coverage. If you have Prada eye bags, use a lighter concealer to fill in hollow areas and a skin-tone colour for the bag itself. This will even out the shadows and flatten the 3D effect.
Finding the Right Makeup
When it comes to makeup, it's all about expressing individuality. So you do you. At the end of the day, makeup is wiped off and you'll wake up the next morning with a clean slate again. So, continue experimenting with new styles, and maybe one day you could give us some tips in return!