August 2019 Events In Singapore  
It's August, fellow comrades! That means that our void decks will be decked out in red and white, and our skyline will be illuminated with fire and smoke. On the events side of things, this month is packed with parties and flea markets to show your love for your home country. If 2019 has been rough so far, soldier on, for better times are ahead. 
Highlights
1. Sentosa GrillFest 2019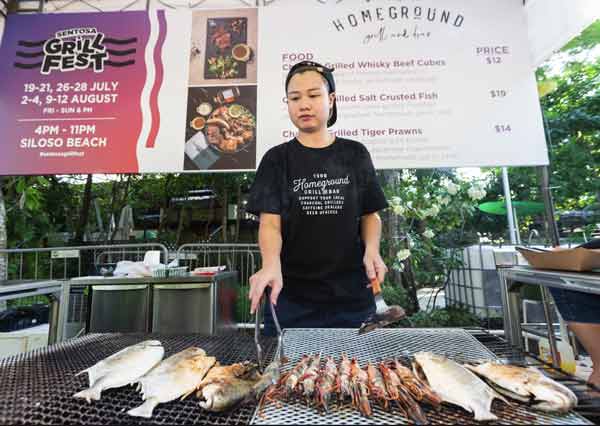 Source
Hop down to Siloso Beach and watch on as professional chefs cook up a storm for you. There will be 27 F&B vendors specialising in grilled cuisine, so it will be like attending Singapore's biggest open-air cookout. You won't want to miss this experience of tucking into delicious barbecued meat and seafood along the coast.   
Date: 2 to 4, 9 to 12 August 2019
Time: 4pm to 11pm
Address: Siloso Beach, Sentosa
Admission: Free
Website | Facebook
2. Singapore River Festival 2019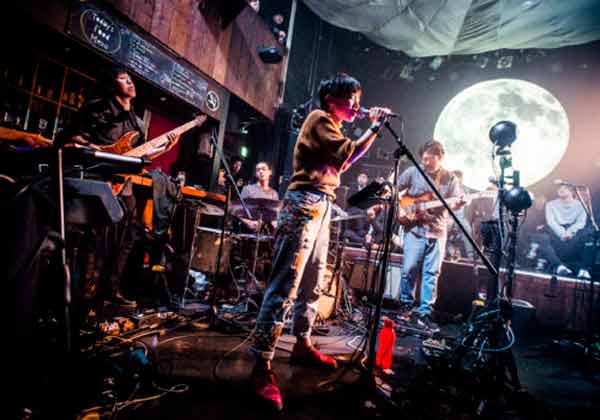 Source
Watch the Singapore River transform into a dynamic space with performances, pop-up food stalls and alcohol. The Boat Quay and Clarke Quay areas will take turns to host the festival with performers like MMLD, HubbaBubbas, Yung Raja and Subsonic Eye creating a lively atmosphere with their music. 
Date: 2,3,16,17 August 2019
Time: 6pm to 10pm (2,3 Aug), 7pm to 12am (16,17 Aug)
Address: Boat Quay (2,3 Aug) and Clarke Quay (16,17 Aug)
Admission: Free
Website | Facebook
3. Music For A Cause 2019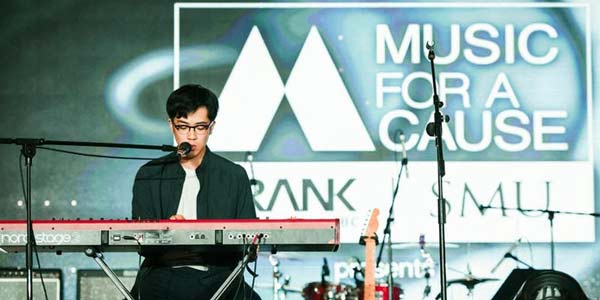 Source
Thirteen homegrown music acts are coming together to support various local charities such as the Alzheimer's Disease Association and Our Singapore Reefs. Catch popular musicians like Charlie Lim, Jack and Rai, Joanna Dong, while you learn more about the 16 social causes through art and interactive activities.   
Date: 3 to 4 August 2019
Time: 12.30pm to 10.30pm, full schedule on its Facebook page
Address: 5 Stadium Drive, OCBC Arena Park, Sports Hub, Singapore 397631
Admission: Free, register on Eventbrite
Website | Facebook
4. National Day Concert at Gardens by the Bay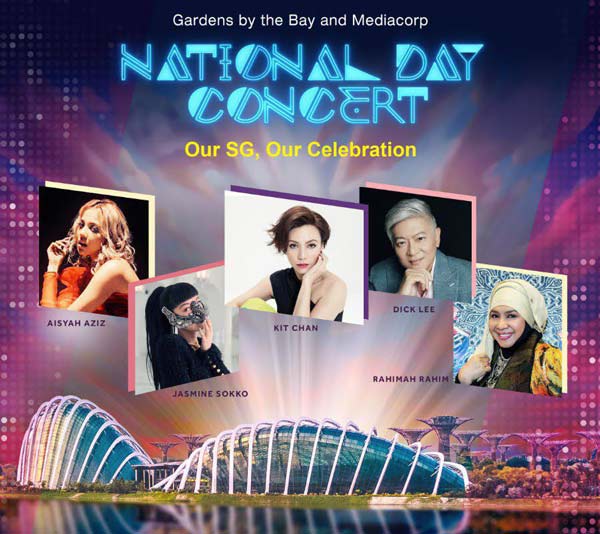 Source
Extend the positive feelings of National Day at Gardens by the Bay with this 2-day concert. Popular local artistes like Kit Chan, Jasmine Sokko and Rahimah Rahim will be performing live, so pack your picnic baskets and enjoy wonderful music in a gorgeous environment.
Date: 10 to 11 August 2019
Time: 4pm to 9.30pm
Address: 18 Marina Gardens Drive, The Meadows, Gardens by the Bay, Singapore 018953
Admission: Free
Website | Facebook
5. Prout x Two Queens Presents: Queer Trivia Night with Preetipls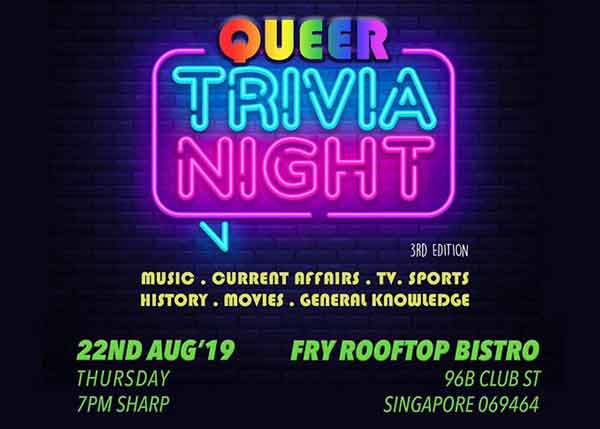 Source
Described as "no cover, cheap drinks, and lots of gay fun," join Preetipls as she hosts a Queer Trivia night. Form a group of 4 to 6 and WhatsApp +65 92987139 with your group name and number to participate. You might walk away with attractive prizes, or just show up to enjoy the spectacle and laughs. 
Date: 22 August 2019
Time: 7pm to 9.30pm
Address: 96B Club Street, FRY Rooftop Bistro & Bar, Singapore 069464
Admission: Free
Facebook
Performances
6. Westlife The Twenty Tour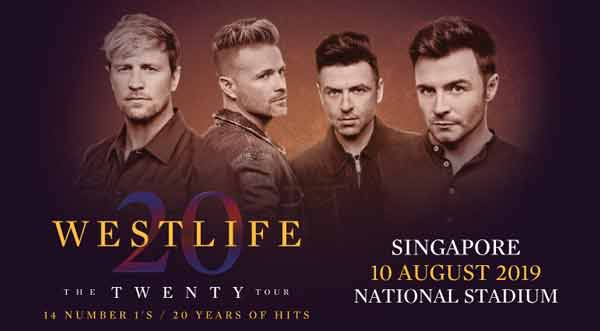 Source
If you grew up in the '90s and the early 2000s, you would not have been able to avoid Westlife's catchy pop tunes. The Irish boyband is reuniting to sing favourites like "Flying Without Wings" and "My Love" for their Singaporean fans, so be sure to grab a ticket before the show sells out. 
Date: 10 August 2019
Time: 8pm to 9.30pm
Address: 1 Stadium Drive, National Stadium, Singapore 397629
Admission: $108 to $248, tickets available on Sports Hub's website
Website
7. LumiNation 2019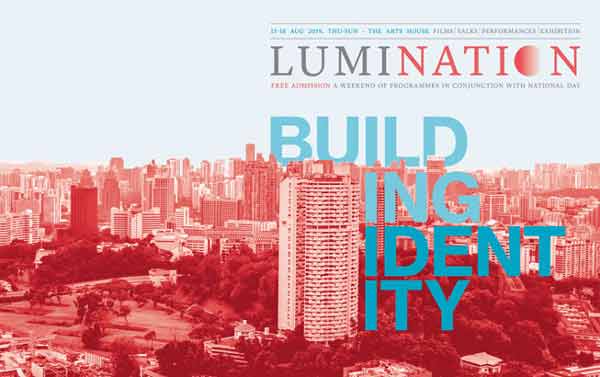 Source
Get to know your city's heritage in a deeper way this National Day season. Explore your Singaporean roots and identity through various performances curated by The Arts House. There will be programmes centred around Malay drama serials, local architecture and old-school games.   
Date: 15 to 18 August 2019
Time: Varies, check the full schedule on The Arts House's website
Address: 1 Old Parliament Lane, The Arts House, Singapore 179429
Admission: Free and ticketed available, register and purchase tickets on The Arts House's website
Website
8. Trevor Noah Loud & Clear Tour 2019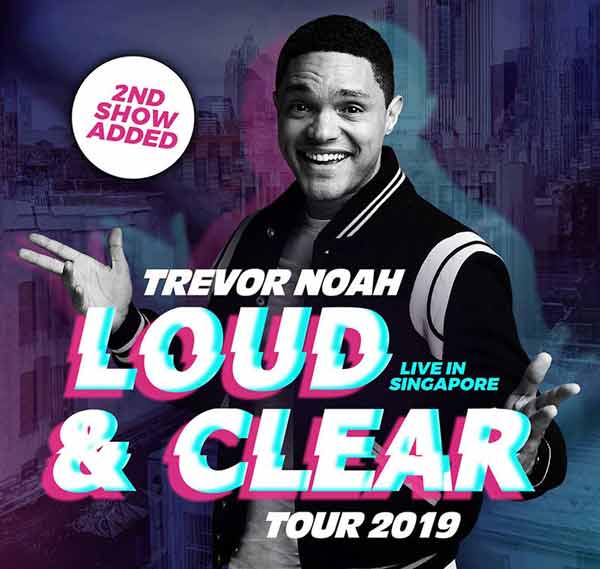 Source
Host of The Daily Show and comedian Trevor Noah is heading to Singapore to perform for the first time ever here. Noah is well-known for his sarcastic takes on American politics and social issues. As a South African, Noah's past performances have touched on race issues, which will strike a chord with comedy fans in Singapore.   
Date: 19 August 2019
Time: 7pm and 9.30pm
Address: 1 Vista Exchange Green, The Star Theatre, Singapore 138617
Admission: $98 to $198, tickets available on Sistic
Facebook
9. Fuerza Bruta at Singapore Night Festival 2019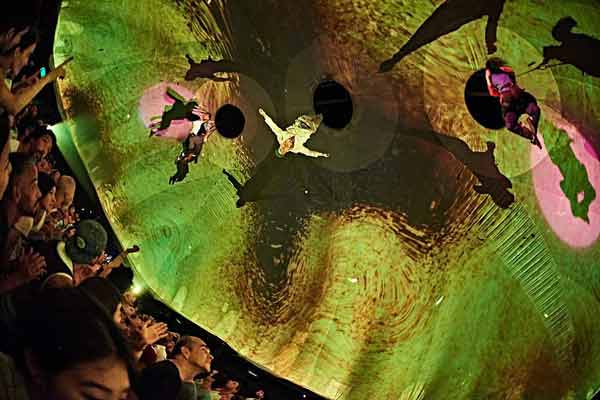 Source 
The Argentinean troupe is back again to thrill fans in Singapore. Be prepared for a visual spectacle that takes place up in the air. Fuerza Bruta's acrobats will perform daredevil stunts and gorgeous choreography alongside enchanting music and futuristic light projections.  
Date: 29 to 31 August 2019
Time: Varies, full schedule on SISTIC
Address: 2 Handy Road, Cathay Green (Field across The Cathay), Singapore 229233
Admission: $12 (before 9 August), $15, tickets available on SISTIC
Facebook
Flea Markets and Clothing Swaps
10. Singapasar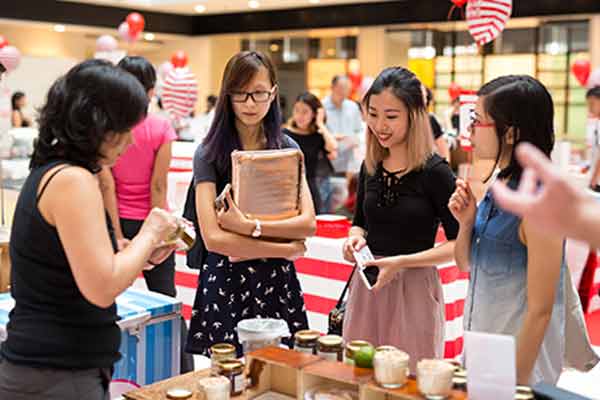 Source
Stock up on local designer wares at The Farm Store's Singapasar event—a flea market held in the comfort of the National Design Centre. There will be goods like scented candles, art pieces, bags and socks on sale and, of course, food and drinks to keep you energised while you view the products on display. 
Date: 2 to 4 August 2019
Time: 4pm to 9pm (2 August), 11am to 9pm (3 and 4 August)
Address: 111 Middle Road, National Design Centre, Singapore 188969
Admission: Free
Website | Facebook
11. Lelong! Lelong! Sustainable Fashion Swap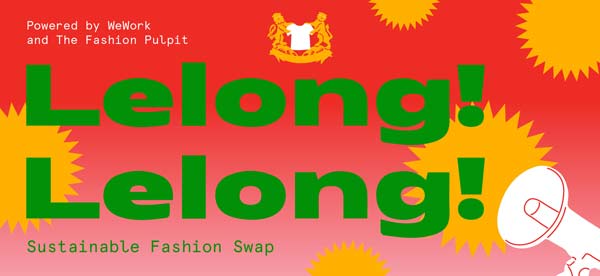 Source
Bring your worn but still wearable clothing to this fashion swap and you might find some items to refresh your wardrobe from other participants as well. You can also recycle your old tote bags with BYO Singapore here from 4pm to 8pm.   
Date: 3 August 2019
Time: 11am to 8pm
Address: 109 North Bridge Road, WeWork Funan, Singapore 179097
Admission: $15 for non-WeWork members, register on the event website
Website | Facebook
12. Design Pasar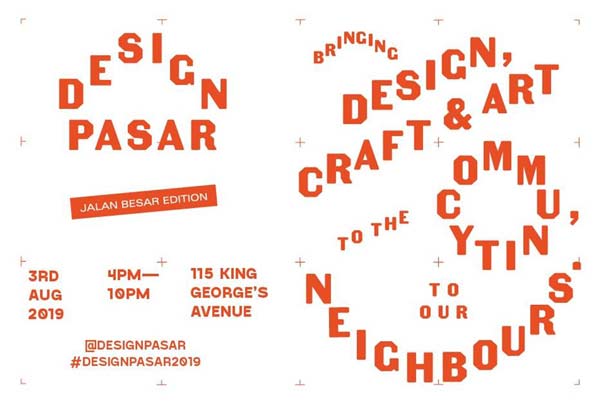 Source
Here's another local design market you can check out. Foreign Policy Design Group, The General Co and Roger & Sons are coming together to bring you a "traditional pasar malam but this time with a design, craft and art focus".  
Date: 3 August 2019
Time: 4pm to 10pm
Address: 115 King George's Avenue, Singapore 208561
Admission: Free
Website | Facebook | Instagram
Nightlife
13. Eatmepoptart Classics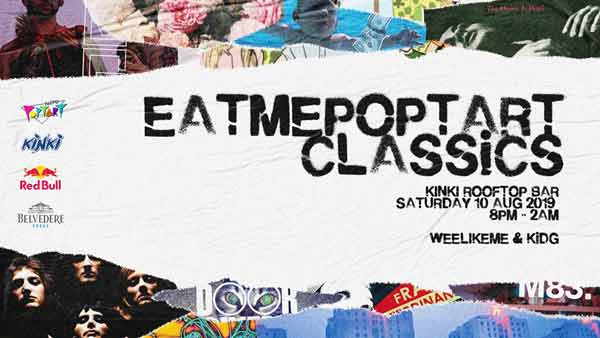 Source
Party to Franz Ferdinand, Blur, The Killers, MGMT and other popular acts over the past 14 years as Poptart celebrates more than a decade's worth of revelry. 
Date: 10 August 2019
Time: 8pm to 2am
Address: 70 Collyer Quay, #02-02, Customs House, Singapore 049323
Admission: Free
Facebook  
14. Disco Lah! A National Day Special at Bar Rouge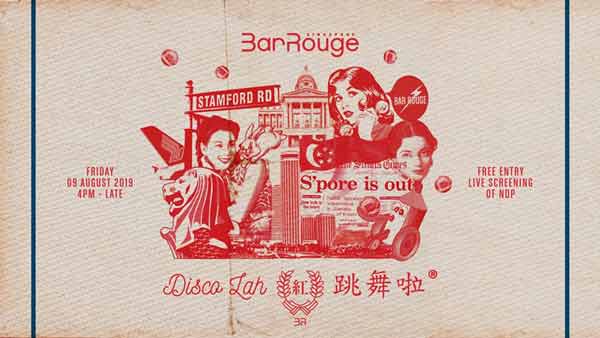 Source
Why watch the NDP at home, when you can watch it from the 71st storey and have an unparalleled view of the fireworks? Tuck into some locally inspired snacks, ice cream sandwiches and freshly tossed rojak during the live streaming, then stay on and party the night away.  
Date: 9 August 2019
Time: 4pm to 10pm
Address: 2 Stamford Road, Level 71, Swissotel, Singapore 178882
Admission: Free entry until 10pm
Facebook
Miscellaneous
15. Chill Friday Social Networking & Make New Friends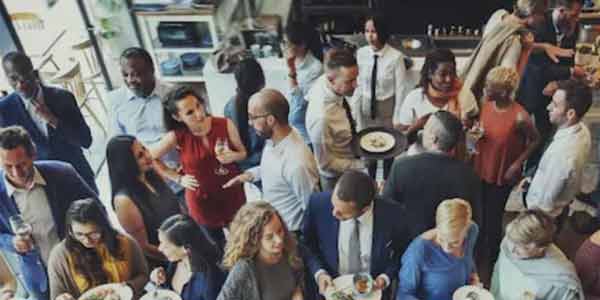 Source
Making friends as adults can be challenging. Attend this open-to-all social mixer organised by the Singapore Chamber of Commerce & Industry and maybe you will find a new friend or two, or even a potential partner. 
Date: 2, 9 August 2019
Time: 6.30pm to 10.30pm
Address: 10 Anson Road, #13-13, International Plaza, Singapore 079903
Admission: Free, register on Eventbrite
16. Decathlon x GetActive Race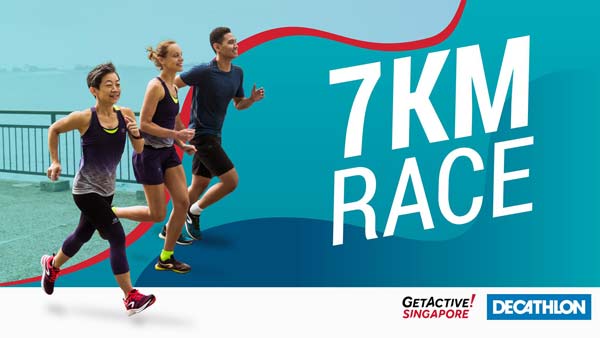 Source
Achieve your 2019 fitness goals by challenging yourself to a 7km route around the Singapore Sports Hub zone as an individual or pair. As part of the fee, you will receive a Quechua backpack, a Kalenji running shirt and other surprise goodies.
Date: 4 August 2019
Time: 6.30pm onwards
Address: 3 River Valley Road, Clarke Quay, Singapore 179024
Admission: $30 for solo runners, $55 for pairs, tickets available on Decathlon's website
Website | Facebook
17. Ginger Garden Farmers Market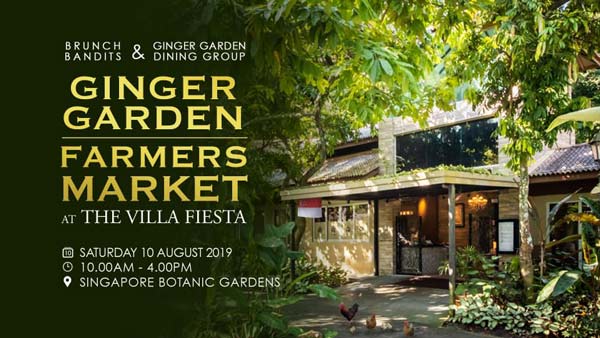 Source
Enjoy the lush greenery of Singapore's First UNESCO World Heritage Site, while you shop for fresh groceries. Brunch Bandits are bringing their farmers market to the Ginger Garden of the Singapore Botanic Gardens. Besides local produce, there will also be arts and crafts and music to keep you entertained. 
Date: 10 August 2019
Time: 10am to 4pm
Address: 1 Cluny Road, Ginger Garden, Singapore Botanic Gardens, Singapore 259569
Admission: Free
Facebook
18. Organic-Friendly Farmers' Market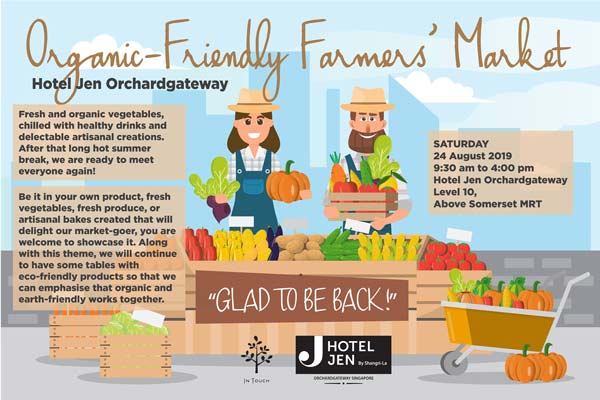 Source
Head down to the Organic-Friendly Farmers' Market and stock up on delicious and fresh produce for your meal preps. Taste chilled, healthy drinks to beat the heat at this market conveniently located along Orchard Road, and bring along a reusable bag to champion an eco-friendly life. 
Date: 24 August 2019
Time: 9.30am to 4pm
Address: 277 Orchard Road, #10-01, Hotel Jen Orchardgateway, Singapore 238858
Admission: Free
Facebook
August Events 2019
This list of events for August 2019 will ensure you will have plenty of things to do in Singapore.
Also read:
5 Health Screenings Women In SG Should Get In Their 20s For Early Detection & Peace Of Mind