Photography Spots Singapore
We walked around Duxton and sussed out these unique #OOTD spots in the area. When you're in the area having brunch over the weekend, check out these seven locations to get that perfect shot for the 'gram.
Hidden in an alleyway opposite Wine Bar Alba 1836, lies an inconspicuous spot for your OOTD.
After walking out of Duxton Hill, turn right and you'll come across a grey building. As you walk towards it, head down the flight of steps on the right and you'll come across rows of black walls, the perfect minimal background to highlight the details in your outfit.
After walking down the stretch of shops along 68 Duxton Road, you'll come across Cru Cycle. Turn right and you'll see these colourful dots reminiscent of the board game, Twister, painted on the wall.
The warm yellow hues of the building at 89 Neil Road brings a pop of colour to your look of the day.
Fun fact: this building was once the conserved former Eng Aun Tong factory building where Tiger Balm was made.
5. Duxton Plain Park
Turning round the corner of the building at 89 Neil Road, you'll see a flight of steps on your left leading to the end of the Duxton Plain Park. Amidst the giggling children and uncles riding on their bikes, lies a railing at the end of the park for you to werk those #hypebae shots.
Opposite Foong Kee Coffee Shop, the Kong Tee Peng Temple with its pastel-coloured doors and window grilles will surely brighten your OOTD (and your day).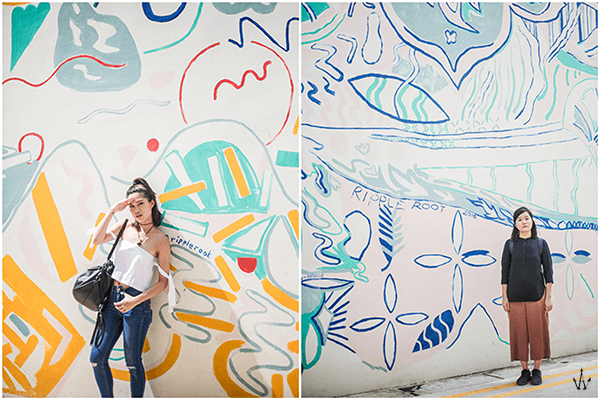 As you walk down Keong Siak Road, you'll come across Poké Bar and Deli, Loloku. Right next to it are painted wall murals by talented local artists, Rippleroot. The duo's carefree works complemented with odd shapes and bright colours will appeal to those into quirky designs.
Insta-Worthy Places In Singapore
Besides being a place filled with history, Duxton and Keong Siak are also littered with photogenic places. Check them out over the weekend and let us know if there are more places in Singapore you'd like our team to explore!
Photo credits: Audrey (@tippytoess)