Prostitution On Internet Online Websites
This is part 1 of a two-part series of Singaporean men dallying with prostitutes.
*Names have been changed to protect identities
Daniel* was 18 when he first visited a prostitute.
"I was in the army and my senior 'treated' me to a girl who had D cup boobs. It was in Geylang and I came in 15 minutes", said the now 30-year-old. "I still find girls because I like to try a different one every time".
Listening to Daniel speak of his "conquests", you'd get the impression Geylang is littered with streetwalkers. But if you take a stroll down the red light district these days, you'll notice the lorongs have quieted.
However, Daniel tells us the decline in streetwalker visibility is not because Singapore has successfully removed prostitution from her shores.
Rather, the soliciting has moved to the online realm as prostitutes increasingly leverage the power of the internet.
And because of this shift, the sex trade has managed to thrive.
Selecting girls on online websites
In the past, most prostitutes were streetwalkers. Skimpily dressed, they'd display their 'goods' along alleyways and roads in hopes of enticing customers to buy them for the night.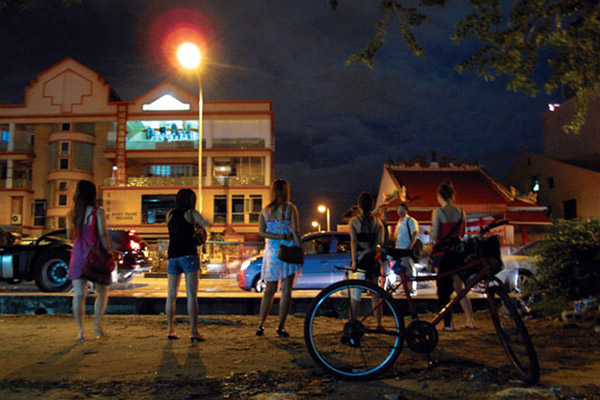 However, increased police raids have made soliciting in the streets more risky. To avoid being arrested, many girls choose to become freelancers, and advertise on the slew of online websites which have sprung up.
Most of these websites are in English and Mandarin, and have an overseas IP address.
A typical profile would include a girl's country of origin, breast size (and if they're fake or not), cost of services offered, and location. Sometimes, 'field reports' of the girl's bedroom skills are also listed.
With a swipe of the keyboard, an interested customer can now access and filter thousands of women's profiles from the comfort of his home.
Like these customers, Daniel appreciates how these websites provide convenience. "Last time when I go Geylang, I can walk the whole stretch and not find a girl I like. Even when I do, I don't know if she good or not so can be bo hua."
Online websites also benefit the girls as they afford them the ability to freelance, access to a wider customer base, and increased safety and security when soliciting from behind computer screens.
Arranging 'appointments' via mobile phones
Previously, a customer would have to go through a pimp, or approach a girl on the streets to buy sex. However, this can be daunting for some clients as most men wouldn't like to be seen visiting prostitutes.
But as prostitutes now hawk their wares online, booking an appointment is now done via text.
Daniel explains how the girls usually have a work phone and a personal phone. The listed contact is linked to a prepaid sim card in the work phone. WeChat numbers are usually reserved for regular customers only.
"First you book an appointment through text, then you're given a street address. When you reach, you tell the girl and they'll call to give you the exact unit number."
Not having a written record of the address makes it more difficult for cops to find the exact location of the HDB flat.
As an added precaution, a prostitute will regularly switch her work phone's sim cards, though calls are not usually traced. This significantly reduces the possibility of being tracked by the police.
Using security cameras to increase surveillance
When the client has received the phone call with the detailed address, he is usually asked to arrive alone.
This not only protects the client's privacy, but also ensures the client has minimum contact with residents, so as to not arouse suspicion. More importantly, insisting customers arrive alone helps filter out undercover policemen who often patrol in groups.
In the past, it was difficult to discern plain-clothes policemen from potential customers. Often, cops would approach prostitutes and inquire their prices, only to reveal they're on a raid, and take the prostitutes into the station.
But now, as girls who freelance remain in their leased apartments, it's more difficult for police to find and arrest the girls. When on a raid, they usually enter the compound with backup.
As freelance prostitutes only take pre-booked appointments, this gives them more power to control their flow of customers.
For freelancers who work from condominiums, men have to be buzzed in over the intercom and screened via security camera at the visitor's gate. If they're suspected to be policemen, they can be easily barred from entry, giving the girls time to flee.
For prostitutes who work in HDBs, security isn't as stringent. However, Daniel explains how some girls have gotten "innovative".
"In a HDB flat I went to, they somehow they managed to live-stream the lift's CCTV footage onto the living room's TV. So when anyone enters the lift, they can see the face and the number of people. Anything wrong they can faster siam."
Visiting Prostitutes In Singapore
Like how Singaporeans embrace and move toward living life in both reality and the virtual sphere, those who work in the world's oldest profession have also adapted to move with the times.
With the widespread use of the internet, clients and prostitutes alike can coordinate their 'business schedules' on mobile phones, and this has changed how prostitution in Singapore operates drastically.