Sexually Harassed On MRT
What would you do if a man pretends to sleep and creeps beside you in a vacant train?
While some girls might walk away and brush off the incident, Miss Ho Jing Wen chose to take action, lest other young victims fall prey.
According to her viral Facebook post, Ms Ho tailed her harasser and documented his actions at around 10.00pm on 11 October.
What he did happened to not just one, but three girls that night.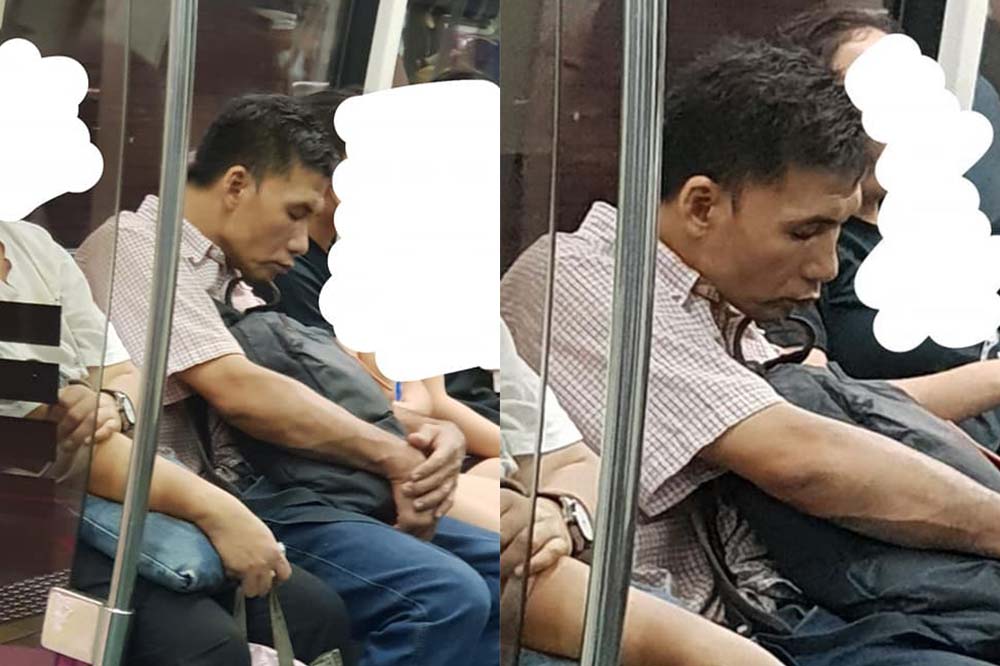 Rubbed his crotch
While on the North-South (red) line home, a man in a checked shirt strolled from another cabin and sat beside Ms Ho.
The man started manspreading and pretended to fall asleep. Minutes later, he inched closer to her and was leaning to his left, to the point where she had to move half a seat to avoid physical contact with him.
As he clutched onto his pants, he used his backpack to rub his crotch area up and down while leaning towards her. It got to the point where she was unable to move any further and shifted to another seat.
He pretended to sleep for the next five minutes or so, before he stood up and moved down the cabin to harass his next victim. He repeated the lewd actions once more to the second victim, before casually 'waking up'.
By this time, Ms Ho had been monitoring his behaviour closely.
His third victim
He then alighted the train, moved two doors down, and boarded the same train again. He probably knew she was watching him.
When Ms Ho recounted the incident to his second victim, they realised they had shared the same experience. So, they got up and tailed him.
This time, he deliberately sat beside a young girl despite the plenty of vacant seats available.
His third victim was clearly in distraught as she struggled to move away from him, towards her friend.
Ms Ho quickly informed the girl of his behaviour, but the man kept up his pretence of napping until the train pulled into Jurong East terminal station.
When the group alighted, Ms Ho quickly ran down to the control station to alert the staff. The manager then went up quickly with her to confront the man, but he had already disappeared.
His persistent actions gave her every reason to believe it was intentional and deliberate. Hence, Ms Ho wishes all girls to stay alert and safe.
Empathy for mental health sufferers
One Facebook user highlighted that the man might have "mental health issues", which explains his behaviour.
Recently, an online video of an autistic man masturbating on a train while looking intently at a primary school-aged girl went viral.
TODAY online covered an article which called for more empathy towards the unnamed, autistic man. In the article, Ms Sally May Tan, chief executive officer of the Movement for the Intellectually Disabled of Singapore (Minds) called for "a greater emphasis on public awareness and education is needed to inform others on what to do if they meet a special-needs person exhibiting sexual behaviour in public."
Personally, we agree that the general public should have more empathy for persons with mental disabilities. They're likely incapable of understanding why their actions are wrong or conforming their behaviour to the law.
Still, it doesn't change how the girl(s) were sexually harassed in both instances and made to feel uncomfortable. The outrage displayed at the harassers' inappropriate behaviours was warranted.
Dealing With Sexual Harassment
As one Facebook user commented if you see someone behaving inappropriately, move away and call them out. Do not keep silent.

And if you see someone being put in an uncomfortable situation, step in on their behalf if you see they're too shocked or afraid to act. We should look out for one another, like how this 23-year-old man did despite his physical disabilities.
If anyone has encountered the same experience, you can PM Ms Ho. She has already alerted SMRT and made a police report about this incident.
Also read: