Being In A 10-Year Relationship
Getting into a relationship is one thing, but staying in a long-term relationship requires an endless amount of commitment, love and trust. As a familiar face on TheSmartLocal's channels, Charmaine, fondly known as Sew, shares with us what it's like being in a 10-year relationship and going through a tough period of long distance for 2 and a half years.
Speaking about her story in a recent Ask ZULA episode, Sew opened up about getting together with her long-term boyfriend, Axel, since their polytechnic days. After he moved to the US for work, Sew realised that despite the time difference and distance between them, they learned how to love each other more and grow as individuals separately.
How they met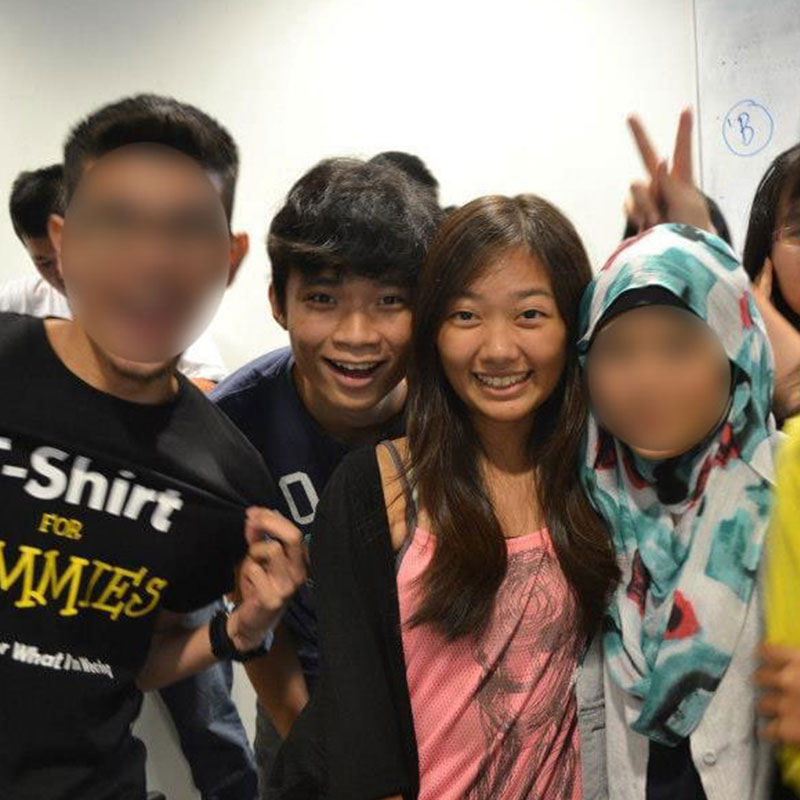 Sew and Axel in poly
Sew shared that she first met Axel when they were in the same class during polytechnic. Describing him as "introverted, shy and quiet", she "never really noticed him" until they started hanging out together in the same friend group.
After being around him for a longer period of time, it was then Sew started developing feelings for him through their shared sense of humour. After she confided this secret, her best friend did what any best friend would — become her ultimate wingman. 
"One day, when we all went out together as a group, he made us play truth or dare. I chose 'truth', and he purposely asked me to confess who I liked."
Unfortunately, all our romantic K-drama expectations aren't the same in real life. After Sew confessed to Axel on the spot, he just replied "thank you" and ended the conversation there. Talk about anti-climatic. 
Not willing to give up on being their wingman, in the next turn, Axel picked "dare" and Sew's best friend dared him to kiss her on the cheek. "It sounds very dramatic, but I could literally hear fireworks, and I even saw them in my head." 
There was nothing to really formalise their relationship, but the rest was history from here. Their anniversary date? The day they played this fateful game of truth or dare.
Being in a long term relationship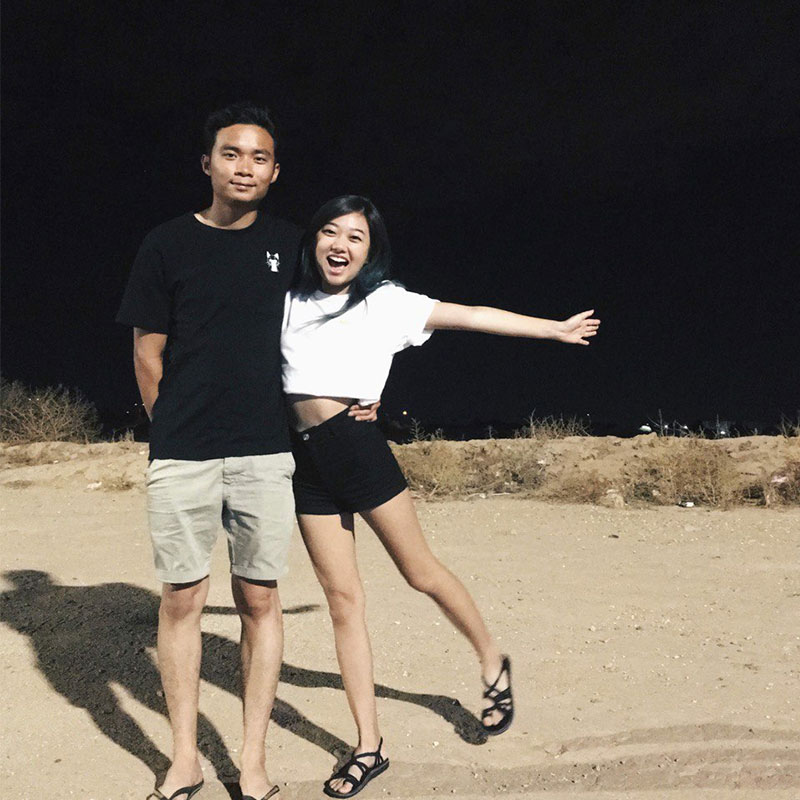 Being in a relationship for 10 years is undeniably a very long time, but to Sew, it "doesn't feel very long at all". While Sew is loud, extroverted and expressive, she feels that their opposite personalities help to balance each other out in the relationship.
"He's not my husband, but I'm quite sure that he will be my life partner. [Being with him] is very comforting because he knows me so well, makes me feel comfortable, and he is my safe space."
Sew even mentioned that the 7-year itch has never crossed her mind. FYI, the "7-year itch" is a popular belief that happiness in romantic relationships will start to decline after 7 years. You can also think about it as the "post-honeymoon phase" that your peers might have warned you about. 
Claiming this is the total opposite for her, Sew confesses, "the feelings I have for him are constantly going up. Every time I feel that I love him so much already, somehow, these feelings can still grow even more." 
While this description of their wholesome relationship might make us feel a pang of envy, it's also undeniably sweet to hear how in love Sew is with Axel.
Being in a LDR for 2.5 years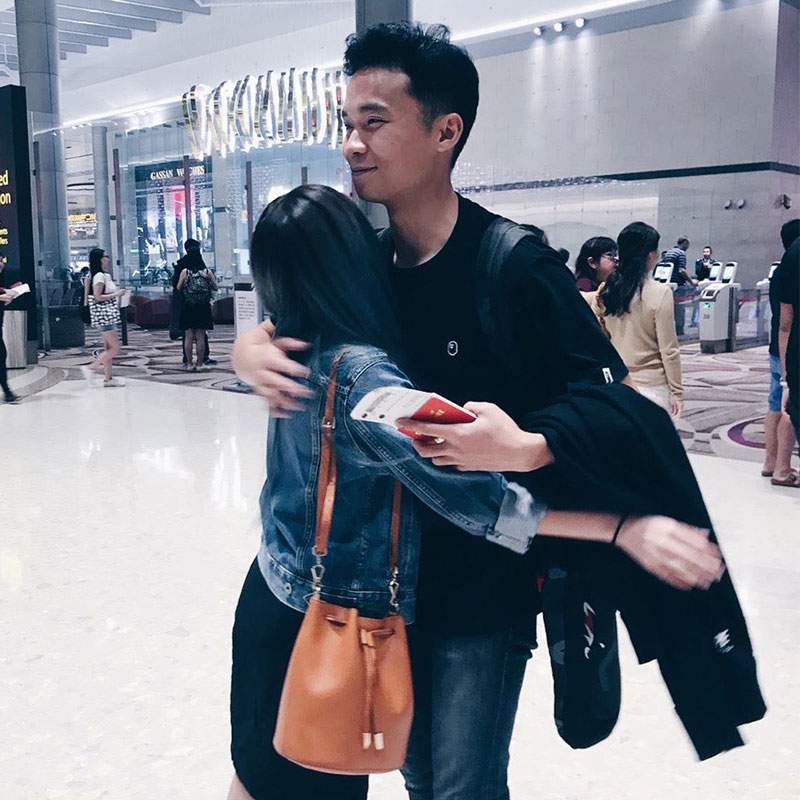 Sew sending off Axel at the airport
At the time of sharing her experience, Axel was working in Arizona, United States, under the Singapore Air Force. He signed on, and was sent on a long detachment in the US. 
"This didn't come as a surprise — it was something we already knew from many years ago. When Axel first went into BMT, he told me from the start that he wanted to aim to enter the air force and go to the US if he could." 
Counting down the days before Axel flew off, Sew found herself growing more excited, describing the feeling as if she was "going together with him" too. They stayed together in his house for 2 months to spend more time with each other, and she tried her best to be happy and energetic for him instead of moping around.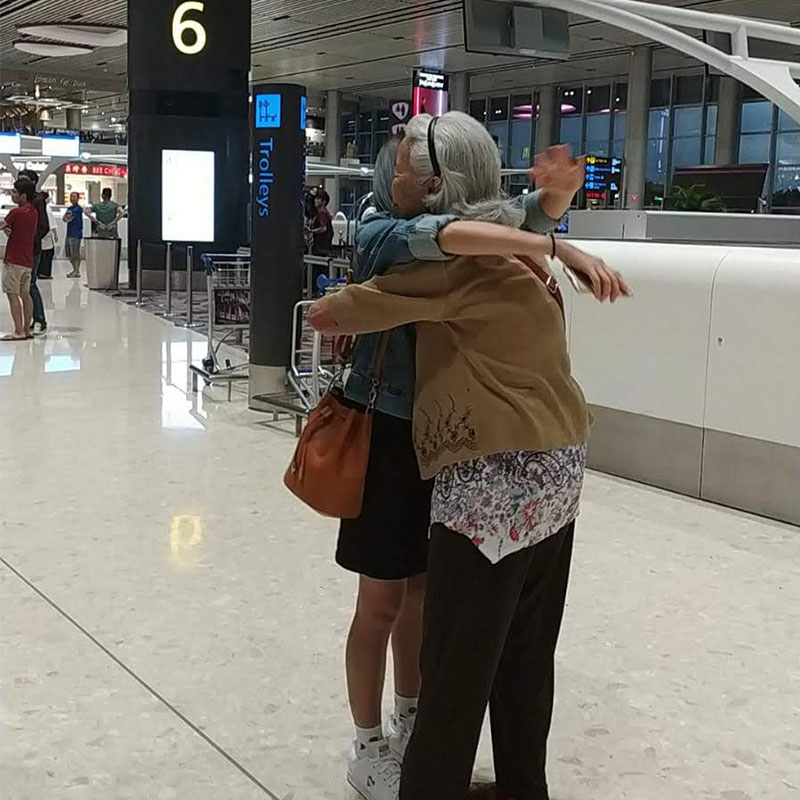 Axel's grandmother hugging Sew and crying at the airport
The send off was just as great as she pictured it to be — Sew stayed cheerful, and excitedly waved him goodbye until he entered the departure hall.
Well, at least it was almost as perfect as she hoped. After he went in, Axel's grandmother hugged Sew and started crying herself. Finally allowing herself to cry, Sew admitted, "I didn't want to cry then, but [seeing her] triggered me to. How could I not cry?"
Luckily, the timing of Axel's flight and Sew's upcoming work trip was nearly perfect. In a month from then, Sew was expected to go overseas, so she busied herself with preparing for the trip. With this distraction, "I felt like he was on his own trip, and I was on my own holiday with my friends."
Flying to US alone to visit him for the first time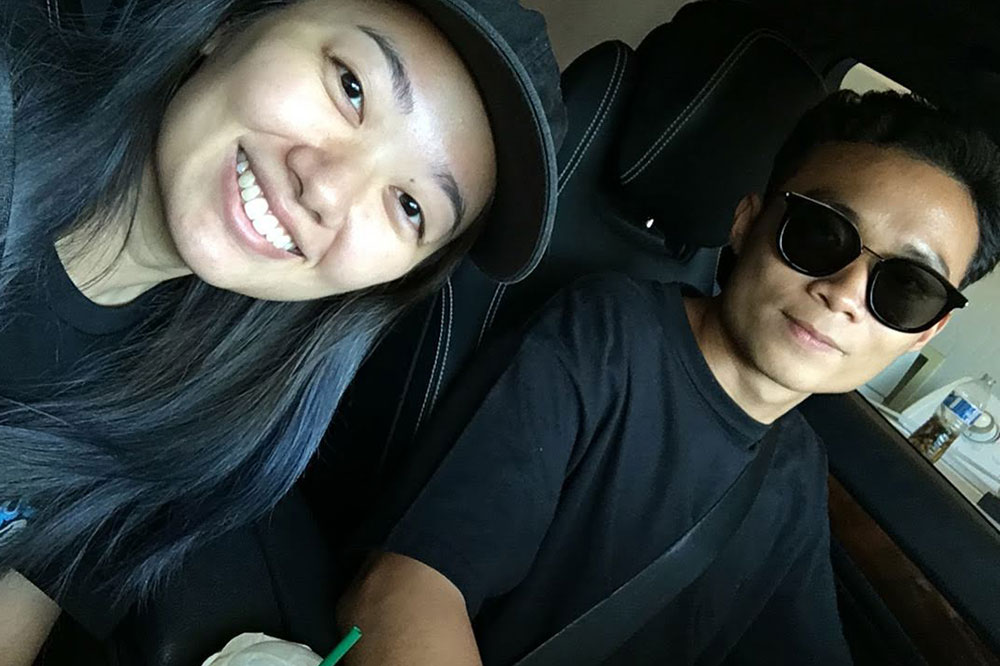 Watching Axel driving for the first time
While Sew had her moments of feeling sad, lonely and even crying over FaceTime about how much she missed Axel, the initial LDR didn't last as long as she thought. After 5 months, she flew to the US alone for the first time to visit Axel.
On the way, Sew pictured a dramatic reunion upon meeting him: him walking slowly towards her, then hugging and holding onto each other for a long time.
Or so she thought. When she finally met Axel, Sew recalled, "it was so awkward!" Axel was wearing sunglasses — something he never wore when he was in Singapore — and gave her a short and awkward pat on the back. The biggest surprise was yet to come. When Axel greeted her, the first thing that ran through her mind was "why is he speaking with an accent?" 
To top it all off, Axel loaded her luggage into his car and drove them around LA. Prior to his trip to the US, Axel didn't even have a driver's licence yet, so to see him confidently driving suddenly made him feel like a stranger. 
While sitting in the car, Sew was overwhelmed with this new version of Axel. "At that point, a lot of things were running through my head. We were so awkward, I was not really sure who he was, and he didn't even sound like himself anymore. I was so happy to see him, but I didn't know how to react."  
"I teared up in the car because I was thinking — are we becoming different people? We are not changing together." 
Also read:
8 Married Couples In SG Share Their Top Tips On Maintaining A Relationship When Living Together 24/7
Considering to live abroad with him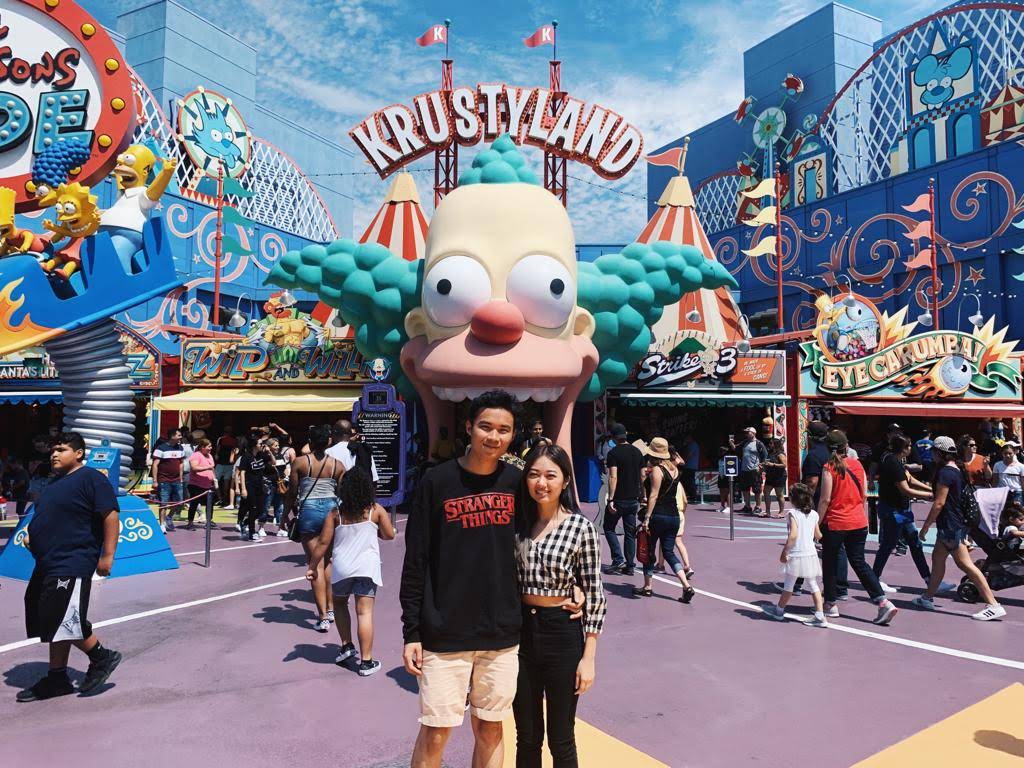 Sew and Axel at Universal Studios in the US
After getting over the initial awkwardness, Sew had fun during the rest of the trip. They travelled around for 2 weeks, and Sew fondly recalls enjoying herself at Universal Studios. 
Of course, the hardest part came when it was time for her to fly back. Sew refused to go into the departure hall until the very last minute, and even bawled her eyes out when she had to leave. 
"It was very difficult for me to go. After being separated for so long, when we were finally reunited again, it was even harder to say goodbye as compared to the first time."
When she landed back in Singapore, she found out that while Axel looked fine before he sent her off, he actually cried in the car. "I was so shocked because Axel rarely cries. To hear that, I realised that it must have been very painful for him too." 
Initially, Sew even considered moving abroad to live with him. However, she was met with an onslaught of obstacles. Number #1, she had to be legally married to Axel. Next, she couldn't work there since she didn't have a work pass, and lastly, she was also doing her part-time degree. It almost felt as if the entire universe was against her, and eventually she decided that it wasn't worth it.
Pandemic travel restrictions and future plans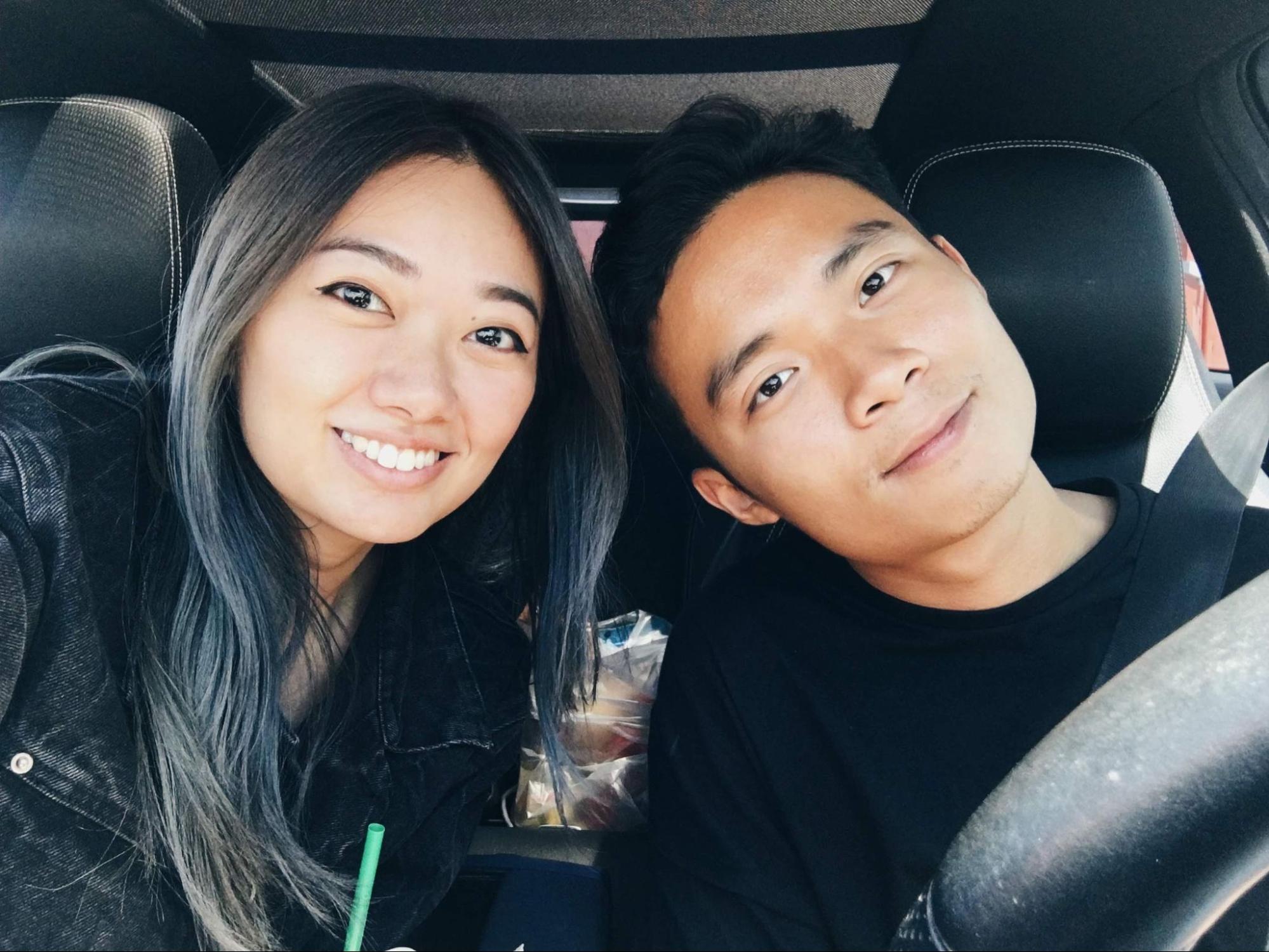 In 2019, Axel came back to visit for a while. But after he flew back to the US, Covid-19 hit the world and travel restrictions emerged. Sew didn't get to see Axel for the next 2 and a half years. 
Even with the travel restrictions, Sew remained positive. To her, she believed that "it's not difficult to be in a LDR if the both of you are busy. The most important thing is to ensure your mind doesn't wander."
Advice for other couples who are also going through a LDR? Sew warns, "don't fix an amount of time to text or call each other — only do it whenever you're free. Expectations will pose an unnecessary stress. Even without LDR, communication is still important in every relationship."
As such, Sew has always been open about her concerns to Axel, worrying that he might think that she's becoming a different person, or if they start growing differently apart. Talking about these issues was certainly no easy feat, especially on days where she opens up about her wants and needs. Through the good and the bad, Sew shares that she's thankful that they both managed to get over these challenges in their own ways. 
Interestingly enough, the pandemic has changed Sew's perception of time. For ladies, it's common to feel the pressure to get married and settle down by 30. Sew herself also envisioned getting married in her mid 20s, but she's been pushing the age back further and further, realising that it doesn't matter anymore. 
"Before that, I was rushing for time. Now, whenever [marriage] comes, then it comes. I tell Axel that I'm ready any time. Plus, we've been trying to get a BTO for years now."  
Sew's story may not be the most tumultuous or dramatic, but she wants to encourage talking about LDRs more as there are many other couples who are going through a similar situation. Whether it's a long term relationship or LDR, Sew has shown us that achieving the ultimate #couplegoals takes a lot of effort from both parties.
Best part about being in a long-term relationship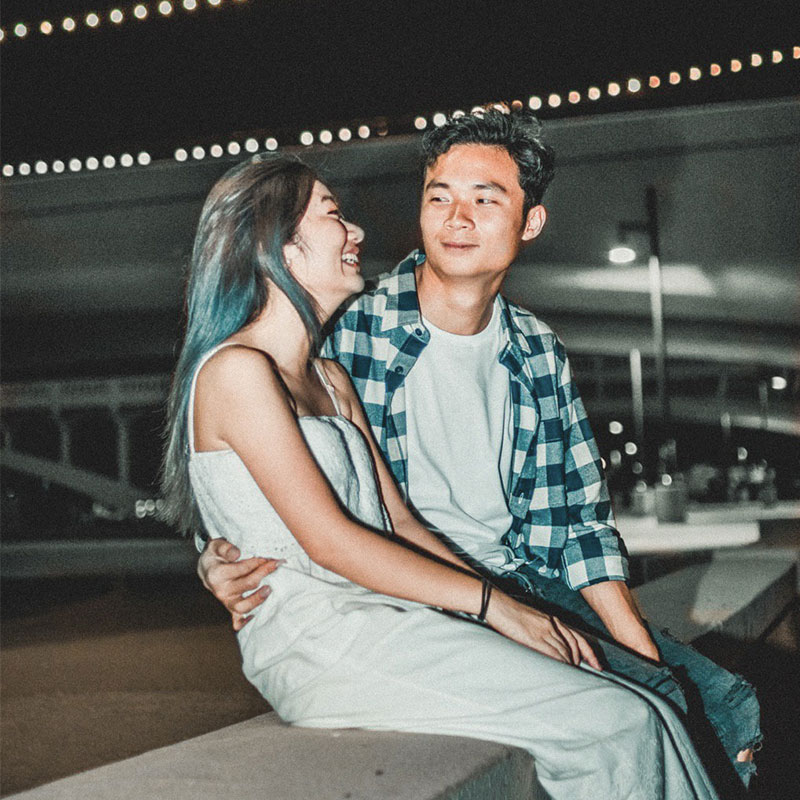 "The best part about being in a 10-year relationship is that you have a best friend for life. I do have other best friends, but it's different when you have somebody who you know loves you. 
I always tell Axel that if we ever break up, I don't think I can find somebody who will love me as much as he loved me." 
As cheesy or cliche as this sounds, it's clear to Sew that the best part about being in a long term relationship is undoubtedly love. Just have a look at the episode, and you'd be able to feel the love pouring out of her eyes every time she talks about Axel. 
If you're waiting for that happily ever after ending to this story, rest assured that you won't be disappointed. Since the covid restrictions have been lifted, Sew flew back to live with Axel in the US for 3 months at the start of 2022. 
As of April 2022, Axel is back, and he's back for good. While they're still trying to decide between a BTO or resale home for their future, Sew is just glad that she has Axel by her side to love, spend time with and continue to take on life together.
Her 10-Year Relationship & Long LDR Taught Her New Challenges & Experiences
There's no such thing as a smooth-sailing and perfect relationship. Even through 10 years and a 2.5 year LDR, Sew has shown us that there will constantly be space for both parties to learn and grow. Ultimately, even if they're far apart, they've both learned how to grow as individuals in separate ways, and come back together even stronger.
Watch the full Ask ZULA episode below:
All images courtesy of Charmaine Sew.
Some quotes have been edited for brevity and clarity.
Also read:
Entering An Interracial Relationship With An Expiry Date Taught Me How To Live & Love In The Now