Affordable Makeup To Buy In Singapore
In an ideal world, every beauty junkie would splash their cash on the latest releases without looking at the price tag. But with new products dropping faster than it takes an auntie to steal a seat on the MRT, it can be hard to keep up.
While high-end products often have formulas which work flawlessly, and not to mention have gorgeous packaging, sometimes a girl's gotta budget to save up for a BTO.
To help fellow girlies know when to splash their cash, we've compiled a list of alternatives to some of the most popular makeup products to buy in Singapore.
1. Too Faced Better Than Sex Mascara (S$35) vs L'Oreal's Lash Paradise (S$18.30)
From the pink packaging to the hourglass-shaped wand, these mascaras are almost identical. While the Better Than Sex bristles are further apart to prevent clumping, the Jeffree Star-approved L'Oreal formula does just as well for half the price.
Still, both products are long-lasting and will give you impressively lengthened lashes.
2. Kylie Cosmetics Matte Lip Liquid Lipstick (S$42.65) vs Colourpop Ultra Matte Lipstick (S$13)
Rumours have been swirling Kylie Cosmetics shares the same manufacturer as Colourpop, and she's been repackaging and selling the liquid lipsticks at a hefty price tag. Just look at how similar the swatches are.
If you're not about the hype, go for Colourpop to skip the huge shipping fees and restrictive restocking schedules.
Source, Source, Source, Source
3. NARS All Day Luminous Weightless Foundation (S$76) vs L'Oreal Infallible Pro Matte Foundation (S$23.90, S$29.90)
If you have oily skin and have been relying on NARS' matte foundation, consider this MannyMUA favourite by L'Oreal.
The latter gives a similar demi-matte finish and lasts up to 24 hours. While L'Oreal's foundation is creamier than NARS' liquid one, it's just as blendable, light-weight and staying.
4. Anastasia Beverly Hills Brow Wiz (S$52.04) vs NYX Micro Brow Pencil (S$22)
The Brow Wiz is a cult favourite because of its wide range of colours, fine-tip applicator, and smudge-proof product for creating realistic hairlike strokes.
Singaporeans who don't want to bear heavy shipping fees have found NYX's Micro Brow Pencil formula matches ABH's.
5. NARS The Multiple in Orgasm (S$60) vs Makeup Revolution The One Stick in Rush (S$11)
Makeup Revolution's cream blush in Rush is a shimmery peachy-pink, the closest match to the popular NARS Orgasm shade.
If you have a cool or neutral skin tone, Rush may suit you better as NARS's Orgasm has a warmer tone.
6. Urban Decay Naked Heat Palette (S$83) vs Makeup Revolution Re-Loaded Palette in Iconic Fever (S$15.50)
Shortly after the release of Naked Heat, Makeup Revolution dropped a palette with the same earthy and fiery shades.
Online reviews mostly say application is equally smooth for both, and the Re-Loaded palette's colour payoff is a pleasant surprise given its affordable price.
7. Kat Von D Tattoo Liner (S$32) vs NYX Epic Ink Liner in Black (S$22)
Touted as the holy grail of eyeliners, the Tattoo Liner is pigmented, transfer-resistant and apparently, accident-proof.
But for a more budget-friendly option, try NYX's Epic Ink Liner. The NYX eyeliner not only has a comparably precise tip and lasting formula, but also twice the amount of product.
8. Beautyblender Original (S$32) vs Real Techniques Miracle Complexion Sponge (S$16)
Real Techniques' sponge serves some serious competition to the Beautyblender. Not only does the miracle complexion sponge blend foundation seamlessly, but also has a flat end to better press in cream products.
9. NARS Blush in Orgasm (S$50) vs Milani Baked Powder Blush in Luminoso ($15.50)
NARS Orgasm's iconic rose gold shade has been hard to copy, but the peachy Milani's Baked Powder comes through.
While the Milani blush has a more orange undertone, NARS's pinkish hues are better suited for fairer skin.
10. Kat Von D Everlasting Liquid Lipstick in Lolita II (S$31) vs NYX Liquid Suede Cream Lipstick in Soft Spoken (S$20)
This NYX lipstick in Soft Spoken is a dead ringer for the best-selling nude lip by Kat Von D. While Lolita II is more matte and longer lasting, Soft Spoken doesn't dry your lips out as much.
11. Fenty Beauty Killawatt Freestyle Highlighter in Trophy Wife (S$50) vs Miss Rose Highlighter in 02 (S$3.57)
The Miss Rose Highlighter is a near-perfect dupe for Rihanna's best-selling Trophy Wife. While it's less glittery and a tad more yellow than the Fenty Beauty favourite, you can't complain when you're getting a fab golden glow for just S$3.
12. Fenty Beauty Stunna Lip Paint in Uncensored (S$36) vs Milani Amore Matte Lip Crème in Devotion (S$20)
The most popular dupe to Fenty's red lip paint, Milani's liquid lipstick in Devotion is as pigmented as its hyped-up counterpart. It also dries down to a soft matte finish which doesn't flake.
13. Urban Decay Naked Skin Concealer (S$40) vs L.A. Girl HD Pro Concealer (S$7, S$9.90)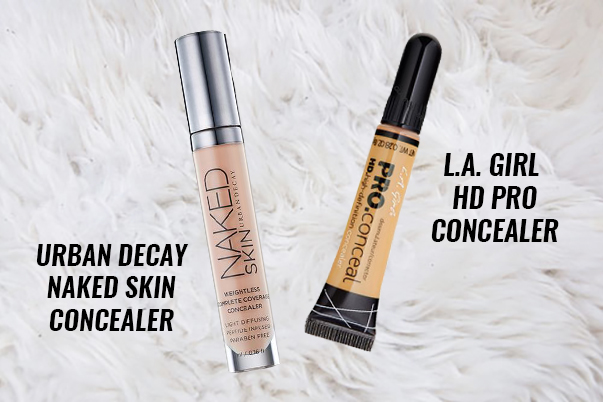 Trade in your standard Urban Decay concealer for one of 2017's best-selling drugstore products. Besides being a blendable easy-to-use formula, the HD Pro shade range is as wide as the Urban Decay one, including colour correctors.
14. Urban Decay All Nighter Setting Spray (S$48) vs NYX Makeup Setting Spray in Matte (S$18)
The online beauty community largely agrees NYX's setting spray is similar to Urban Decay's, both giving a mattifying finish which lasts all day.
15. KKW Beauty Crème Contour & Highlight Kit (S$63.81 before shipping) vs NYX Wonder Stick (S$22)
Gurlll, there is so much shade being thrown at KKW's sticks. The 'dual-ended' contour shades are nearly identical, the formula blends out into almost nothing, and the amount of product would make you think it was a free sample.
If you still intend on ordering a kit, maybe try the NYX Wonder Stick for a similar diffused colour effect.
16. YSL Touche Éclat Radiant Touch (S$62) vs Sephora Collection Smoothing & Brightening Concealer (S$16)
The luxury Touche Éclat complexion highlighter is sought after for its ability to erase undereye circles. But for S$62 a pop, it's a bit pricey.
The Sephora brand concealer gets the same job done, and for less. But if you're after a subtle brightening look, Touche Éclat's formula is still thinner for a softer coverage.
17. Urban Decay Eyeshadow Primer Potion (S$20) vs Wet N Wild Photo Focus Eyeshadow Primer (S$13)
If S$20 for a travel-sized eye primer sounds exhorbitant, consider Wet N Wild's equally smooth, slightly more mattifying option.
This dupe is equally effective at preventing your eyelids from oiling up and having your eyeshadow smudge in the Singapore heat.
Affordable Makeup Alternatives
No matter what the ads tell you, you don't need to splurge to look good. But if S$50 lipsticks and highlighters are your thing, then you do you boo.