MMA World Champion Angela Lee's Unique Romance
Angela Lee lives with fists being thrown at her face constantly, but she is not a beaten wife. At age 22, she is the youngest MMA World Champion with a list of championship titles behind her name.
Come November 9, she will be trading blows with a skilled opponent: Xiong Jing Nan from China. While MMA enthusiasts wait with bated breath for the deadly match, I am in a puddle as I hear Angela recount her love story.
Couples who train together, stay together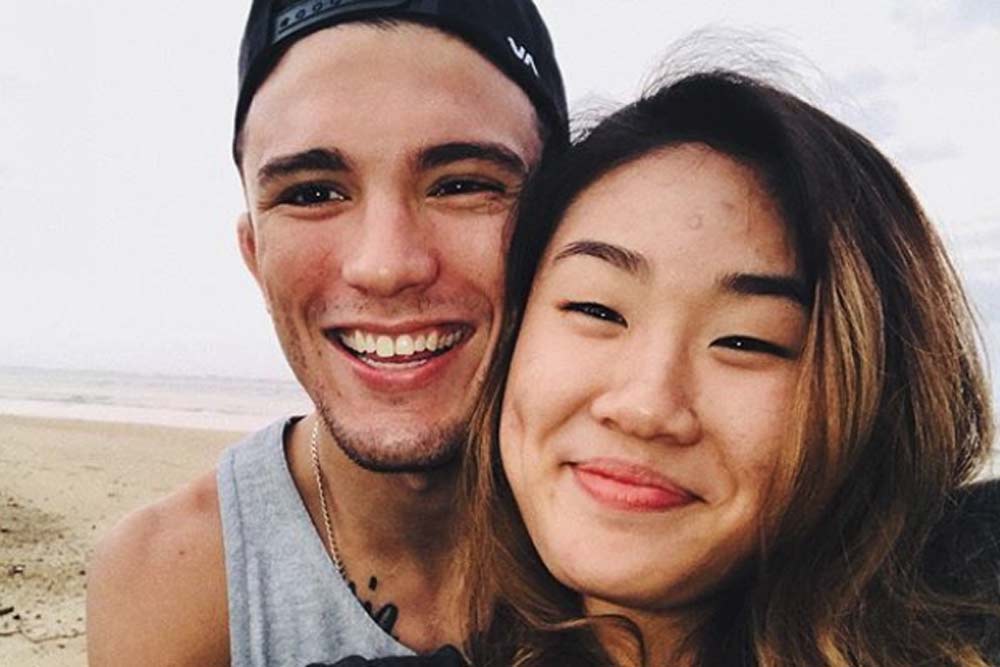 The handsome lad pictured above is Angela's significant other, Bruno Pucci, an accomplished MMA athlete from Brazil. Guess where they both met? At Evolve Gym in Singapore.
It reminds me of Korean dramas or movies where the male and female lead begin by teasing each other or having some form of conflict. In this case, they traded blows and probably gave each other bruises as they trained with each other.
In Chinese, we have a saying "to hit is to endear and to scold, love." All the accumulated knee jabs, elbows and blue blacks set them up for something unexpected: romance.
"It was a few years before we started dating but once we did, we both felt instantly that this relationship was unique," Angela explained.
Angela is based in Hawaii, her dad is Singaporean and her mom is Korean. Coming to the lion city to compete is always a special experience, because it is where the couple met.
One September night in the Botanic Gardens
One September night in 2017, Angela and Bruno were strolling in the Botanic Gardens. It was almost pitch dark and she sat on a bench under a big tree. Bruno was still standing awkwardly, when he suddenly said, "Angela, I don't want you to be my girlfriend anymore."
They just had a beautiful dinner at the Cornerhouse so Angela was thrown off by the confession. But before she could even feel the heat of anger, Bruno continued, "Because I want you to be my wife!"
He got down on one knee and opened a box where the ring sparkled in the starlight.
"It couldn't have been more perfect," Angela expressed.
Wedding in the Aloha State
Shortly after, Bruno took a trip down to Hawaii to ask Angela's father for his blessing. Naturally, her father approved and they celebrated their engagement at a restaurant called the Beach House in Haleiwa where they announced their matrimony plans.
People complain that Terrace House: Aloha State is the most boring season yet, but I beg to differ. The azure oceans, lush mountains and palm trees are the perfect backdrop for a love story. So I couldn't help myself but stalk Angela's Instagram when she told me about her fairytale Hawaiian wedding.
And it did not disappoint.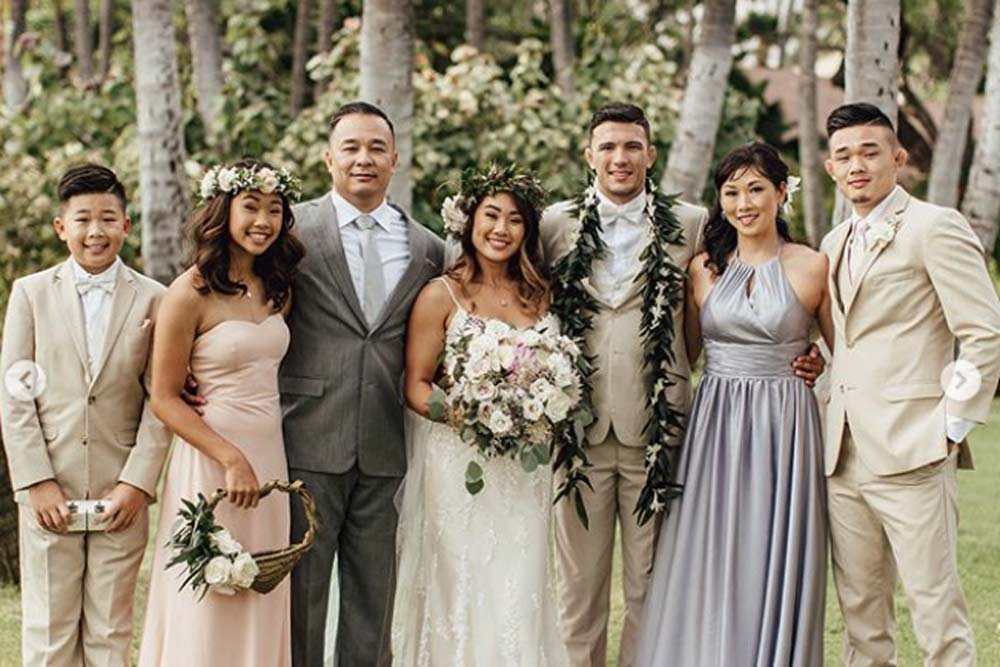 The ivory outfits and blush pink flowers against a backdrop of the ocean gave me major FOMO. Why am I not on a tropical island sipping martinis and watching two gorgeous people tie the knot?
"We wanted to see each other and talk to one another before the ceremony started, to get our nerves out. When I saw him standing there, I started crying even before I got to him. I was so overwhelmed with emotion and happiness!" Angela recounted.
I could only imagine a tough girl like Angela who normally makes others cry in the ring, being the vulnerable one as she walked down the aisle.

A family affair
Through my interview with Angela, the topic of family came up again and again. Her family is clearly her pillar of support and inspiration for training.
I can't help but conjure up the quote from Lilo & Stitch:
"Ohana means family and family means no one gets left behind."
If you didn't already know, her brother, Christian, is also a MMA athlete. And it is clear that Angela is behind him 100%.
As MMA athletes, they have a tough regiment. Sometimes, viewers have unrealistic expectations of how they should "perform" in the ring. But people don't realise the competition is real, not a staged wrestling match where The Rock would throw a chair over the Undertaker for theatrics.
Being able to understand each others' challenges in the ring help them be a source of support to one another. Likewise, Bruno is able to provide encouragement to Angela should she face setbacks in her career because they are both MMA athletes.
Angela Lee Vs. Xiong Jing Nan
Singapore's Angela Lee will showdown with China's Xiong Jing Nan this coming Saturday, 9 November in the ONE: HEART OF THE LION battle, a sporting event not to be missed.
Jing Nan recently won a match in Shanghai, giving her an eight fight winning streak, so this will be one close competition to watch. Join fans of MMA at the Singapore Indoor Stadium to catch this historic battle of the MMA divas as they compete it out for the ONE Women's Strawweight World Title.
This post was brought to you by ONE: HEART OF THE LION 
Also read:

All photos courtesy of Angela Lee