Artists In Singapore  
At some point, we've doodled on our school books, moulded Blu-Tack into tiny sculptures or belted out an entire playlist in the shower. But the jump of moving from 'amateur' to 'professional' artist can be quite a leap, which is why many of us remain hobbyists.
We spoke to five young artists who dared to take the leap about their journey to becoming 'professional' artists. They also shared with us their latest projects, which aim to inspire other youths to shape Singapore's future through their art. 
Howie Kim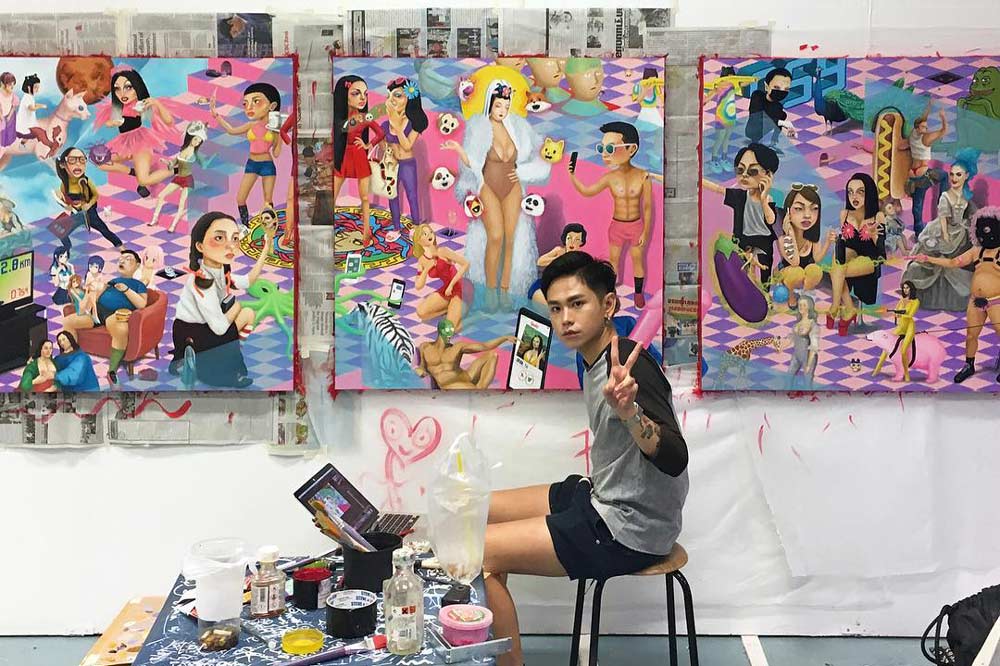 Howie Kim is a full-time visual artist who has worked with clients such as Tiger Beer and DBS Bank. 
He sold his first painting almost 6 years ago. Though he "didn't sell it for a lot", the sale left him "quite proud and excited". From there, jobs started coming in while he was still schooling—fast forward to 2019 and he now enjoys the freedom of working at this full-time.
Having established local brands that were open to supporting and engaging homegrown talent has helped him gain a sizeable following. This October, he even had the opportunity to host an Art Lab session at Apple's flagship store on Orchard Road.
A true Photoshop wizard, Howie creates surreal paintings and photo collages in the style of lowbrow art with a Singaporean twist.
He explains, "My works are deliberately centred around superficial themes such as our obsessions with social media, pop culture, the internet, memes etc. I think it's a common critique of young people nowadays, that they are self-obsessed and vapid but also, what about it?"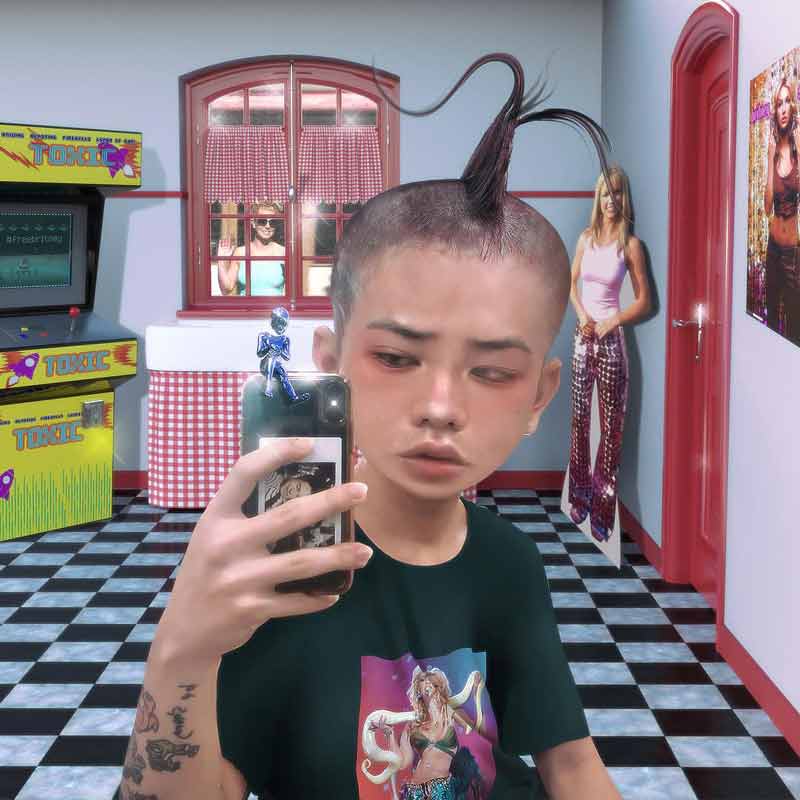 Source
The glee with which he celebrates millennials' 'vapid culture' is apparent in his photoshopped selfies. "I mean, why look like yourself, when you can look cute, and have fun?"
Spark The Next 'Change of Heart' Tote Bag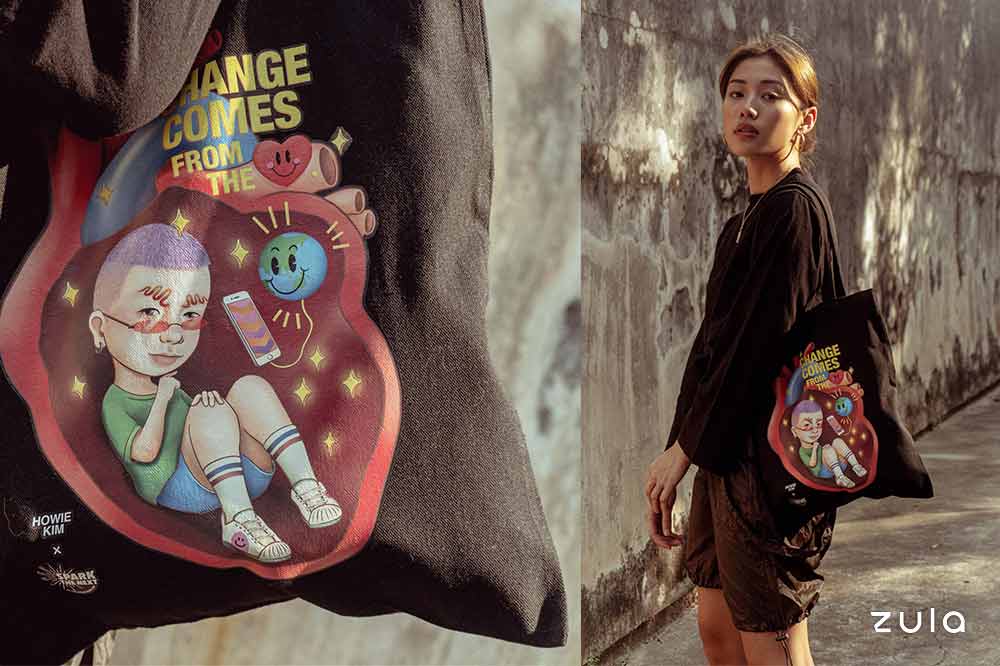 Smartphones are a common feature in Howie's work. We even spotted one in his latest design for a series of tote bags. "Many of us see the smartphone as a device that has isolated us from the physical world, but I see it as a means for us to communicate, collaborate and create positive change," he says. 
Howie also shares how he hopes his work will impact society, "My hope for the future is for us to see modern technology as a force for good."
Muhammad Izdi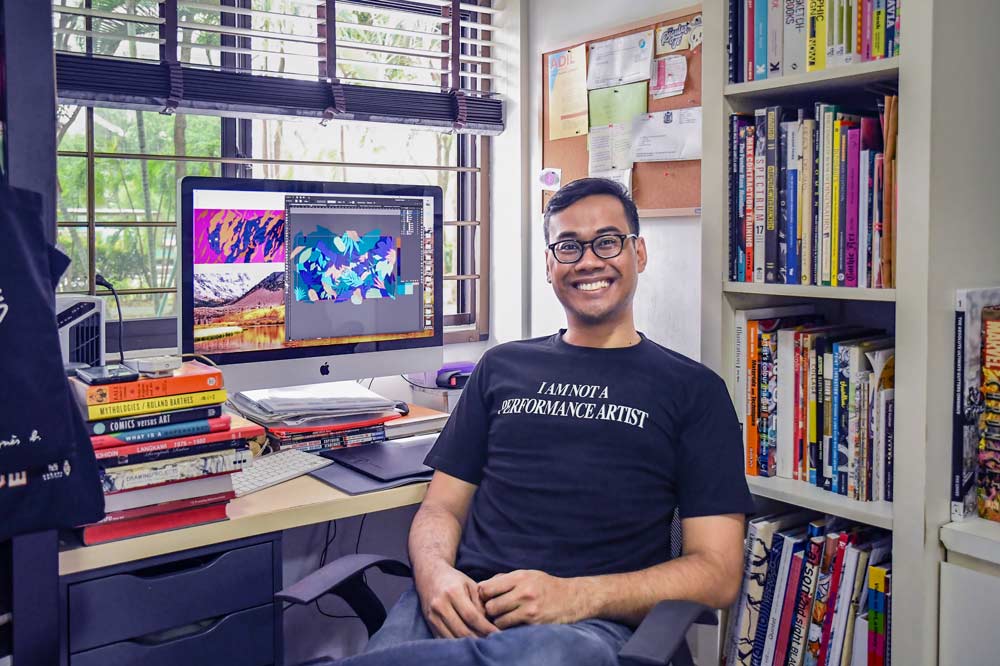 Muhammad Izdi never planned to be a full-time artist. He shares, "I was trained in graphic design and worked at the Singapore Art Museum (SAM) till 2013 when I decided to make the transition to a full-time artist." 
Izdi elaborates on how meeting professionals in the art world helped him get started, "I feel very fortunate to be able to work in SAM because that's where I got to meet other artists and curators, particularly Khai Hori (Curatorial Director & Partner of Chan+Hori Contemporary gallery). Through him, I received many opportunities to work with different institutions and organisations."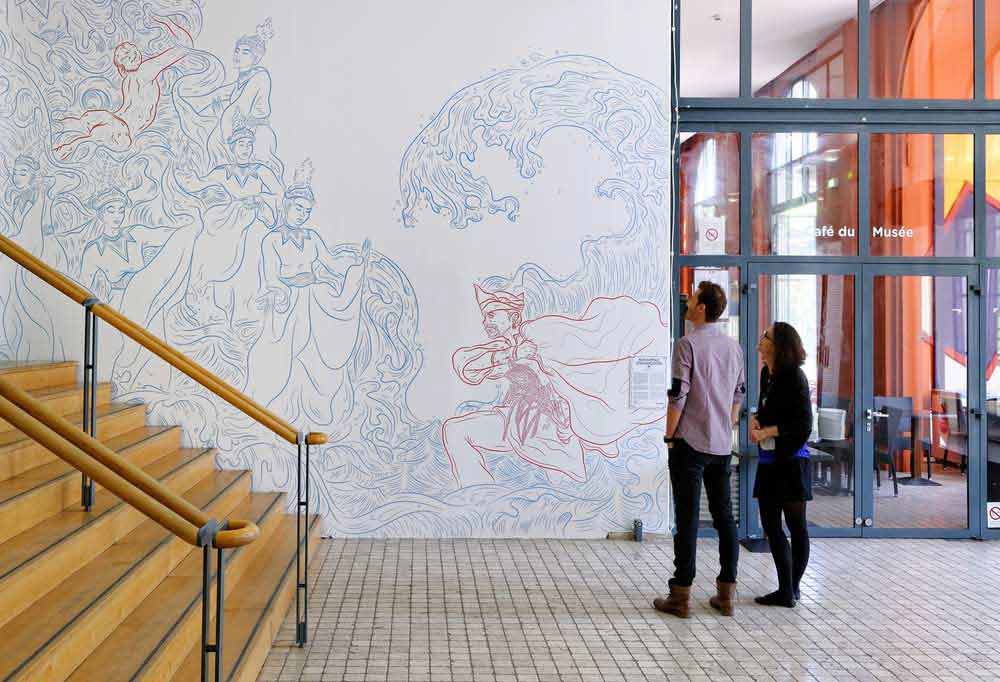 The Entreatment by Muhammad Izdi
Source
One of his works, The Entreatment, was showcased at the Musée d'art contemporain de Lyon as part of Singapour en France—le Festival 2015. This international opportunity cemented his visual style of using intricate lines to create sprawling illustrations.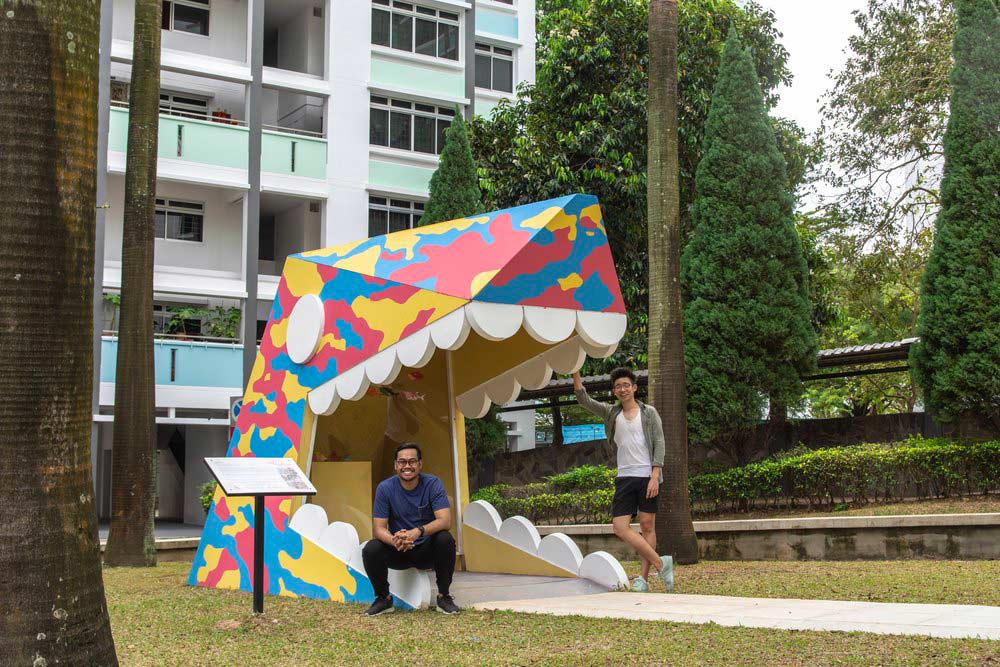 A public artwork created in collaboration with artist Tobyato and Taman Jurong residents in 2018
Source
Since then, Izdi has created large-scale works that include building projections and public sculptures. 
Spark The Next 'Rise Above' Tote Bag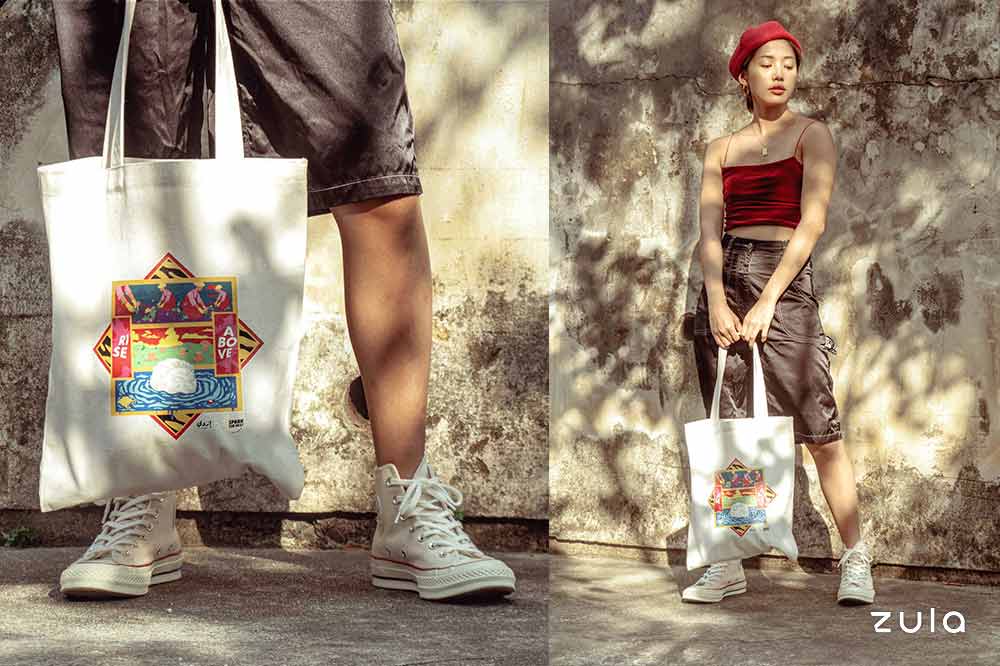 Izdi recently worked with Pathlight students to conceptualise a tote bag design. It shows a partially submerged Merlion, encouraging audiences to 'rise above' environmental challenges. The design highlights the importance of environmental sustainability and how climate change impacts future generations.
He hopes that this tote bag will encourage youths to "rise above our differences, take a decisive stance and reshape attitudes on the effects of global warming."
UltraaViolets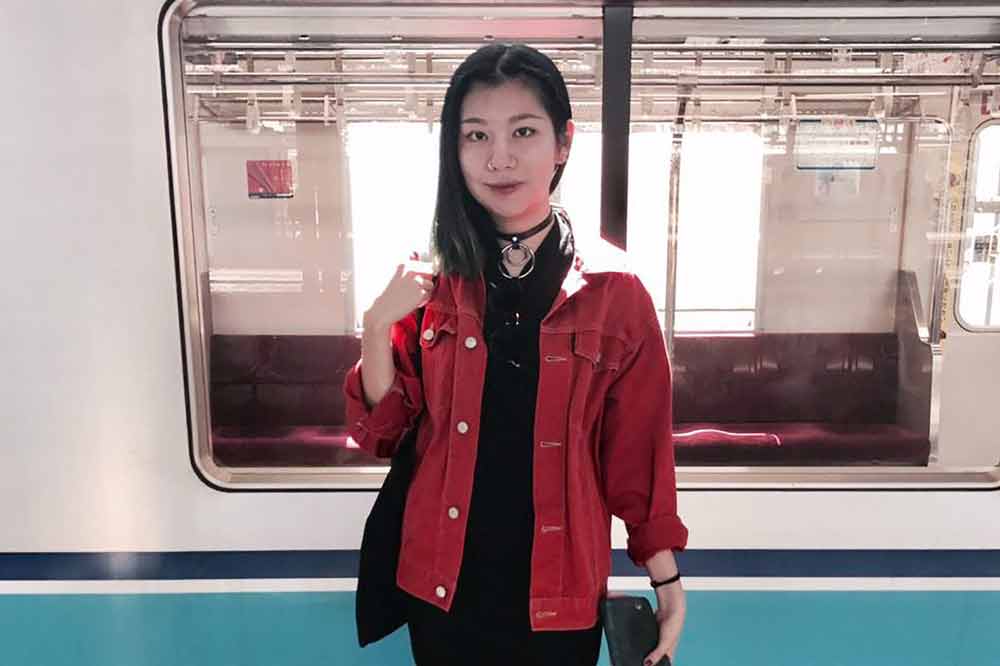 Kimberly Tan, the artist known by the moniker UltraaViolets, started out making toys from paper as a kid. She now works as a full-time graphic designer so her art can "remain as something that brings [her] joy and fulfilment and not an obligation." 
Kimberly adds that her education was a big help in kick-starting her career, since design school taught her fundamental technical skills. The improving local art scene also presented her with several opportunities to create and showcase her personal artwork to the public.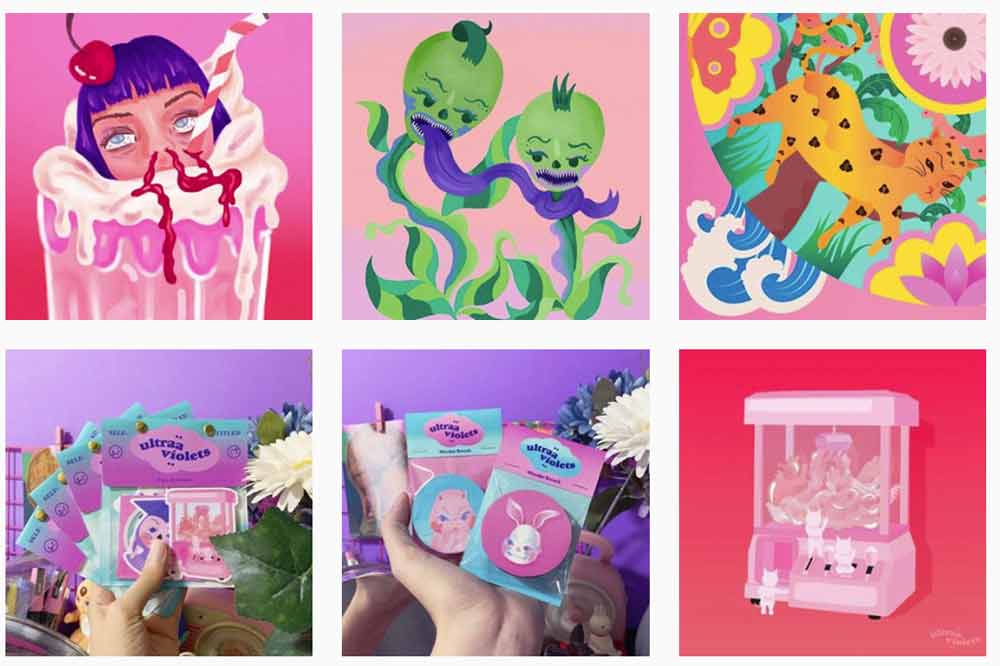 Source
"I did several art markets when I first started out, and that led me to equate my self-worth as an artist to the amount of sales I made," she shares. "I found myself catering too much to what the audience wanted and almost ended up losing what's important to me as an illustrator, which is authenticity."
Thankfully, the therapeutic nature of art got her back on track, and keeps her going daily. In her work, she touches "on topics like emotional and mental well-being quite a bit, because it is something that we deal with every day." 
Spark The Next ' Baby Steps' Brooch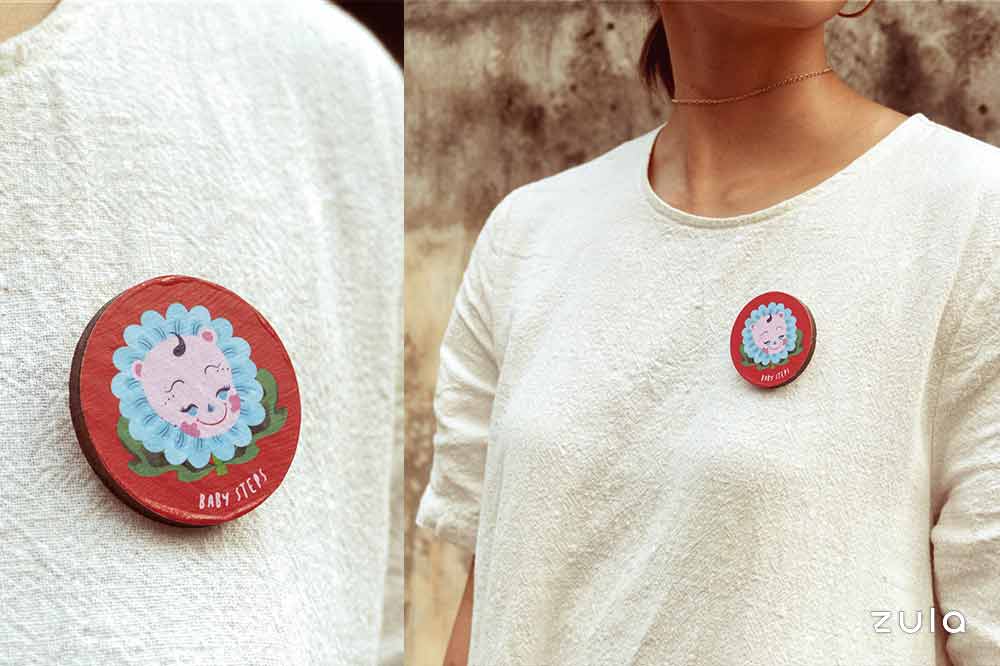 This translates into the design for one of her latest pieces: artwork for a wooden brooch. Kimberly explains the inspiration behind her new 'Baby Steps' brooch, and the message she wants to share with youths through this piece:  
"Responsibilities and expectations of ourselves grow with age. This could stem from societal pressures or our own personal goals. It could take a toll on our mental well-being, and lead to unhealthy consequences. This [brooch] serves as a reminder for all of us that it's okay to take baby steps to achieve our goals."  
Mash-Up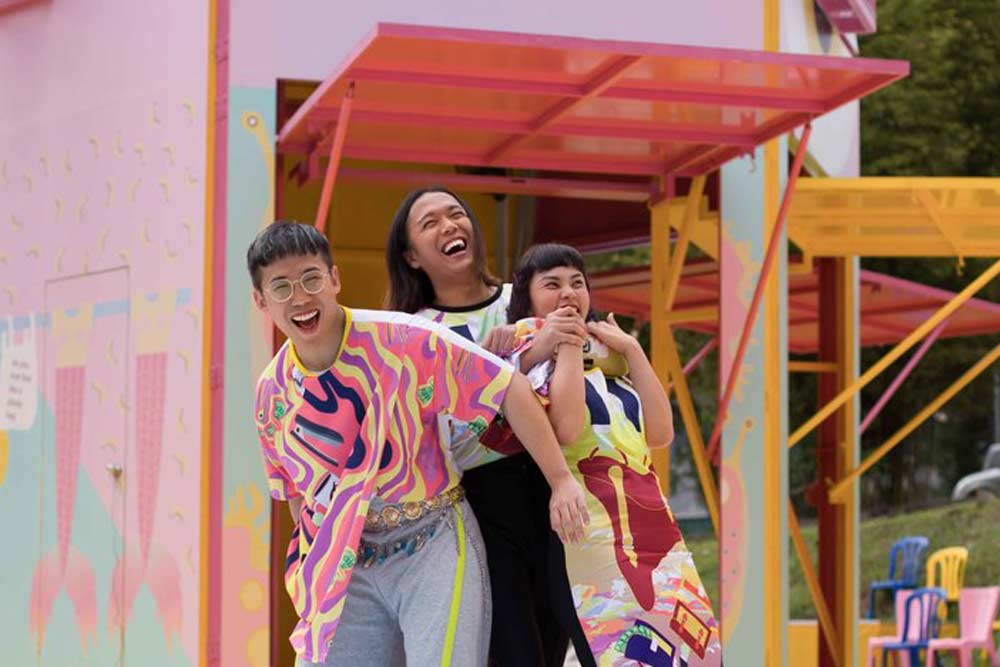 Mash-Up's Nat (left), Shaf (centre) and their business partner Daniela (right)
Fashion collective Mash-Up's quirky and colourful designs have graced Uniqlo stores and the backs of musicians like French electro-pop DJ, Yelle. Nathanael Ng and Shaf Amis'aabudin first started putting outfits together to party at Butter Factory and registered their business in 2011. 
The colourful characters from Singapore's party scene were a major inspiration behind creating fashion for expressive people. Nathanael explains further, "I guess people around me were doing really mundane jobs—they gave me a reason to not conform, leading to where I am today. Visual storytelling and self-expression [have] always been a part of my life and I think it will be suffocating if I can't do it."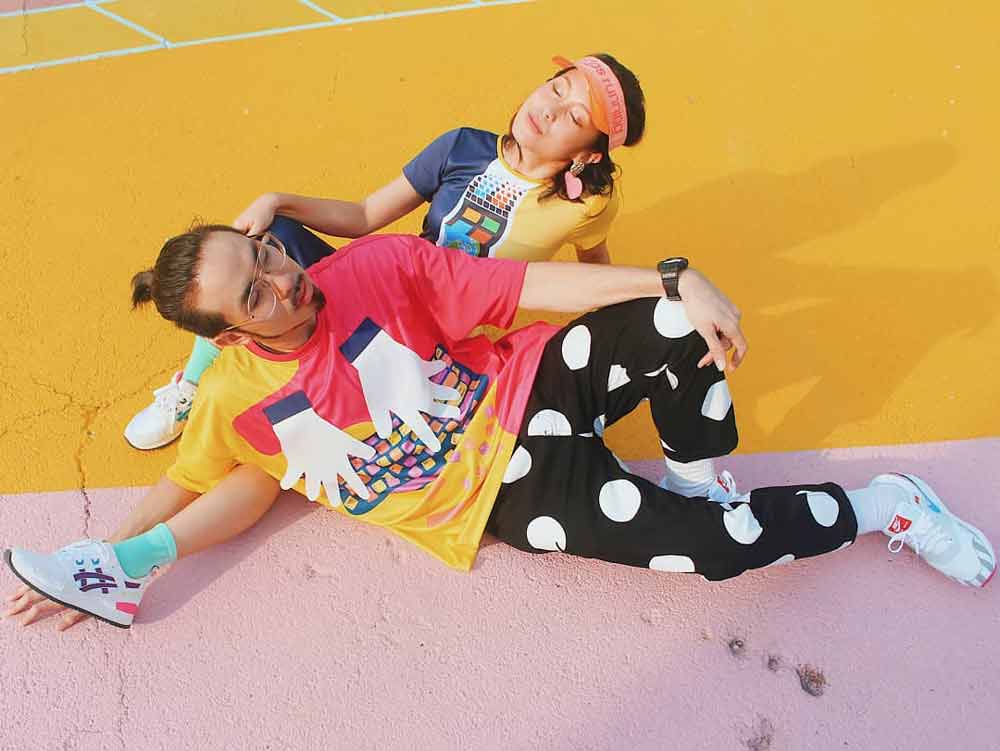 Source 
Shaf honed his fashion designing skills at LASALLE College of the Arts, recalling the first pieces he ever created, "I did a set of paper dresses which could be viewed differently with 3D glasses."
These days, he spends his mornings paying knowledge forward by teaching art in schools, before working on Mash-Up in the afternoons. Most recently, he even had the opportunity to help handle wardrobe styling for HBO's original series 'Westworld', which filmed in Singapore. 
Spark The Next 'Word-Up' and 'Faces & Phases' Tees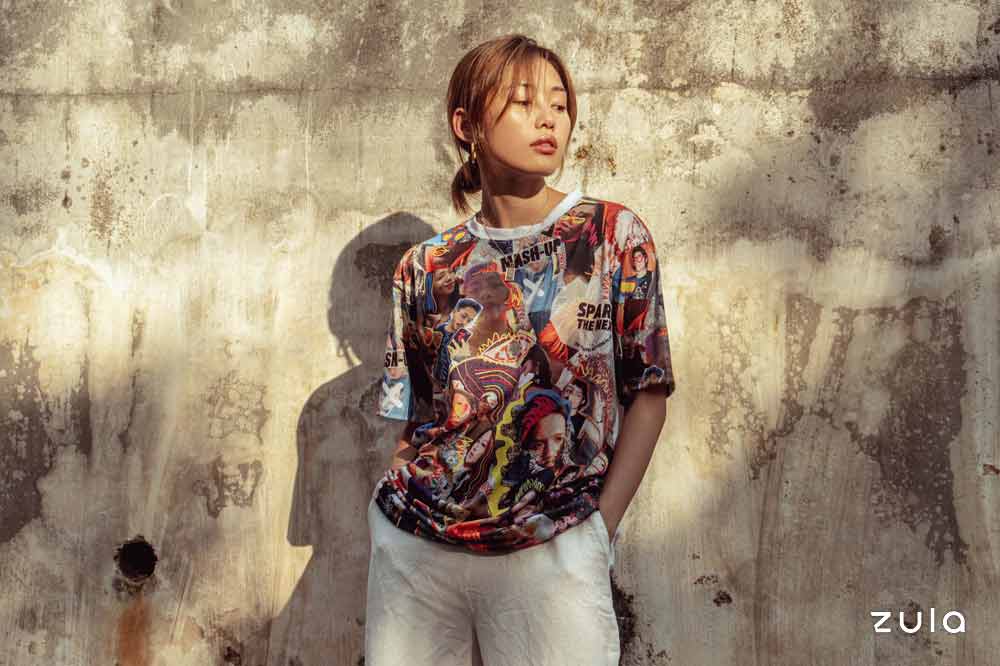 Mash-Up launched 2 new t-shirts after a collaborative effort with their Instagram followers who contributed photos and personal thoughts. In the first piece, they created a collage of their followers' faces to reflect "our diverse dreams, our collective vision of a brighter tomorrow."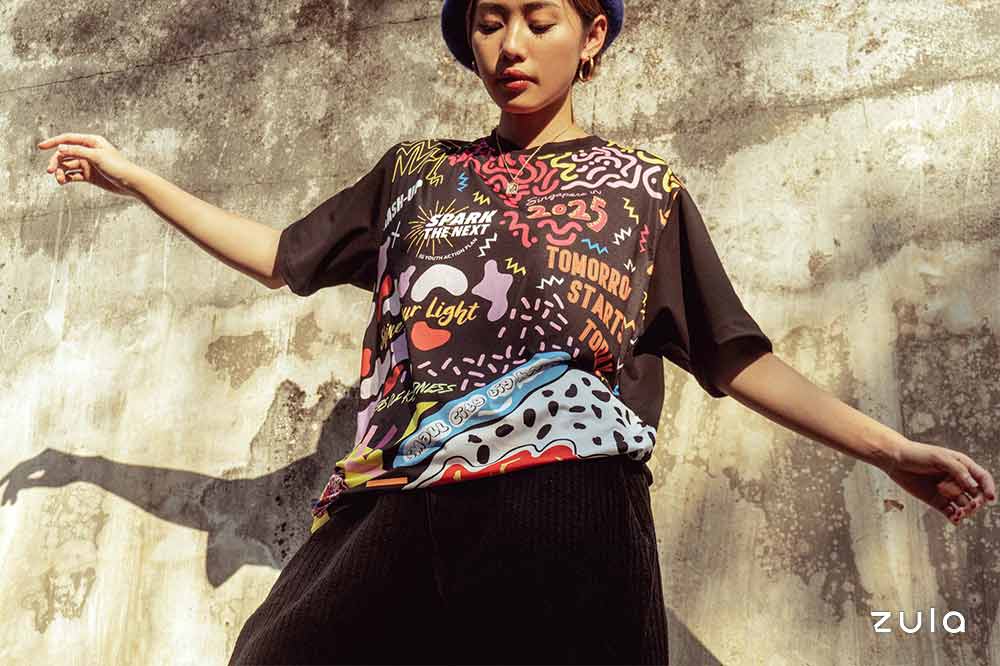 In the second piece, the pair explains that, "[Our followers'] thoughts became the inspiration for our design, while the digitalised embroidery and stitching patterns reflect the diverse social fabric of our nation."
Through these designs, they hope to get youths thinking about how simple gestures can change the world around them: "If your words could shape a better future, what would you say, and where would it take us?"
Artists In Singapore Tell Us How They Became Professional Artists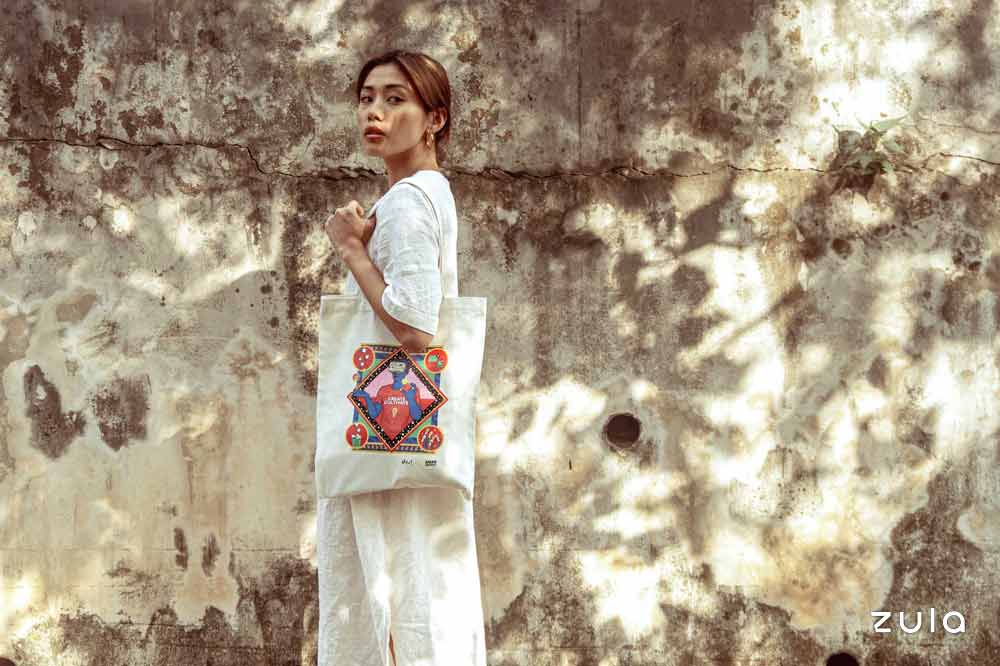 Tote bag designed by Muhammad Izdi
Though their work is diverse, these young artists share a common goal: encouraging fellow Singaporean youths to shape the future together, by lending their voices to issues that matter and taking action to create change.  
Here's how to get your hands on the limited-edition merchandise they've designed in support of Spark The Next: You can purchase merchandise by Howie, Izdi and UltraaViolets at Naiise Iconic at Jewel Changi Airport and Naiise's online store. Mash-Up's new shirts are available at Mash-Up's online store. 
This post was brought to you by Ministry of Culture, Community & Youth.
Profile pictures courtesy of the artists.
Zula photography by Sebastian Tan