Reactions To Chloe Teo & Ashry Owyong's Cheating Saga
If you had access to wifi on the last few days of 2017, you'd probably be aware of the Ashry-Chloe cheating dramdramz.
On 27 December 2017, Chloe Teo, a social media influencer, posted how Ashry Owyong Min had cheated on her with at least four other girls, and one guy (sugar daddy).
The post exposed the extent of his manipulation and public-shamed him.
If you don't have half an hour to spare, here's a summary of his biggest lies:
Claimed to be in the Special Ops Force for three years
Used the excuse of "being on missions" whenever he had to spend time with his other girlfriends
Said he broke up his main girlfriend in February 2017
Claimed his mum had pressured him to marry his main girlfriend and bought them engagement rings
Lied he BTO-ed with his girlfriend
Claimed his main girlfriend was his sister and that his 'sister' hates Chloe
Lied he dropped out of secondary school when he was actually expelled from a webcam sex scandal
While we didn't completely agree with what Ashry or Chloe did, we felt there were some good learning points.
What she did well
1. Removing herself from a bad relationship
Chloe was obviously head over heels in love with Ashry and was broken-hearted when she found out he was cheating on her.
Instead of being soft-hearted and blinded by her love for him, Chloe was able to recognise she wasn't in a good romantic situation and took active steps to get out of it.
She even talked to his main girlfriend, hoping to "open her eyes" to his misdeeds.
2. Looking out for his other girlfriends
Chloe repeatedly reached out to Ashry's main girlfriend through her Dayre post and Instastories, trying to convince her to leave him.
Chloe's reason was she "was being real" and didn't want Ashry's main girlfriend to "rot with a rotten guy".
After all, strength is the ability to want to lift others out of bad situations too.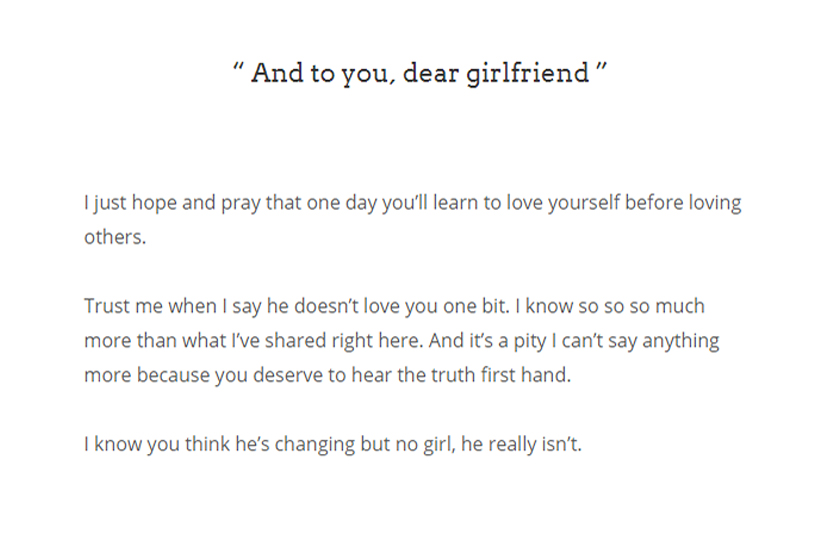 3. Pointing out manipulation techniques
Through her emotional and detailed blog post, Chloe revealed the emotionally manipulative methods Ashry used.
There were several red flags she pointed out about Ashry's behaviour: insisting on keeping the relationship a secret, not adding her on Facebook, using fake names across multiple social media platforms, and refusing to show her his phone while claiming he had nothing to hide.
4. Refusing to stay the silent victim
In a piece in The New Yorker, Deborah Treisman mentioned how more often than not, many young women move through the world "trying not to make people angry, trying to take responsibility for other people's emotions".
Ashry had mooched off her financially, dated other women, and fed her lies to manipulate her into believing he loved her.
Instead of being a conventional 'good girl' by staying mum, Chloe advocated self-respect and didn't allow herself to be treated poorly.
What she could've done better
While Chloe shared many good points, we felt there were a few things that could've been handled better.
1. Not dissing his main girlfriend
Encouraging Ashry's main girlfriend to break off the relationship was a good move, but Chloe shouldn't have dissed her for staying with him.
Calling out how "nothing breathes louder than (Ashry's main girlfriend's) insecurity to find a 'better' guy," is pretty salty.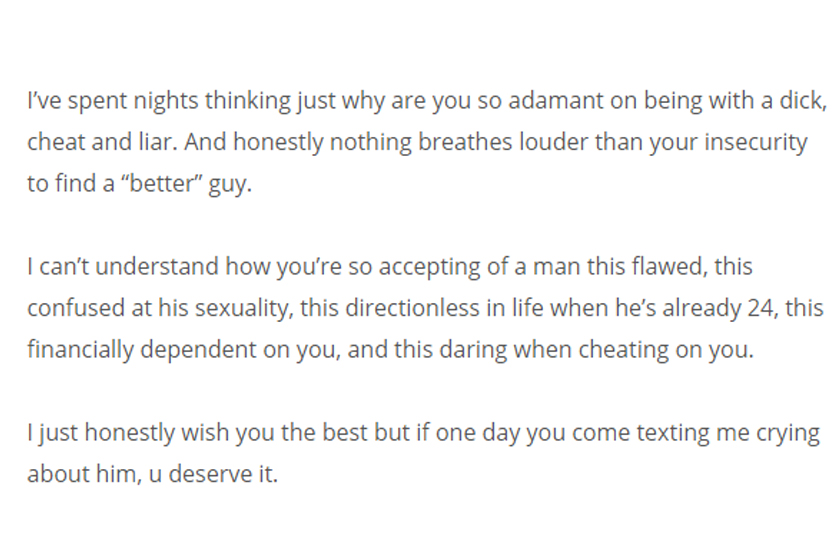 2. Not encouraging others to stalk him
While Chloe wanted to draggggggg Ashry down, encouraging others to stalk and shame Ashry wasn't necessary.
Giving out his social media accounts online and thanking people who sent her screenshots of him in public spaces, were acts which encouraged others to stalk him.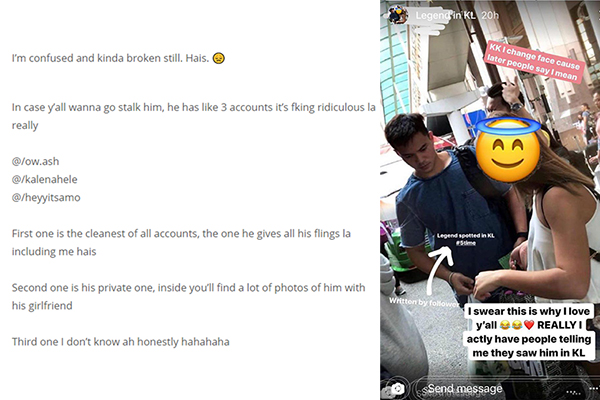 Ashry's main girlfriend, sugar daddy, and friends were 'sucked' into the whole situation too.
She posted uncensored screenshots of his sugar daddy too, with the caption "Y'all should go follow and see see look look. Damn juicy I cannot."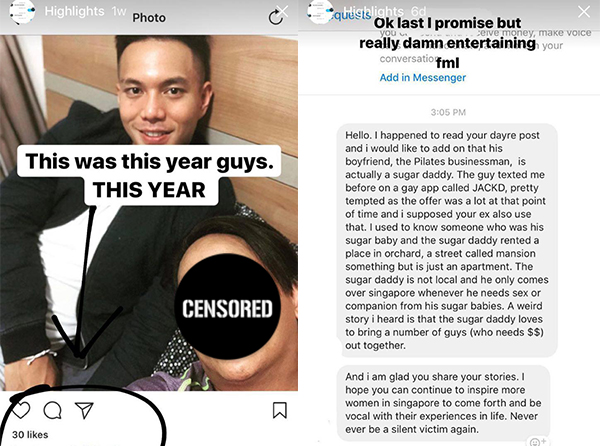 3. Not publicly demanding S$200+ compensation
When Chloe and Ashry went on dates, he'd often ask her to book a Grab with a promise to pay her back. He also took out 'shared money' to buy himself a pair of Stan Smith socks.
If you were in Chloe's position, you'd probably also regret your choice of 'investment'.
However, shaming him on her social media accounts to get her cash back is a tad calculative.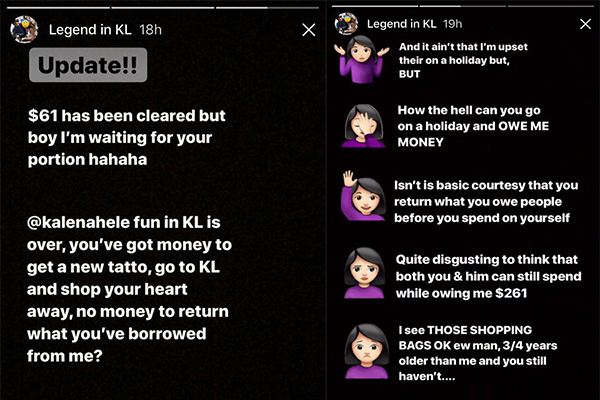 Dealing With Internet Drama
Internet drama, or any kind of drama, can be fun to watch, but tiresome to be involved in. Chloe's Instagram has since been privated, presumably because she wants to put the whole cheating issue to rest.
Despite the showdown, the whole incident has raised netizens' awareness of how cheaters and manipulators use technology to do their dirty work.
Nonetheless, let's hope 2018 will be a happier, drama-free year for all!