Dermatologist's Guide To Base Makeup 
Be it to cover up maskne or create a flawless complexion, your choice of base makeup can make or break your look. Opting for the wrong foundation, BB cream or cushion can result in cakey makeup or worse, a breakout. We enlisted the help of dermatologist, Dr Teo Wan Lin, to compile a guide on how to shop for base makeup that best works for you, so you know what products you should be adding to cart once and for all. 
Steps to take when shopping for base makeup
1. Identify if you have a skin issue and have it treated
Dr Teo advised that the first step is to assess if you have any skin issues or conditions that should be treated. Common skin issues include sensitive skin, rosacea and eczema. 
If you suspect that you have a skin condition, book an appointment with an accredited dermatologist and have it treated first. 
According to Dr Teo, no matter how well-formulated a base makeup product is, applying thick layers of foundation or makeup can cause skin irritation and also serve as a media for bacteria to grow on the surface of your skin.
2. Determine your skin type
Before trying to find your ideal base makeup product, it's important to know if you have normal, dry, oily or combination skin.
After washing your face, let it dry before checking for excess oil to assess your skin type
In her book, Skincare Bible, Dr Teo revealed an easy way to determine your skin type. First, wash your face and let it dry for 30 to 60 minutes. Once your skin is dry, dab a tissue on your T-zone (the nose and forehead) and cheeks to check for excess oil. 
If the tissue is dry, it means you have dry skin. Likewise, if both your T-zone and cheeks have some oil, you most probably have oily skin. If your cheeks are dry but your nose and forehead have some oil, then you likely either have normal or combination skin. 
3. Choose the right shade and tone
Dr Teo shared, "Choosing the right shade is probably the critical factor in how well the foundation goes onto your skin. Everybody has a very unique skin tone and a lot of brands have a limited range of foundation colours." She added, "Even professional makeup artists tend to mix their own foundation shades to get the perfect shade."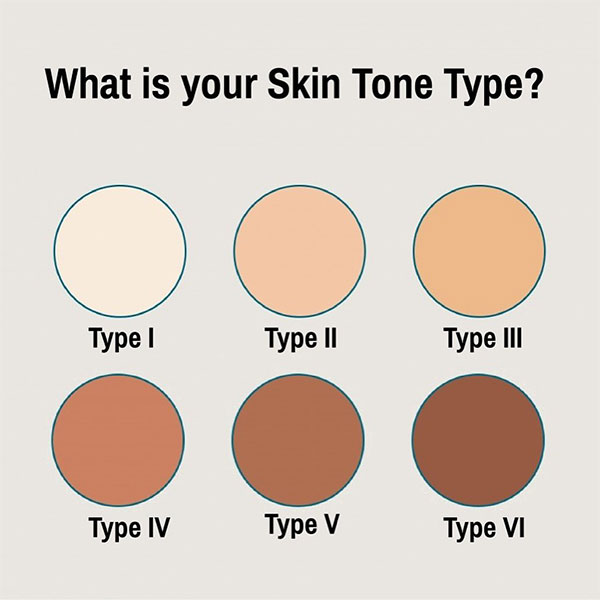 Source
One way to find a shade that flatters your skin tone is to opt for custom base makeup. Dr Teo's brand, Dr.TWL Dermaceuticals, offers a customisation service with its CC cream. When purchasing its CellTalk Cosmeceutical CC cream, match your skin tone to the closest type (above, from Type I to Type VI) on the page. From there, you will be sent samples of the 3 shades closest to your skin tone to try before customising your ideal shade. 
Besides trying to find a shade that suits your skin colour, you also have to make sure it goes well with your underlying tones. Some people have a warmer or cooler complexion compared to others, so try testing different shades to find the best fit for you. "It could be a single shade of foundation but there are different undertones, which should be corrected separately," Dr Teo said.
Depending on your skin concerns, Dr Teo recommended looking into colour correctors or concealers to balance out the redness or dullness in your skin.

4. Conduct a patch test
If you are prone to sensitivity or have had allergic reactions to base makeup, Dr Teo advised that you should do a patch test before settling on the right product. This is to ascertain if the formula of the product is suitable for your skin. 
A simple way to carry out a patch test is to leave a small amount of product on your forearm or under your chin overnight. If you don't see any redness, flaking or experience a stinging sensation, then it is likely that the product is safe for you to use. 
5. Know what ingredients to look out for

Source
No matter what your skin type, there are plenty of ingredients that can benefit your skin. For example, Dr Teo brought up the fact that a lot of foundations contain smootheners. These help to prevent water loss to the environment.
When it comes to ingredients we should avoid, Dr Teo highlighted "bismuth oxychloride", or BMO for short. It is a common filler ingredient that is used in a lot of base makeup, especially mineral-based cosmetics as it is very cheap and gives off a pearlescent finish. 
It can be very irritating on the skin and can cause sensitivity as well. This ingredient also accounts for why some people report experiencing the sensation of cut glass when they use certain products. 
Also read:
7 Makeup Tips So You Will Be Photo-Ready Under Your Mask Even After A Whole Day Of CNY Visiting
Types of base makeup 
Once you've identified your skin type, it's time to choose the type of base makeup suitable for you. 
Dr Teo underscored the importance of knowing the different types of base makeup and how they differ from one another. If you're lost about what kind of makeup suits your needs, fret not. Here are 4 of the most common types of base makeup and what skin types they work best on. 
1. Liquid foundation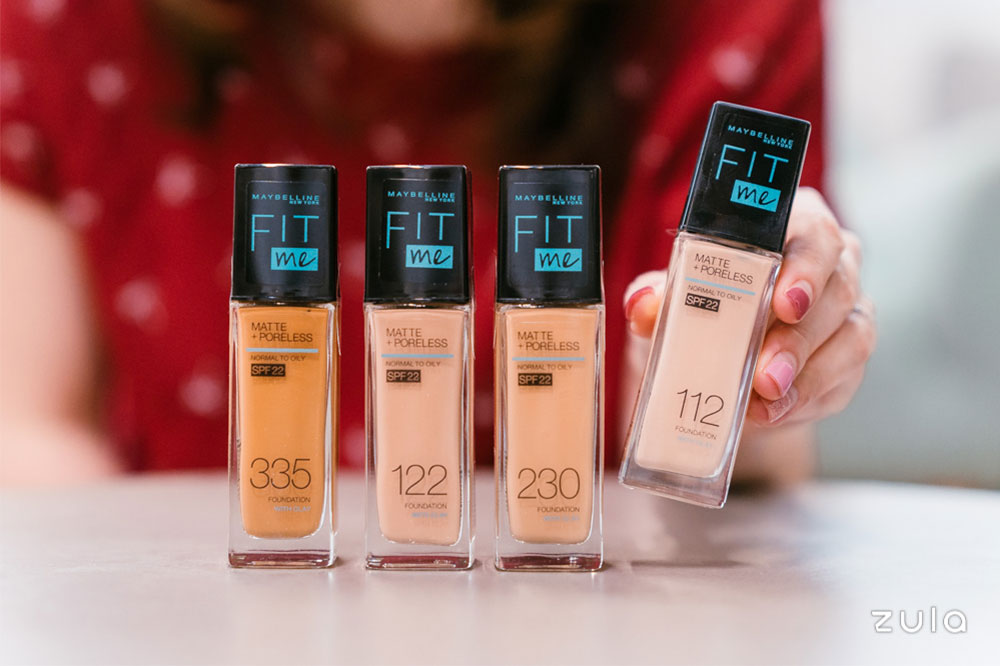 Maybelline Fit Me Matte + Poreless Liquid Foundation
What it is: When you think of base makeup, liquid foundation is probably the first thing that comes to mind. It offers the most coverage, and is used to cover any imperfections or create an even skin tone. 
Who it is for: It suits those with normal skin but even with the category of liquid foundations, you can find products better suited to your skin type. For example, there are mattifying and hydrating formulas to choose from if you have oily or dry skin. 
2. Cushion compacts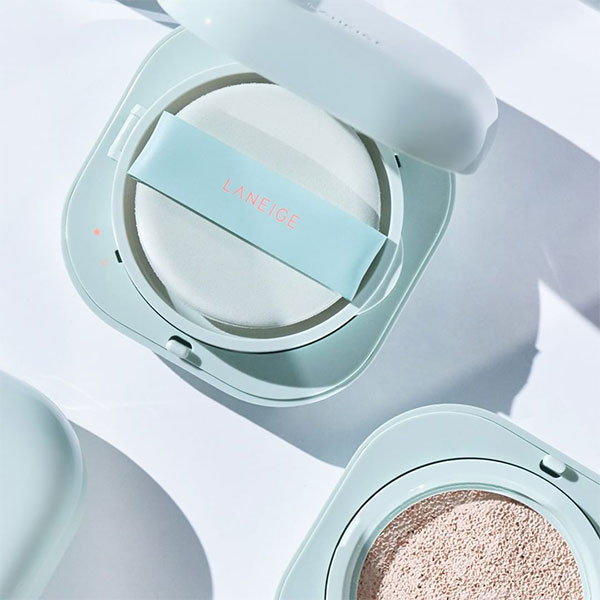 Laneige Neo Cushion_Matte
Source
What it is: Cushion compacts first arrived on the scene courtesy of K-beauty brands. Most of them have lightweight formulas to give you a natural, even finish, whether you're going for a matte or dewy makeup look. These include a pad to help you apply the product on your skin. 
Who it is for: Cushion compacts are suited for those with oily skin. Or, if you have combination skin, it's good to swipe some over your T-zone to get rid of any unwanted shine. Dr Teo adds that individuals with oily skin can also consider applying loose powder with zinc oxide after using a cushion compact. This helps to reduce oil production and bring comfort to the skin. 
3. BB creams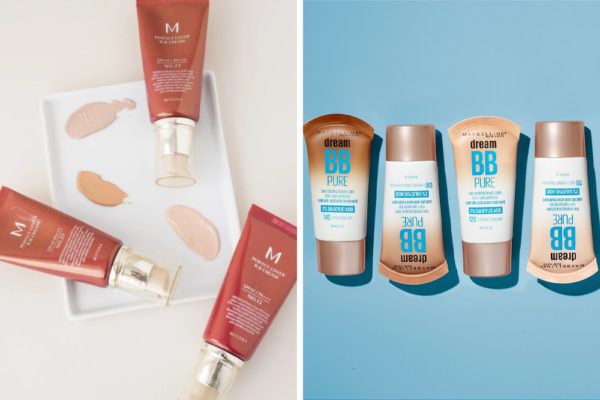 Missha Perfect Cover BB Cream SPF 42 PA +++ (left), Maybelline Dream Pure BB Cream (right)
Source, source
What it is: Another base makeup product popularised by K-beauty, BB creams are foundations that contain ingredients that can be found in skincare products for additional benefits. It aims to heal and moisturise your skin on top of covering your blemishes. Most BB creams are also infused with SPF to protect against the sun and antioxidants to heal your skin or for anti-ageing purposes.
Who it is for: Dr Teo recommends BB creams for those with dry skin as most tend to moisturise your skin. The hydrating formulas work to keep your skin hydrated and looking dewy.
4. CC creams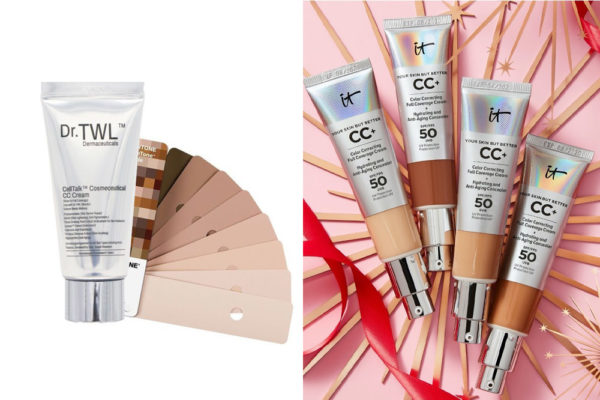 Dr. TWL Dermaceuticals CellTalk Cosmeceutical CC cream (left),
IT COSMETICS Your Skin But Better CC+ Cream SPF 50 (right)
Source, source
What it is: Dr Teo calls CC cream a "sister" of BB creams, as they both contain similar active ingredients. The "CC" in CC cream stands for Colour Correcting and is meant to give your skin an extra glow.
Who it is for: Like BB creams, CC creams are also recommended if you have dry skin. They provide not only coverage but care and protection for your skin as well. 
A Dermatologist Shares The Steps To Shopping For Foundations, BB Creams & Cushions Based On Your Skin Type
Whether you're a makeup noob or guru, knowing how to pick the right base makeup product for your skin is always useful. If you're not sure whether you have any undiagnosed skin conditions, it's best to see a dermatologist so you can look and feel your best.
We hope that this guide has helped you understand how to buy base makeup products fit for you and how to take care of your skin. 
Also read:
How To Use Colour Correcting Makeup So You Can Achieve Flawless Skin With Less Foundation