An All-Black Style Is Pretty Great
If there's one thing colleagues, friends and family will remember about me; is that I wear black almost all the time. It goes without saying that I get a fair share of criticism from naysayers.
I've heard accusations that I'm unapproachable and snobby, and that I have a style that's unremarkable and dysfunctional for the blazing weather. The latter comment comes across as especially insulting, and ironic, given that I'm a fashion writer.
But instead of being bothered, these people don't know what they're missing out. These are all the reasons why having an all-black wardrobe is pretty great.
Black exudes the qualities you want to be
Through a long-span of different eras and cultures, black has taken on a diverse range of significance with its visual aesthetic. It is commonly associated as a visual representation for grief, elegance, grunge, nobility, mystery and poetic romance.
It's a colour best remembered as defining features amongst cultural icons in music (Edith Piaf, Amy Winehouse), film (Audrey Hepburn), fashion (Rei Kawakubo, Yohji Yamamoto), and literature (Lord Byron).
As a young professional, it's great to be taken seriously whenever I'm speaking at work. With minimal details of my outfit as distractions, my being becomes the ultimate focus to peers and I feel whatever I say or do is given careful attention to.
For context, say I'm sharing a laugh, my sense of humour would be emphasised as a focus feature when tied to my supposedly guarded facade.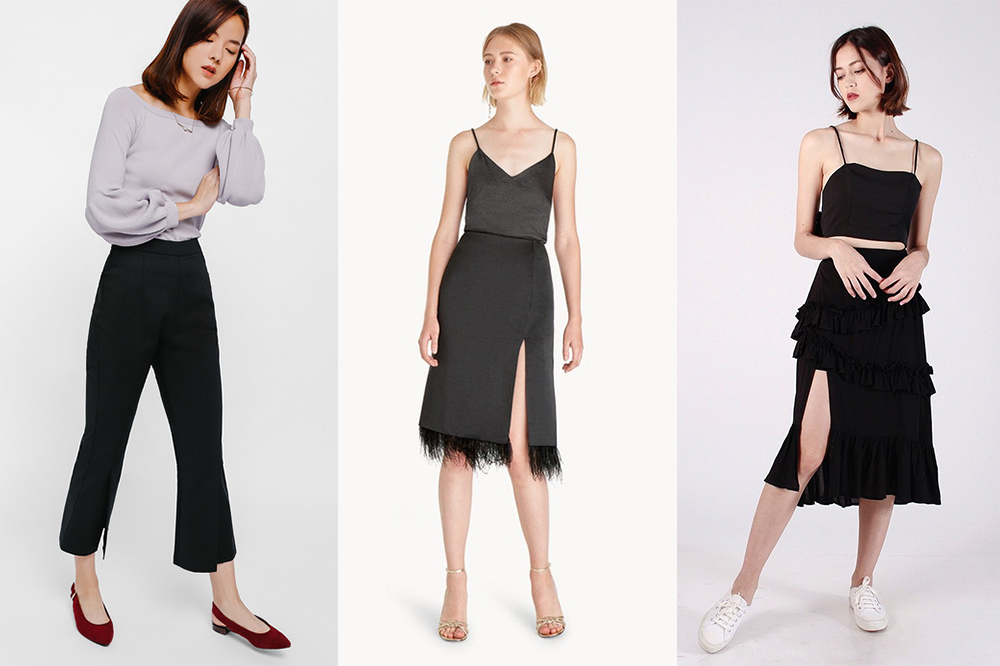 From left to right:
Fiolyn Slit Cropped Flare Pants (S$46.90)
Feather Trimmed Side Slit Skirt (S$54)
Escape Ruffles Slit Midi Skirt (S$28.90)
The versatility of black takes you anywhere
In present day, black has evolved to become an incredibly esteemed yet versatile colour to wear for a wide range of occasions, from anywhere casual to the haughtiest of places. It boils down to which pieces you wear and how you choose to style them.
Start simple, with a flattering dress or jumpsuit. Then all you need to do after is add additional layers; jackets, coat, and/or statement jewellery as you please. Your allegiance to black allows you to look classic, edgy, in mourning, or avant-garde with minimal effort.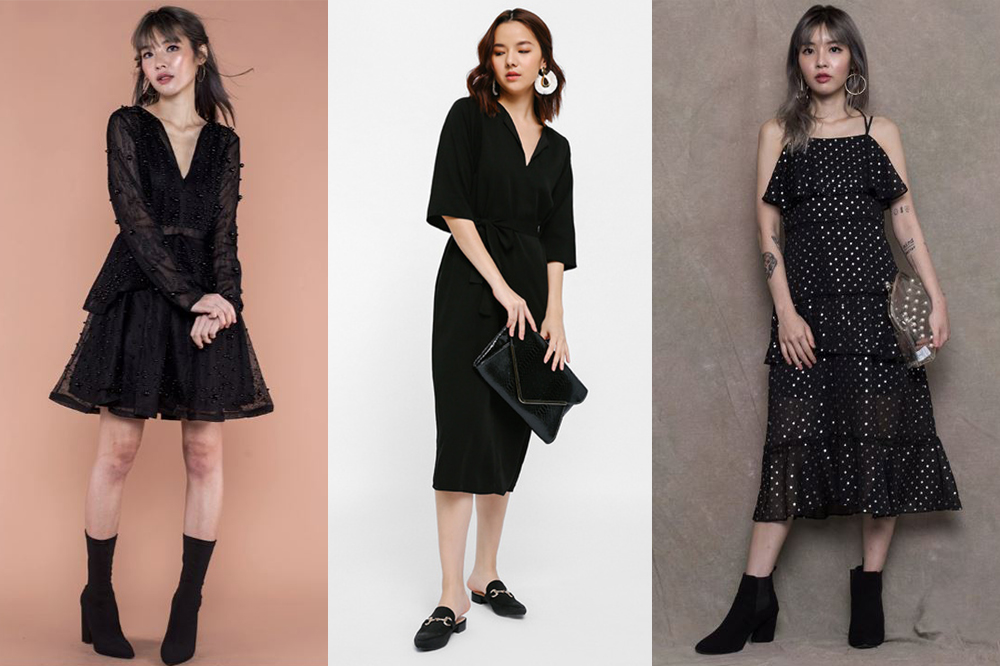 From left to right:
Embellished Pearl Dress (S$45.80)
Bonika Notch Neck Sash Midi Dress (S$49.90)
Star Of The Night Dress (S$33.80)
Need an outfit that's looks appropriate for work and a romantic date at Fullerton Bay? Wear black.
Need to show your disdain for the world as you're going through an angst phase? Wear black.
Going for an actual funeral? Well, you know what to do.
The convenience of an all black personal uniform
Needless to say, wearing all black for myself, has become something of a personal uniform. With article deadlines, social engagements and relationship commitments to attend to, having not to fuss over matching colours allows me to focus on more important decisions daily.
It has become so incredibly comfortable for me to be dressed this way that I might just jump around meaninglessly in jest, knocking my coffee all over me.
And that's all good since none of it will show as unsightly stains on me anyway.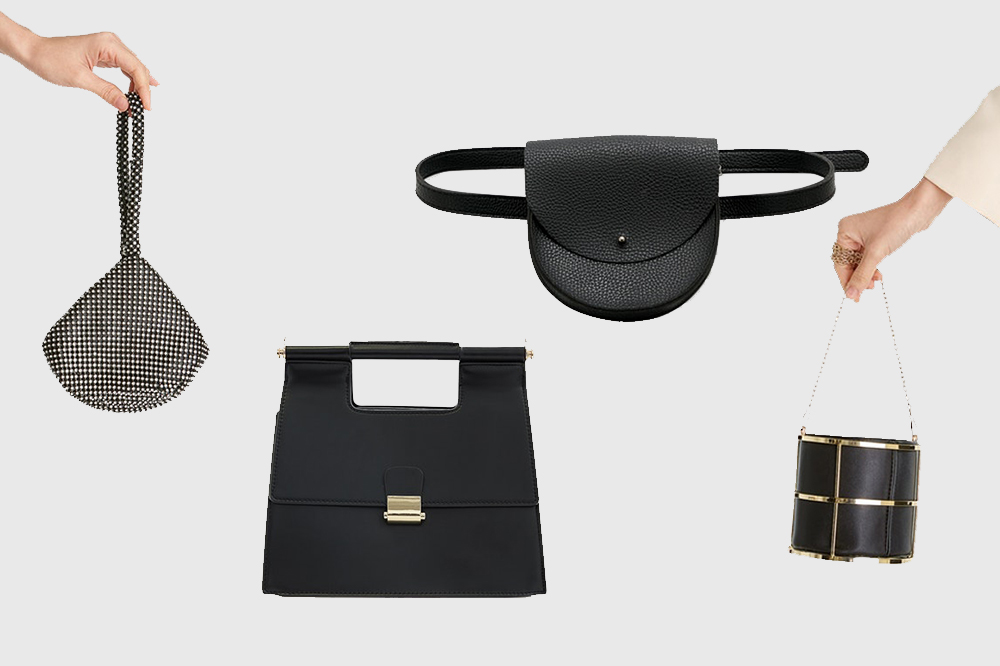 From left to right:
Diamante Net Wristlet (S$19)
Envelope Two Way Bag (S$49)
Faux Leather Mini Belt Bag (S$24)
Mini Drawstring Bucket Bag (S$39)
Black is a great base to up your style game
The beauty of black as a result of its complete absence of colour, makes for an all inviting and flattering canvas that needs no adornments. This makes for an excellent platform to start experimenting with dramatic silhouettes and interesting textures.
Subtle details can change everything for an outfit. Play with textures such as leather, pleats, and feathers to go beyond your comfort zone and elevate your daily style.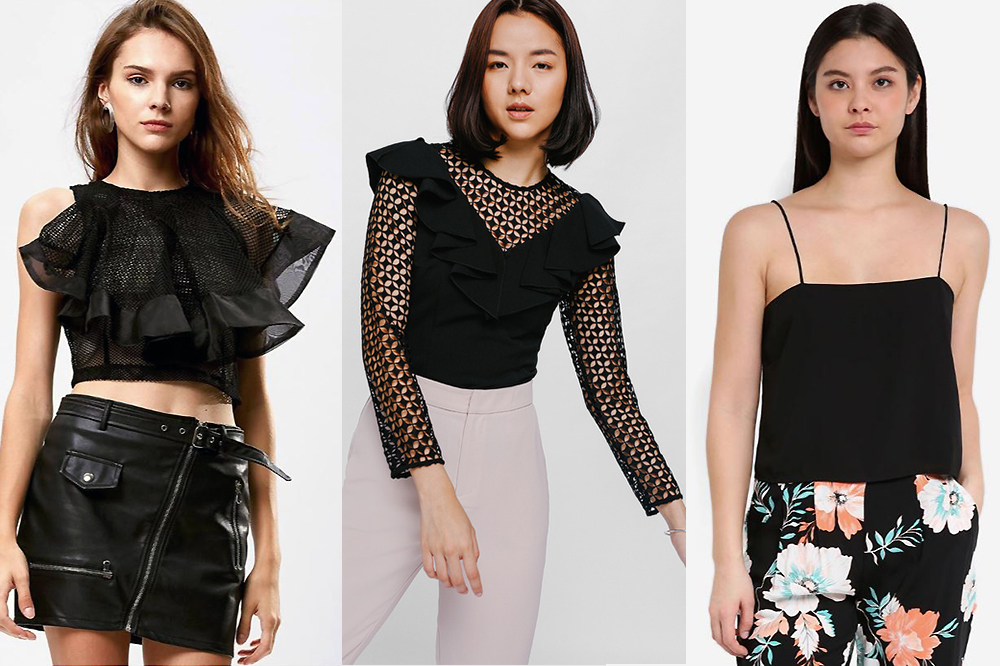 From left to right:
Amanda Mesh Ruffle Top (S$83)
Gerrina Crochet Ruffled Top (S$49.90)
Pippa Chopped Cami Top (S$19.95)
Or try expanding your accessory inventory with statement jewellery. Anything that catches the light is bolder and cooler with black as your only palette.
And that's why I never get bored with black.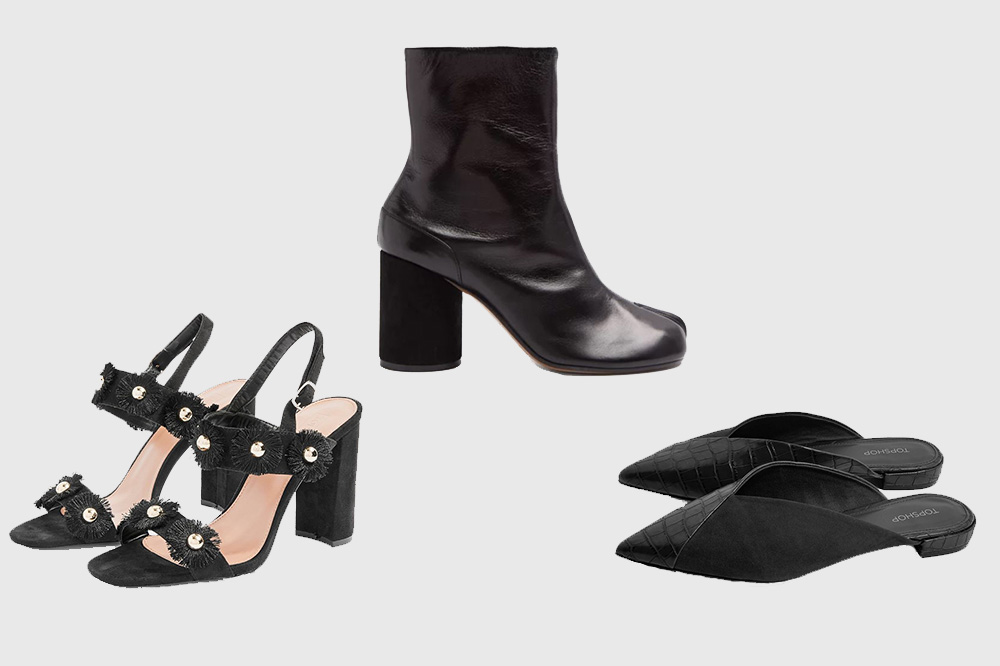 From left to right:
Two Part Sandals (S$89.90)
Tabi boots from Martin Margiela (U.P. S$788, now S$394)
Alice Pointed Mules (S$56.90)
Make Black Your New Black
To be blunt, it's impossible for any other colour to be the new black.