Couple Met In An Online Game
"Ai Stead Mai?" was a question Singaporean 90's kids would pop to their school crush, in an era where Jay Chou's love ballads were the soundtracks of our lives. Somehow, his mellow tunes could nurse puppy love wounds even if you had no idea what he was rapping in Mandarin.
But for Denise and Shaun, their agreement to go 'steady' wasn't any holiday romance. Since they were 14 years old, the couple has remained tighter than your Lock & Lock recess box.
And if their ten-year relationship makes you feel any worse about your non-existent dating life, you should know that these two were brought together when their online characters got 'married' in the game Audition.
"Over a conference call, my friend asked me to be Shaun's 'stead' so I said okay," Denise recalls with a laugh. They had their first kiss during a game of Truth or Dare, three months after.
But, it wasn't love at first sight. Their first meeting at Compass Point was "awkward" and Shaun didn't find Denise "pretty".
Furthermore, Denise faced parental objection as Shaun occasionally skipped school to spend afternoons with her. "I was from CHIJ St Joseph's Convent, while Shaun was from North Vista Secondary, so my mother found him too ah beng," she explains.
So how did two ordinary teenagers survive the odds through National Service, Polytechnic, University, and working life, together?
"Gaming," Denise pinpoints, explaining that it became their common activity to bond, and a reason to rendezvous. When Shaun played Dota, Denise made him teach her how to play in order to spend more time together.
The couple also believes gaming has helped them understand each other better. "You normally never meet people you talk to online, so you can say whatever you like and feel comfortable being yourself."
Today, the couple spends Sundays playing (the 'cancerous') Mobile Legends. However, their preferred weekend activity has slowly transitioned into cheerleading. Denise picked up the competitive sport in Singapore Polytechnic, two years before Shaun joined her.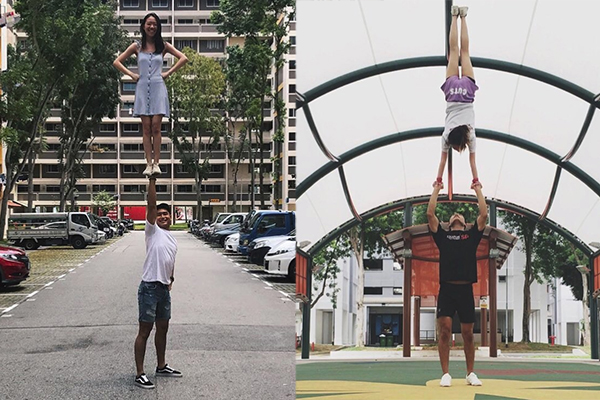 Knowing If He's 'The One'
I ask Denise if she would consider Shaun 'The One', and she says it's hard to explain. "It's cliché, but he is someone I can see spending the rest of my life with, having kids and growing old together with."
"We've been through ups and downs together for so long that it's just hard to imagine a life without each other," Shaun adds.
However, the couple recognises no long-term relationship is an overnight success.
Dating Advice For A Happy Relationship
Denise explains how several factors come into play in order to maintain a 10-year relationship through the rockiest period of growing up:
1. Voice your feelings and settle problems face to face or over the phone: "Always try to find a solution in the same day and go to sleep happy."
2. Choose your battles wisely: "We can't always please each other and there are times even now that we just have to trust the other party and let go."
3. Empathise with your partner's insecurities and build a support system: "When I joined cheerleading before him, there was constant physical contact between guys and girls. I knew he was uncomfortable, so I brought him along to meet my teammates. Eventually, my boyfriend loved cheerleading more than I did."
4. Don't forget your individual identities and lives: "Shaun often had to fly for NS, so working full-time helped prevent me from overthinking about him."
5. One party has to be more level-headed during a fight: "Out of anger, we say things we don't mean, so one party should be more calm during arguments."
6. Spend quality time together: "We dedicate at least one day in the week to be together, even if we're at home watching shows or playing online games."
7. Give and take: "Every one to two years, one of us would love the other party 'more' so there wasn't a moment where we took each other for granted."
8. Take one step at a time and don't feel pressured to get married: "My dream was to get married at 25 or 26 but now that I'm 24, it's not realistic financially. Marriage is only the next step if we've been together for a long time."
Above all, Denise believes a strong relationship simply involves two parties who will not give up on each other so easily.
"My relationship is proof that you can grow to like a person, just like how my mum has grown to like my boyfriend over the years. I can't imagine marrying a guy she disapproves of!"
At the end of the day, it requires more than just feelings to stay in love, whether or not you found love at first sight, swipe, or online fight.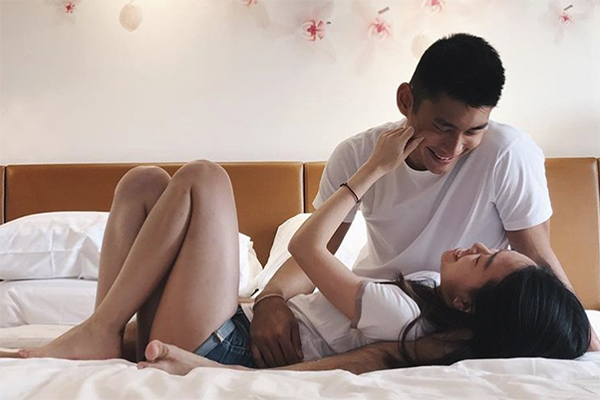 But if all else fails, you can mourn being a single pringle while watching our Youtube reality dating show, ZULA First Dates, and wait to sign up for the second season for a shot at love.