Craft Workshops In Singapore
Since the implementation of social distancing measures, planning a girls' night out or date with your boo has become a task in and of itself. On top of that, the numerous Safe Entry check-ins can make getting around the city feel like you're taking part in an unending obstacle course. If you're over it, check out our list of craft workshops in Singapore to spend quality time with loved ones while avoiding the crowds.  
1. Cheese & Chopping Board Making – Tombalek
Source
With the 10.30pm alcohol curfew, house parties have become much more convenient than dining out. Impress your guests by presenting them with cheese served on a handmade cheese board made at Tombalek's Cheese and Chopping Board Making class.
Source
During this class, you'll learn how to cut and finish your choice of a cheese or chopping board. Pick from a selection of wood including mahogany, walnut and white ash. Tombalek also offers finished products, such as cutting/serving boards and furniture, all of which are handcrafted at the woodworking and metalworking studio.
Price: $90 per person
Duration: 2.5 hours
Address: 7 Mandai Link, #10-22, Block B, Mandai Connection, Singapore 728653
Contact: Email info@tombalek.com
Website | Facebook | Instagram
2. Terrazzo-Style Tray Workshop – Chokmah
Source
Like pastel pink and house plants, terrazzo is an indelible part of the millennial aesthetic. Chokmah sells marble and terrazzo trays, and offers a Terrazzo-Style Tray Workshop so you can learn how to make your own too.
Source
Spend the next hour or so playing around with Jesmonite, an eco-friendly resin, and mix it with various pigments to achieve your own pill-shaped tray. Gather 3 other friends (that means 4 pax in total) and you can drop them a DM on Instagram to arrange for a private workshop at their studio.
Price: $98 per person
Duration: 1.5 hours
Address: 443C Fajar Road, #08-72, Singapore 673443
Contact: Via Instagram DM
Website | Instagram
3. Mini Me, Mini Wheel Workshop – Thow Kwang Pottery Jungle

Source
A 3-generation family business, Thow Kwang Pottery Jungle is home to one of the country's oldest traditional brick-built kilns. Earlier this year, it  received the "Stewards of Singapore's Intangible Cultural Heritage Award" from the National Heritage Board.
Source
Those who have tried pottery before can consider its latest Mini Me, Mini Wheel Workshop, which offers a new twist on the usual pottery session. Experiment with different forms on the adorable mini wheel, and paint your artworks on the spot using their in-house colours. At the end of 2 hours, walk away with 3 of your own DIY mini creations, which you can use to store sprigs of dried flowers or even use as a teacup.
Price: $45 per person
Duration: 2 hours
Address: 85 Lorong Tawas, Singapore 639823
Contact: Email hello@arch-hire.com
Website | Facebook | Instagram
4. Botanical Luxe Resin Dish Workshop – Room to Imagine
Source
Let your imagination run wild at Room to Imagine, an art studio focusing on acrylic and resin. Its workshops combine form and function, allowing you to craft all sorts of beautiful and useful home decor items. 
Source
Make your own dish for the dining or even makeup and dressing tables with the Botanical Luxe Resin Dish Workshop. The resin is food-safe, and you'll even be able to decorate your dish with pressed flowers and leaves, as well as materials like gold foil flakes and glitter glass.  
Price: $85 per person
Duration: 2.5 hours
Address: 395 Jalan Besar, #04-01, Singapore 209006
Contact: Email hello@roomtoimagine.sg
Website | Facebook | Instagram
Also read:
This Hello Kitty Chiffon Cake Online Baking Class Is The Wholesome Weekend Activity We Deserve
5. Perfume workshops – Maison 21G
Source
Even with a mandatory mask-wearing rule, you can't disregard the need to smell good. Instead of buying perfumes off the shelf, craft your own at Maison 21 G. The Parisian perfumery house gives everyone a chance to design their own unique scent made with 21% perfume concentrate with its perfume workshops. 
Those who are flying solo can opt for Perfume By Me ($90/person, for ages 21 and under) and Perfume Creation ($120/person). You'll get to learn from the experts and walk away with your own personalised bottle. Or, sign up with bae to create a collective couple scent with The Love Atelier ($290/couple), on top of your own tailor-made fragrance.  
Price: From $90 per person for the Perfume By Me workshop
Duration: 1 to 2 hours
Address: 77 Duxton Road, Singapore 089536
Contact: Call 6226 2677 or email create@maison21g.com
Website | Facebook | Instagram
6. Printmaking workshops – How to Ink
Source
How to Ink will be your guide to the world of printmaking with its weekly themed craft workshops. Besides silkscreen printing, it also offers linocutting, marbling, monoprinting, and even paper-making. 
Source
Learn the fundamentals of linocutting with How To: Basic Linocutting and Printing Workshop ($40), or opt for the Full Course ($120), which takes place over 2 days. At the end of the course, bring home your work of art and, of course, bragging rights. 
Price: From $40 per person
Duration: 2.5 to 3 hours
Address: 317 Outram Road, #01-26, Concorde Shopping Centre, Singapore 169075
Contact: Email info@howtoink.org
Website | Facebook | Instagram
7. Tapestry Weaving on an Easel Weaver – Craft Atelier
Source
It's easy to feel overwhelmed by how the pandemic has panned out so far. Calm your frazzled self by embracing the slow life with Craft Atelier's tapestry workshops. The Tapestry Weaving on an Easel Weaver class gives you a taste of weaving with a Schacht Easel Weaver.
Source
You'll get to create your own tapestry on the spot, as well bring the complete Easel Weaver kit home. This includes the frame, as well as everything else you need to complete another piece on the same frame if the urge kicks in.
Price: $100 per person
Duration: 3 hours
Address: 426A Joo Chiat Road, Singapore 427644
Contact: Call or Whatsapp 8669 5794 or fill in the contact form on its website
Website | Facebook | Instagram
8. Coffee workshops – Common Man Coffee Roasters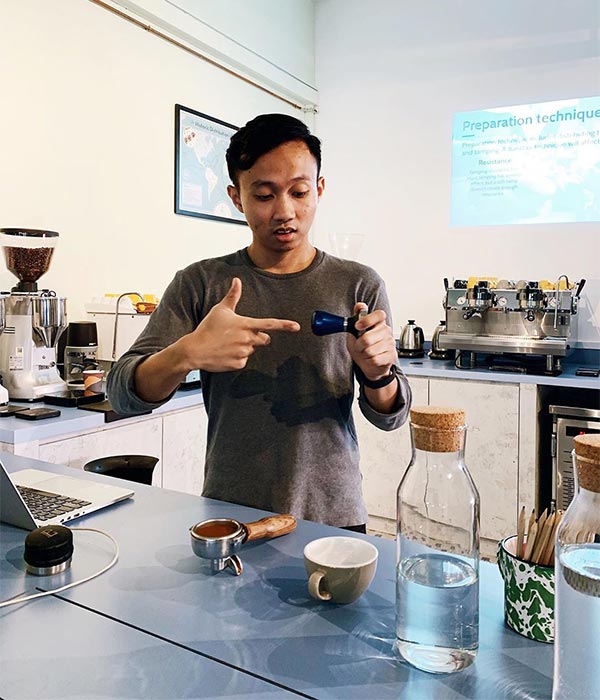 Source
Fulfil your barista dreams with Common Man Coffee Roasters' coffee workshops. The popular cafe launched its CMCR Academy as a platform to educate the public on understanding all things coffee-related.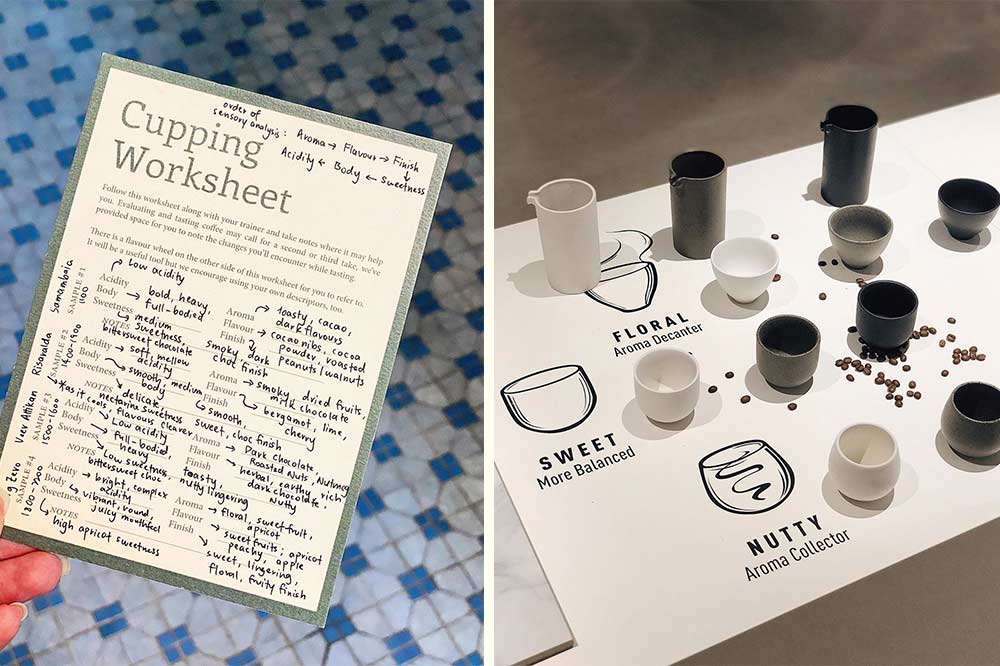 Source
The Essential Coffee Knowledge ($30/person) equips you with the basics on specialty coffee. Learn how to brew your own cuppa joe at home with the Fundamentals of Pour-over Coffee ($120/person). You'll get to pick up some barista skills and have your caffeine fix during these workshops.
Price: From $30 per person for the Essential Coffee Knowledge workshop
Duration: 1.5 to 2.5 hours
Address: 52 Chin Swee Road, #03-71, Singapore 160052
Contact: Call 6836 4695 or email training@cmcroasters.com
Website | Facebook | Instagram
9. Cocktail Mixology And Basic Bartending Skills For Home Personal Use – Palate Sensations Culinary School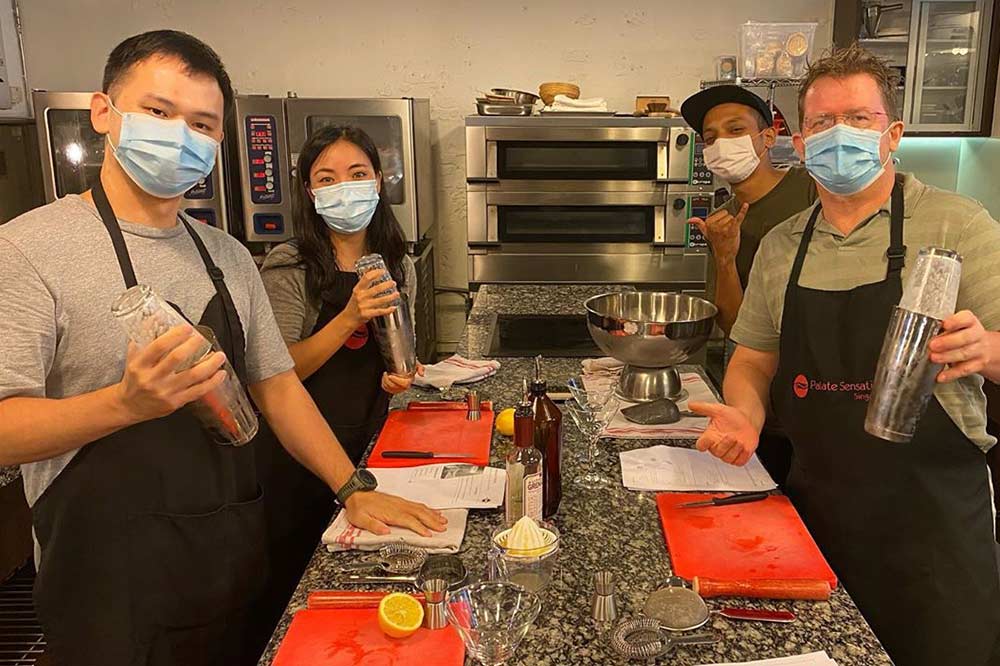 Source
Gone are the nights of bar-hopping and drinking into the wee hours of the night. Channel your inner bartender with Palate Culinary School's Cocktail Mixology and Basic Bartending Skills class. This engaging workshop covers the basic tools you'll need to set up your own home bar, as well as how to make some fancy cocktails.
On the menu are classic cocktails such as Old Fashioned, whiskey sour and mojito, and mocktails such as a virgin pina colada, so you can get ready to wow your guests when they come over.
Price: $128 per person
Duration: 2 hours
Address: 10 Biopolis Road, #01-03, Chromos, Singapore 138670
Contact: Email info@palatesensations.com
Website | Facebook | Instagram
Craft Workshops In Singapore For A Fun Weekend
The next time you're racking your brains over what to do, check out these craft workshops in Singapore. You'll get to pick up a new skill and spend time with your boo too.
Also read:
16 Weekday High Tea Promotions In Singapore From $20++ Worth Taking Leave For, Including 1-For-1 Deals