Dressing Table Goals
We all want to spend our morning makeup routines feeling like a queen, but that can be tricky when your dressing table looks something like this:
Source
To help you feel fabulous and start your mornings right, here are 10 dressing table ideas you can incorporate into your own vanity set-up.
Think out of the box
1. Use a hanging shelf instead of a dresser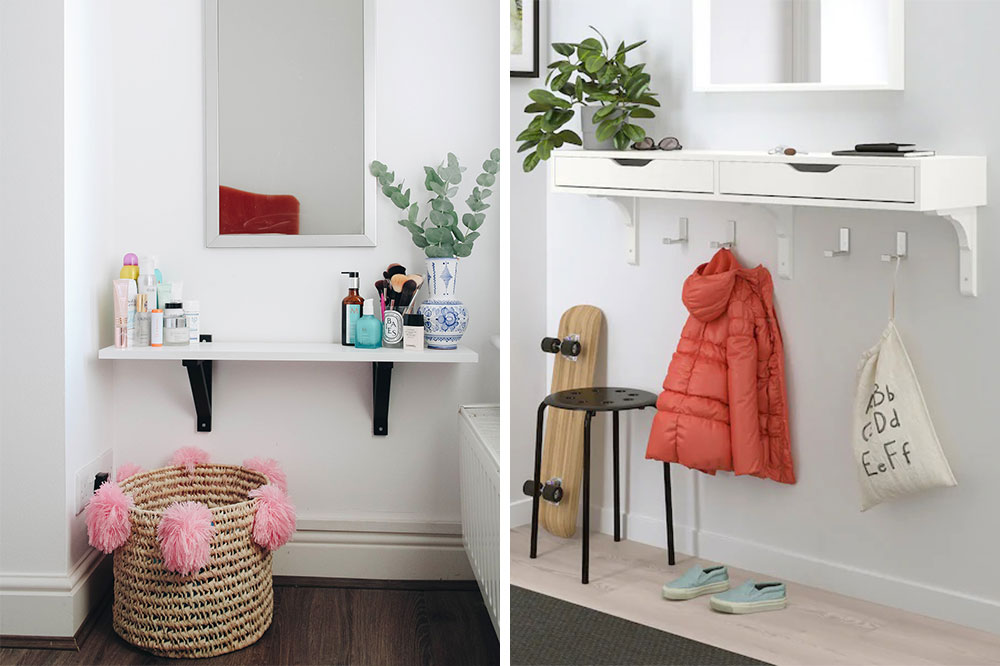 Source, source
Assembling a vanity doesn't have to mean installing a bulky dresser. A simple shelf with a mirror placed above it works just as well. It'll even encourage you to Marie Kondo your makeup stash. For those who can't KonMari their beauty haul just yet, IKEA's EKBY ALEX shelf ($89) has drawers for added storage space.
2. Find a theme and stick to it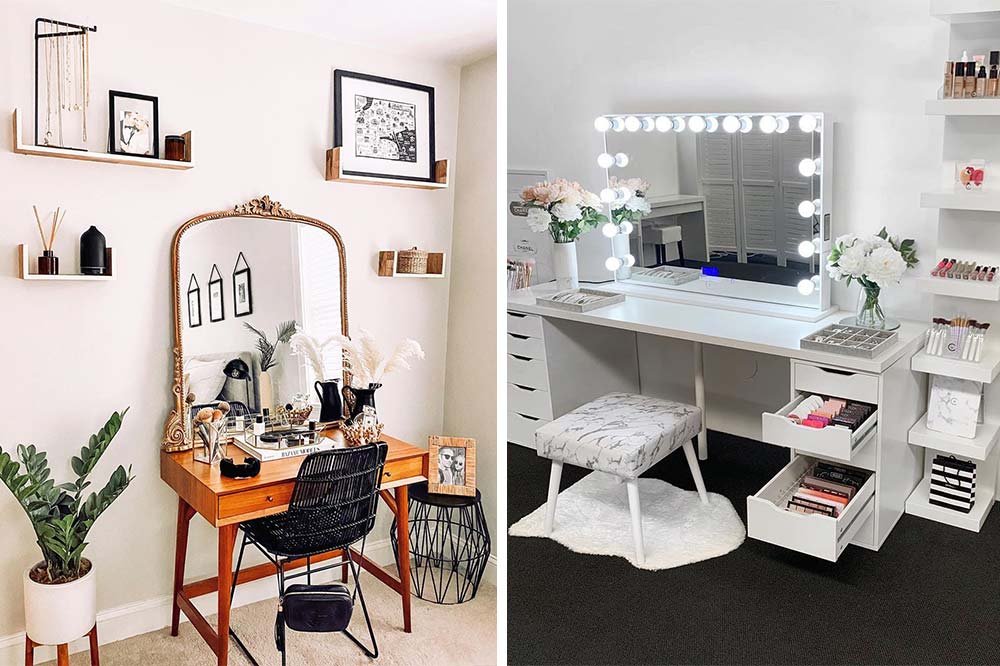 Source, source
Your vanity is more than just your dressing table. Think about what aesthetic you'd like for your entire vanity and use that as a guideline to decorate the entire space. The set-up on the left is all about natural elements like wood and rattan contrasted against graphic black lines. The gilded mirror (as opposed to a regular mirror without a frame) adds a textural contrast while complementing the overall colour scheme.
The vanity on the right, on the other hand, is all about a white canvas supplemented by pops of sleek marble. Again, the mirror framed by LED lights is a natural extension of the look.
In both cases, even the plants and the plant containers match the overall aesthetic as well.
Dress up your dressing table
3. Decorate your tabletop with faux marble foil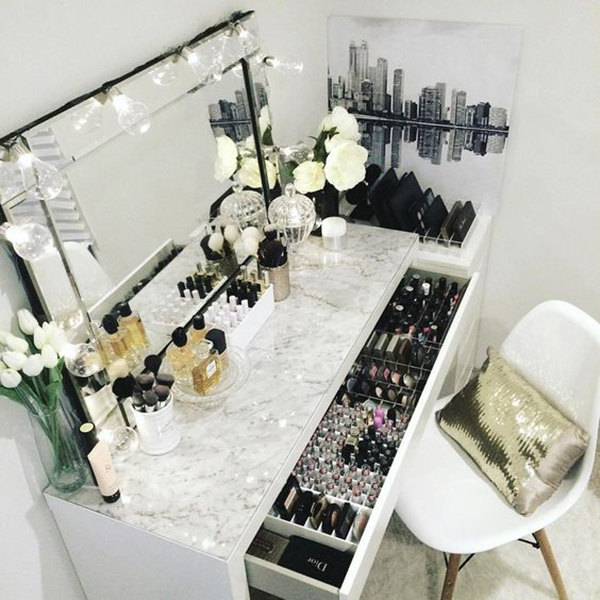 Source
If you'd love a marble countertop for your vanity but don't have the dough, DIY one instead. Marble wallpaper ($8.90 to $11.90) adds a luxe vibe, so you can feel fancy AF as you get ready every morning.
4. Upgrade your furniture by painting it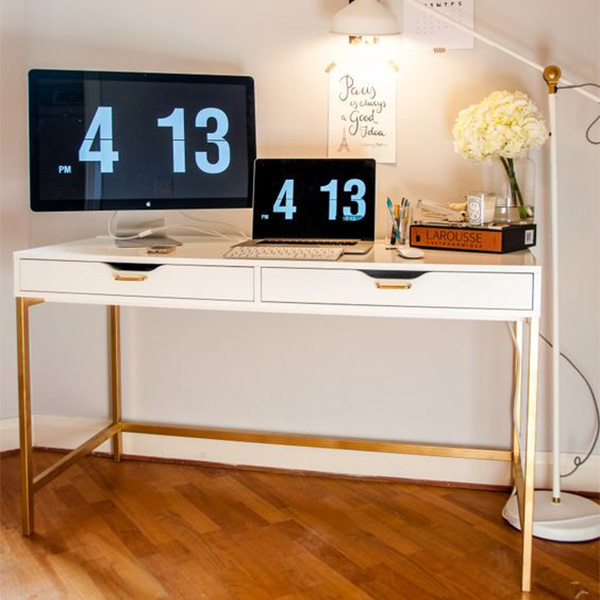 Source
Glam up a basic dressing table by spray painting the legs gold to make it look more atas than it actually is. You can get metallic gold spray paint at any hardware store, or order this Rust-Oleum spray paint ($19.90).
5. Use mirror panels and reflective foil to jazz up a plain dresser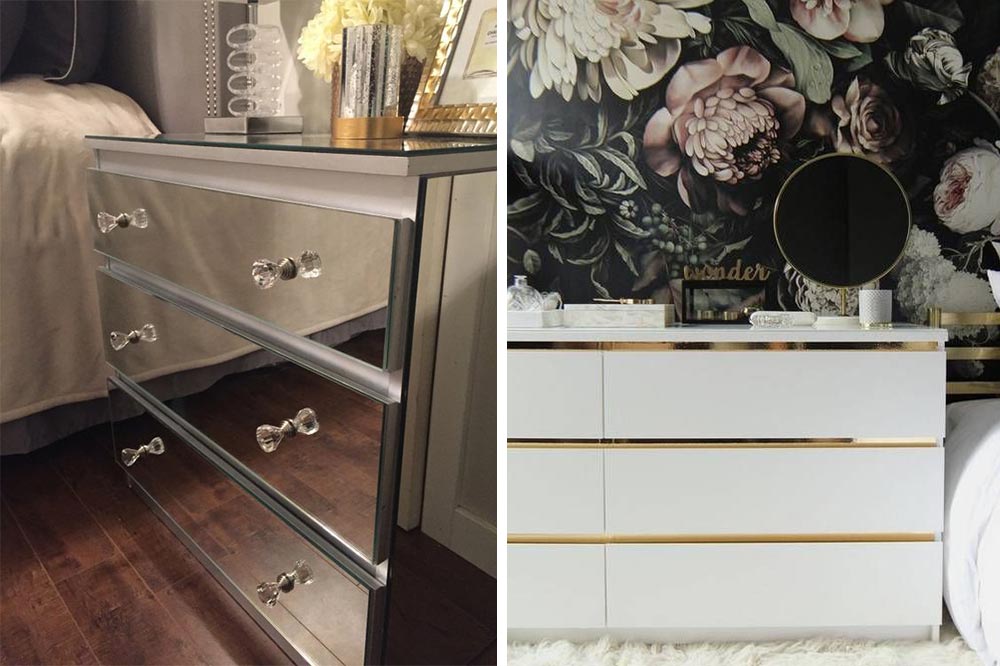 Source, Source
Maximise space in your bedroom by using your dresser as your vanity. 
Since it's doing double duty, you can afford to put some time and effort into making it a statement piece. Add major shine by sticking on mirror panels from the hardware store, or using reflective wallpaper. Or go for a more subtle glow by following these instructions and add gold contact paper to the top of your drawers.
Also read:
8 Taobao Items To Upgrade Your Work-From-Bed Set-up For Those Living In Small Spaces
Organise your space
6. More shelves = room for more makeup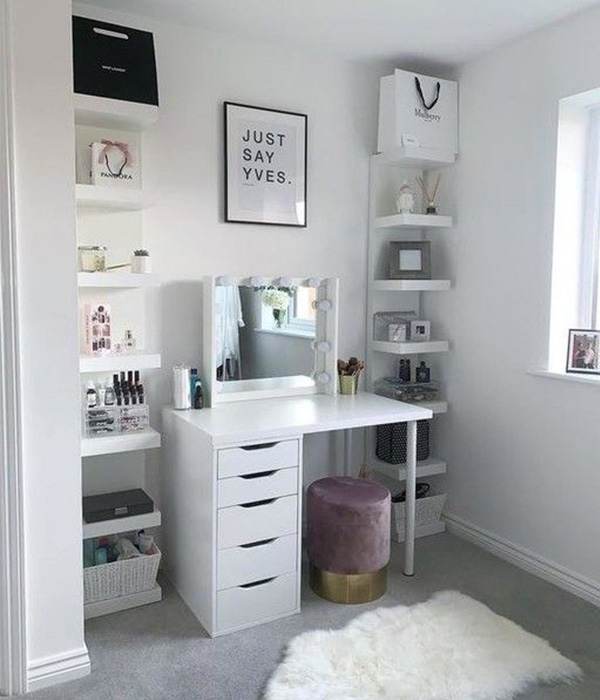 Source
If there's no space on your dressing table itself, this LACK wall shelf unit from IKEA ($79) will keep your beauty stash organised. There'll be no such thing as too much makeup with these easy-to-install shelves.
7. Makeup organisers will help you get your life together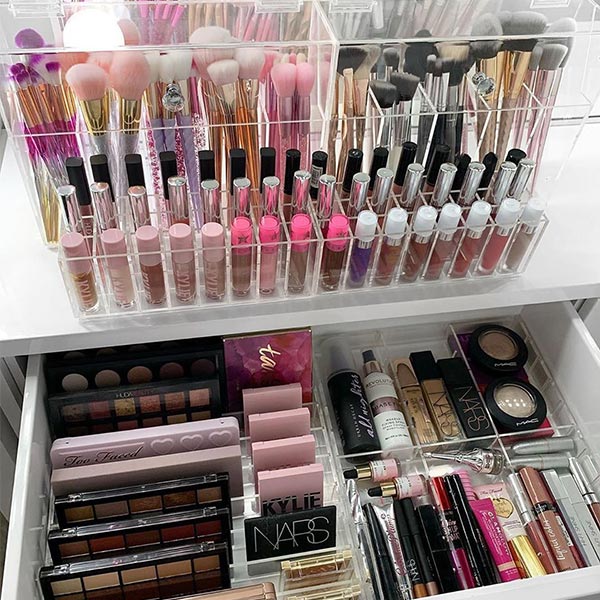 Source
Acrylic cases let you keep your stash organised while also being able to know where everything is at a glance. You can get them anywhere from ezbuy to Muji, or even companies dedicated entirely to makeup storage products. Vanity Collections, for example, has a Brush + Beauty Blender Holder ($76.51) with a tray just for storing your BB. 
Be sure to get dividers for your drawers too, so your dressing table isn't just pretty on the outside.
Accessorise your mirror
8. Add light bulbs for a Hollywood touch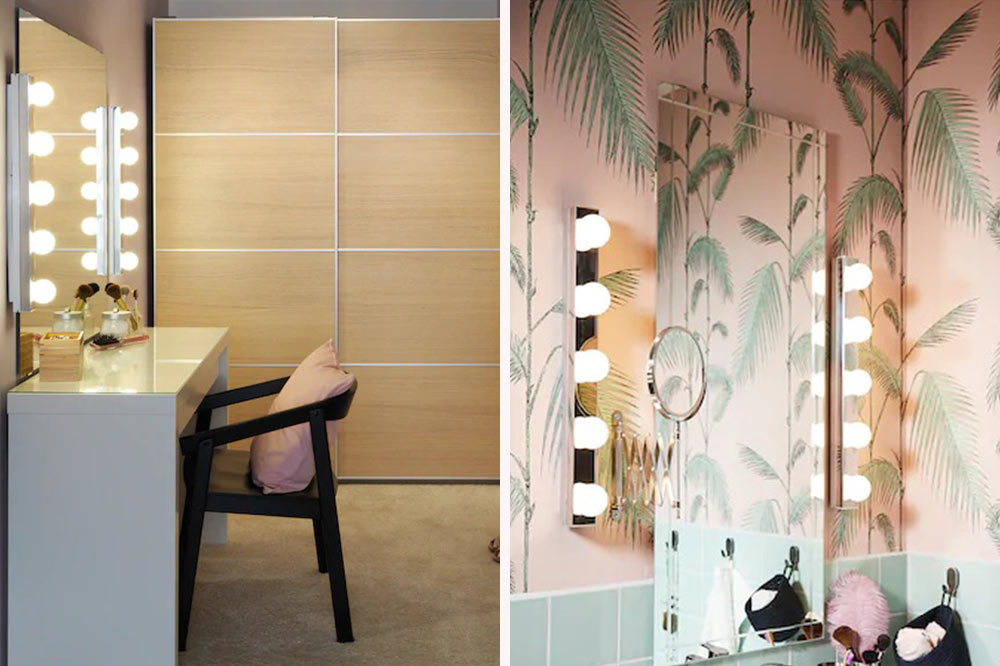 Source
Make like you're getting ready on a film set every day by adding IKEA's LEDSJÖ LED wall lamp ($79) to each side of your mirror. It's not all style and no substance either. The glare-free lighting will help you apply your makeup better too.
9. Or throw on fairy lights because why not?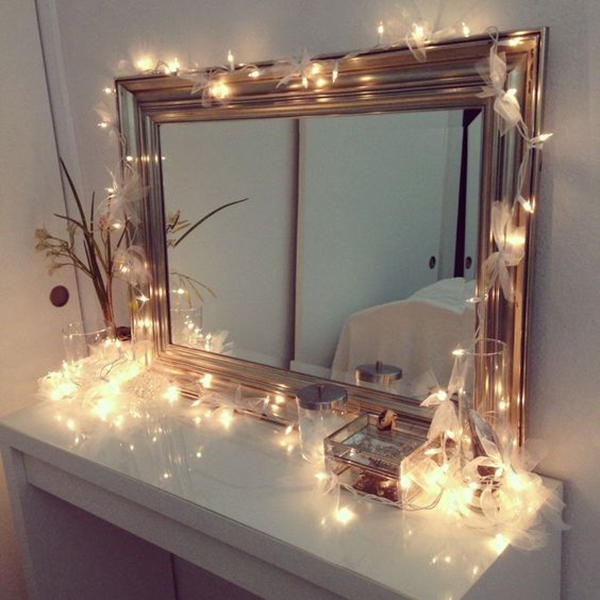 Source
String LED fairy lights like these from Curtain Lantern Lights from Cotton On ($39.99) around your mirror for an ethereal feel. You can choose between warm and clear lights, depending on your preference.
10. DIY a floral mirror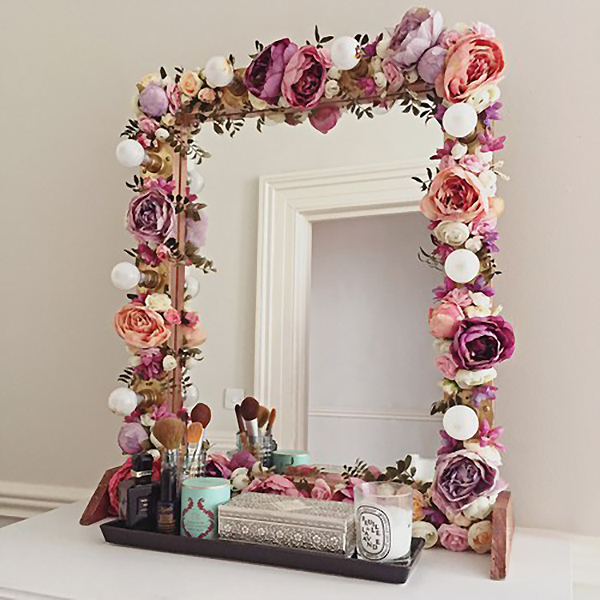 Source
Admit it: you're low-key still in love with Lana Del Rey's floral wreath aesthetic circa 2014. Embrace the look with this floral mirror made with paper flowers. Or if you're feeling flush, you can DIY this mirror using artificial flowers from IKEA ($2.90 to $19.90).
Dressing Table Ideas In Singapore To Help You Start The Day On The Right Note
With this list, turn your own makeup corner from drab to fab and feel like the queen you are when you get ready in the morning.
Also read:
11 Taobao Items That Will Transform Your Workstation Into A Stylish Home Office Set-up