Counterfeit/Fake Beauty Products In Singapore
Beauty junkies love a good makeup sale. With prices that escalate and trends that shift regularly, it's no wonder we keep our eyes peeled for discounts and product dupes which have spiked in popularity as of late.
But, imagine purchasing what you thought was an original, only to notice something iffy about it. Yup, your beauty stash may have a counterfeit product in its midst.
Why you shouldn't buy a knockoff
Discovering you've bought a counterfeit product isn't just infuriating, it can be hazardous too. Most reported cases confirmed the products were fake only after the user had experienced a bad reaction.
In 2016, a Malaysian woman suffered an allergic reaction to a counterfeit version of Nature Republic's top-selling Aloe Vera Soothing Gel and was rushed to the emergency ward for treatment.
According to a Facebook post, she had purchased the product online and had an adverse reaction to the product, causing her face to swell up and skin to flake off.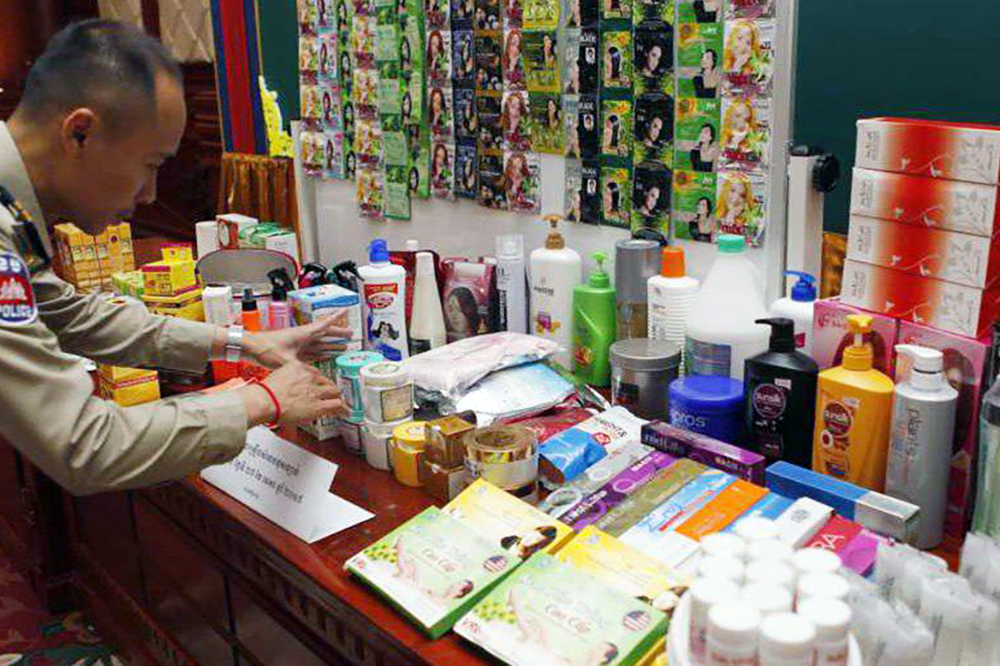 When Cambodian authorities confiscated 68 tonnes of fake beauty products in 2017, it hurled counterfeits into the public eye. Some of those products even had false branding from luxury Japanese label Shiseido.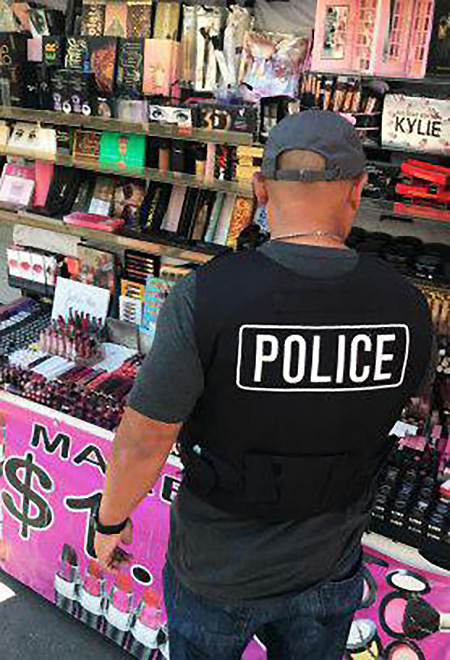 Counterfeit beauty was thrown further into the global spotlight earlier this year when the Los Angeles Police Department confiscated US$700,000 worth of knockoff makeup.
We're talking counterfeit versions of M.A.C, Urban Decay, and Kylie Cosmetics—some of which tested positive for high levels of bacteria and even animal waste.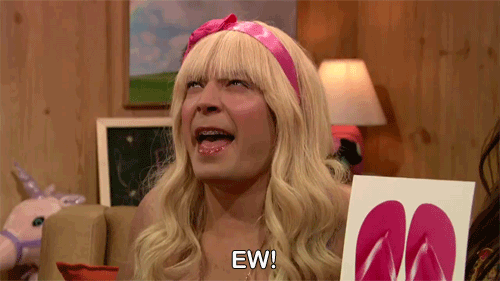 Let's not forget those fake Kylie Lip Kits which contained traces of glue and gasoline. No matter how tempting it is to purchase hyped out products on a whim, it's best to protect yourself and others by getting the real deal.
How to identify a counterfeit beauty product
Hear the words "counterfeit beauty product", and it might conjure up images of packaging that's a little off-colour and obvious spelling errors in the text, but it's not that easy to weed them out.
Knockoffs are almost always indistinguishable from their genuine counterparts at first glance. Upon closer inspection, however, you'll notice subtle differences that give them away.
We made a quick trip down to Bugis Street and did a little digging ourselves. Boy, were there a few surprising finds.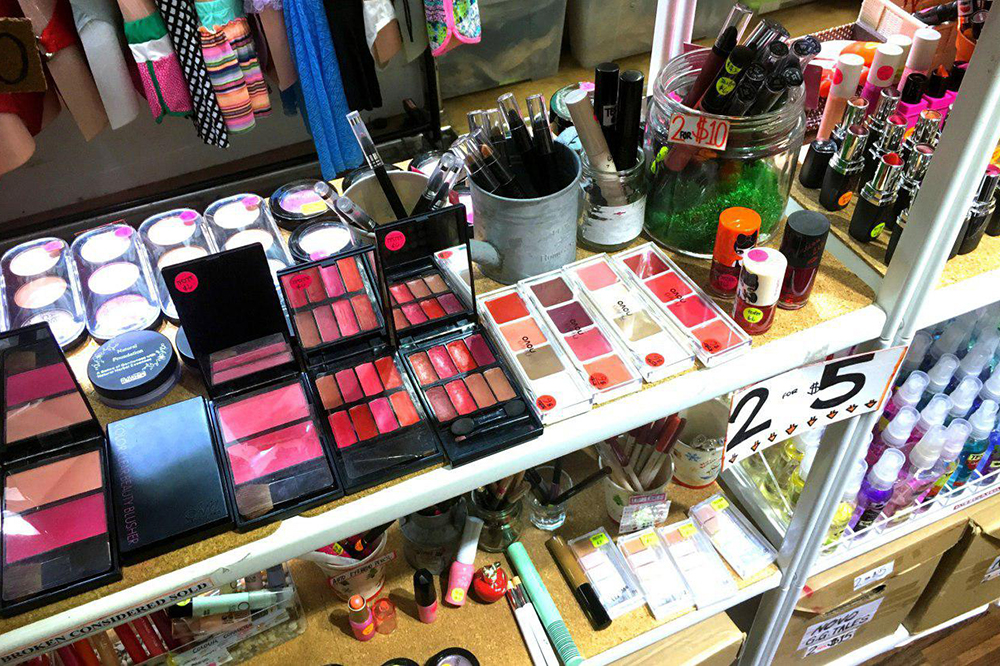 1. Pay attention to packaging
If you've purchased from the brand previously, place the item you have next to the one you're getting to compare their exteriors. Imitations are often housed in lower-quality plastic or metal casings, paired with ill-fitting mirrors and/or applicators.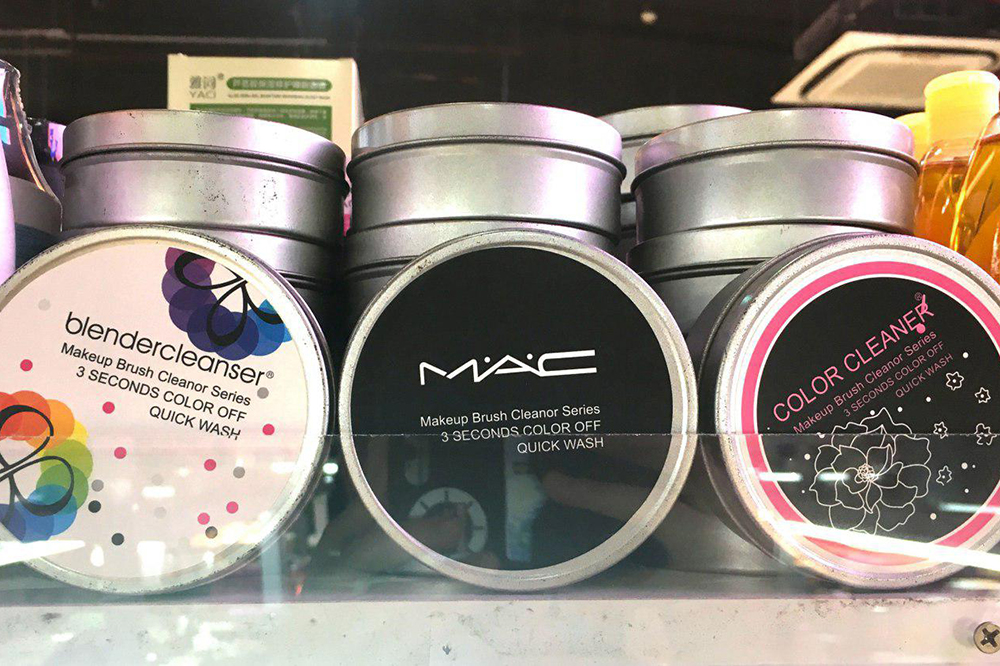 Above, we found two makeup brush cleaners from Beautyblender and M.A.C Cosmetics packaged in the same metal tins with their respective labels tacked on.
Open them up, and a tough black sponge sits in each box, mimicking that of Zodaca's Color Cleaner (right), an affordable makeup brush cleaner that's garnered rave reviews on Amazon. Clearly, we've got two phonies on our radar.
2. Compare the product in question with its original
We found Benefit's bestselling POREfessional Matte Rescue Face Gel nestled on a shelf, except it was a BB cream instead of a face gel, and it definitely wasn't a Benefit Cosmetics product.
It appears cloaked in similar packaging, but next to the original, we noticed a difference in illustrative style, and those design discrepancies jumped out at us even more.
3. Look out for QR Codes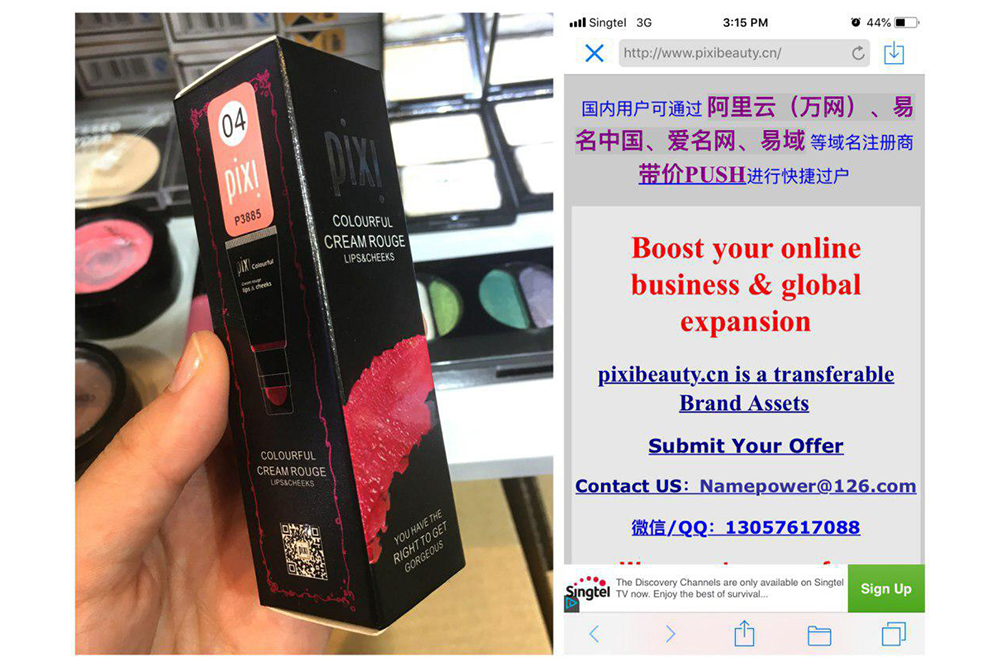 If you spot one on the box or the product itself, whip out your phone and scan the code real quick with the QR Reader app. We did a check on this particular lip and cheek tint by Pixi Beauty which, by the way, isn't part of the brand's official product lineup and were directed to this sketchy site.
Yes, we may be looking to expand our online business, but not like this, pseudo-Pixi. Not like this.
Quick tips to avoid purchasing counterfeits
-Always purchase products from authorised retailers and trusted webstores. Knowing who's selling the item is important, especially when you're shopping on sites like Amazon, eBay, and Lazada.
-If the product is priced way below its market value, be extra cautious. It doesn't indicate that it's an imitation, but the item could be well past its expiry date, and that too, could cause a nasty topical reaction.
-If you've decided to take the plunge by purchasing an item from an unknown or less trusted source, perform a patch test on yourself before buying. Apply a small amount to your inner wrist or along your jawline, and monitor for any adverse reactions.
Avoiding Counterfeit Beauty Products
Now armed with the knowledge of how to spot fake beauty products, glam up and get your face on fleek in a safe way.
Also read: