Frontline Heroes Helping Us Tide Through COVID-19 Season
Since the start of the COVID-19 pandemic, healthcare workers worldwide have been fighting tirelessly, working day in and day out to save those afflicted with the virus. But it's not just members of the healthcare community who have been putting their health and lives on the line. Non-medical frontline workers have also stepped up to ensure that for the rest of us, our lives can go on as smoothly as possible. 
We spoke to 5 frontline heroes whose duty and professionalism allow Singaporeans to have a sense of normalcy, so our sense of safety and security is never compromised despite the tense climate we find ourselves in.  
She helped evacuate Singaporeans from Wuhan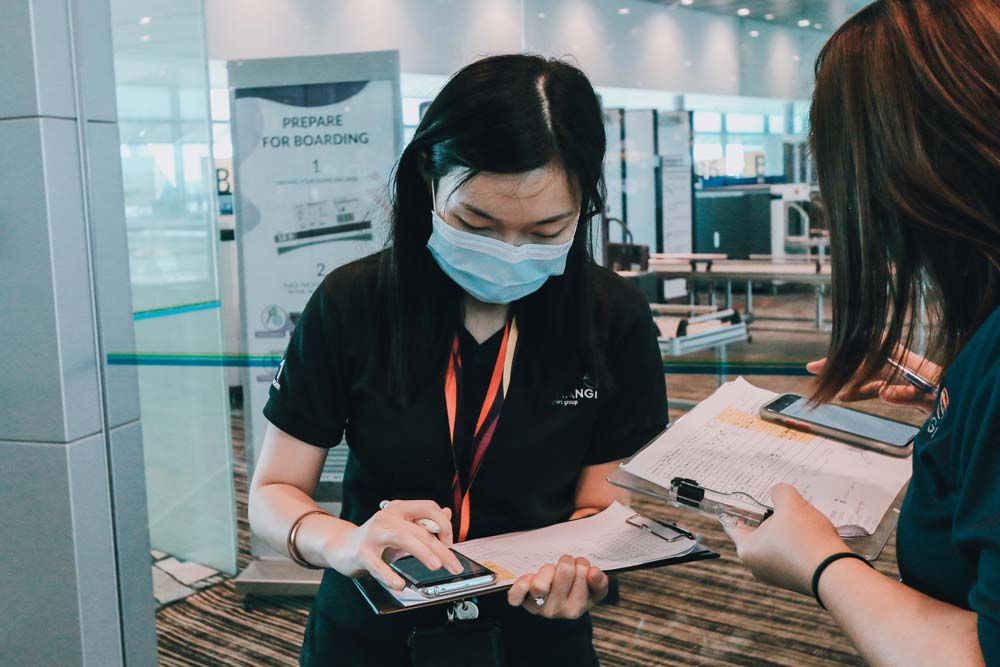 Photo courtesy of Changi Airport Group
Ong Shi Ning is an Assistant Manager in Changi Airport Group's Airport Operations team. Her day-to-day job scope involves maintaining ground-handling standards as well as to oversee "business continuity plans specific to border health controls." This entails implementing procedures at the airport in the event that any infectious disease cases enter Singapore. 
Since COVID-19, she has been tasked with bringing overseas Singaporeans home and making sure that the evacuation flights are planned smoothly. This includes the flights out of Wuhan at the start of the outbreak.
Shi Ning breaks down the evacuation process for Singaporeans who were in Wuhan: "We worked with multiple partners to ensure that the logistics were in place to receive the passengers when they landed. These included thermal scanning, medical services, having ambulances on standby, security support, as well as arranging for special transport to bring the passengers out through special channels."
"[The safety] of all the airport workers that were there to facilitate the evacuation flight was of utmost priority," she explains. "Another key priority was to ensure that people coming home felt welcomed and had a smooth experience being transferred to their quarantine facilities."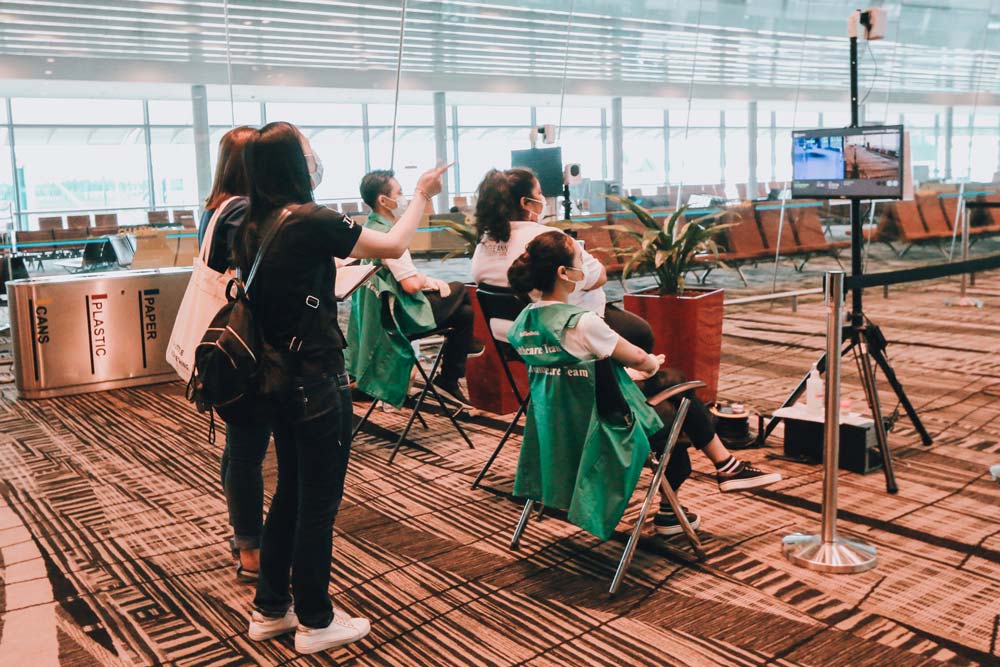 Shi Ning checking on temperature screening operations.
Photo courtesy of Changi Airport Group
To welcome them home, she arranged for hot food like nasi lemak and Milo to be served to passengers while they waited to be briefed on the Ministry of Health's quarantine orders. 
"Most passengers were calm as they had already been briefed before their departure from Wuhan," Shi Ning says. "Most of them looked relieved to be back and seemed happy with the hot local food that we'd prepared—particularly since it [was] a taste of something familiar to welcome them home!"
With the current influx of imported cases, Shi Ning has to keep soldiering on. She says, "The challenge is to keep operations tight and efficient as the level of checks have stepped up over the months. We will continue to do our best to ensure operations are smooth and to minimise any inconvenience to passengers." 
He makes sure travellers comply with temperature-taking at Changi Airport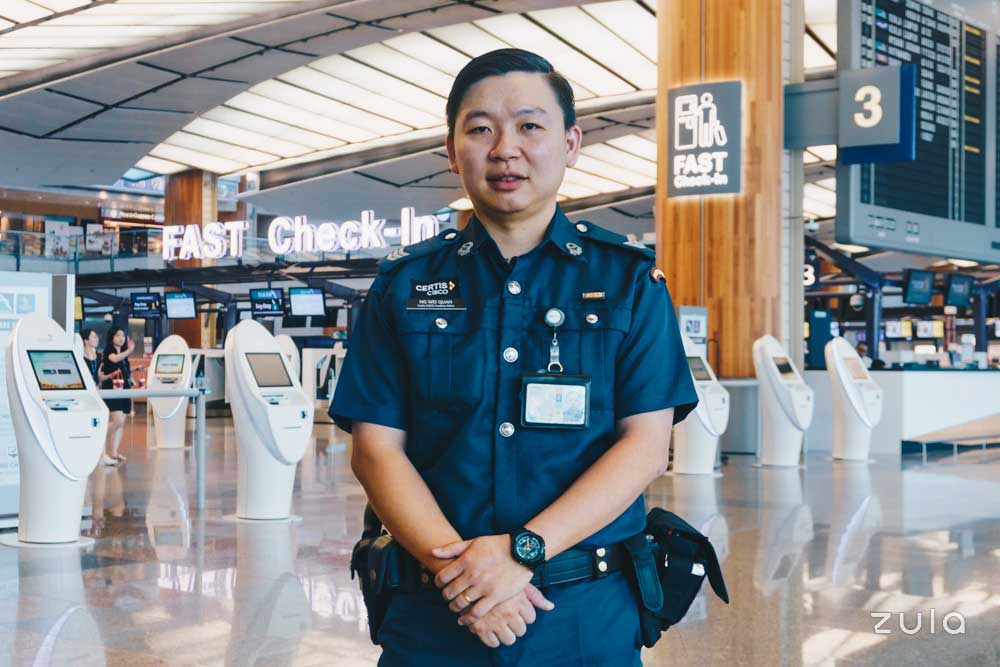 SGT (APF) Eric Ng is an auxiliary police patrol supervisor with Certis at Terminal 2, Changi Airport. Besides supervising the security teams, he patrols and manages the kerbside control points and his staff members' duty posts. During times of crisis, he also has to make critical operational decisions. 
Since the COVID-19 outbreak, his daily duties include ensuring that passengers comply with the nursing staff if they have a fever. He explains that most people are cooperative, but that the "language barrier is the main issue". 
Sometimes, travellers who do not speak English feel concerned upon being approached by a nurse to take their temperature. In these situations, Eric seeks assistance from his fellow officers who can speak the passenger's language to communicate with them.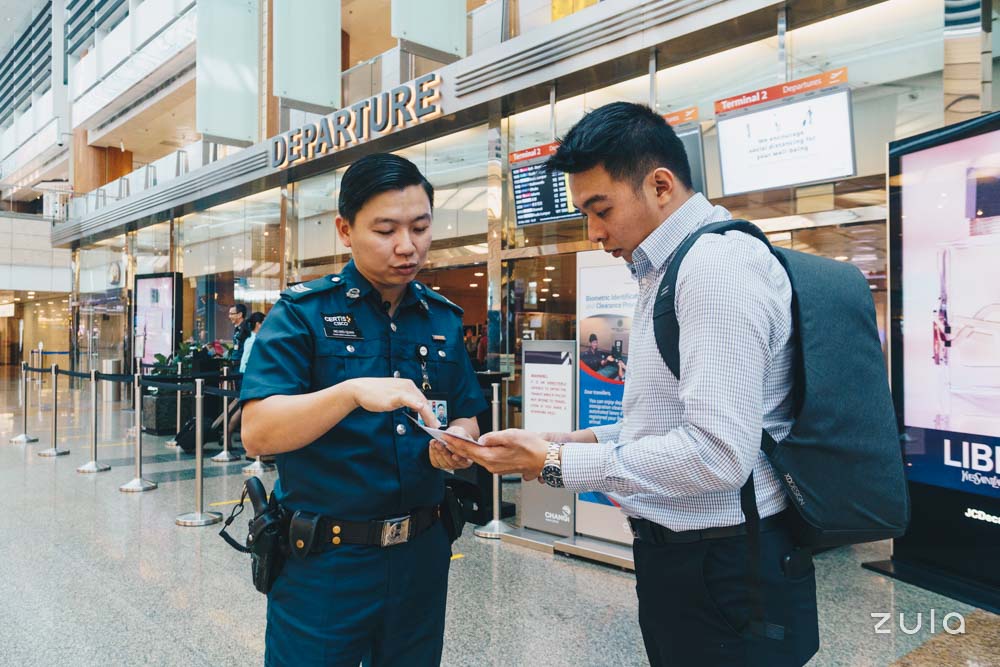 Another way his team has been impacted is the extended MC duration. This means that when someone falls sick, the rest of his staff step up to cover one another's duties more often. 
Besides keeping up his team's morale with the increased working hours, Eric also has to make sure they feel confident about taking on their daily tasks during these trying times.
"The situation is not easy to manage," he explains. "As a senior, I need to [set a] good example for my junior officers to motivate them, encourage them and [give them the confidence to work] at the airport." 
The vitamin C tablets, gloves, sanitisers and masks provided by Certis, as well as timely updates, help Eric and his team carry on their jobs without worrying too much. 
He commits to helping healthcare workers get home from the hospitals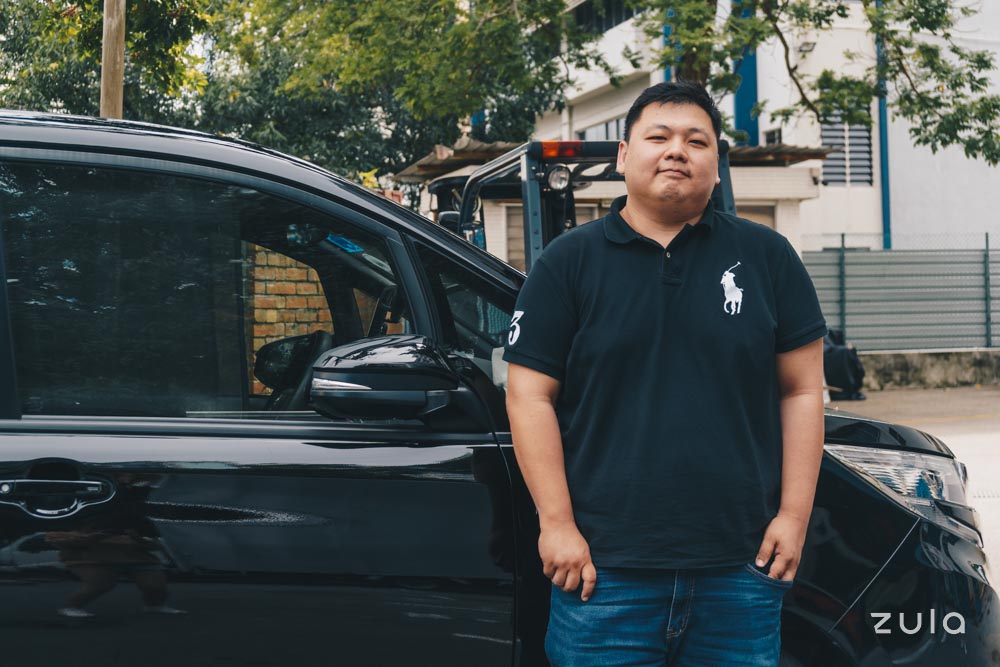 Grab driver Max Lin joined the GrabCare programme upon its launch. GrabCare helps healthcare workers by matching them with drivers who have committed "to provide on-demand transport services for healthcare professionals to increase their likelihood of getting a ride after their shifts." 
He was motivated to be part of the programme after hearing how healthcare workers constantly got their rides cancelled when the virus first reared its head over the Chinese New Year period. 
He illustrates his point with a story of how a healthcare worker kept apologising for running about a minute late. She explained to him that it is very hard for her to catch a ride these days. "I can tell the healthcare workers are currently overworked. [Each time] they get to the car, the next minute, they are asleep," he adds.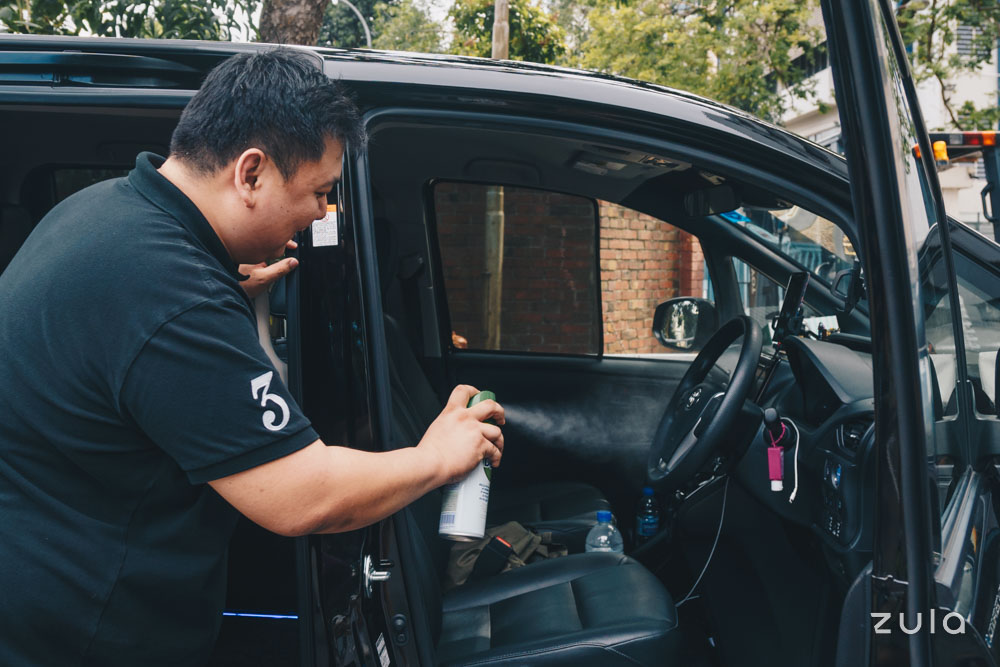 "Every day, we are carrying people; we do not know if they are carriers as well. So why are we discriminating against healthcare workers?" He elaborates, "I feel that [with healthcare workers], the risk of infection is lower. They are briefed on how to take care of themselves. They are the ones with more knowledge and take special initiatives like wearing a mask and sitting away from you."   
Max expresses that as a father with an 8-year-old son, he is worried about being on the frontline. However, he is a strong believer that what goes around comes around. 
"Today, I might be helping the healthcare workers get home. The next few days, they might be helping my family. Having a positive vibe and caring for each other is very good in this situation."
He stays safe by taking extra precautions such as disinfecting his car often and airing his car by winding down the windows. He personally feels that staying healthy is one's best defense against COVID-19. 
"Everyone needs to get home. The main thing is to keep yourself healthy," Max concludes. 
He manages flight check-ins and encourages his staff to maintain hygiene standards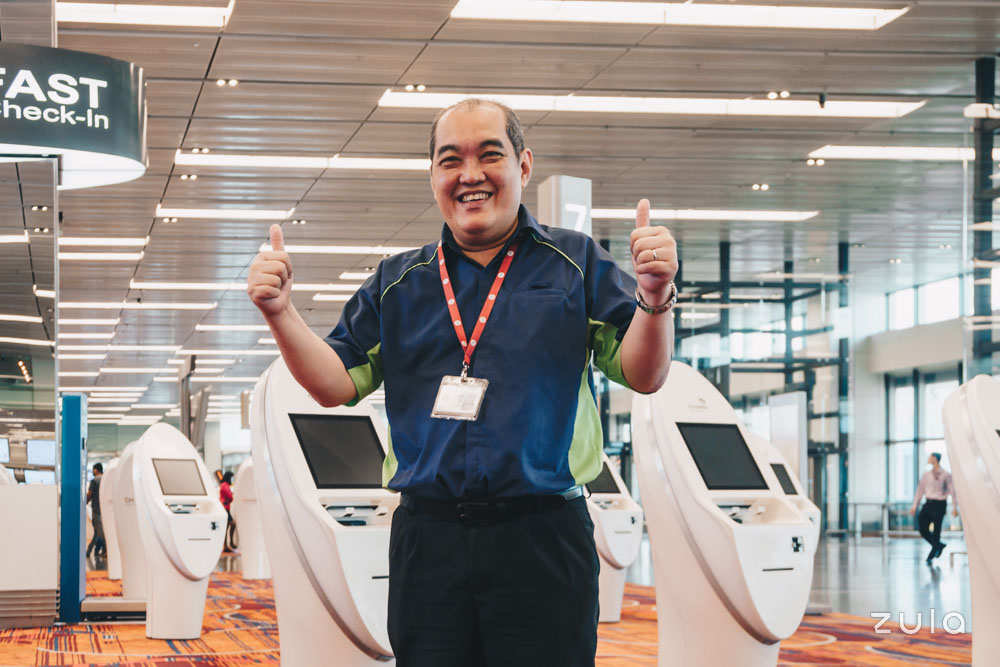 A senior associate at SATS Asia-Pacific Star Pte Ltd, Nicholas Wee supervises check-ins for Scoot at the departure hall and transit lounge. 
When news first broke of COVID-19 in Singapore in early 2020, he and the rest of the team were initially afraid to continue with their regular duties. But after reading reports on the news, he understood that having good hygiene practices can keep them protected. "I tell the staff, when you're free, just go and wash your hands."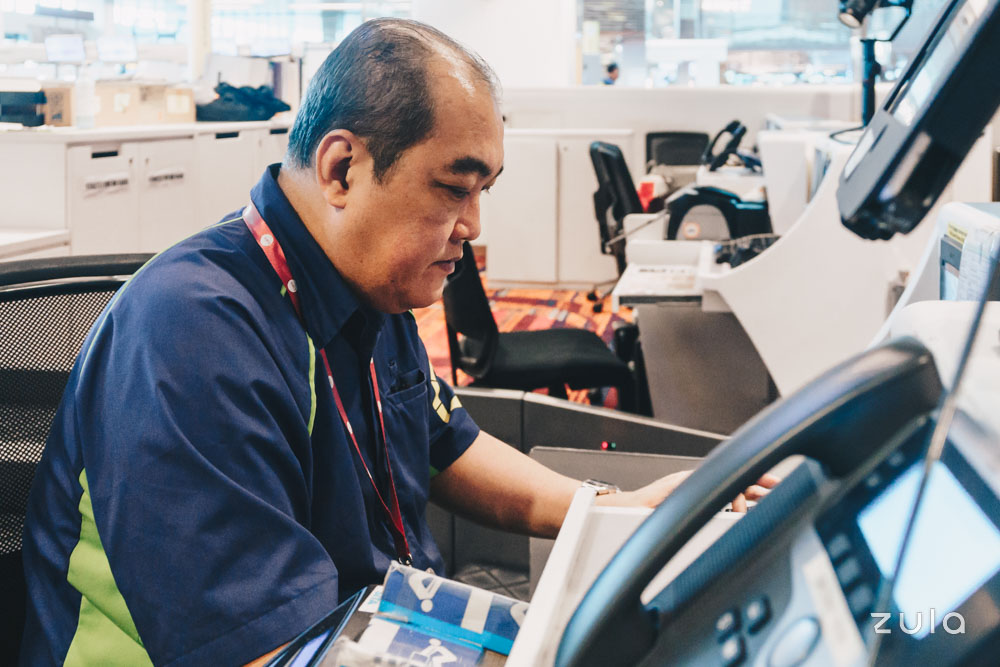 Nicholas also recalls the story of a Chinese passenger who was barred from landing in Macau due to a travel restriction. The passenger and his family were wailing at the airport because they had a sick relative back home. Nicholas calmed them down and encouraged them to get a medical report from Changi General Hospital, which would allow them to board the flight. However, by the time they returned, they had missed the flight.  
"I [found out] they wanted to go to Guangzhou because their father was very sick. I found them the next available flight, so they were very happy when they left."
He adds that getting the passengers food and drink vouchers in the transit lounge also helps to make them more relaxed. Nicholas sums up his mantra for this trying time, "Working at the frontline, our job is to assist the passengers however we can."  
He disinfects areas in Changi Airport as part of the Quick Response Team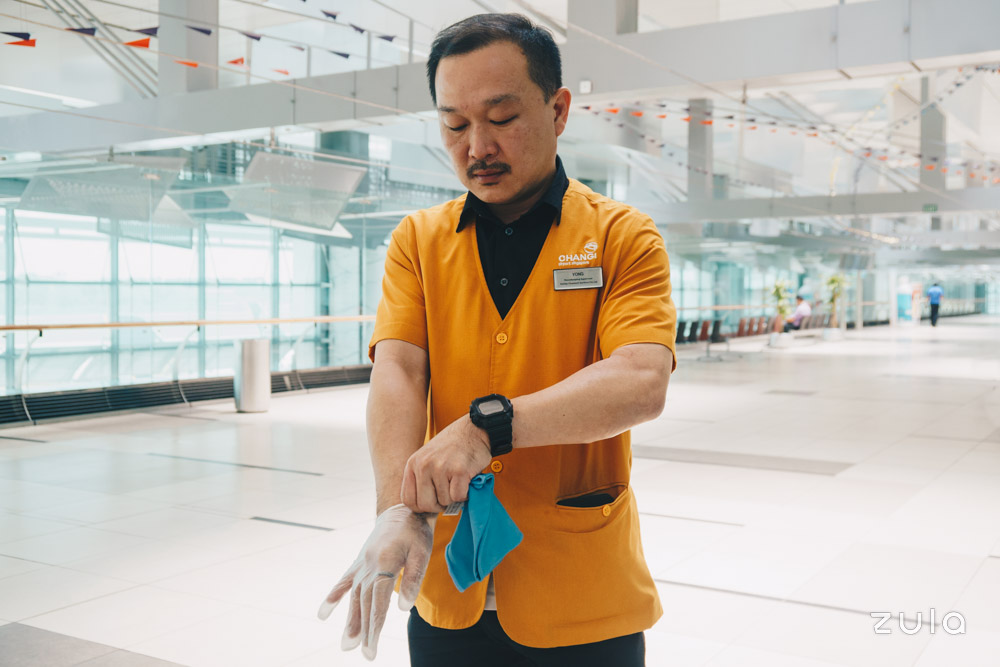 Koh Huan Yong is a housekeeping supervisor with Ramky Cleantech Services, tasked with overseeing the hygiene standards of Terminal 3, Changi Airport. He was one of the first personnel drafted into the Quick Response Team, which requires him to disinfect an area that a COVID-19 carrier has been in, such as a holding area or boarding gate. 
Huan Yong describes the disinfecting routine, which can take up to 30 minutes: "We have to put on our PPE (personal protective equipment) to sanitise all the areas and disinfect the furniture, doors and floors, including the partitions and walls."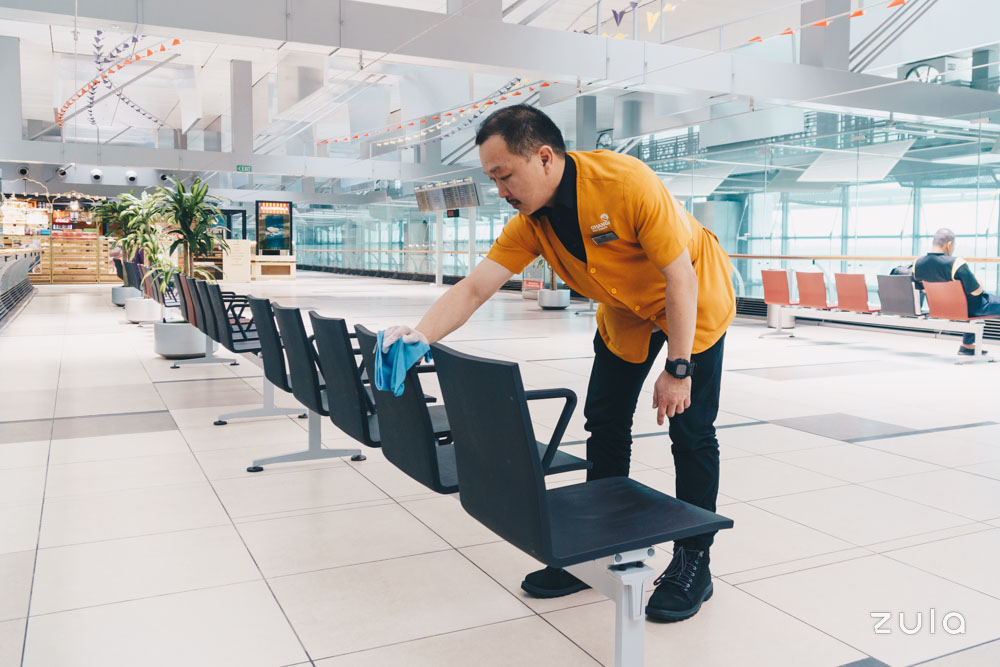 Huan Yong was first activated while on duty during the second day of Chinese New Year. He has since become more confident about his duties and is no longer worried about being on the frontline. "With the proper donning of the PPE, we are not worried because we are trained well for this job already," he says. "Whenever I go home, I don't touch anything, I go straight to the bathroom."
On how he stays positive during this time, Huan Yong says: "The support [comes] from my family. Whenever I hear my wife and children tell me to be careful, I feel safe. I remember what they say and [it] keeps me motivated all day."
These Frontline Heroes Continue To Soldier On During COVID-19 Season
It is hard to tell the risks each frontline worker puts him or herself at while working at their vocations. Let's be grateful to our frontline heroes and show appreciation in whatever ways we can, as a little bit can go a long way in encouraging someone during this period. 
You can thank our frontline heroes and find out how you can play a part by visiting the SG United website. 
Zula photography by Rae Phang.
Also read:
5 Millennial Artists In Singapore On How They Got Started And Their Latest Works