Treating Fungal Acne
If you've been struggling with tiny, pimple-like bumps since the beginning of time, chances are, you're probably not dealing with acne. Commonly located around the T-zone, chest, back and shoulders, we take no pleasure in introducing you to the little itchy lumps known as fungal acne.
What on earth is fungal acne?
Like its name suggests, fungal acne is caused by an overgrowth of yeast (i.e. fungi), whereas regular acne is triggered by bacteria and clogged pores. An overload of yeast causes inflammation in the hair follicles and leads to itchy, uniform red bumps.
A telltale sign of fungal acne is when it doesn't respond to traditional topical and oral treatments used to address acne, such as benzoyl peroxide and antibiotics. If you want to be sure, visit a dermatologist for a microscopic examination.
Why do I have fungal acne?
1. Oils and fatty acids
Malassezia is a genus of fungi that lives on everyone's skin, but it only becomes problematic when the yeast feeds on large amounts of human sebum.
Much like Mario after eating a Super Mushroom, malassezia thrives in an environment that's rich in oils and fatty acids, and can grow into pityrosporum folliculitis, or malassezia folliculitis.
2. Excessive sweat
Yeast levels tend to spike in hot, humid weather when we're sweaty, which isn't good news for those of us living in sunny Singapore. Tight-fitting clothing can trap sweat and sebum, which essentially provides a feast for malassezia to grow into fungal acne.
3. Fermented ingredients
Needless to say, yeast is a huge no-no when it comes to treating fungal acne. So if you're using a serum or essence made with fermented ingredients such as galactomyces and saccharomyces, it's time to nix that product from your routine.
Also read:
5 Singaporean Girls With Fungal Acne Share The Products They Swear By
How do I treat fungal acne?
1. Look for antibacterial and antimicrobial ingredients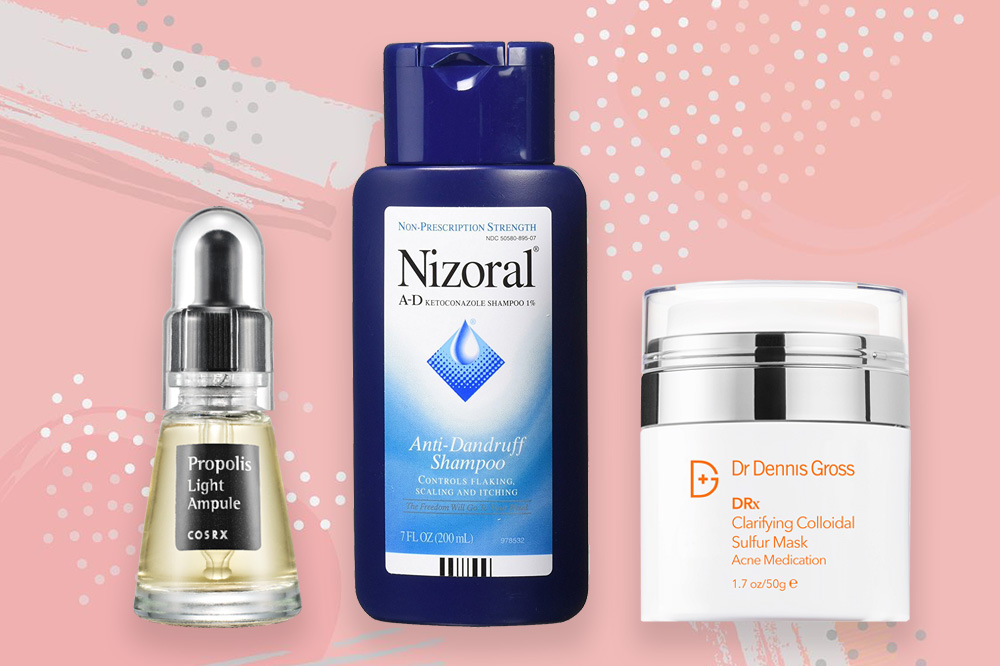 Left to right:
COSRX Propolis Light Ampule (~$38.25)
Nizoral Anti-Dandruff Ketoconazole Shampoo 1% (~$25.45)
Dr. Dennis Gross DRx Clarifying Colloidal Sulfur Mask (~$77.95)
For those seeking a natural remedy, honey has potent antimicrobial properties. You can apply raw honey on the affected area and leave it on as a mask for 3 hours every other day. If it's too sticky, try COSRX's Propolis Light Ampule. It's made with 80% propolis extract and hyaluronic acid to help moisturise and smooth the skin.
Nizoral Anti-Dandruff Ketoconazole Shampoo 1% contains ketoconazole, which helps inhibit the growth of yeast on the skin. This shampoo may be a little too harsh for the skin on your face, so if you're going to give it a whirl, use it only on your hair and body.
Alternatively, you can look out for skincare products that contain sulfur, an ingredient that reduces sebum in the pores. Try Dr. Dennis Gross' DRx Clarifying Colloidal Sulfur Mask. It combines colloidal sulfur with bentonite clay to draw out impurities. If you find the smell of sulfur particularly noxious, take a whiff of the tester before purchasing—the scent varies across different formulas.
2. Opt for lightweight gel moisturisers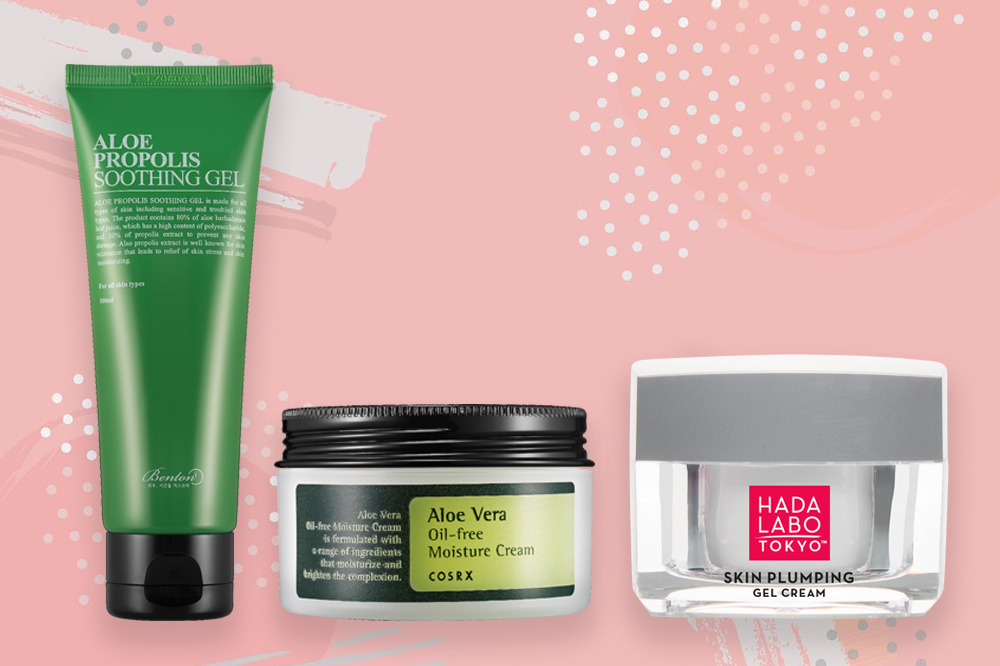 Left to right:
Benton Aloe Propolis Soothing Gel (~$25)
COSRX Aloe Vera Oil-Free Moisture Cream (~$30)
Hada Labo Tokyo Skin Plumping Gel Cream (~$33.40)
Since fungal acne thrives on an oil-based diet, try to avoid cleansing oils or balms and use micellar water to remove your makeup instead.
After cleansing your skin, follow up with a lightweight gel-based moisturiser. Hada Labo's Tokyo Skin Plumping Gel Cream is loaded with skin-strengthening ceramides, smoothing collagen and hydrating hyaluronic acid.
A moisturiser that's packed with aloe vera is also ideal, as it'll help soothe any redness and irritation. Benton's Aloe Propolis Soothing Gel is rich in anti-inflammatory propolis, while COSRX's Aloe Vera Oil-Free Moisture Cream mixes aloe leaf water with aloe vera leaf powder to calm the skin barrier.
Layering on too many beauty products can occlude your pores too, so you may want to remove a few steps. Try the 3-step 'skip-care' method to assess and minimise your skincare routine.
3. Bump up moisture with caprylic/capric triglycerides & squalane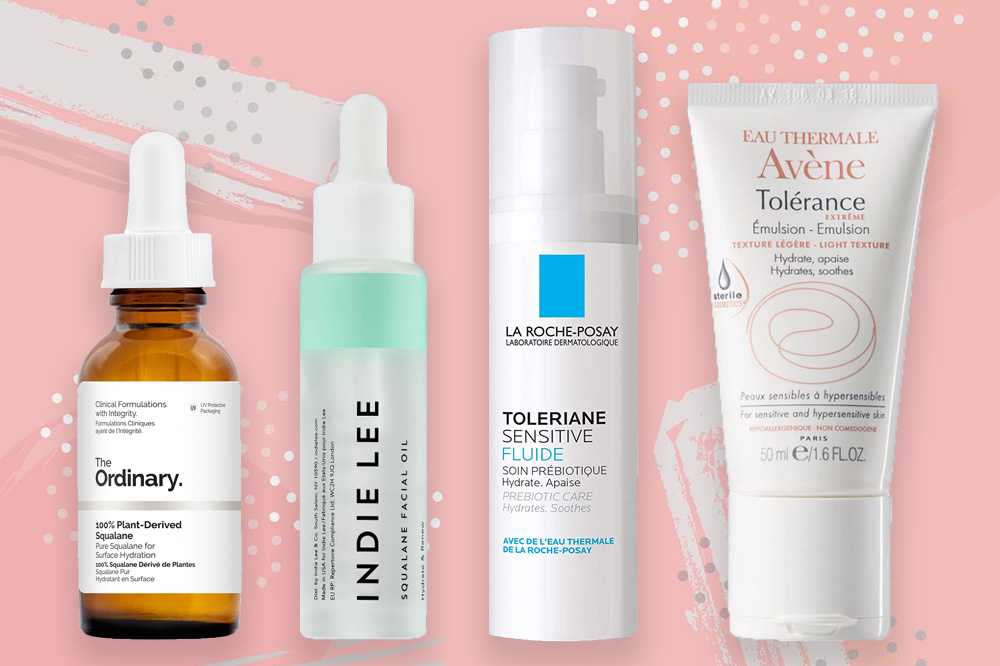 Left to right:
The Ordinary 100% Plant-Derived Squalane (~$11)
Indie Lee Squalane Facial Oil (~$62)
La Roche-Posay Toleriane Sensitive Fluide (~$44.90)
Avène Tolérance Extrême Emulsion ($36.90)
Fatty acids can be found in most formulas on the market, which makes it difficult to pick products that won't set off fungal acne. However, there are safe oils out there, namely caprylic/capric triglycerides and squalane oil.
Caprylic/capric triglycerides are a mixed triester derived from coconut oil and glycerin, while squalane is the hydrogenated version of squalene, a compound produced naturally by our sebaceous glands. These two ingredients soften the skin without causing fungal acne.
A light moisturising fluid with caprylic/capric triglycerides, such as La Roche-Posay's Toleriane Sensitive Fluide or Avène's Tolérance Extrême Emulsion, will sink into the skin quickly for a fresh feel.
Alternatively, you can mix a couple drops of squalane oil to your gel moisturiser if your skin is craving more moisture. The Ordinary's 100% Plant-Derived Squalane and Indie Lee's Squalane Facial Oil come in convenient dropper bottles to give you more control.
4. Exfoliate with salicylic acid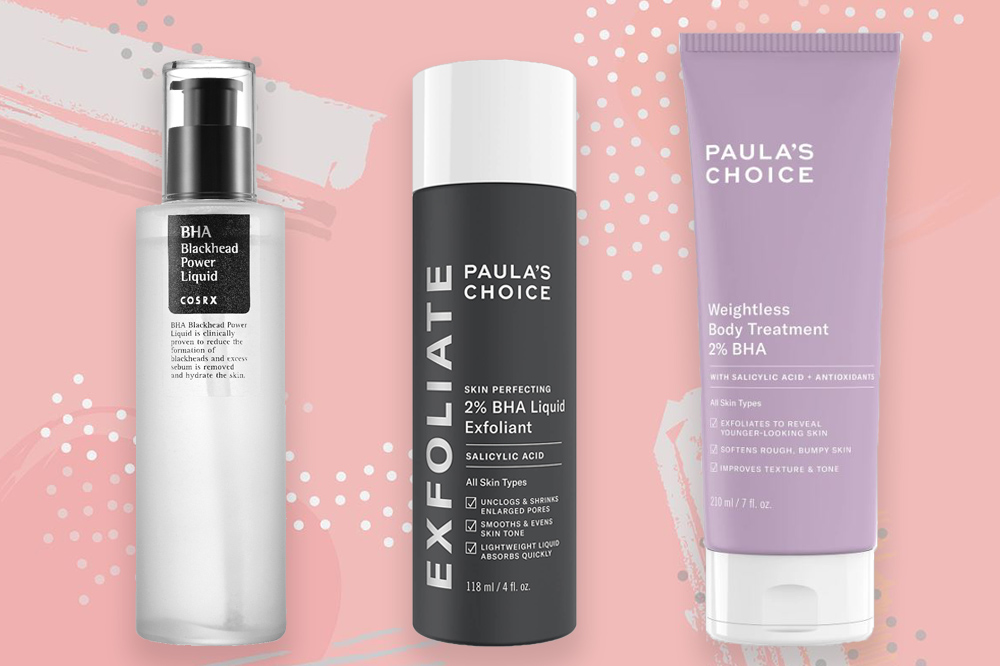 Left to right:
COSRX BHA Blackhead Power Liquid (~$32.20)
Paula's Choice Skin Perfecting 2% BHA Liquid Exfoliant (~$52)
Paula's Choice Weightless Body Treatment 2% BHA (~$49)
Salicylic acid is antibacterial, anti-inflammatory and anti-fungal, which makes it a very effective ingredient when it comes to healing fungal acne. It is also a keratolytic agent, which means it is able to slough off dead skin and prevent excessive skin growth.
COSRX's BHA Blackhead Power Liquid and Paula's Choice's Skin Perfecting 2% BHA Liquid Exfoliant are leave-on exfoliators that help to unclog pores and brighten skin. If you've never tried these products before, start off by using them every other day in the evenings.
To address fungal acne on the body, try Paula's Choice's Weightless Body Treatment 2% BHA. It's a lightweight body lotion that helps to shed dead cells, while keeping your skin moisturised.
5. Keep sweat at bay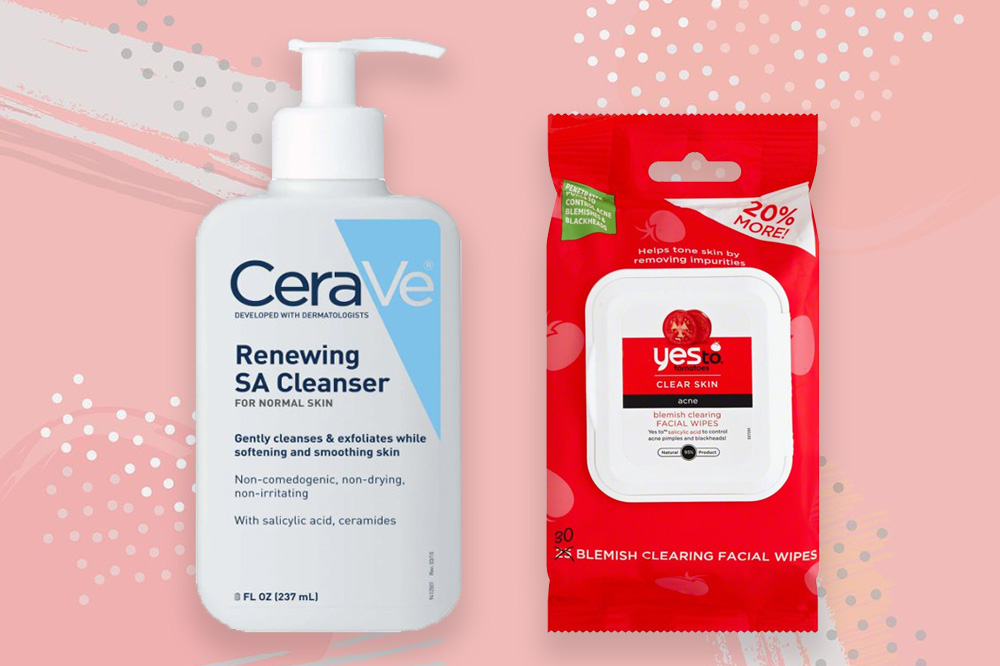 Left to right:
CeraVe Renewing SA Cleanser (~$21.40)
yes to Tomatoes Blemish Clearing Facial Wipes (~$7)
After an intense bikram yoga or gym session, remember to wash off sweat with a cleanser that contains salicylic acid, like CeraVe's Renewing SA Cleanser, and change out of damp clothes.
If a shower isn't accessible, keep a pack of cleansing wipes within reach to wipe away sweat at any point of the day. We recommend yes to's Tomatoes Blemish Clearing Facial Wipes, which also has salicylic acid to provide additional exfoliation.
How To Heal Fungal Acne
If you're desperate for a quick solution, hightail it to a licensed dermatologist to get a definitive diagnosis and anti-fungal prescription. Meanwhile, keep your skin's yeast production at low levels by following these tips we've shared. We hope you found this guide helpful!
Cover image by Makidotvn/Canva.
This post was first published by Jade Yeo on 16 August 2019 and last updated by Nicole Yong on 12 September 2023.
Also read:
3-Step 'Skip-Care' Is Korea's New Minimal Beauty Trend That's Quick & Effective For Acne-Prone Skin