Get Juiced's Influencer Video
On 6 August 2018, 53 local influencers lip-synched to a catchy dance track, while doing sexy moves and twirling their hair. The video, which has since garnered over 159,000 views, was part of Get Juiced's effort to celebrate their love for Singapore.
"We can free-fall, we can free-fall, we can free-fall." A catchy dance tune goes, while influencers literally bungee-jump with a Singapore flag in Sentosa.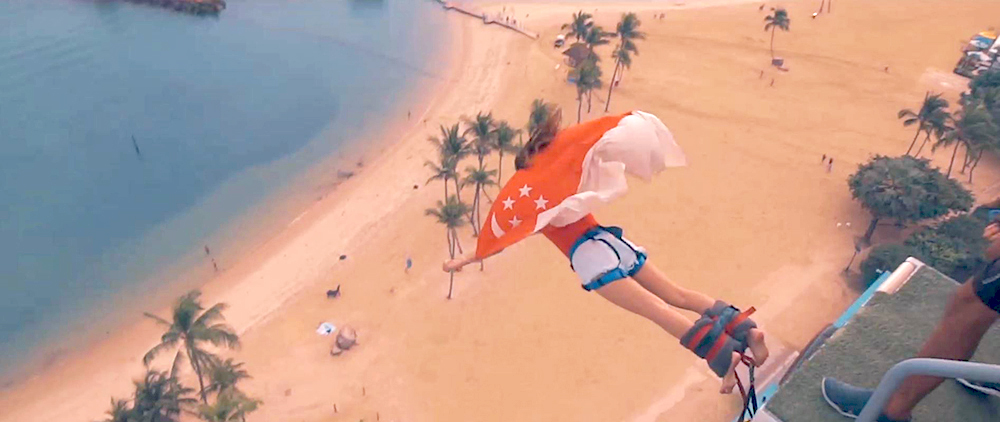 Unfortunately, most Singaporeans were not feeling it and left negative comments on the video. We broke down the video and comments to better understand why Singaporeans didn't agree with Get Juiced's way of celebrating National Day.
Why were people upset?
1. Misuse of the term 'influencer'
YouTube personality Dee Kosh made fun of the video by highlighting that the faces shown were mostly unknown.

Even though the featured ladies have a higher-than-average following on Instagram, their influence is still somewhat debatable. That's why even those who feel positively toward influencers were touchy about the term 'influencers' being used.
2. Underwhelming Performances
Since there is not much storytelling in the video, it hinged on the influencers' ability to execute their dance moves well to create a mood of partying and fun like in a K-pop video.

Unfortunately, the influencers did not rehearse enough and their 'sexy' moves hardly set fire to anyone's loins. What resulted was an underwhelming performance that allowed people to make fun of them.
Often, influencers are criticised for 'not possessing much talent or skill' and the lackadaisical dancing simply proved that; resulting in the video becoming target practice for influencer-haters.

3. Misalignment with National Day
While companies and brands like to make use of special seasons and holidays to do publicity, it is hard for people to divorce National Day from their sense of identity and pride.
As such, many netizens were upset with the way their country was represented in the video.

In turn, Get Juiced responded, "We completely understand that you may feel that way and misunderstand our intentions. However, the point of our music video is not meant to resemble national day songs or act as a promotional video for the Singapore Tourism Board."
Indeed, there is no need to replicate what government agencies are doing with regards to National Day. However, because our government executes its National Pride movements with finesse, it is inevitable that the common citizen will compare any commercial efforts with it.
This almost always produces a knee-jerk reaction to any form of National Day celebration effort.
4. Lack of representation amongst the influencers
If any agency wishes to pull off National Day related videos or publicity, they need to put in the rigour our government does, by considering many issues such as the feelings of minorities, the elderly and other potential trigger points.
One Facebook user pointed out the hired influencers were not representative of the Singapore population. Even if Get Juiced had chosen more unknown influencers, the video perhaps would have gotten less negative remarks if there was more diversity.
Influencer Discrimination
Get Juiced's rather underwhelming effort ignited an unprecedented social media storm. It was a combination of poor execution and the inability to foresee Singaporeans' disdain toward influencers.
Based on the Daryl Aiden Yow saga and this current fiasco, companies who wish to use the term 'influencer' in their marketing should tread with caution.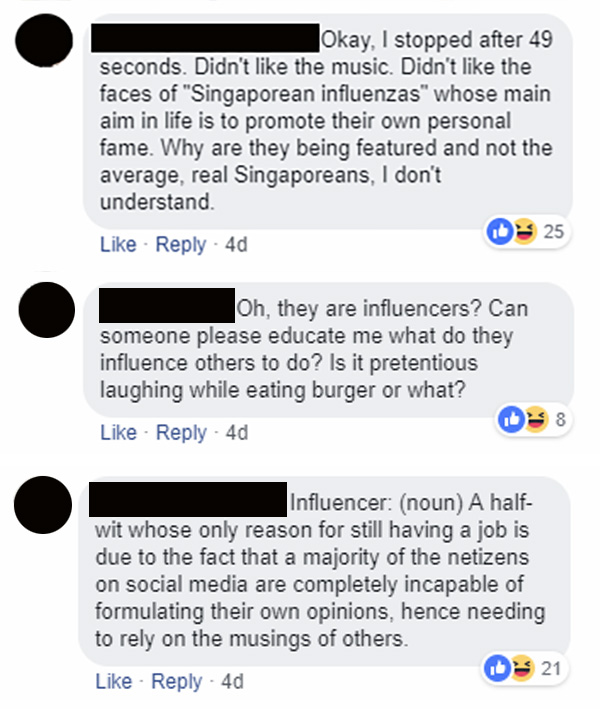 Why do people like to make fun of influencers? That is another discussion for another day. A protip is to be more specific about the talent you wish to engage for your campaign—dancers, make up artists, photographers, comedians, etc.
Otherwise, there is nothing wrong with wanting to shake your booty on a rooftop to celebrate 53 years of nation-building.
Also Read:
Cover image: Source