Hater Dating App
Most online dating apps are about inflated bios, filtered personas, and virtual games of "hot or not"—but not Hater. Forged in the fires of Mount Doom, this new free app by a Brooklyn developer is changing the algorithm by matching you with people who hate the same things.
To review this app from a Singaporean's perspective, I volunteered as tribute to swipe right on everyone for 3 days and responded to all my matches while on my quest to find love. Fun fact: I've tried almost all dating apps in Singapore in the name of research.
How The App Works
There are two major components to this app: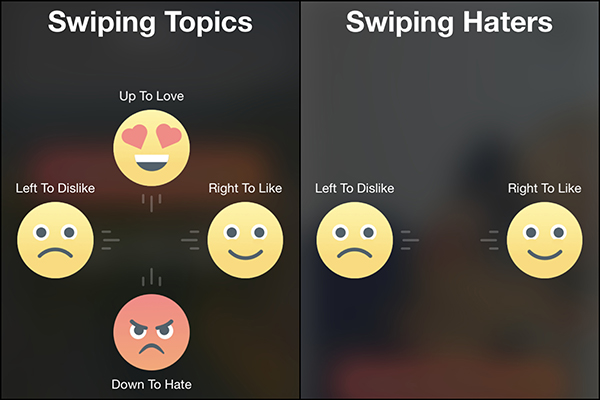 Step 1: Swiping Topics
You swipe topics and group them into four categories; love, like, dislike and hate.
Step 2: Swiping Fellow Haters
This pretty much functions like Tinder (without the Superlike function).
Although there isn't a section to include a write-up about yourself, you can feature the five things that irk you the most in your bio. But if you've actually read what some people write for their bios on Tinder—you know you're not losing out. The app also extracts your age from Facebook and your location from location services.
Getting Matches On The App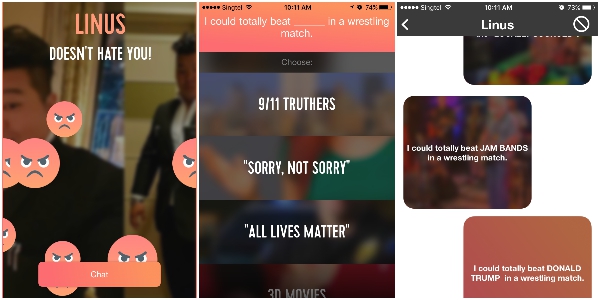 While a mutual hatred for something might seem like a superficial algorithm, it gives a better glimpse into someone's personality.
If you're awkward when it comes to starting conversations, you can break the ice with fill-in-the-blank tiles (think Cards Against Humanity) or random questions generated by the app (as seen in the picture below).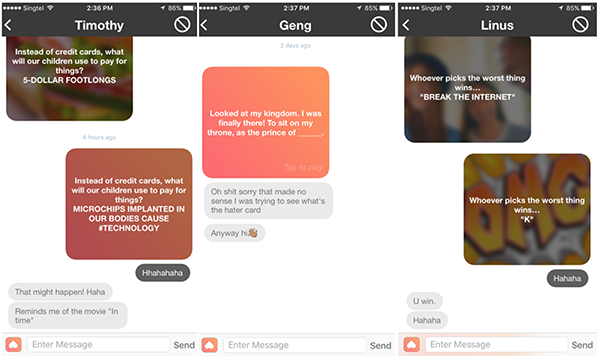 Alternatively, you can casually talk to the other party, just like a typical dating app.
In the beginning, I was matched with many Caucasians from abroad. But over time, the app gained traction in Singapore and I matched with more locals.
Based on first impressions, the guys I met on the app were similar to those on other dating apps such as Tinder. After all, Singapore's a small country. But starting the conversation with fun topics will save nervous chaps who think, "what to say ah?".
Pros And Cons About The App
PROS:
1. There's an instant connection when you meet someone who hates the same stuff, because it feels as if the person gets you. That's the beauty of Hater.
2. The app's a fun way to pass time and allows users to feel like they're just playing a game of cards.
3. Swiping right on potential matches will feel as cathartic as removing all the muck from your pores, or removing your bra after a long day—well at least to me.
CONS:
1. The app provides a match percentage for potential matches but I'm not too sure how it works because the percentage was there even when I hadn't swiped on any topics.
2. Hater was recently launched in the United States, so many topics aren't as relevant to Singaporeans. For instance, "Daylight Savings Time" and "Chick-Fil-A". But I discovered that you can submit topics on their website.
3. It gets boring playing card games after some time and it all boils down to how well you converse—this is where the topics page helps.
Online Dating in Singapore
Relationships aren't all about sunshine, hearts and rainbows, and there are tons of dating apps in the market. But if you're looking for someone to love based on your mutual hate for slow walkers, Hater's it!