Unique Dating Apps
With the variety of dating apps available today, there's definitely no shortage of ways for you to find a potential partner. However, chances are you've tried and exhausted the list of apps everyone else seems to be using – Tinder, OkCupid, and Coffee Meets Bagel. Well, fret not, for here are 16 unique dating apps that'll give you a second chance at the online dating game.
1. Sugarbook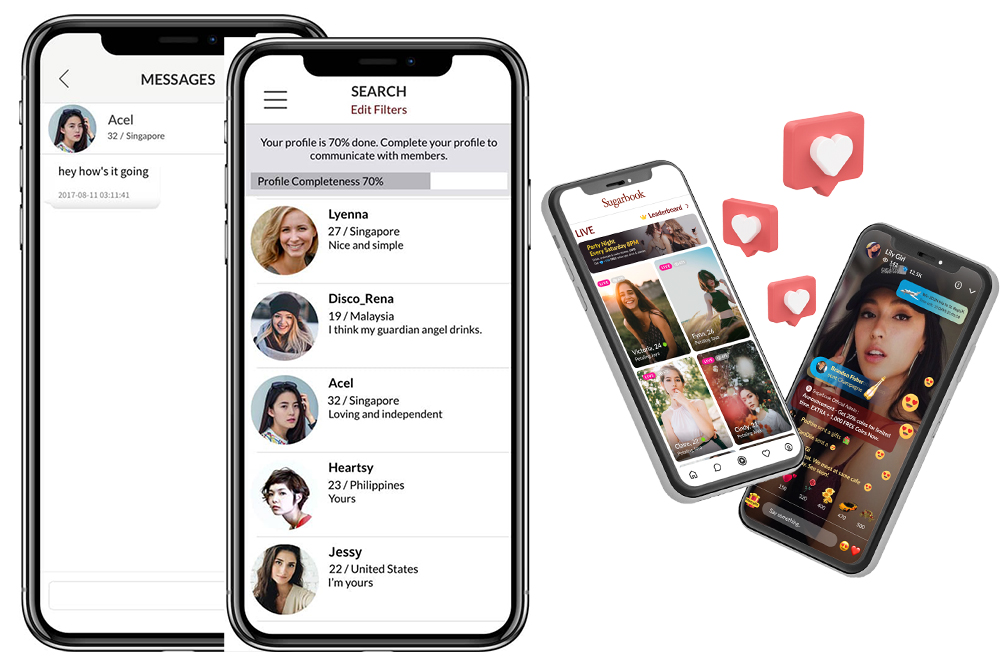 Source
Taking the spiciness level of dating apps up a notch, Sugarbook is the go-to for sugar babies to connect with potential sugar daddies. Yup, you heard this right — it's an app for mutually beneficial relationships on your own terms. According to their website, the app is all about "where romance meets finance", and sugar babies can earn up to USD$10,000 a month through live streaming on the app.
Seek out your "glucose guardian" through Sugarbook's private 1-on-1 video calls and dating functions like chat messaging and sharing private photos. Of course, as a precaution, it's also important to remember that all relationships on the platform are built through upfront and honest communication about what each party seeks. 
Download Sugarbook on iOS | Android
2. Happn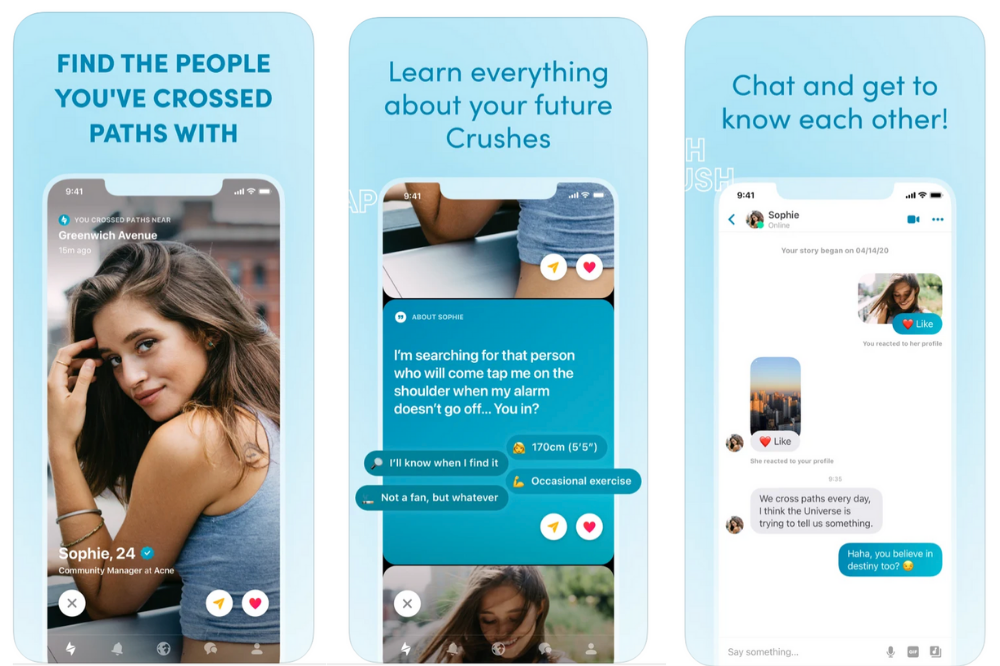 Source
If you've ever stumbled across a cutie while out and about, Happn's just the app for you. It registers fellow users you've passed by, so that they'll appear on your personal timeline. The app also keeps track of how many times you've seen them, so if it's someone who works in the same vicinity as you, the app will give you the chance to finally shoot your shot. 
Happn is basically a modern-day solution to "love at first sight", removing the fear of IRL awkwardness.  
Download Happn on iOS | Android
3. Chorus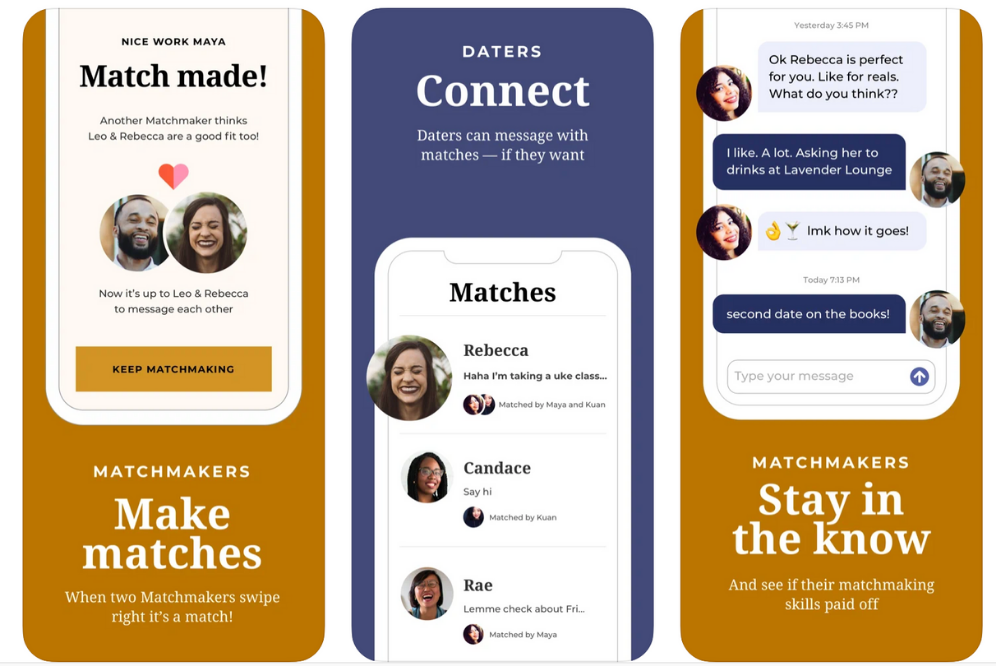 Source 
You know that friend of yours who likes to play matchmaker? Well, why not sign up together for Chorus, so while you're looking for someone to date, your buddy can live out their relationship guru dreams. 
In order to match with someone on the app, you must get your matchmaker to swipe for you – after all, your close friends are the ones who usually know your type just as well as you do, or better. Once there's a match, you can get to chatting and see if your personal cupid has helped you to find the perfect partner.
This app is also a great way for those who are already in a relationship to experience the world of online dating by swiping for their friends.
Download Chorus on iOS | Android
4. Sweetring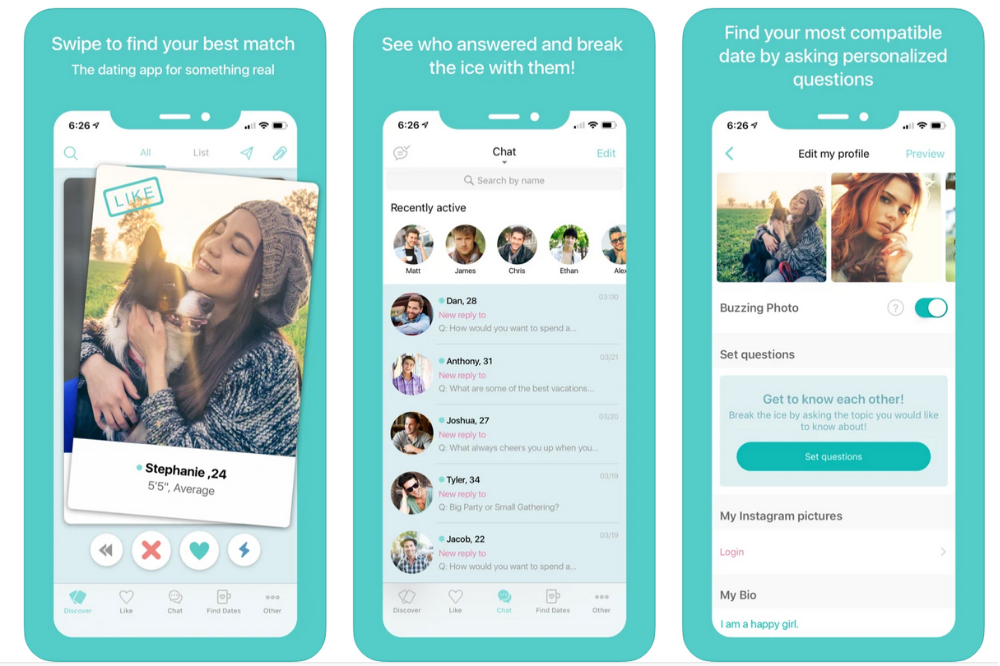 Source
If you're ready to put a ring on it, Sweetring's made for you. It claims to be a global dating app for serious daters whose endgame is the "M" word: marriage.
Upon filling up your bio and key stats like age, height and income, ideal matches will be proposed. The app focuses on personality over looks by prompting users to ask deeper level questions. This ensures that your match has values and interests that are compatible with yours, from Netflix shows to Twitter rants. 
Download Sweetring on iOS | Android
5. JustDating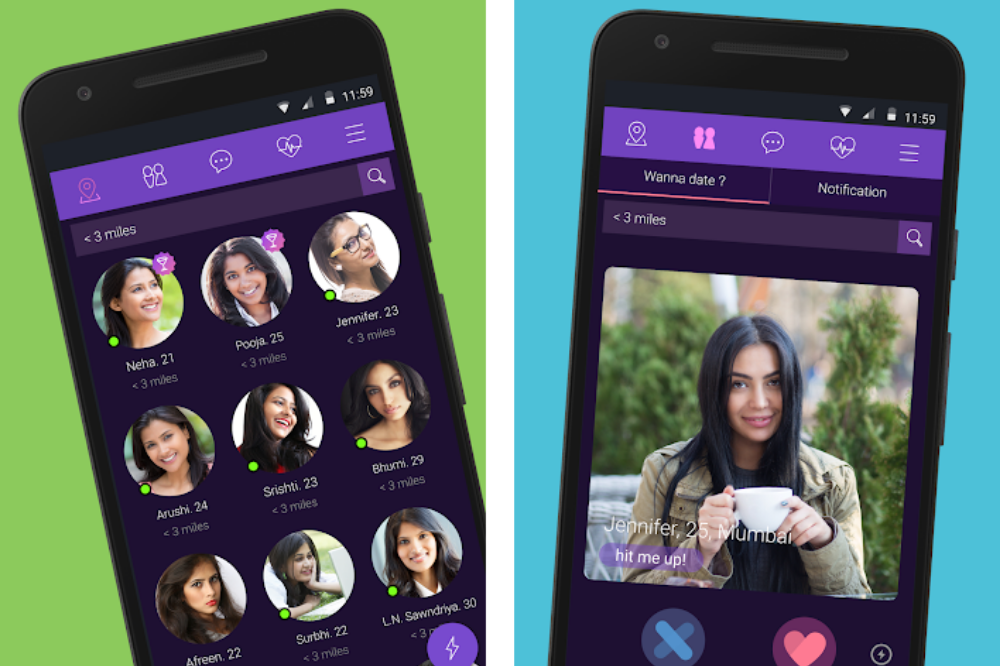 Source 
A hybrid of Coffee Meets Bagel and Tinder, JustDating recommends potential dates based on your interests and location. There's also a page where men can publicly list down their available dates for single ladies to take up, and whether they'll be paying for that Ya Kun breakfast or high tea at Raffles Hotel.
The app also allows users to go straight for the kill with a video call, so you can get a sense of the other party before that hot date. 
Download JustDating on iOS | Android
6. Skout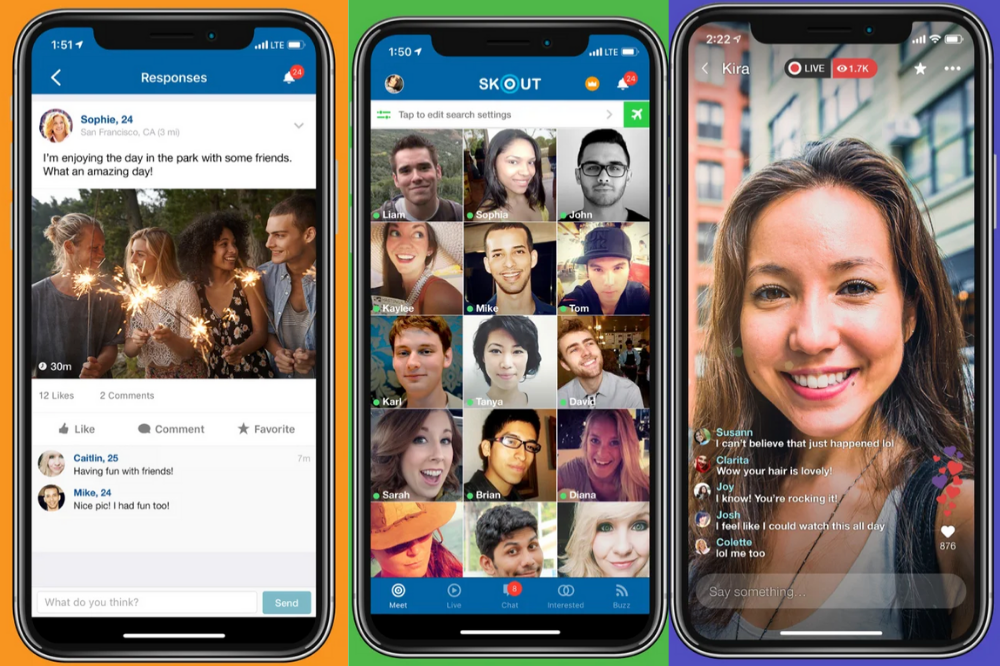 Source
With a homepage designed similar to Instagram and Facebook, Skout operates like a social media platform making it easier for you to "profile" individuals you're interested in. 
On the app, you can connect with others nearby or from basically anywhere around the world. Additionally, if the way someone speaks and carries themselves IRL is a top priority for you, just watch their live-streamed videos before you decide to start chatting.  
While the nature of the app does make it more of a networking site, you never know who you might run into while building connections – there's a chance you'll encounter a potential lifelong confidante or business opportunity even! 
Download Skout on iOS | Android
7. BeSmitten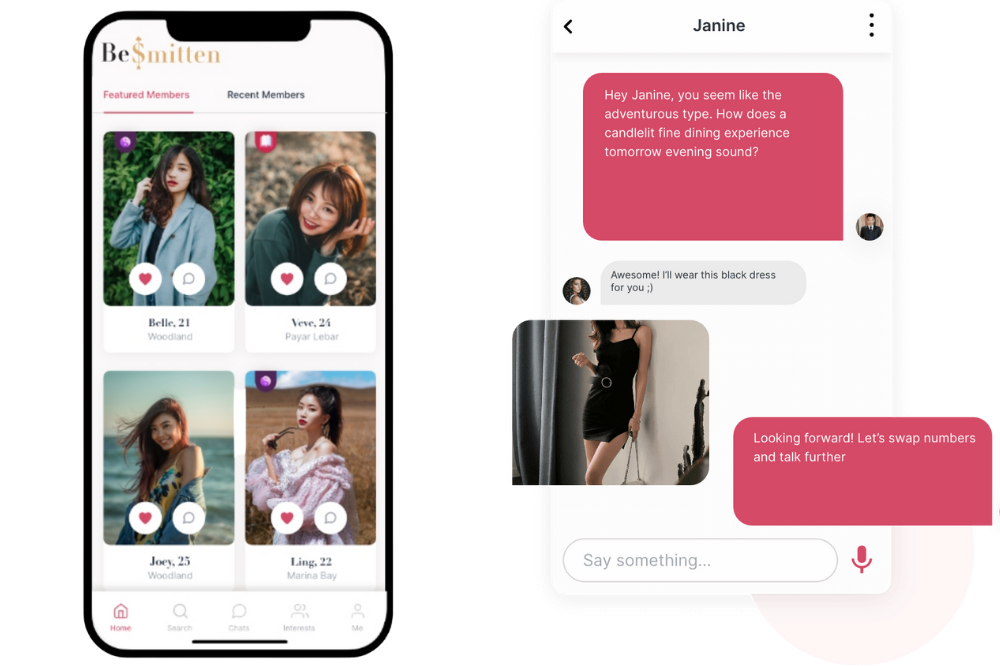 Source
For those who want a taste of the lush life, then BeSmitten is an app worth considering. Self-labelled as a luxury dating site, it serves as a platform for "successful and attractive individuals" to connect with one another. 
On the app, you can not only network with other high-flyers, but arrange atas dates as well and see where it leads to after. BeSmitten also promotes a no-strings attached nature, so if someone doesn't meet your standards in-person, well, you can enjoy the fancy dinner date before bidding them buh-bye. 
Download BeSmitten on iOS | Android
8. Down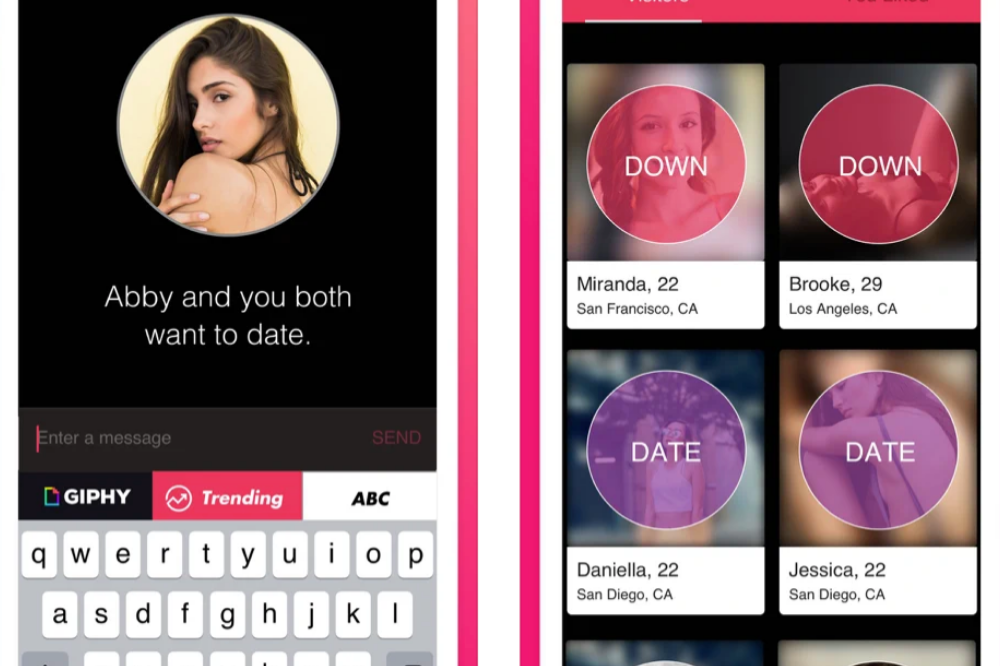 Source 
Are you Down? On this app, you can make your intentions clear right from the get-go and delve straight into small talk without having to play it safe.  All you have to do is swipe up to "date" if you want something more serious or swipe "down" if a night of fun is all you're looking for. 
Additionally, you can match with an unlimited number of people, so depending on your intentions, you can easily link up with others close by. Your matches will only get the notification if they're interested in the same pursuit as you – so no need to worry about messy situations where both parties have glaringly different interests. 
Download Down on iOS | Android
9. PongPong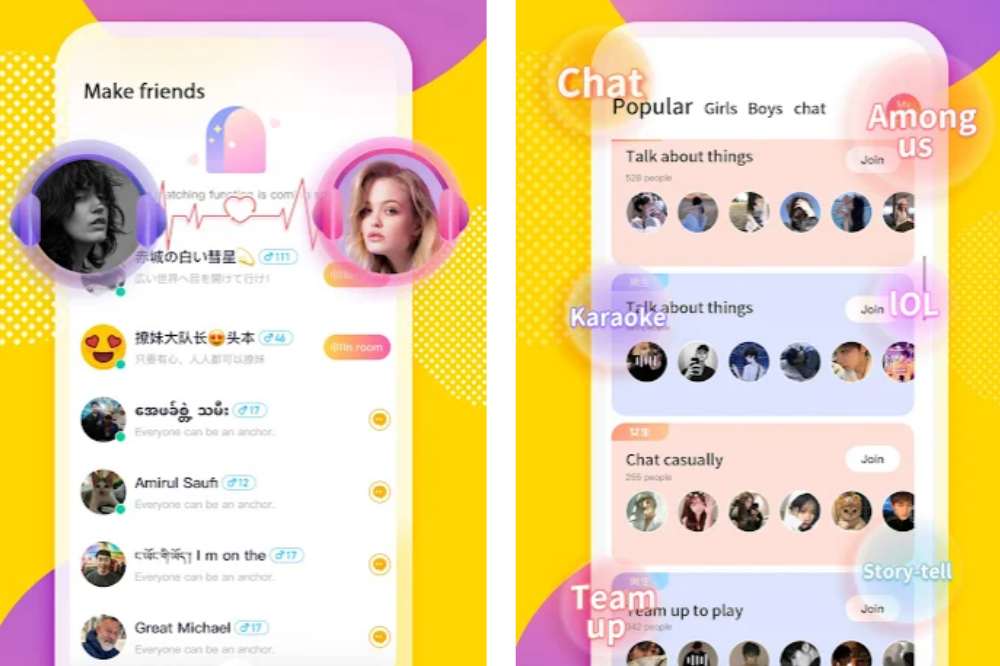 Source
While PongPong is primarily not a dating app, it's still a great place for you to meet others and possibly take your newly formed connections to the next level. 
With features that allow you to verbally chat, attend karaoke sessions online or even talk about specific topics in groups, you'll be sure to come across like-minded individuals. Gamers, for example, can kakis together and who knows – maybe you'll meet a new gaming buddy and potential partner, all at once. 
As the app allows you to record your voice, it makes it easier for you to communicate and let's be honest, is also a factor when it comes to dating. 
Download PongPong on iOS | Android
10. Pure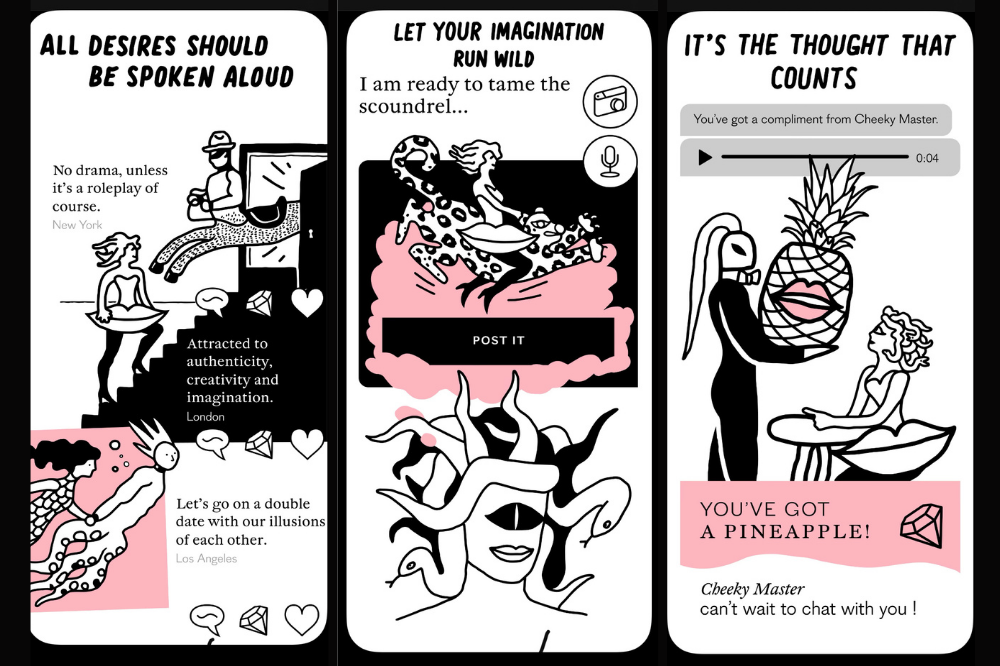 Source 
We all have those secret desires that oftentimes are kept under wraps. On Pure, it all starts after you post an "ad", detailing either what you're looking for or your wildest intentions. Thereafter, other users can send in requests to your ad or you can do the same to ads that pique your interest. 
This means you can go all out with what you want and what's more, chats and images sent will self-destruct within 24 hours. To keep things interesting, you can video chat with another user while wearing a virtual mask – so your identity will be kept anonymous without your personality being hidden. 
Download Pure on iOS | Android
11. Muzmatch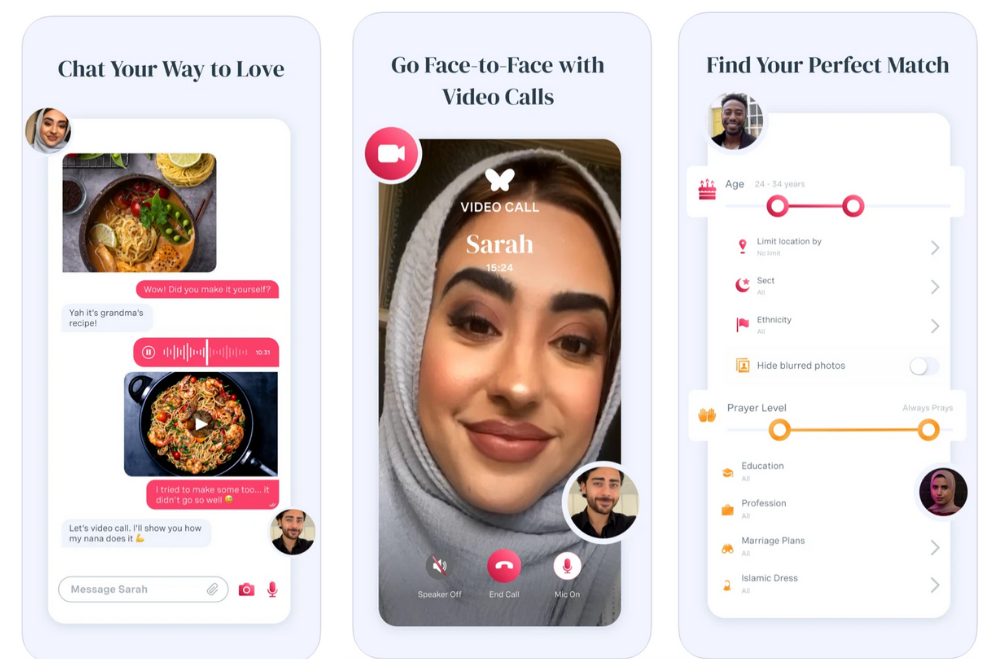 Source
Muzmatch is a dating app catered to those in the Muslim community looking for a partner. 
In order to make things more convenient, Muzmatch has unique filters that allow you to find others who share the same sect, prayer level or even someone who's on the same professional level as you. 
You can chat with anyone who has partner potential and once you're ready, there's a free voice and video call available so you can deepen your connection even further. 
Download Muzmatch on iOS | Android
12. Kakis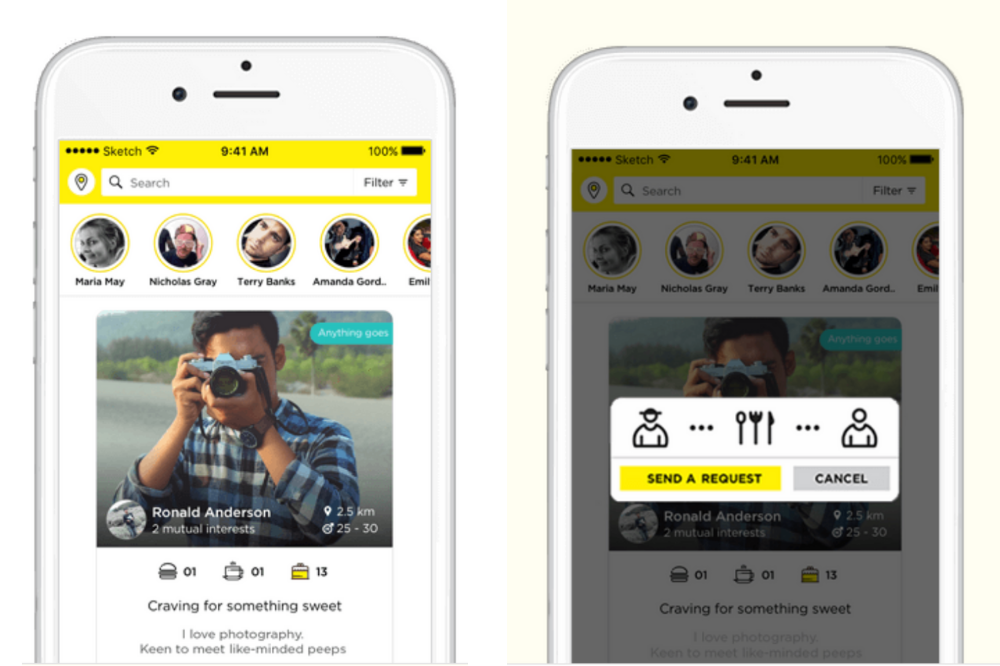 Source 
Kakis is fit for anyone with a knack for spontaneous meet-ups. With the features available, you can connect with others who share the same hobbies, interests and even food preferences. Alternatively, you can arrange group chats which make communication a whole lot more relaxed. 
While dating isn't the primary objective of the app, you can arrange impromptu meet-ups for days like when you want some company to try out that new burger place you've been eyeing – who knows who you'll end up meeting. 
Download Kakis on iOS | Android
13. NUiT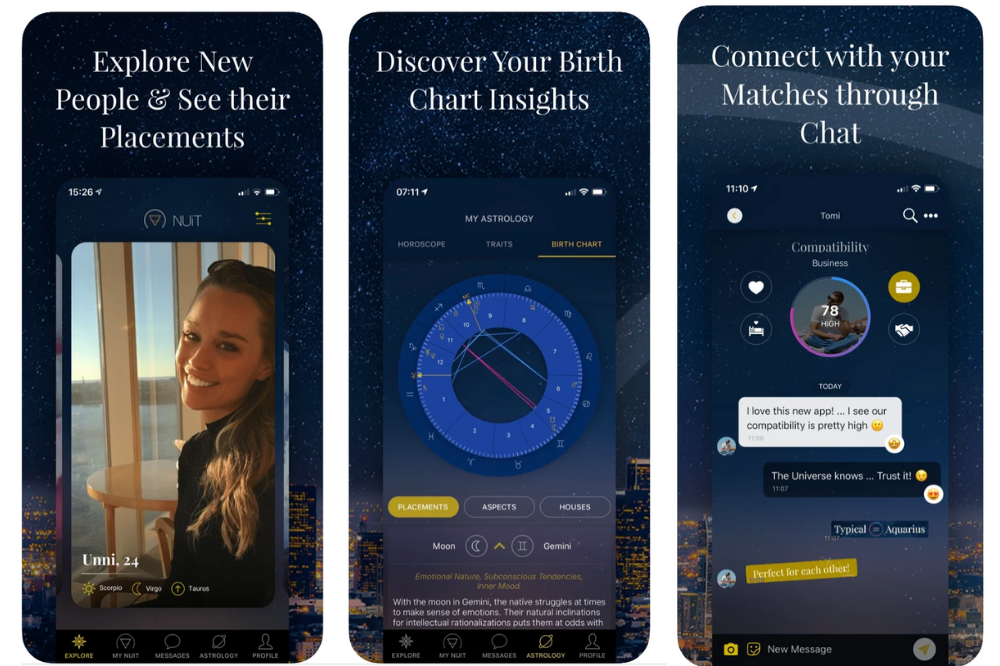 Source 
If you believe that fate is written in the stars then you should consider checking out NUiT. On the app, your birth chart is used to gain insights about different aspects of your life as well as your compatibility with others.  
Astrology, details of your romantic nature, friendship style and even magnetism level are calculated on the app and used to pair you up with other like-minded individuals. Alternatively, you can do a reading of your friends or even crushes IRL to see if you'd make a good match. 
Download NUiT on iOS | Android
14. WeChat
While predominantly a messaging app, WeChat has features like "Shake" and "People Nearby" which allow it to double as a dating platform.
The "Shake" feature allows you to make new friends with others who've also shaken their phones at the same time – maybe, in doing so, you'll come across someone who's just your type. Alternatively, you can have a go at the "People Nearby" function, and chat with individuals who are within your proximity. 
Either way, it's a great substitute for a regular dating app, especially if you're too busy to keep up with swiping.
Download WeChat on iOS | Android
15. The Pattern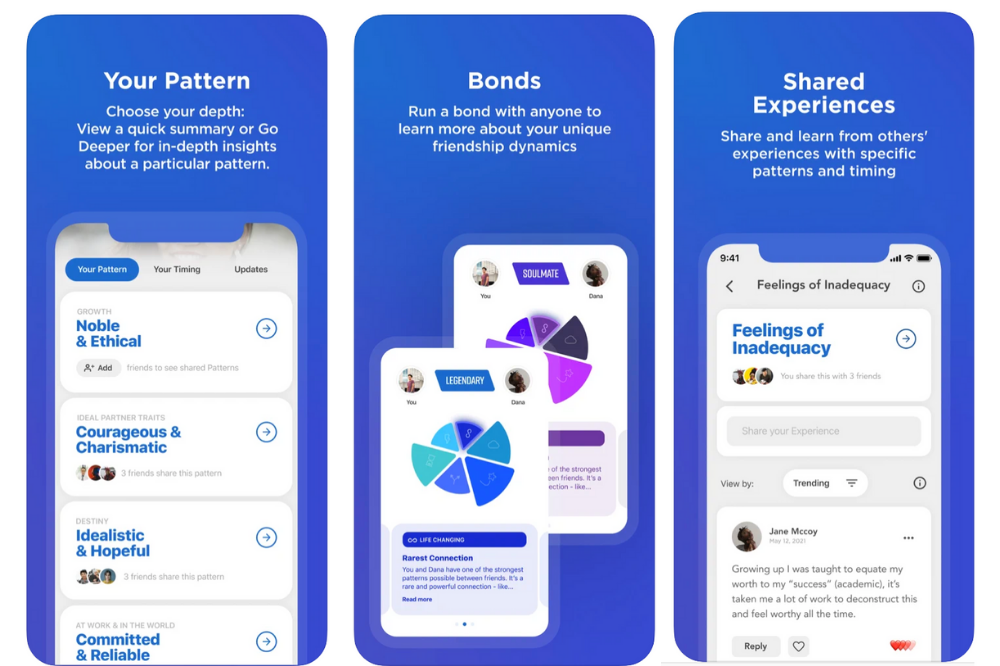 Source
While The Pattern itself is an app that maps out your psychological footprint, it allows you to use the information to calculate your compatibility with others using the app.
"Connect" is a new feature that matches you with other users like any other dating app, but with a greater focus on your personality. It also allows you to bond with others over topics like shared experiences and values. And, if you want, you can calculate your compatibility with your friends to see if maybe the two of you ought to explore a relationship together. 
Download The Pattern on iOS | Android
16. S'More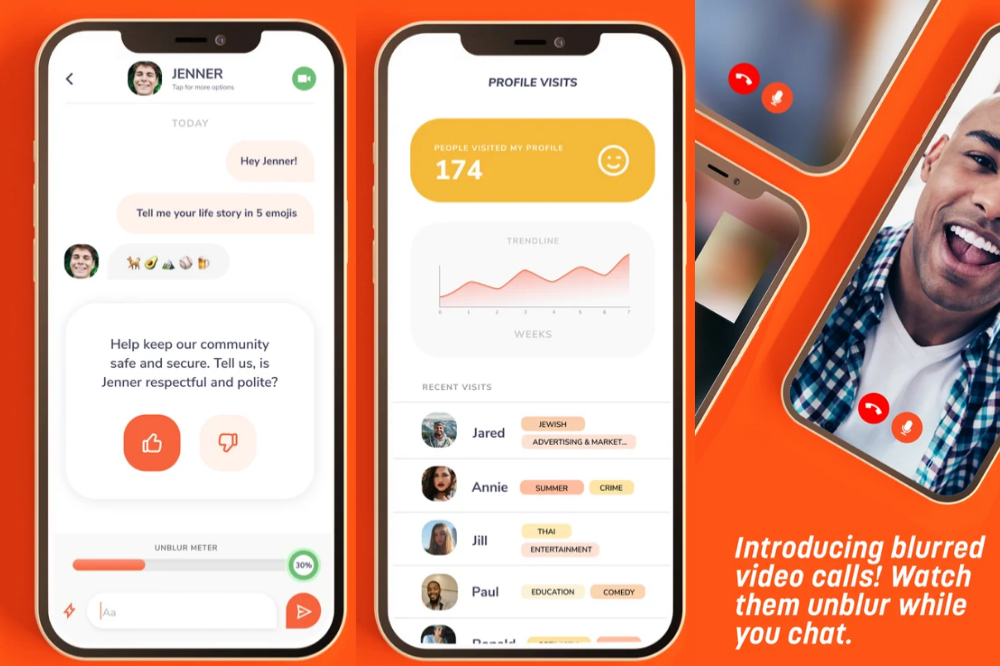 Source 
S'More is an app that attempts to steer online dating away from superficiality. At the start, your images on the app are all partially blurred, only revealing your bio. Others will only be able to see information like your music taste, hobbies and anything else you've added to your bio. 
Each day, you get to choose 8 profiles to view and chat with – the more you chat, the more your pictures get revealed. And the same thing goes for video chatting, the longer you talk to one another, the clearer the video gets. If you're someone who takes a while to get comfortable with strangers, this app will also help you ease into talking to individuals who spark your interests. 
Download S'more on iOS
Unique Dating Apps In Singapore
Online dating can be a ton of fun, but some days, swiping on conventional apps gets a little boring, to say the least. Why not add some sizzle to the game and try out these unique apps that let you explore other ways of meeting people. 
Who knows, you might just find your soulmate in no time. 
Disclaimer: This article is meant for information only and should not be relied upon for relationship advice. This article also contains partial partnership content. However, all opinions are ours.
Originally published by Ilarnna Chrisandra on 9 November 2021. Last updated by Nicole Yong on 18 January 2022.
Cover: Source, Source
Also read: 
8 Singaporeans Share About Unspoken First Date Etiquette Including Whether To Bring Up Sex