Hello Kitty Skate Decks
Hotspots like *SCAPE and Gardens by the Bay are havens for skateboarders. And with how common skating has become a sport among all ages, you might be tempted to get a board yourself – if you haven't already. 
To set you apart from the rest, there are now Hello Kitty and Friends skate decks and apparel that you can match with your skater gang. Read on for more information on these exclusive, kawaii designs.  
Skate Decks
For many of us, Hello Kitty always gave the impression that she is someone who would enjoy a tea party rather than skateboarding with her friends. Through this collaboration with Girl Skateboards, we get to see her active side as well.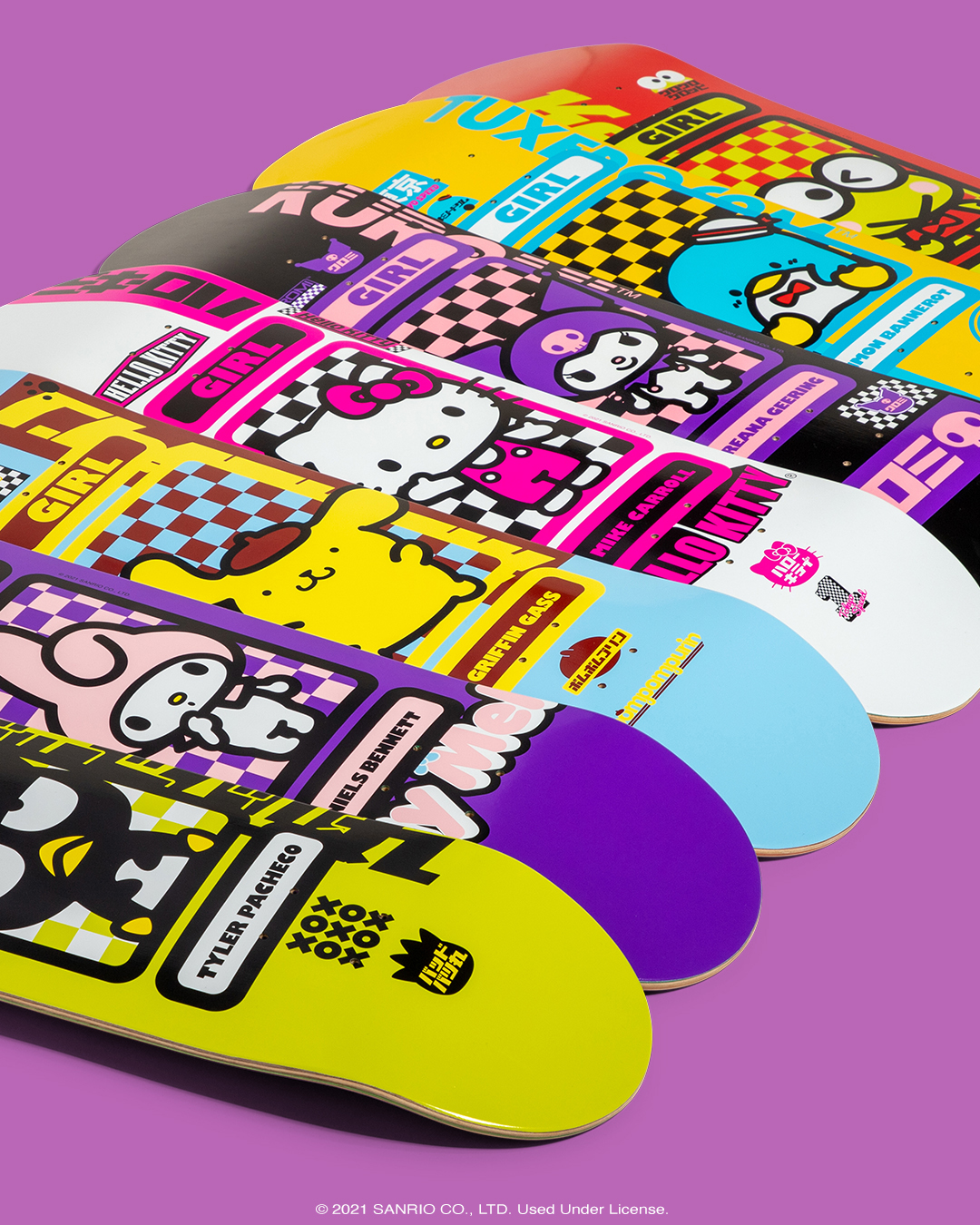 The skate decks come in vibrant colours, with each respective to the character's signature colour. Other than the colour palettes making a loud statement, the skate decks also feature grids that bring to mind the finishing line of a car racing track.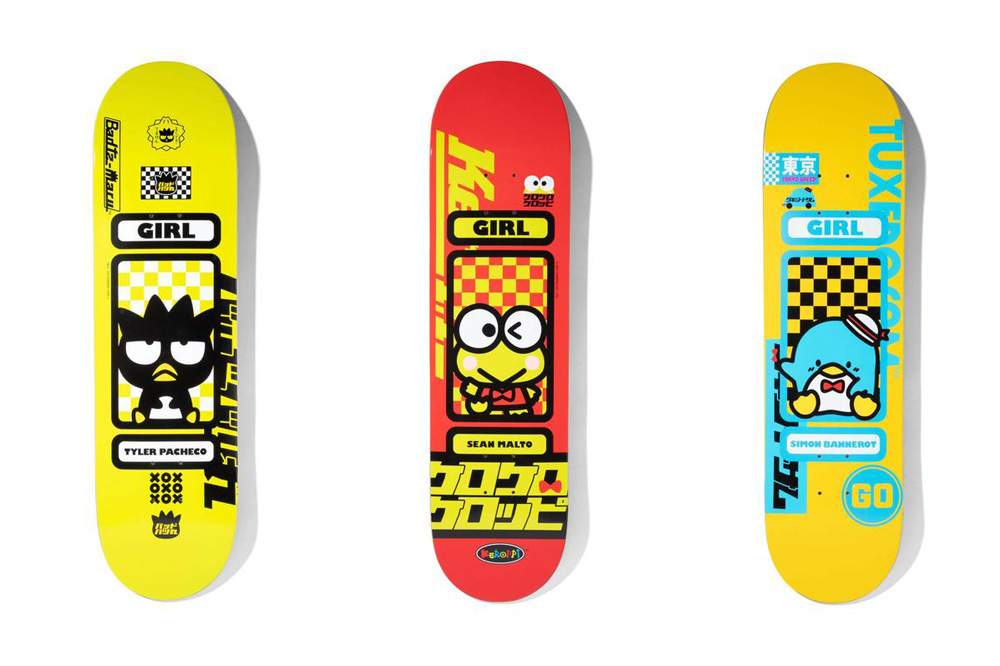 Bad Badtz Maru, Kerropi, Tuxedo Sam
Before you kickstart the race with your kakis, take a pick from the 6 skate decks that come in either warm and cool tones. For those who prefer warmer shades like mustard green, red and yellow, you'll find the designs of Bad Badtz Maru, Keroppi and Tuxedo Sam.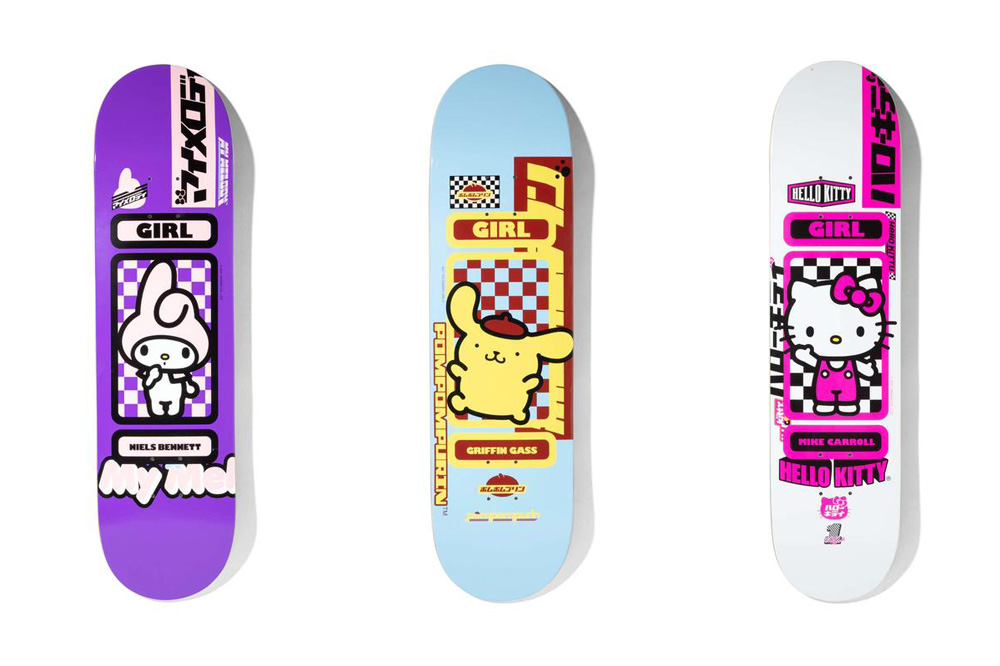 My Melody, Pompompurin, Hello Kitty
Alternatively, you can choose from the cool tone series with characters like My Melody, Pompompurin and Hello Kitty. 
Each skate deck is 20.3cm x 80cm, has a wheelbase of 35.5cm and retails at USD$65 (~S$88.70). 
Apparel
To complete your skater look, there is also apparel in this collaboration like hoodies, sweatshirts and long-sleeved T-shirts.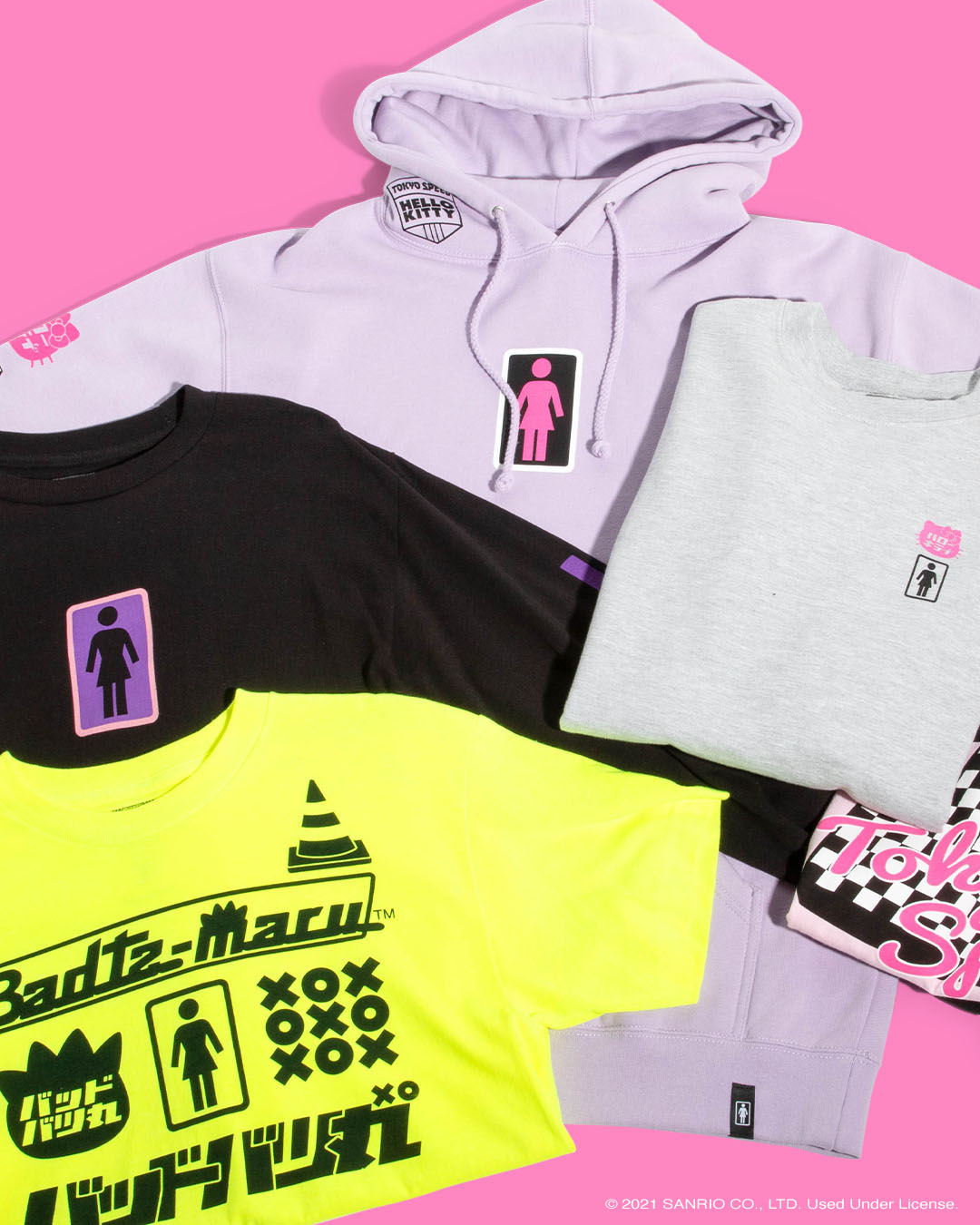 Keeping you warm during the rainy season of Singapore is the GIRL Tokyo Speed Long Sleeve that comes in white, black and green.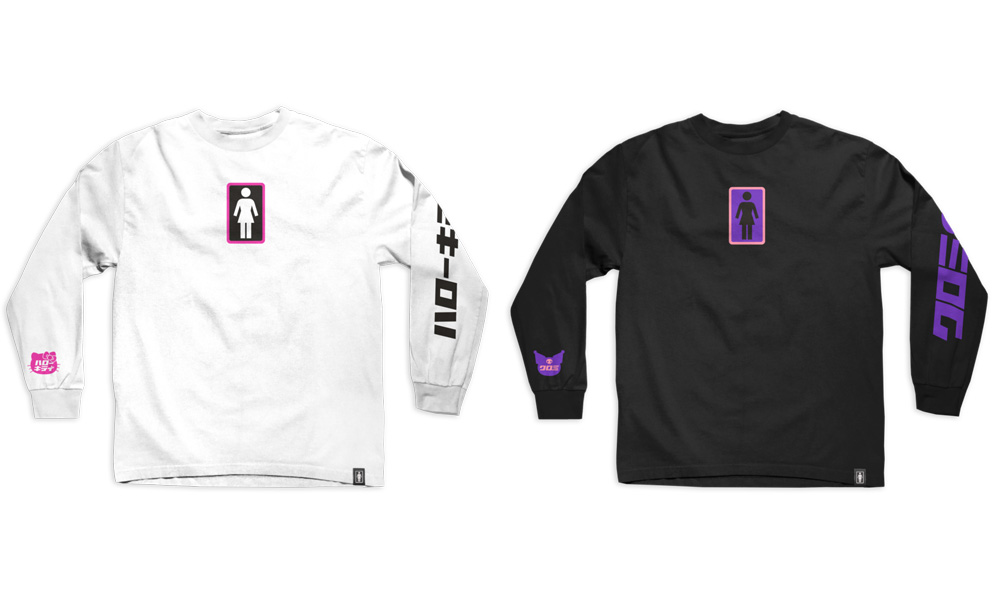 It features the logo of Girl Skateboards in the middle and you'll also spot the character logo of Hello Kitty and her friends on the right sleeve. Depending on which colour you're going for, the character logo will differ too. 
The GIRL Tokyo Speed Long Sleeve retails at USD$45 (~S$61.20).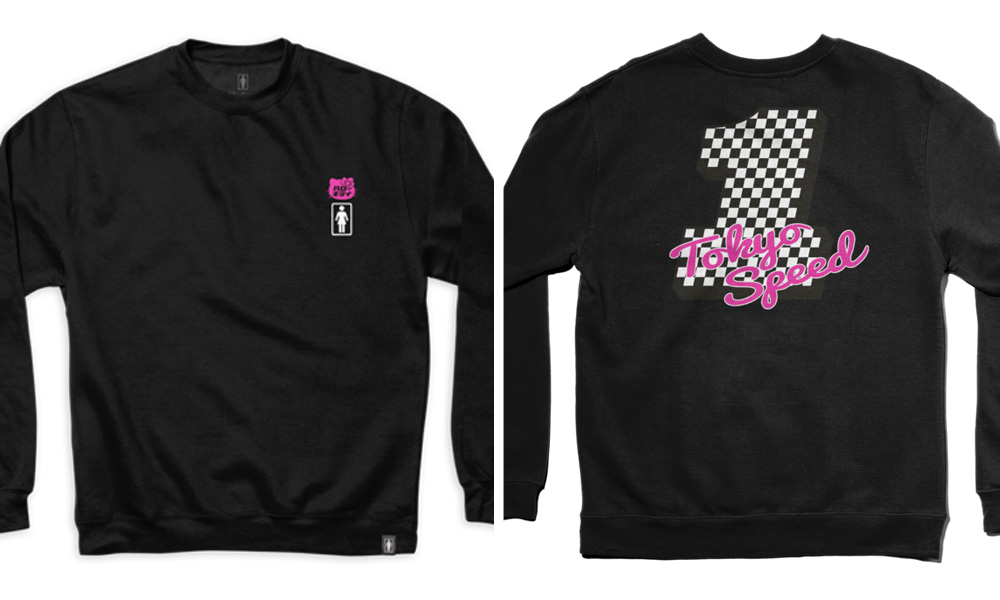 Reminding you that you're always top priority is this GIRL Tokyo Speed #1 Sweatshirt that features a number one logo on the back. In front, the logo of Girl Skateboards makes another appearance but in a smaller version on the left chest region. 
Besides black, the sweatshirt is also available in silver ash. 
The GIRL Tokyo Speed #1 Sweatshirt retails at USD$70 (~S$95.30).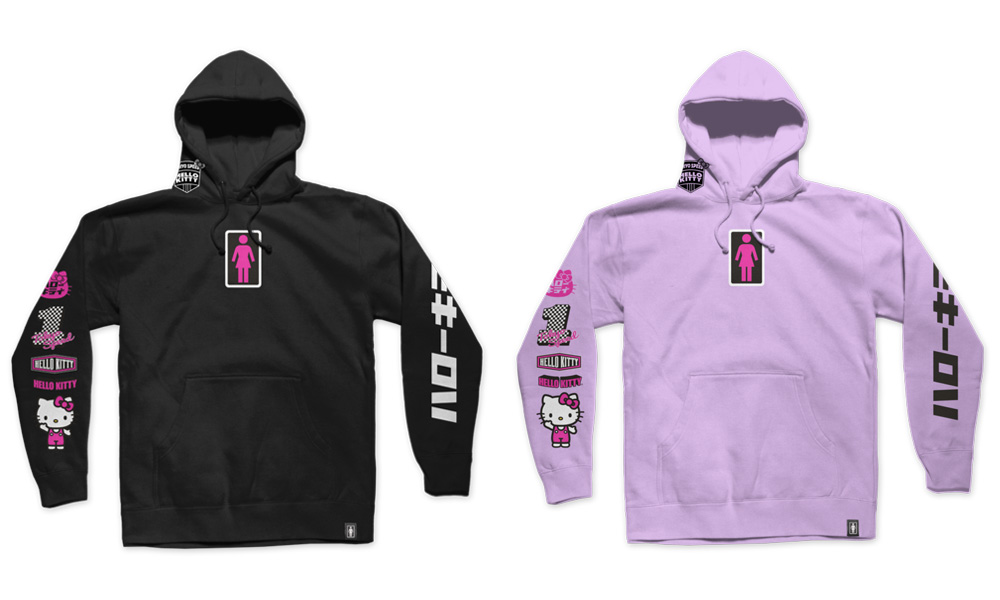 Whether you're chilling at home or staying up for a late-night studying session, this GIRL Tokyo Speed Hoodie keeps you warm and cosy. Available in black and purple, you can spot the motif of Hello Kitty waving at you as well as the number one logo previously mentioned on the right sleeve. 
The GIRL Tokyo Speed Hoodie retails at USD$80 (~S$109). 
Complete Your Skater Girl Look With These Hello Kitty And Friends Skate Decks And Apparel
Express your love for Hello Kitty and Friends through these skate decks and apparel the next time you jio your friends out for a skateboarding sesh. 
The items are available on Hello Kitty's official website and you might want to hurry as some of them are already sold out. However, as they currently don't ship to Singapore, you can look for freight forwarders as an alternative solution. 
All images courtesy of Hello Kitty.
Also read: 
These Sanrio Shades Have Hello Kitty Motifs & Interchangeable Bows For That Purr-fect Cat-Eye Look