Hotel Spas In Singapore
Whew, we've made it this far into the year. But with Covid-19 still raging on and the ever-changing regulations, it's time for some well-deserved TLC. And, what better way to revitalise than with an ultra lux spa day?
These hotel spas are filled with treatments to leave both your body and mind at complete ease. You can soak in herbal baths alone or indulge in traditional massages with friends, feeling just like royalty. 
1. Fairmont Hotel – Willow Stream Spa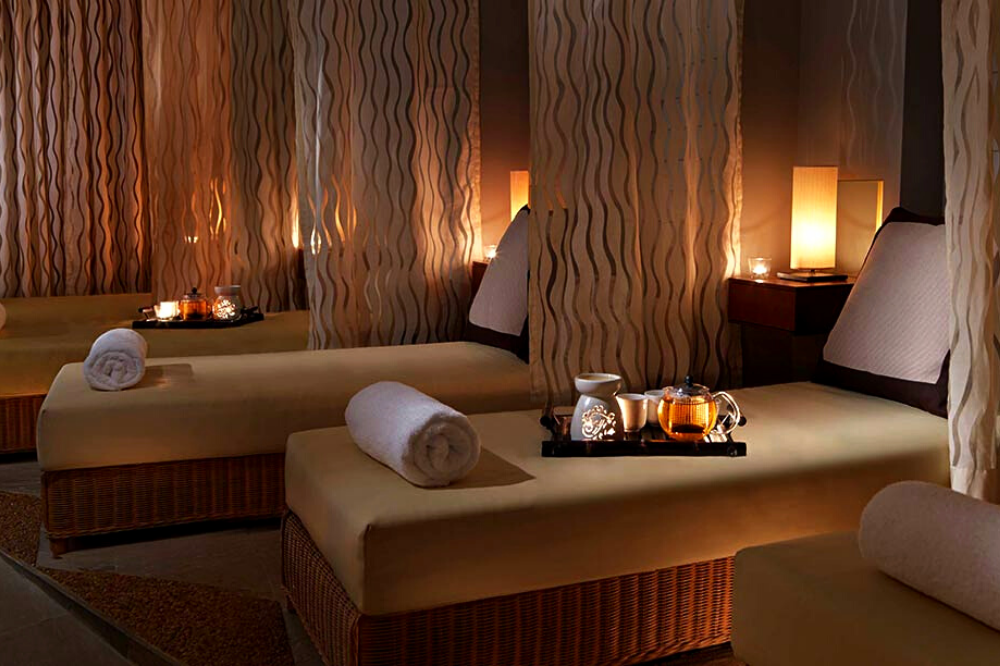 Source
With 23 enticing treatment rooms, Willow Stream Spa offers a whole spectrum of facilities from saunas to steam rooms and even a whirlpool. Their signature treatments include the Pearl And Caviar Anti-Ageing Rejuvenation, where you'll receive a bamboo ginger massage, followed by a caviar facial to help you completely decompress.
If you prefer more traditional treatments, they have a 90-minute Thai massage too, allowing you to squeeze in a chill sesh into even your busiest of days. 
There are even 2 couple suites fit with private jacuzzis – a tempting way to spend a weekend unwinding with your partner.
Price: Packages and rates found here
Address: 80 Bras Basah Road, Fairmont Singapore, Singapore 189560
Opening hours: 7am to 9pm daily
Booking: Call 6431 5600 or email willowstream.enquiries@fairmont.com 
2. Hotel Jen Tanglin – Essence Vale Spa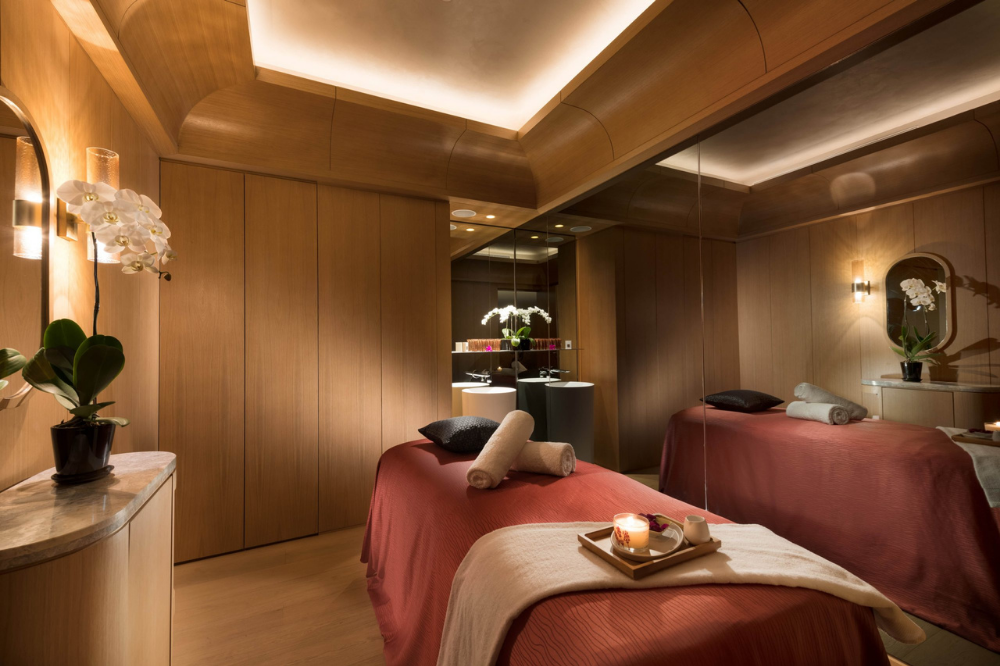 Source
Located at the poolside of the hotel, Essence Vale Spa derives its inspiration from Singapore's local heritage. If you need a release, they have a package called Touch Of Heaven that features a traditional Abhyanga massage and facial, to leave you revitalised from head to toe. 
For a party of 2, consider their Endless Love treatment where you can relax with a romantic floral bath and scrub. 
Alternatively, you can opt for a customised massage to cater to your problem areas, with your required level of intensity. 
Price: Packages and rates found here
Address: 1A Cuscaden Road, Hotel Jen Tanglin, Singapore 249716
Opening hours: 11am to 8pm daily
Booking: Make a booking here or call 6831 4349 or email essencevale@gmail.com 
3. W Singapore – Away Spa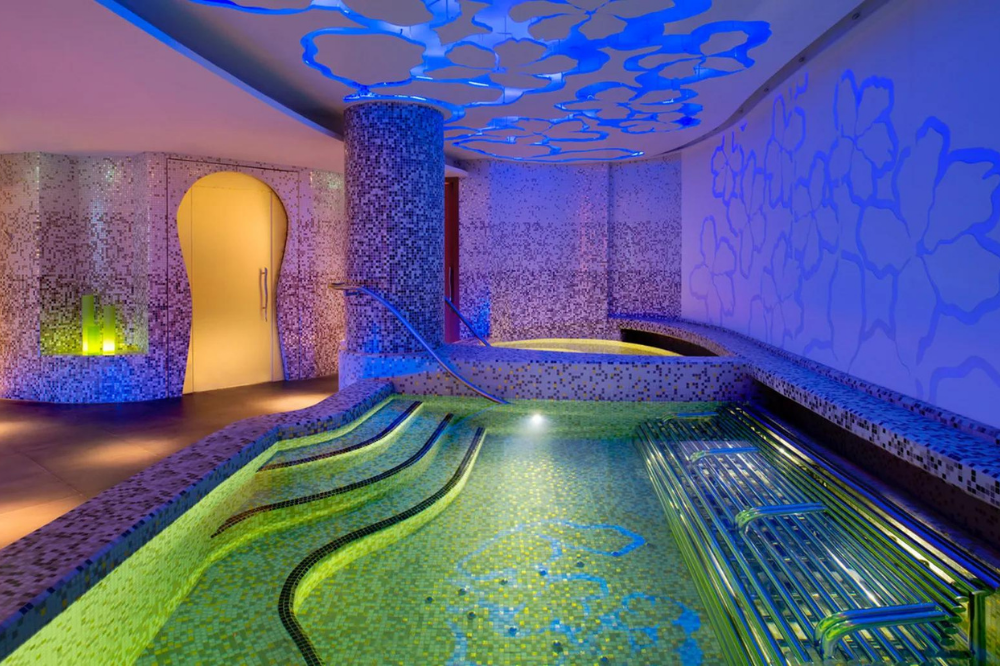 Source 
Get transported to a serene oasis at Away Spa, situated in Sentosa's W Singapore Hotel. The design and lighting alone will reboot your senses with its earthy, calming hues. Paired with their range of herbal baths and experiential showers, the spa allows you to sink into total tranquillity. 
The Cove Massage will remind you of waves lulling against the shore and elevate your mood or, after a day at the beach, you can spend some time at the beauty bar to soothe your skin from the sun. 
After your treatments are complete, lounge at the private garden while sipping fruit-infused beverages and savour quiet moments of peace.
Price: Packages and rates found here
Address: 21 Ocean Way, Sentosa Cove, Singapore 098374
Opening hours: 10am to 10pm daily
Booking: Call 6808 7209 or email awayspa.singapore@whotels.com 
4. Hotel Fort Canning – Chinois Spa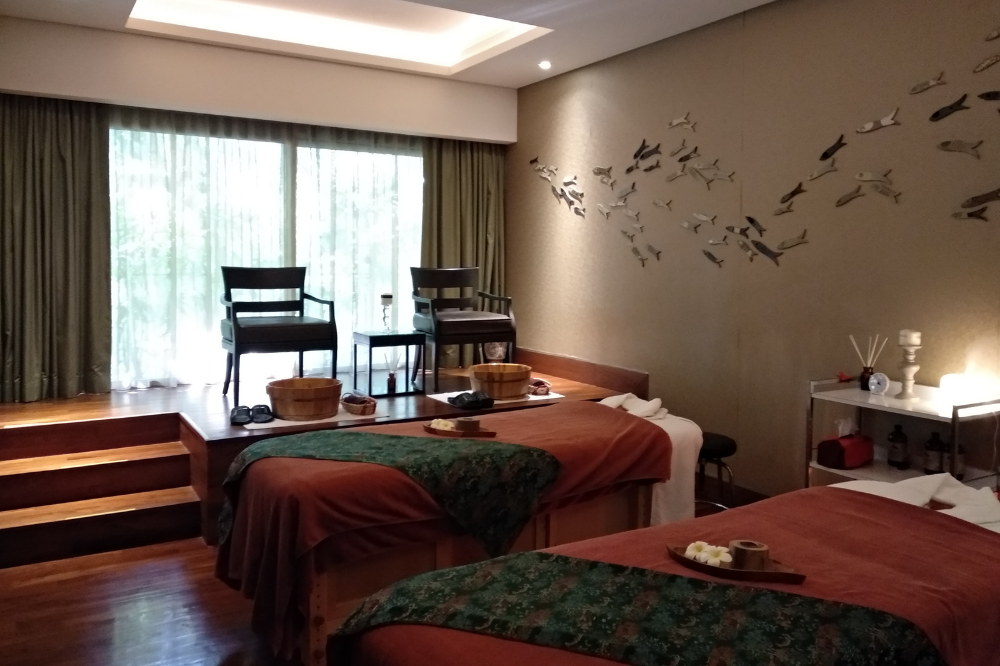 Source
Most of us have ventured to Fort Canning before either for a wedding or a picnic, but little did we know that there's a spa there too. Nestled among the lush greenery of the park, Chinois Spa uses all-natural and organic products for all their treatments. 
Along with a jacuzzi and foot bath, they also provide massages that use deep tissue techniques to get rid of any muscle tension. Their Rejuvenate Massage uses sports massage techniques which helps to improve blood circulation and your overall flexibility – great for athletes or fitness gurus with body aches that don't ever seem to go away. 
Price: Call to inquire
Address: 11 Canning Walk, Level 1 (Glass House), Singapore 178881
Opening hours: 11am to 8pm (Tuesday to Sunday). Closed on Mondays.
Booking: Call 6836 3363 or Whats App 9272 6367 or email contact@chinoisspa.com.sg 
5. Grand Hyatt Singapore – Damai Spa
Take the day off to loosen up while being surrounded by elements of nature at Damai Spa. The 11 treatment rooms all have decor to make you feel as if you're chilling by a waterfall – you might even doze off while relaxing in one of their indoor stone tubs. 
Whether you've picked their deep muscle massage with hot stones or detox wrap, you can relax even further in their hot and cold plunge pools, sauna or steam room after. There's even a private couple suite with its very own tub overlooking a water terrace.
If the stress of work has been showing on your skin, there's a personalised facial treatment too, so you can get your complexion back to its youthful glow. 
Price: Packages and rates found here
Address: 10 Scotts Road, Grand Hyatt, Singapore 228211
Opening hours: 10am to 10pm daily
Booking: Make a booking here or call 6416 7156
6. Capella Singapore – Auriga Spa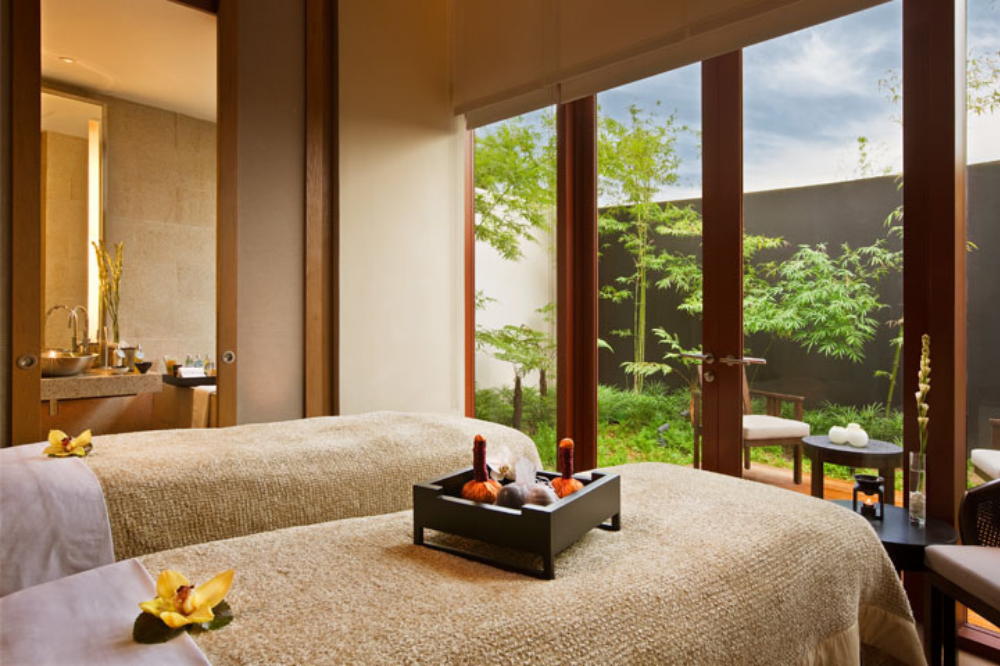 Source
At Auriga Spa, you can breathe in the refreshing smell of flora surrounding the vicinity while you receive their unique New Moon ritual treatment. Utilising the different moon phases to guide the treatment, the process includes a 30-minute scrub, 30-minute wrap, 60-minute massage and to finish off, a 60-minute facial. 
You can also calm yourself in the herbal steam room or take a dip in the vitality pool, both of which are part of their facilities. For new moms, they offer prenatal and postnatal massages to soothe any aches or built-up tension lingering from the pregnancy. 
With spa treatments tailored to your mood, form and senses, all the stress you've been carrying around will melt away in no time. 
Price: Packages and rates found here
Address: 1 The Knolls, Sentosa Island, Singapore 098297
Opening hours: 9am to 9pm daily
Booking: Call 65915075 
7. Marina Bay Sands – Banyan Tree Spa 
What better way to rise above your troubles than on the 55th floor of MBS, where the Banyan Tree Spa is located? 
While you spoil yourself with one of their calming baths, you'll be able to catch a view of the whole cityscape from above. Alternatively, they have a range of traditional massages such as classic Thai and Balinese style treatments. 
You can also consider their Royal Banyan treatment which aims to increase your blood circulation, through a massage and herbal bath combo. The treatment will recharge your body and mind at the same time, so you can eventually get back to daily tasks feeling reinvigorated. 
Price: Packages and rates found here
Address: 10 Bayfront Avenue Tower 1, Marina Bay Sands, Level 55, Singapore 018956
Opening hours: 10am to 11pm (Sundays to Thursdays) | 10am to 1am (Fridays & Saturdays)
Booking: Call 6688 8825 or email banyantreespa@marinabaysands.com
8. Raffles Hotel – Raffles Spa 
Raffles Spa offers an ambience of serenity with warm-toned walls and furnishing which will put you in the right mood for a day of TLC. The Gem Suite, which is one of their 7 treatment rooms, is a private couple suite with a pool, massage beds and its very own bathroom. 
Just as their rooms are named after precious stones, the Absolute Relaxation massage uses warmed gemstones to help you loosen up and destress. They even incorporate the theme into the water they serve, which is specially infused with gemstones. 
If you need to unwind and reboot your sleep schedule, the Chakra Deep Sleep Ritual treatment uses gentle movement and a thermal body wrap to restore your mind and body, so you can finally get the good night's rest you've been dreaming of. 
Price: Packages and rates found here
Address: 1 Beach Road, Raffles Hotel, Singapore 189673
Opening hours: 10am to 7pm daily
Booking: Make a booking here or call 6337 1886 or email singapore@raffles.com
9. The Ritz-Carlton – The Ritz-Carlton Spa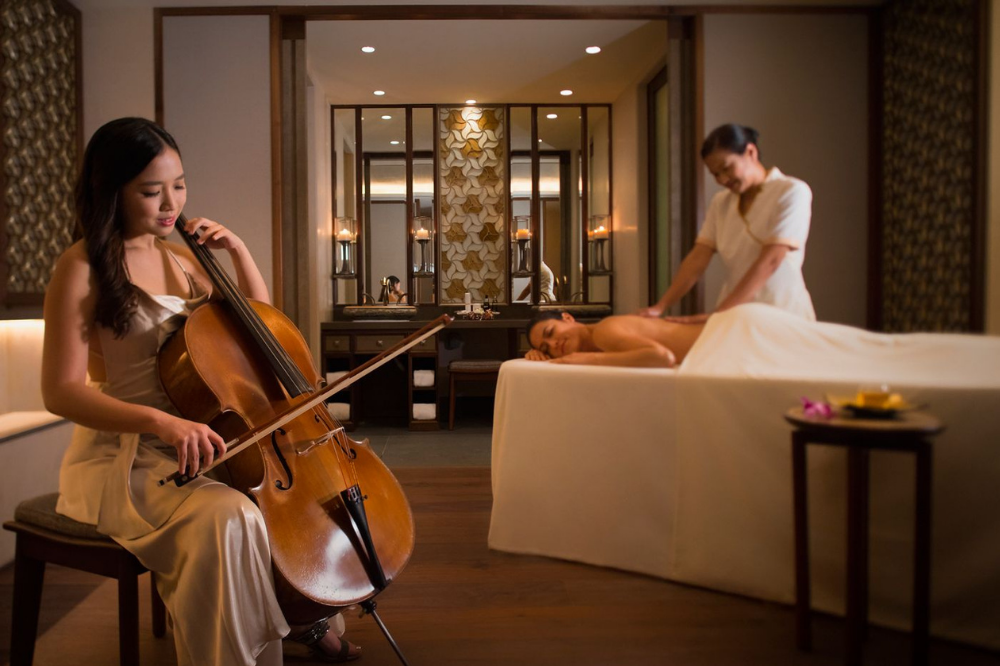 Source
Music definitely calms the mind, so at the Ritz-Carlton Spa, you can drift off to the sounds of a live cellist while receiving a full body massage, with movements synchronised to the cello piece. 
Alternatively, you can try out the Hot Lapis Stone massage where heated lapis lazuli stones are used to soothe tension and muscle soreness. If you're pressed for time, you can consider their La Mer facials which includes a 30-minute eye focused treatment. 
Once your treatment has ended, you can hop into their jacuzzi to fully relish your day of rest.
Price: Packages and rates found here
Address: 7 Raffles Avenue, The Ritz-Carlton, Singapore 039799
Opening hours: 9am to 11pm daily
Booking: Call 6434 5203 or email RC-Singaporeleads@ritzcarlton.com
10. The St. Regis Singapore – Remède Spa 
Focused on bathing and water element rituals, Remède Spa has a range of unique water features to help you get your dose of rejuvenation. 
Aside from a steam chamber and reflexology path, there is also a heated marble bed with a warm rain shower, which is used in their Vichy Shower massage.  
If you've cleared your annual leave for this, there are also 3-hour treatment packages available to make your day off worthwhile. The Cherished Bliss ritual, for example, ends with an hour-long pedicure session from their award-winning manicure studio – so you'll not only feel rejuvenated after the package, but also leave looking all ready to tackle the rest of the year. 
Price: Packages and rates found here
Address: 29 Tanglin Road, St Regis, Singapore 247911
Opening hours: 10am to 7pm daily
Booking: Call 6506 6896 or email remedespa.singapore@stregis.com
11. Shangri-La – Chi,The Spa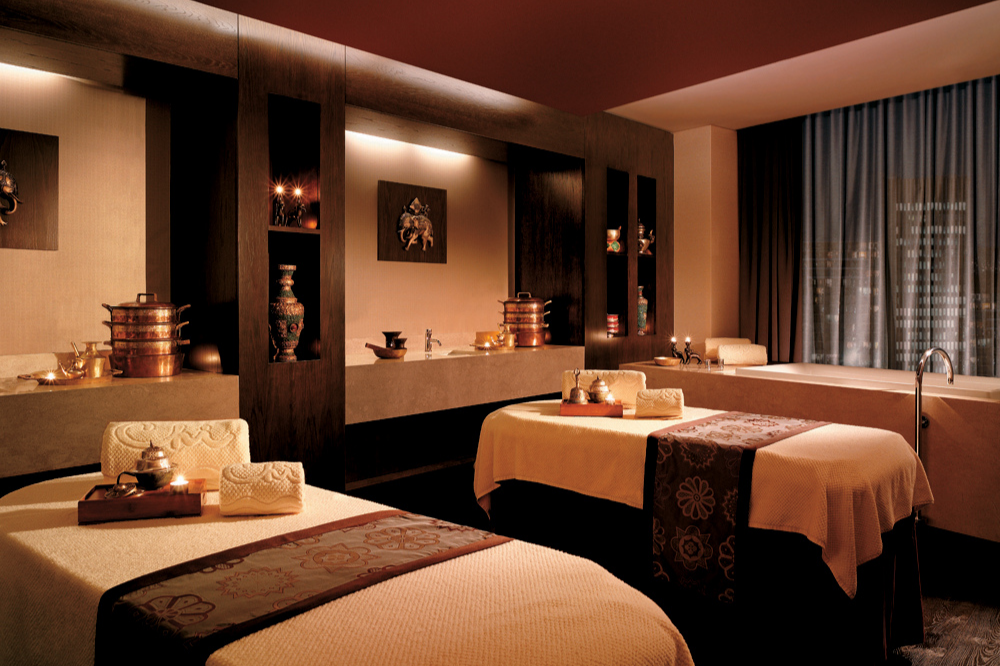 Source
Chi, The Spa is a place to consider if you have a preference for traditional Asian techniques. In fact, they offer an Asian blend massage, which is one of their signature treatments. The massage blends Chinese, Malaysian, Balinese and Thai techniques to restore balance to your body. 
Apart from massages, there's also a Detoxifying Marine Scrub where dead sea salt crystals and papaya extract are used to give your skin a good exfoliation. 
As a bonus, the ambience of the spa provides a quick retreat from the surrounding hustle and bustle of the city to villa vibes on an overseas beach holiday.
Price: Packages and rates found here
Address: 22 Orange Grove Road, Shangri-La, Singapore 258350
Opening hours: 10am to 7pm daily
Booking: Call 6213 4818 or email chi.sls@shangri-la.com 
12. Park Royal Collection – St Gregory's Spa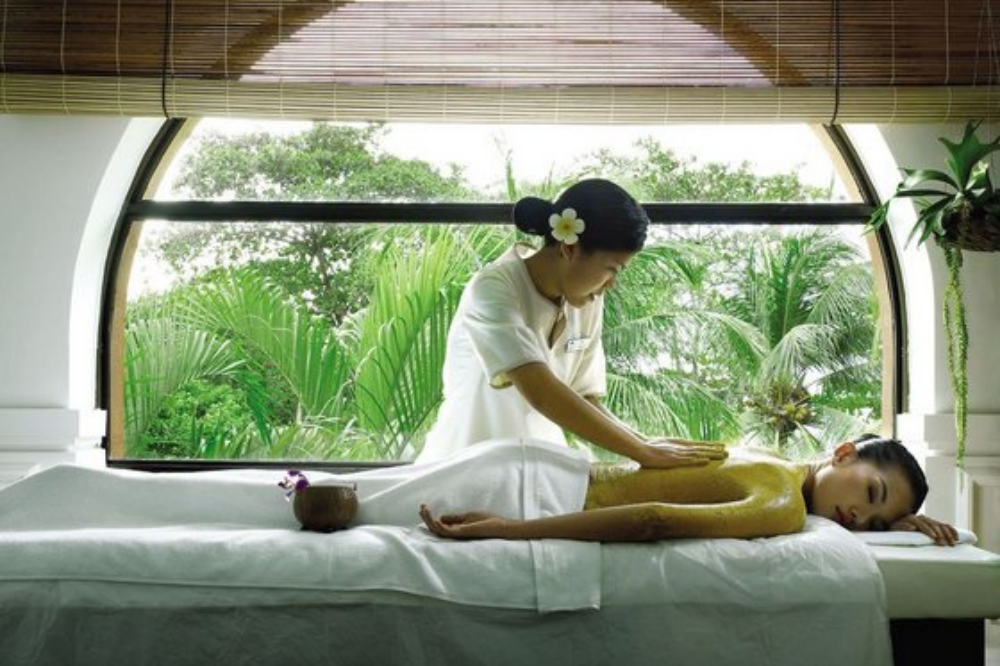 Source
Influenced by Ayurveda, Javanese, Thai, Burmese and TCM therapies, St Gregory's Spa treatments are designed to snap your physical and mental being back to its neutral, relaxed state. 
The Tui Nai treatment that they offer combines both Chinese massage and acupuncture techniques. If you need a quick pick-me-up during your lunch break, there are short 15-minute sessions where you can get either a Gua Sha or scalp massage before heading back to the office. 
Price: Packages and rates found here
Address: 3 Upper Pickering Street, Park Royal Collection, Singapore 058289
Opening hours: 10.30am to 8pm daily
Booking: Make a booking here or call 6809 8870 or email stgregory.prsps@parkroyalhotels.com
13. The Capitol Kempinski – The Capitol Kempinski Spa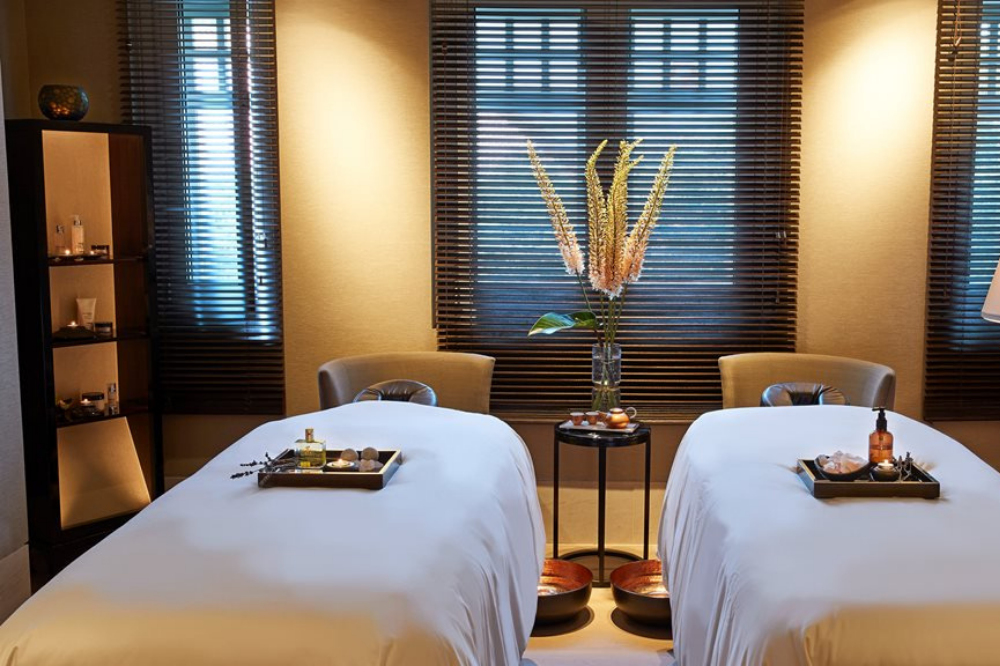 Source
The Capitol Kempinski Spa mixes techniques taken from traditional Asian massages and more modern therapies. Their signature Singapore massage combines the Chinese back massage, Malay abdominal massage and Indian foot massage into one special treatment.
For 2 hours, you can also have a go at their Nirvana Mind And Body experience that pulls techniques from the Gaylia Kristensen Spa ritual to leave you feeling and looking younger. 
And, if you just need a short pampering session to get your skin glowing again, they have an express 30-minute facial that'll cater to that too. 
Price: Packages and rates found here
Address: 15 Stamford Road, The Capitol Kempinski Hotel, Singapore 178906
Opening hours: 10am to 10pm daily
Booking: Call 6368 8888 or email reservations.singapore@kempinski.com
14. The Mandarin Oriental – The Spa At Mandarin Oriental Singapore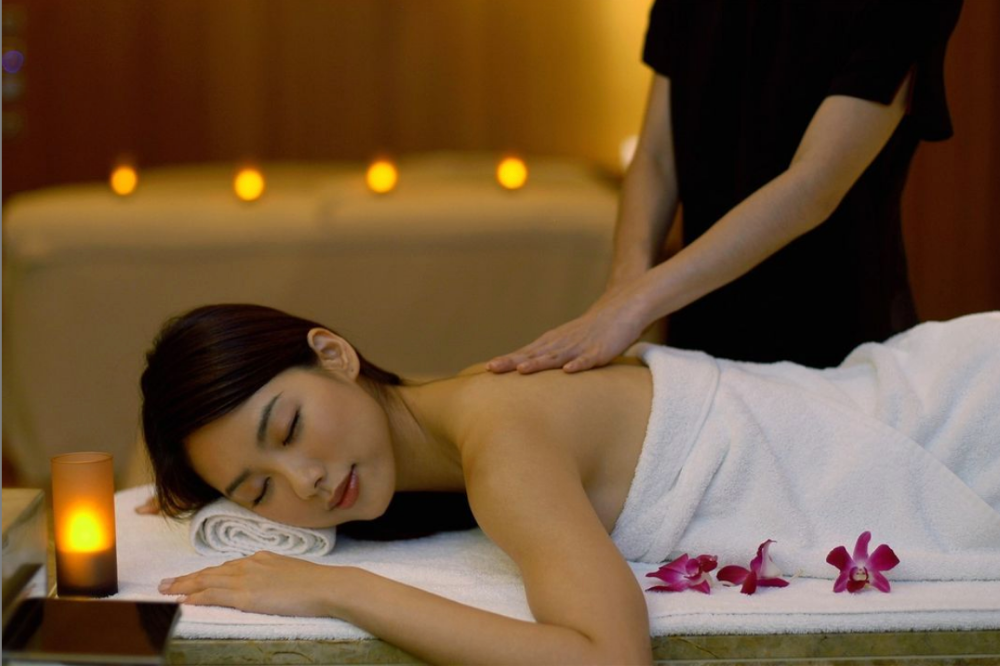 Source
Known for its wide range of treatments, The Spa At The Mandarin Oriental offers a tranquil environment where you can cater to your skin, body and mind needs, all in one space. 
Their Escape For Two package is one to consider for a day off with your BFF. Together, you can savour a 4-hour pampering session with champagne and chocolates included. 
Alternatively, if you need solo time to collect your thoughts, their Aromatherapy massage will do just that through a combination of Eastern and Western therapy techniques. 
Price: Packages and rate found here
Address: 5 Raffles Avenue, Marina Square, Singapore 039797
Opening hours: 9.30am to 7pm (Thursday to Monday). Closed on Tuesdays & Wednesdays.
Booking: Call 6885 3533 or email mosin-spa@mohg.com
15. Sofitel Singapore Sentosa Resort & Spa – Sofitel Spa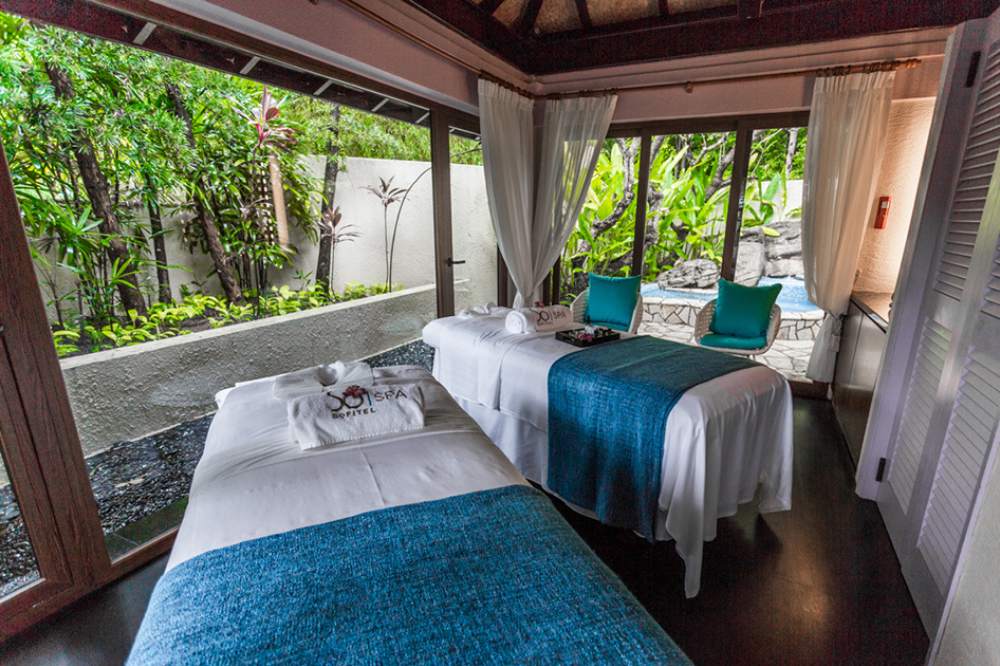 Source
At Sofitel Spa, you can recuperate while being surrounded by part of Singapore's rich history at the same time. The spa itself is housed within the former barracks of a British Army military complex in Sentosa, which has been transformed into a facility with both indoor and outdoor features. 
With the smell of bergamot, jasmine of grasse and white rose wafting through the air, indulge in massages, facials and scrubs, among other treatments. An option worth considering is their Marine Salt And Clay scrub, which is enriched with minerals to help remove dead skin and restore your skin's health and glow. 
Alternatively, you can use their outdoor garden facilities such as waterfalls, volcanic mud pools and a whole meditative labyrinth, for an entire day. 
Price: Packages and rates found here
Address: 30 Allanbrooke Road, Sofitel Singapore Sentosa Resort & Spa, Singapore 099983
Opening hours: 11am to 8pm daily
Booking: Call 6708 8358 or email h9474-th4@sofitel.com
These Hotel Spas Will Leave You Feeling Revitalised And Ready To Slay The Year
Working hard is always good, but sometimes, we just need a quick breather to restore our energy and calm our stress.  Whether you want to take a day off to unwind from work, or spend some quality relaxation time with loved ones, these hotel spas offer a whole variety of different pampering treatments. 
Also read:
You Can Now Have Literal "High" Tea At The 56th Floor Of ION Orchard That's Also 1-For-1 Till 30 Sep