Instagram Stories Launched
In 2016, I felt a wave of social media fatigue. I was tired of influencer-culture pervading Instagram, and the resulting pressure to produce "Insta-worthy" content.
Gone was the retro-aesthetic that popularised Instagram when it first began—sepia-tinted filters such as Sienna and X-pro.
Almost everybody had a highly curated feed, with photos sometimes going through at least two picture editing apps before being posted.
Aesthetically pleasing images, which looked straight out of a Kinfolk magazine, became the Instagram norm. However, I didn't like how Instagram had evolved into a popularity contest of likes and follows.
I was too lazy to hop on Snapchat that my friends paddled to me as the new, hot, young thing. But then Instagram launched Instagram Stories, and my life has never been the same; at least on social media.
Reduces result anxiety
One friend taught me to track the gap between the follower and following count, with the suggested optimum ratio being 2:1. But give me a break! The only gap I should be worried about is between my thighs.
I did not need another list of metrics to quantify my self-worth, having grown up in a stressful, competitive academic environment.
As a non-fluencer, the great thing about Instastories is that only I know how many people viewed my story. If a post I put on my feed bombed (hello, 20 likes), my failed attempt at social media validation would not be apparent for all to see.
Still, I treasure every view I receive. It is hard to deny that when the number of views surges on your stories, the more important you feel.
Usually, the viewer count is a positive validation of your existence. It's why your inner-teenager is unable to sleep until that special someone has seen your story.
Authentic, more personality based
As stories are not permanently visible, there's less pressure to look picture perfect.
Since its launch, the hardworking people at Facebook have rolled out stickers, gifs, face filters to make the app more fun.
It subconsciously allows the user to let their hair down. Stickers like YASSS, QUEEN, BASIC elicit a more spontaneous response, opposite to the philosophical #poetry people were posting as their Instagram captions.
If regular Instagram is Lang Leav, Instagram Stories is 1989 Taylor Swift with her blinged-out guitar.
Instagram Stories created a low-stakes, safe space where I could compile a video diary of my life and creative work; plus all my thoughts watching Terrace House nobody asked for.
A new way to connect
Something that surprised me was how much more my friends kept in touch with me by responding to my random stories. It's beautiful how an initial hate comment about a video of Trump I posted transformed into a "Wyd tonight?"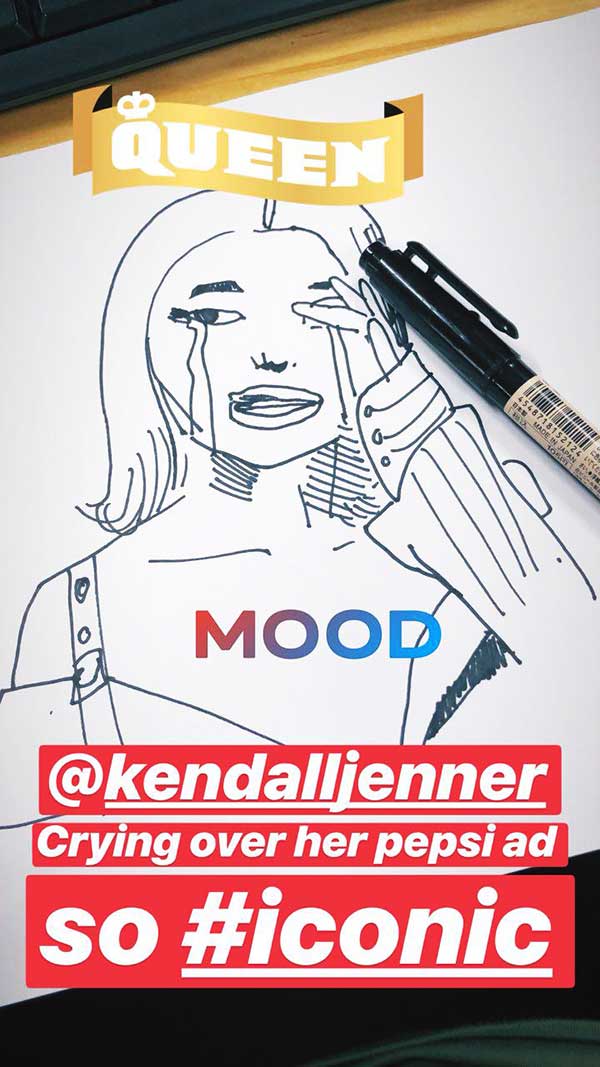 I also personally enjoy that I can post my sketches as doodling is one of my favourite hobbies. My sketch of Kendall Jenner crying is not Louvre-worthy. But plaster on a few stickers and Instagram stories becomes the perfect platform to showcase my artwork.
The Full Social Experience
Instagram Stories is a social experience all at the touch of your smartphone screen. The yes/no poll, 'ask me a question feature', and slider allow both individuals and corporations to get sophisticated feedback in various creative forms.
Overall, Instagram Stories eased the public scrutiny of result-driven culture and restored Instagram's instantaneous picture sharing that was meant to reflect spontaneity and reality.
The best thing about it, just a tap or swipe of the screen and the uninteresting stories go away until I find something worth viewing, like people falling off a bike.
So thank you Instagram Stories for making social media great again.*Inserts LIT sticker*.
Also read: