Why Your Skincare Routine Is Important
This is part one of a three-part skincare series which will focus on 1) makeup removers and cleansers, 2) toners, moisturisers and sunscreens, 3) essences, serums, and masks (only if you want to up your skincare game).
If I were to sleep through my morning alarm, the one thing I'll never compromise on is my skincare routine. I'd rather forgo makeup and breakfast than to skip on skincare.
After all, it's much easier to paint on a smooth canvas than trying to cover up uneven, bumpy surfaces with layers of paint.
So, here's part 1 of this skincare guide for all the lazy girls out there. I promise you, there won't be a lengthy 8-step skincare routine in this guide. Just makeup remover, cleanser, toner and moisturiser, and sunscreen.
P.S. If you're one of those who's always felt that toners are unnecessary, keep your eyes peeled for part 2 of this guide.
What is double cleansing?
Double cleansing involves washing your face first with a makeup remover (like a cleansing oil or similar product) to remove your makeup, followed by a water-based or foaming cleanser for a more thorough cleanse. This first step will effectively remove makeup, sunscreen, and sebum, without having to rub your skin too hard.
If you wear makeup, please, you must double cleanse.
That said, doing double duty might not suit those with sensitive and dry skin. So another option is to wash your face twice with the same cleansing product to avoid over-drying.
Step one of double cleansing: makeup removers
Makeup Remover Wipes
Makeup wipes are a lazy girl's best friend because they're convenient and portable. But they often leave behind a chemical residue and may dry out your skin. Using wipes also causes more tugging and pulling at the skin (read: sagging).
Unless you're someone who's constantly on the move or have a busy schedule, I wouldn't recommend this as your daily go-to method to remove your makeup.
But if you prefer to have a pack in your stash, then I recommend getting this one from Simple.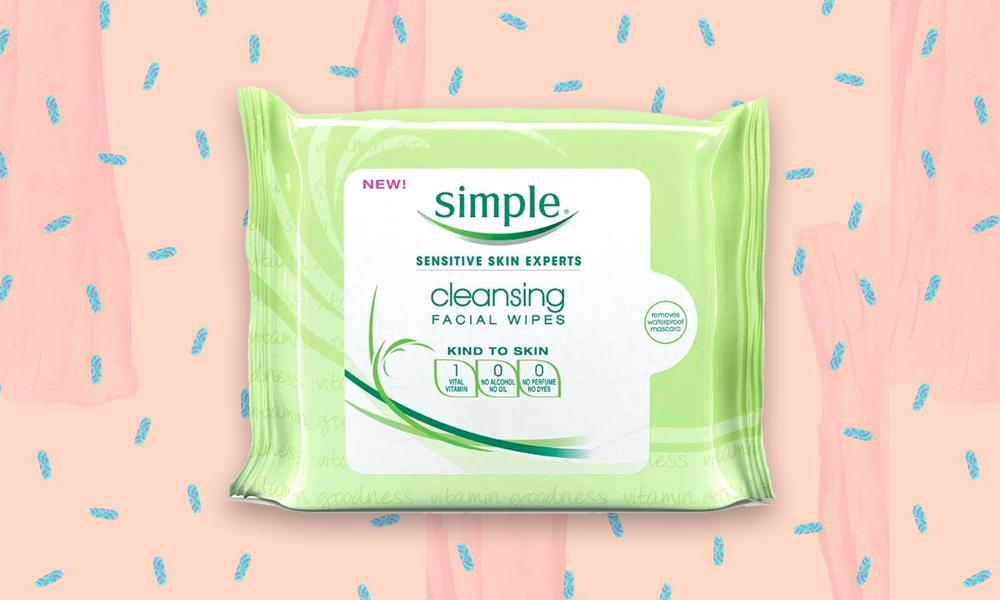 Simple Makeup Remover Wipes (S$11.12)
Skin type: All skin types
Where to buy: Watsons
Micellar water, cleansing water, liquid/water-based makeup remover
Like makeup remover wipes, these are also extremely convenient, and fuss-free. But it's better suited for those who wear little makeup because these products are unable to dissolve the makeup in your pores. They're also not as effective against waterproof mascara.
My pick will be this one from Garnier. It's also a good dupe for the pricier Bioderma Sensibio H20 Micellar Water (S$41.90 for 500ml).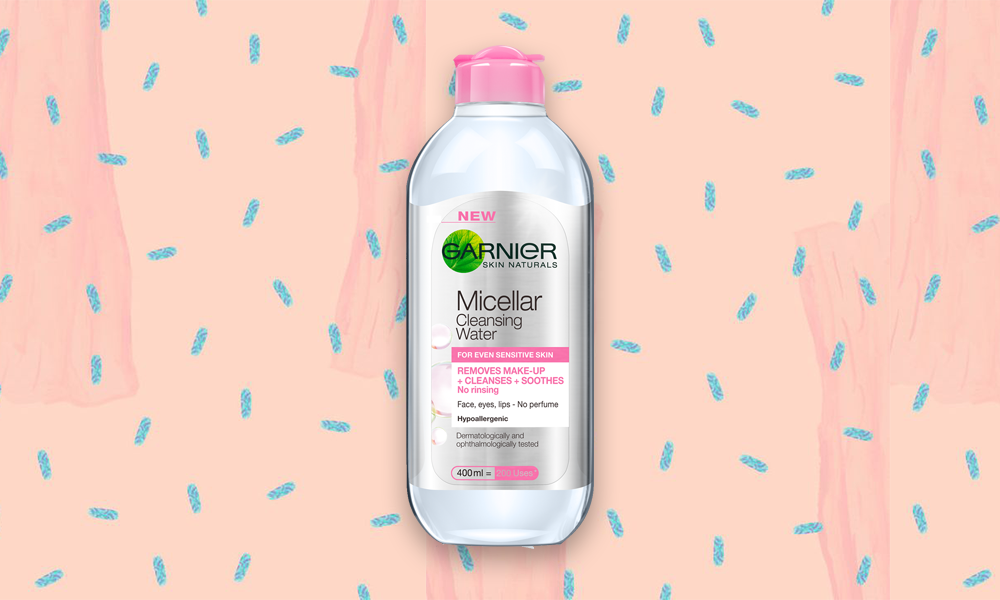 Garnier Micellar Cleansing Water (S$14.30 for 400ml)
Skin type: All skin types
Where to buy: Watsons
Cleansing Oils
Oils dissolve makeup easily, even if it's trapped in the crevices of your pores. They're effective against waterproof products such as mascara and seemingly budge-proof liquid lipsticks.
The best part is that it doesn't strip your skin of its natural oils, so your skin doesn't have to go into 'oil overdrive' to compensate. Cleansing oils also help regulate oil production, so it's great for all skin types, especially those with combination to oily skin.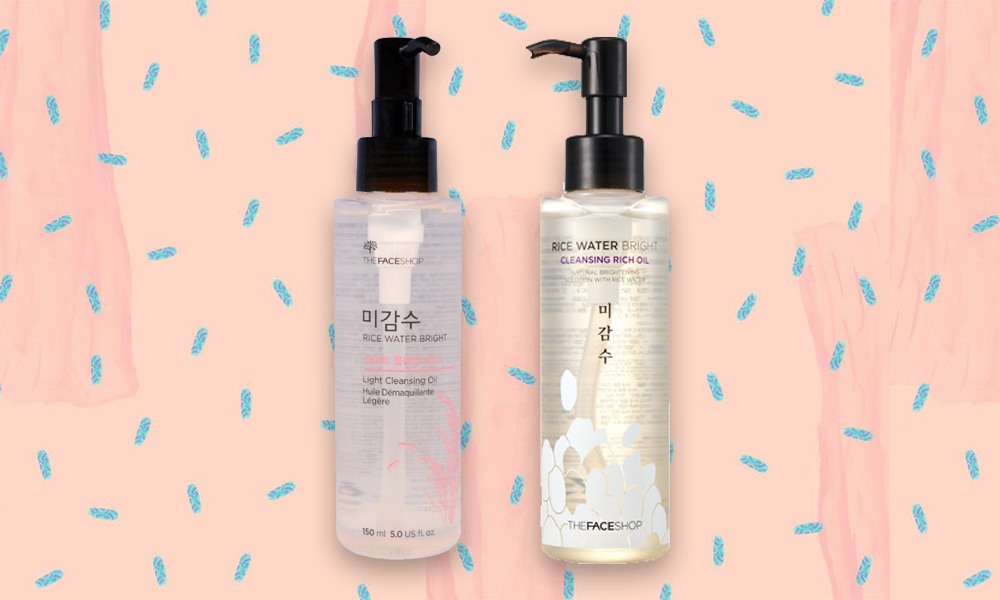 The Face Shop Rice Water Bright Cleansing Light/Rich Oil (S$18 for 150ml)
Skin type: All skin types (especially combination and oily skin)
Where to buy: The Face Shop boutiques
This cleansing oil from The Face Shop is amazing at removing waterproof makeup. It leaves my skin feeling hydrated, soft, and brighter! I love that it doesn't contain any mineral oil, so it's a good choice for those with sensitive, acne-prone skin.
Note: they have a 'Light' and 'Rich' version. Unless your makeup only consists of sunscreen/tinted moisturiser, the 'Rich' version is a better option.
Cleansing Balms
Like cleansing oils, balms dissolve makeup easily, including waterproof ones. They're especially great for those with dry skin as it gives a moisturising cleansing experience that leaves skin feeling soft and hydrated after.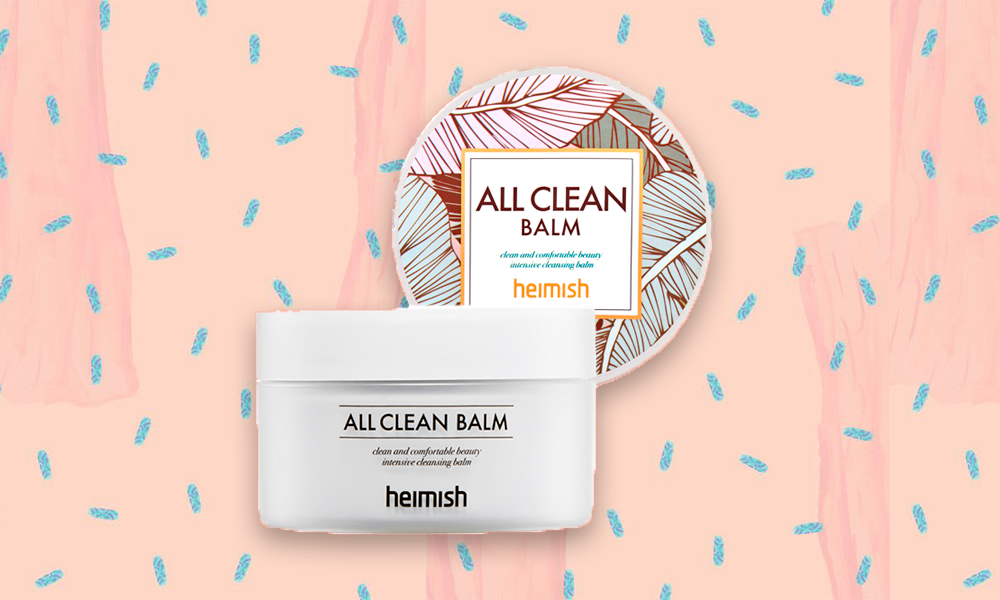 Heimish All Clean Balm (S$18.96)
Skin type: All skin types (especially dry skin)
Where to buy: Hermo, Althea
Step two of double cleansing: cleanser
The biggest thing I look for in a cleanser is a low pH level. That's because our skin's natural pH is more acidic. Cleansers are usually more alkaline as the alkalinity is what helps remove grime and dirt.
But alkalinity strips away the natural oils on our skin's protective barrier, causing a loss of moisture, making it easier for bacteria to infiltrate into our skin (read: pimples). It's what causes our skin to dry out, giving it that tight, unpleasant feeling.
If you're interested, you can refer to this excel sheet documenting the pH of cleansers to see where the one you're currently using falls under.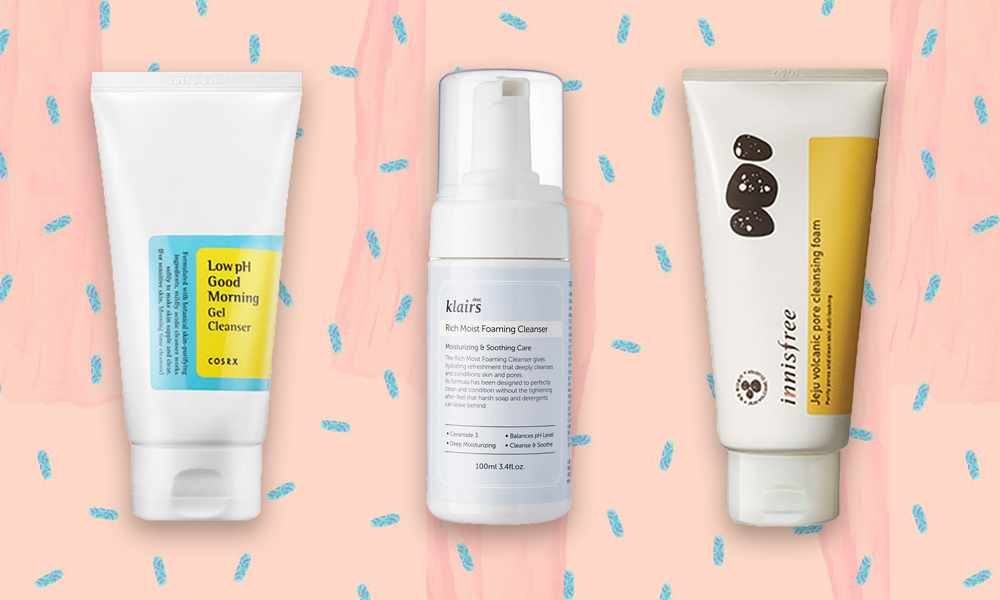 Cosrx Low pH Good Morning Gel Cleanser (S$13 for 150ml)
Skin type: All skin types (especially sensitive, dry, dehydrated and acne-prone skin)
Where to buy: Hermo, Althea
I cannot recommend this cleanser enough. It's a low pH, gentle cleanser. It also contains moisturising, astringent, and anti-inflammatory ingredients, making it a good all-rounder for all skin types.
It has pore-friendly ingredients such as Tea Tree Leaf Oil, a great antiseptic that helps soothe, treat and prevent breakouts, and Saccharomyces Ferment too, a fermented yeast that gives skin that radiant, dewy glow.
Klairs Rich Moist Foaming Cleanser (S$20.24 for 100ml)
Skin type: All skin types, especially dry skin
Where to buy: Lazada, Althea, Hermo
If you prefer foaming cleansers because they're a faster and easier way to start cleansing your face, this hydrating one from Klairs might be your pick. Most foaming cleansers use a harsh chemical base, but this one uses a gentle amino acid formula.
It also contains hyaluronic acid and ceramides which hydrates and builds the skin's barrier. And like the Cosrx cleanser, it includes tea tree oil in its ingredient list.
Innisfree Jeju Volcanic Pore Cleansing Foam (S$14.04 for 150ml)
Skin type: Oily, acne-prone skin
Where to buy: Innisfree boutiques
If you still prefer a cleanser that leaves your skin feeling squeaky clean, or one that's a little more exfoliating because you have oilier, acne-prone skin, this one from Innisfree is a good option.
Although it doesn't have a low pH, it makes up for its more alkaline formula with moisturising ingredients. It gave my skin the squeak, but didn't leave it feeling tight and dry. However, those with dry skin should avoid this.
Cleansing Your Skin
And that's the end of part one! Remember to always double cleanse when you wear makeup: makeup remover and then cleanser.
Part two will cover toners (yes, toners are a must), moisturisers, and sunscreens. Here's to better skin!
Also read: