Lipstick Colour For Different Skin Tones
If there was a lipstick version of the one-pair-fits-all jeans in 'The Sisterhood of The Travelling Pants', we know it'd be a fluke in the real world.
After all, everyone has different skin tones and undertones—cool, neutral, or warm—which affects how each lipstick colour shows up on their skin. When choosing the right lippie shade, you have to also consider factors such as undertones and hair colour.
To show you how to pick the most flattering lipstick for yourself, we got several girls in the office with varying skin tones and undertones to give you a crash course in understanding colour theory 101.
1. Know your undertone
To get closer to finding your slay shade, you first need to figure out your undertone—the colour underneath the surface of your skin. Your undertone remains consistent no matter how long you lay in the sun.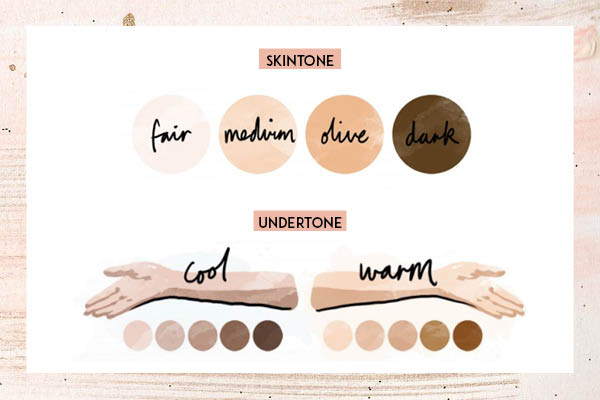 One of the easiest ways to do so is to check the veins on your wrist. If they're blue, you have a cool undertone; if they're green, you have a warm undertone.
And if you've got both blue and green veins, you have a neutral undertone and are probably able to pull off most colours.
The three girls (below) represent the three different type of undertones you can have if you have a light-medium complexion.
The general rule is that you should wear colours similar to your undertone. For instance, people with cool undertones should wear cool colours such as blues and purples, while those with warm undertones should go for oranges and yellows.
2. Don't be afraid to play with contrast
However, if you're willing to experiment, choosing an opposite hue to your skin's undertone can make a colour pop.
Julia (below) has a warm skin tone and we found Laneige's Stained Glasstick in No.3 Fuchsia Ruby (blue-based) gives her a gorgeous statement lip that brightens her complexion.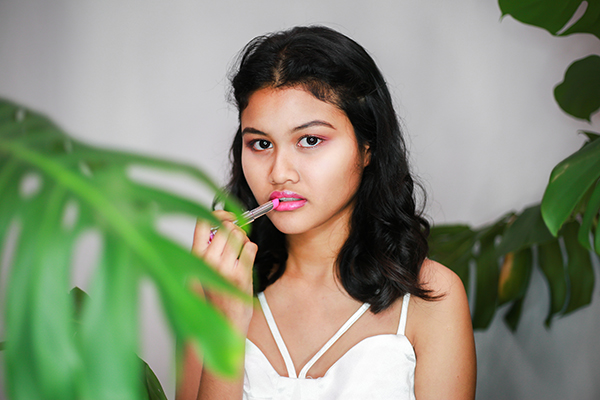 3. Consider your hair colour
Yidan loves orange lippies. For her fair skin tone with warm undertones, this coral shade is a great pick to complement her pout. When she was blonde, her hair was an earthy, neutral shade which allowed her orange lip to take front stage.
But now that she's dyed her mane a red-burgundy colour, the orange lippie is no longer as striking; the red in her hair overpowers the vibrant hue in her lipstick. Colours which will flatter her instead will be shades her burgundy hair also has such as berry and wine.
As a general guide, black and dark brown hair colours are the easiest to work with as they're neutral shades which don't cause any lip colour to 'clash'.
Those with orange, pink, red and burgundy in their hair should wear matching lip shades. If you have green in your mane go forth and have fun with any lippie because this shade doesn't clash with any lip colour.
For those with blue, purple or lavender hair, go for blue- or purple-based shades to create a gorgeous statement lip.
4. Know how the same colour works on different skin tones
A colour can drastically differ from person to person. To illustrate this, we got three girls with different skin tones and undertones to wear the same shade of lipstick.
Notice how on Min, who has a cool undertone, the lippie appears a rosier red as compared to a natural flush on Shanice who has a neutral undertone. Ra has a dark-warm, mocha complexion so the lippie appears a light pinkish red.
Tip: Those with a light-fair complexion should avoid colours which are too light or have yellow undertones to avoid looking washed out. Pick a nude lip with more red or pink undertones to add warmth to your face.
Choosing The Best Lipstick Colour
So with these tips in mind, we found the shade which flatters us best from Laneige's Stained Glasstick collection. Do note the Stained Glasstick applies as a sheer, tinted lipstick and the result upon application is affected by one's natural lip colour.
Final Thoughts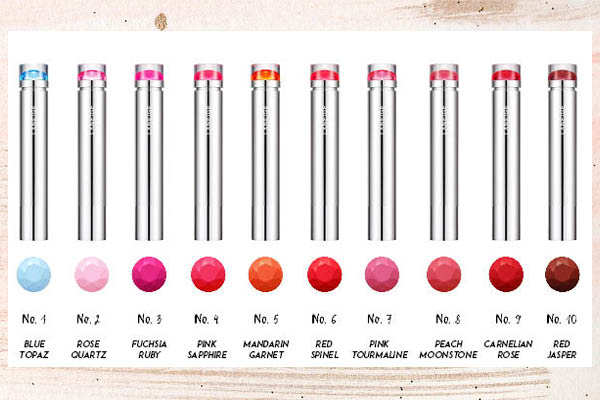 Laneige's Stained Glasstick is a highly moisturising sheer lipstick which is great for everyday wear. Somewhat an upgraded version of a gloss sans the tackiness, you can wear it for hours without having the lippie dry out your lips.
If you're into 'Korean glass skin' which has been trending lately, the Laneige's Stained Glasstick is what you need to complete the look.
All 10 shades of Laneige's Stained Glasstick collection can be found at Laneige boutiques and counters, Sephora, Lazada, Tangs and, Zalora for S$34.
For ZULA readers: From now till 31 July 2018, quote "Zula" to receive 10% off the Stained Glasstick (excluding the Sparkle My Way edition) when you purchase the lippie from Laneige boutiques.
This article was brought to you by Laneige.