Makeup Courses For Beginners
Whether you seek to spark your creative talent that lies dormant within, or are simply looking to perfect your base makeup, you can always turn to a professional makeup artist for help.
See, makeup artists aren't just here to work their magic on our wedding day. They're here to sharpen our makeup application skills and define our everyday makeup look through a series of courses.
If you want to better utilise your impulse purchases, here are 7 makeup courses in Singapore to help you make the most out of the products you own.
1. Bloom By Roseanne Tang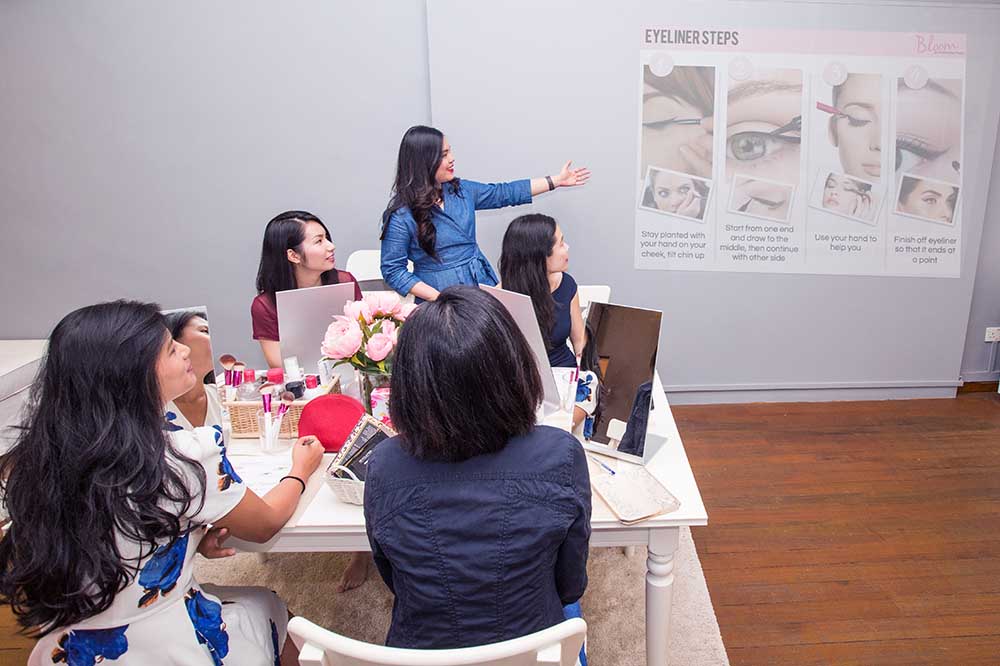 This makeup school is run by beauty blogger and makeup artist Roseanne Tang. She packs years of experience behind her and has been featured in several media outlets such as The Straits Times, Channel NewsAsia, and Her World magazine.
In the Bloom Revolution Course, you can pick and mix from a selection of classes to create lessons tailored to your interests and needs.
All makeup and brushes will be provided. Each class is a one-to-one session with 12 sessions in total. When you purchase the package, you can schedule a class at your convenience over a period of 6 months.
Fees: $800 for 12 classes
Duration: 1 hour per class
How to book: Contact form on website
Website
Address: Studio One, 195 Pearl's Hill Terrace, #03-57, Singapore 168976
2. M.A.C Cosmetics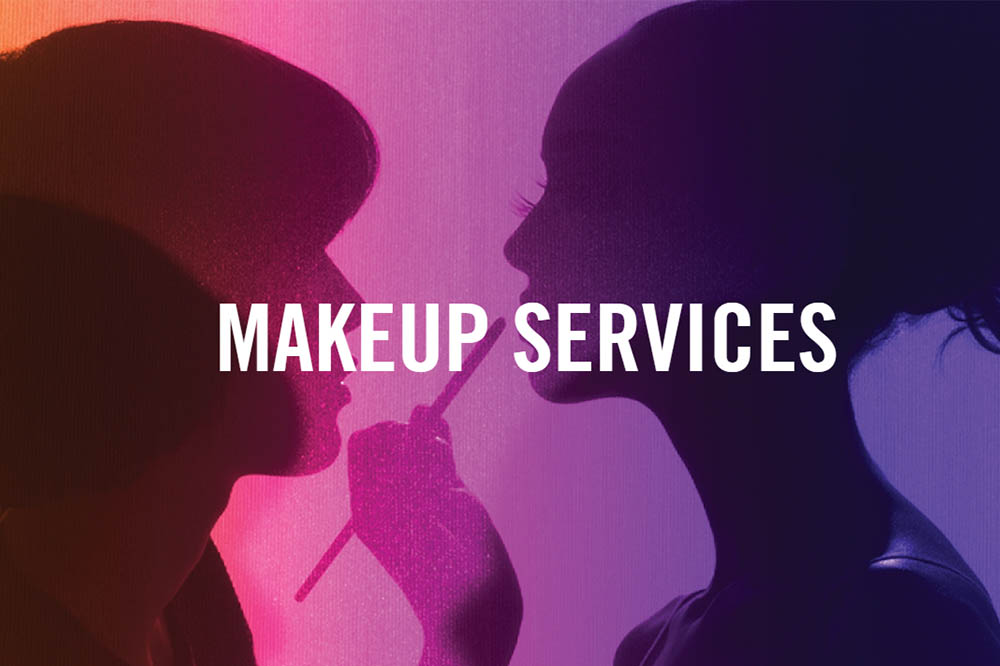 M.A.C Cosmetics is synonymous with quality formulas and wide shade ranges, but did you know they also provide complimentary makeup services and one-on-one lessons?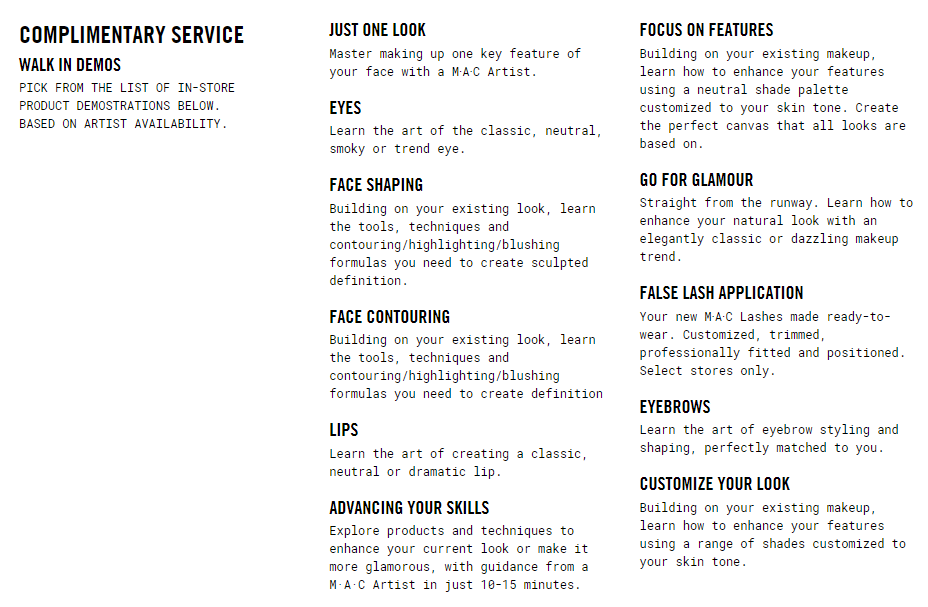 The brand's walk-in demos are in-store product demonstrations you can request for, but it's subject to the artist's availability. Learn makeup techniques for a particular facial feature, or have a makeup look customised to your skin tone.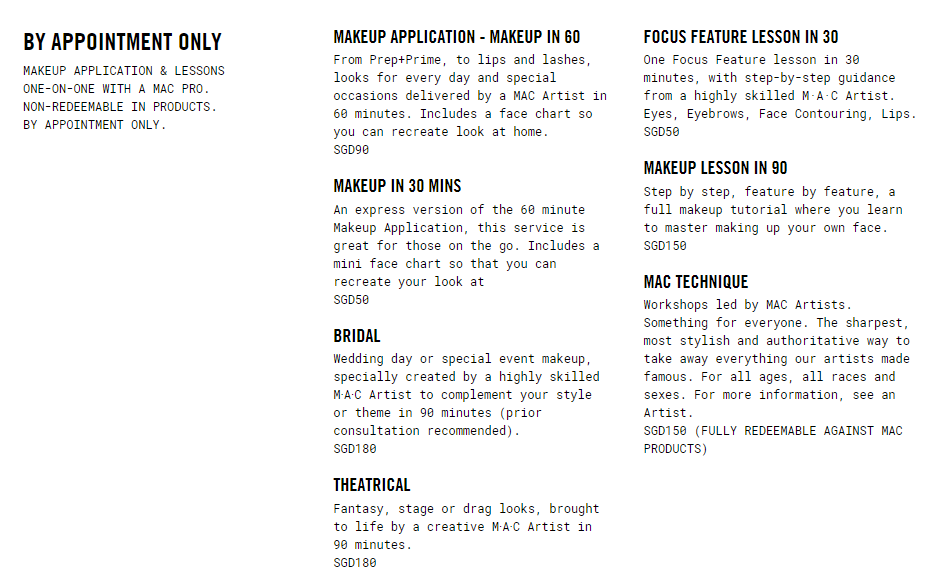 If you prefer something more comprehensive, M.A.C also provides one-on-one classes with a professional M.A.C makeup artist. Choose from 7 lessons to create work-appropriate looks, theatrical makeup for Halloween, or bridal for your own wedding day.
Fees: Free / $90-$150 per session
Duration: Varies
How to book: Enquire at any M.A.C store or on their website
Website 
Address: M.A.C Cosmetics stores in Singapore
3. Shu Uemura
Makeup artists have long relied on Shu Uemura's lightweight, longwear formulas, which is why we're thrilled to be able to learn from a brand that's respected by professionals.
With their Learning Atelier class, you will have a 1-on-1 class with Shu Uemura makeup artists who will touch on both skin care and makeup. The course fee of $200 is fully redeemable for products, and Shu Uemura members get special prices for each class too.
Fees: $200
Duration: 1.5 hours
How to book: Contact form on website
Website
Address: Shu Uemura stores in Singapore
Also read:

4. Cleo Chang
Born in Taiwan, Cleo Chang is a Singapore-based makeup artist who specialises in bridal makeup, but also loves to impart her knowledge and experience through makeup courses. You'll find high quality makeup brands in her kit, such as Cle de Peau, Chanel Beauty, and Bobbi Brown.
The first part of her one-to-one Basic Personal Makeup Class is dedicated to the basics of skin care, a necessary basis before makeup. Cleo will then assist you in choosing the right foundation for your skin tone, followed by techniques in makeup application.
Next, Cleo will touch on work-appropriate and everyday makeup. She'll help you find the most flattering eyeshadow colours for your face and style before teaching you to apply eyeliner, blusher and lip colour.
Fees: $300
Duration: 2 hours
How to book: Call 9656 2027 or email info@cleochangmakeup.sg
Website
Address: 110 Joo Chiat Road, Singapore 427402
5. One Academy
With more than 15 years of experience behind her, Taiwan-born Ivy Chen has carved a name for herself in Singapore. She established One Academy to train budding professional makeup artists, while conducting personal makeup courses herself.
The Basic Personal Makeup Class will impart the basics of makeup—from utilising makeup tools, proper skin care steps, to makeup application and touch-ups. You'll also learn eyebrow trimming in this 3-hour course.
Fees: $380 per person (one-on-one), $88 per person (4-8 people)
Duration: 3 hours
How to book: Contact form on website
Website
Address: 36 Newton Road, #03-19, Hotel Royal, Singapore 307964
6. The School of Make-Up
Founded by Peter Angel Wanneck, The School of Make-Up has been providing professional courses for aspiring makeup artists for years. The school has been the official academy to provide makeup services for prestigious events like Miss Singapore, Manhunt, and Toni & Guy.
Their Personal Make-Up Course will teach you basic foundation and concealer application. You'll also learn how to apply blush, as well as highlight and contour your face.
The class will be beneficial for those who seek a more adventurous approach to makeup. You'll pick up tips on how to re-shape your brows, lips, and eye shape with insightful makeup techniques and accessories.
Fees: $300
Duration: 4 hours
How to book: Call 6737 0208 or email colours@theschoolofmakeup.com
Website
Address: 402 Orchard Road, #03-01/28/29, Delfi Orchard, Singapore 238876
7. Makeup Refinery
Created by Sherie Chan, Makeup Refinery provides makeup services for fashion events and television commercials, and it also organises makeup classes for beginners.
If you're a fan of K-Pop, their Korean Personal Makeup Class should pique your interest. The session will cover the fundamentals of base makeup application and progress to blush, highlight, and contouring to achieve a slimmer face.
You'll also pick up techniques on eye makeup application, and end the session off with a trendy ombre lip look. Class sizes vary, but you can organise a group of 4 to create your own private class with friends.
Fees: $80 per person
Duration: Varies
How to book: Checkout cart on website
Website
Address: 261 Waterloo Street, Singapore 180261
Makeup Courses in Singapore
Makeup application can be tricky, which is why these makeup courses for beginners are here to hone your skills. These established makeup artists will guide you through the basics, so you can go forth and create professional looks on yourself and others.
We hope this guide was helpful to bettering your makeup skills!
Also read: