Me Time Ideas In Singapore
As the COVID-19 situation rages on with no end in sight, many have reported exacerbated feelings of stress and anxiety. With the growing ranks of Singaporeans suffering from pandemic fatigue, it's important to engage in self-care, now more so than ever. One of the easiest ways to do so is to take time off and spend some quality time with yourself. For those who are unsure how to spend your alone time, we've curated a list of me-time ideas you can do to rest and relax in Singapore.
1. Play tourist at the National Gallery Singapore with its free 1-year membership 
Source
Plug in your headphones and stroll the cool, quiet halls of the National Gallery looking at art. The Gallery is offering a free 1-year Gallery Insider Membership for Singaporeans and Permanent Residents till 31 October 2020. 
The annual programme provides unlimited access to exhibitions, up to 15% off when dining at the Gallery's F&B establishments, and discounted prices when shopping museum merchandise. 
Address: 1 St Andrew's Road, Singapore 178957
Opening hours: 10am to 7pm (Saturdays to Thursdays) | 10am to 9pm (Fridays)
Website | Facebook | Instagram
2. Birdwatch as you hike nature trails 
Source
Since you'll need to focus on listening out for the birds instead of talking, birdwatching is a great way to spend some me time in Singapore. It's also an easy way to reap the health benefits of spending time in nature. Not to mention, there is a certain pleasure in being able to identify the local winged fauna you see. Instead of referring to all of them as 'bird', download the SGBioAtlas app on your iPhone and learn the names of Singapore's 414 recorded bird species.
To begin birdwatching, all you need are your eyes, ears and some patience. Bring a pair of binoculars or a camera with a good zoom function to better observe the birds. Use the NParks portal to check how crowded a park is before heading down. If it's too crowded, parks will be temporarily closed to comply with social distancing measures.
Tip: The best time to birdwatch is from 7am to 9am as birds are most active in the mornings. Dress in colours like green or brown, and avoid wearing white, bright colours or printed clothing clothing for a higher chance of spotting birds.
3. Spend the day at an onsen with an all-day access pass
Source
Soothe aching muscles and soak your troubles away at Yunomori Onsen & Spa. Its $38++ onsen pass gives you all-day access to the Yunomori Baths, sauna (for the male onsen area only),  steam room and lounge. 
Due to safe distancing measures, the maximum number of guests in the female onsen and unisex steam room is 24 and 4 respectively. Remember to call ahead to guarantee yourself a slot. 
Price: $38 (before GST)
Address: 1 Stadium Place, #02-17/18, Kallang Wave Mall, Singapore 397628
Opening hours: 10am to 10pm daily
Contact: Call 6386 4126/6385 7985 or email info@yunomorionsen.com.sg
Website | Facebook | Instagram
4. Go island hopping to St. John's, Kusu and Lazarus Islands
Source
If you're a beach bum, spending a day enjoying the sun, sand and sea is probably your ideal way to relax. While you can't jet set to an overseas tropical island location for now, you can still go on an island hopping adventure by exploring 3 of Singapore's Southern Islands. 
For just $14, you can purchase a return ticket to St. John's Island and Kusu Island. You can opt to visit Lazarus Island too, located a short 15-minute walk away from St. John's Island. Spend a day hiking, picnicking and checking out local attractions. But do pack food and water as there aren't any F&B options on the islands.
If you book via Klook, you'll receive a $3 Gong Cha voucher you can redeem to end the day on a sweet note.
Note: Due to the Kusu Pilgrimage Season 2020, ferry service to Kusu island is temporarily suspended from 17 October to 14 November 2020. However, ferry services to Lazarus Island and St John's Island will still be available during this period. 
Also read:
9 Craft Workshops In Singapore To Spend Quality Time With Your Loved Ones While Avoiding Crowds
5. Go on an excursion to the airport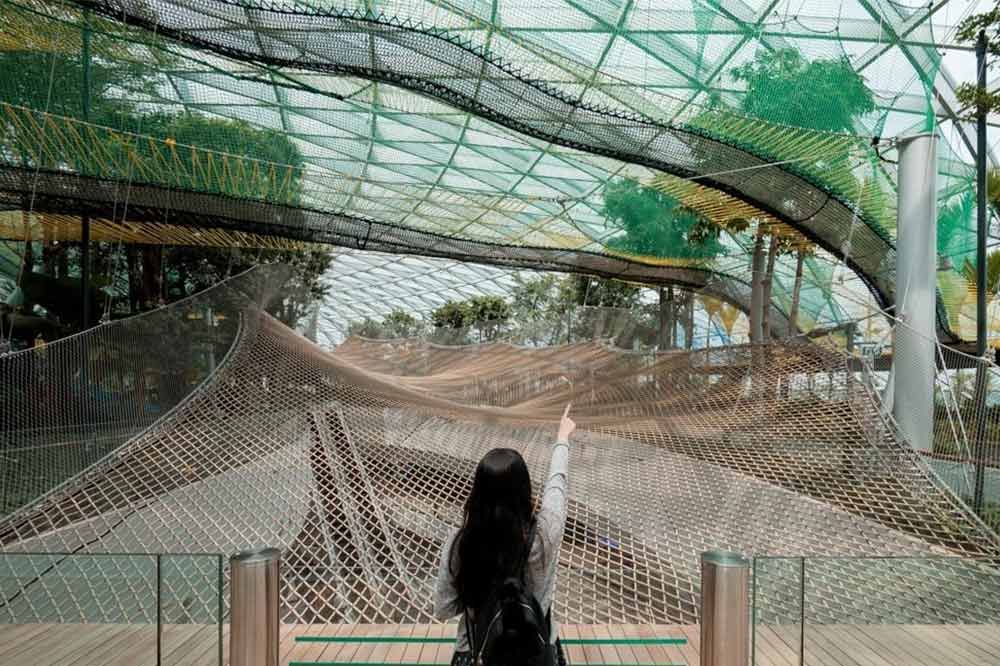 Source
Part of what makes travelling from Singapore so delightful is passing through Changi Airport. While we can't board a plane to anywhere as and when we like for the time being, we can still pop by the airport and enjoy its world-class facilities as a way to savour some me time in Singapore. 
Start your airport day trip at Jewel Changi's Canopy Park. You can spend the better part of the morning navigating the hedge and mirror mazes, jumping on bouncing nets, and strolling along the various garden trails.
Source, source
When you start to get hungry, grab a bite at Hub & Spoke Cafe, a cafe that takes design cues from a glasshouse. Sit by the floor-to-ceiling windows and watch the sunlight stream in, as you bite into local breakfast fare like Nasi Lemak with Fish & Otah ($6.90) or brunch classics such as Scrambled Egg on Toast ($6.90) and Eggs Benedict ($7.90). 
Canopy Park at Jewel Changi Airport
Price: From $5; see the full list of different available attractions on its website
Address: 78 Airport Boulevard, level 5, Jewel Changi Airport, Singapore 819666
Opening hours: 10am to 10pm (Monday to Thursdays) | 10am to 11pm (Fridays to Sundays)
Contact: Call 6956 9898 or fill in the enquiry form on its website
Website | Facebook | Instagram
Hub & Spoke Cafe
Address: 60 Airport Boulevard, 01-T2S-02, Kampong Changi, Singapore 819643
Opening hours: 7.30am to 8pm (Mondays to Thursdays) | 7.30am to 9.30pm (Fridays to Sundays)
Contact: Email hubandspoke@changiairport.com
Website | Facebook | Instagram
6. Take a daycation
The difference between a daycation and a staycation is that you don't spend the night at the hotel you've booked. Instead, you're given access to full hotel facilities so you can live the suite life.
Source, source
Shangri-La's Rasa Sentosa Resort & Spa is currently offering a Daycation in Paradise experience, which grants you access to its hotel amenities, sun beds, towel service, sea sports activities and unlimited Wi-Fi. Get your tan on by the pool, go kayaking or stand-up paddle boarding. When the day is done, wash up and have dinner while taking in the amazing sunset view. 
The offer is valid daily from 10am to 6pm, and ends on 1 November 2020. Advance booking is required, so you'd better act fast.
Price: $75 per adult, inclusive of $50 dining credits
Address: 101 Siloso Road, Singapore 098970
Booking: Fill in the booking form on Rezdy
Contact: Call 6275 0100 or email singaporerasasentosa@shangri-la.com
Website | Facebook | Instagram
7. Enjoy some art therapy  
Source
With the COVID-19 pandemic situation, economic recession and social distancing measures, 2020 has been an unpredictable, stressful helluva year. Painting has been proven to provide emotional release by reducing mental strain while stimulating the creative mind.
Get messy with acrylic paints at Muzart's 3-hour art jamming session. Create colourful swirls and patterns on canvas while enjoying free flow snacks and drinks. Remember: the goal is creative expression, not perfection. 
Price: $29 (U.P. $60)
Address: 406 Joo Chiat Place, #03-21, The Yards, Singapore 428084
Opening hours: 12pm to 9pm (Wednesdays to Fridays) | 10am to 7pm (Saturdays and Sundays)
Contact: Call 9188 2700 or email eastcoast@muzart.com.sg
Website | Facebook | Instagram
8. Eat a fancy lunch alone
While meal times in Singapore are typically social situations, there is a calm joy found only from eating alone. Take yourself on a date, put away your phone and luxuriate in your own company. To get the best bang for your buck and optimum peace and quiet, we recommend heading out for a weekday lunch at a fancy restaurant.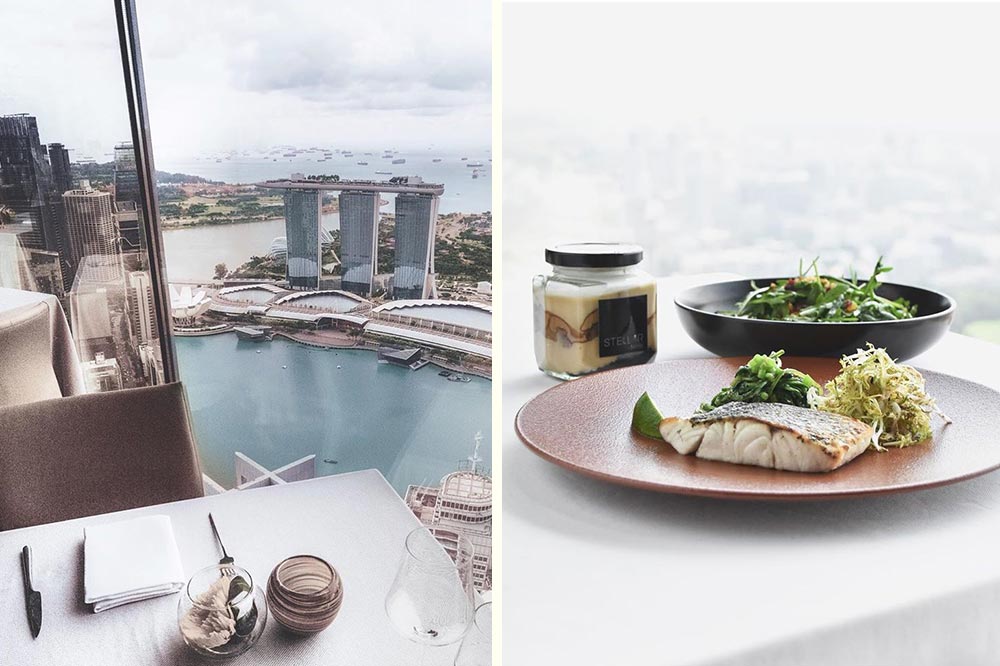 Source, source
Stellar at 1-Altitude is the place you'd want to go for lunch with a killer view. The restaurant serves contemporary Australian cuisine and an extensive set lunch menu, so you'll be scoring a good deal at the same time. We recommend booking a table early to nab a coveted spot by the window.
Price: $48++ for a 3-course lunch, $58++ for a 4-course lunch, see the full menu on its website
Address: 1 Raffles Place, level 62, Singapore 048616
Opening hours: 12pm to 3pm, 6pm to 10pm (Mondays to Fridays) | 6pm to 10pm (Saturday)
Booking: Call 6438 0410, fill in the reservation form on its website or email reservation@stellarrestaurant.sg
Website | Facebook | Instagram
Take A Day Off And Enjoy Some Quality Me Time In Singapore
Just like how we comply with COVID-19 prevention measures to keep our physical bodies safe, we have to take time off to recharge so that we can protect our mental health. Turn to these me time ideas for your next day off in Singapore and make the most of it.
Also read:
16 Weekday High Tea Promotions In Singapore From $24++ Worth Taking The Day Off For, Including 1-For-1 Deals