Arudio Pottery Studio
With us entering a brand new year and Valentine's Day just around the corner, it's time to start planning new activities to try with bae. While dinners and movies can get pretty meh after a while, pottery workshops help to stir in a dash of friendly competition and hands-on experience. 
Just a 3-minute walk from Macpherson MRT, the new Arudio studio will let you take part in beginner-friendly workshops without having to frantically search for an ulu location.  
In their 3-hour wheel-throwing class, you and your beau can learn how to create clay vessels that are completely one-of-a-kind – just the thing if you're seeking an interactive experience for two that's sure to provide tons of laughter and learning. We headed down to try out a session for ourselves, and here's what you can expect.   
P.S. Read till the end to find out how you can score 10% off a beginner class for 2 pax! 
Wheel-throwing workshop
What to expect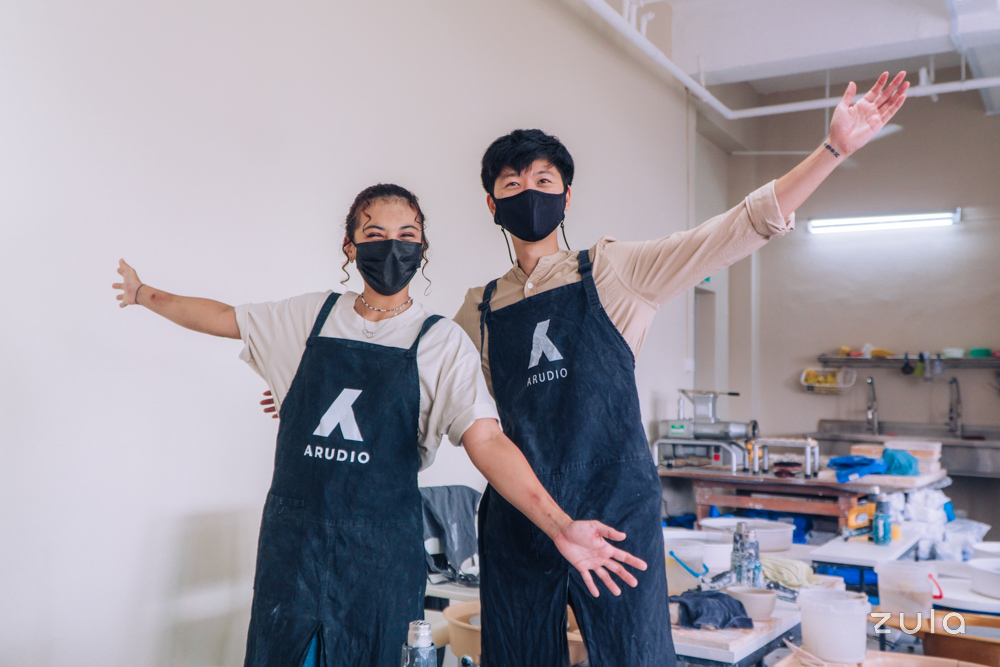 Located on the 8th level of LTC Building C, the open studio space is filled with natural light and a calming vibe courtesy of the high ceilings and ever-blowing breeze from outside. You might even see jet planes fly past during your pottery session.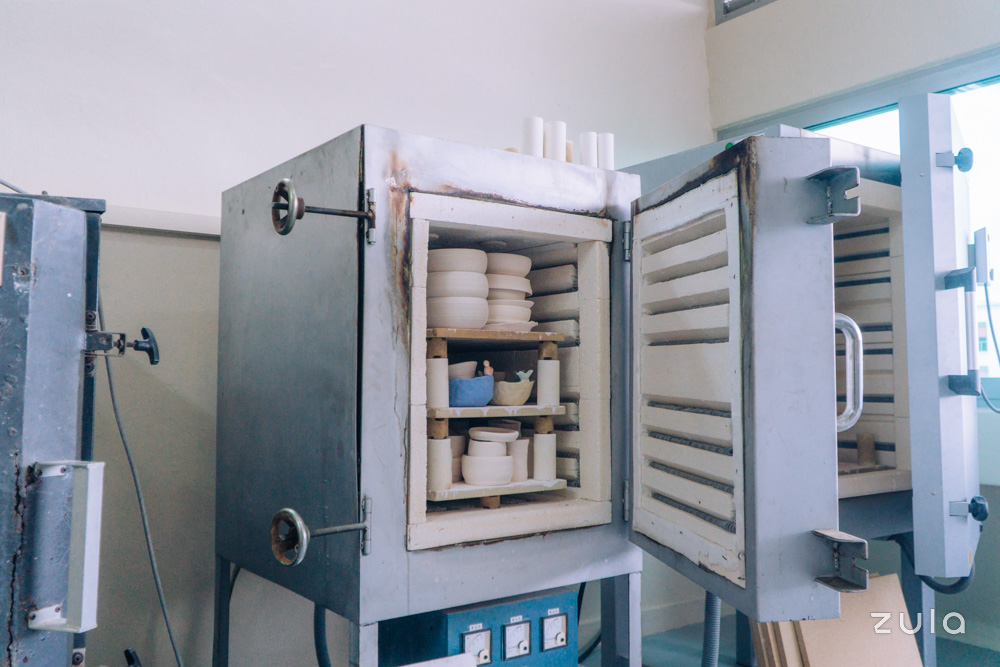 This is the kiln which we were introduced to during the tour. 
Once you've settled in and left your belongings at the dedicated shelves at the entrance, it's time to throw on an apron and prep for the class to begin. But before you channel your inner Michelangelo, an instructor will give you a little tour of the studio and an introduction to just what the entire process is going to look like. 
While we got to take a peek at the kilns, the actual firing and glazing will be done by the experts. It was interesting to learn about how the firing is done and the steps taken before the vessels can get glazed – which goes to show just how intricate the process is like to produce those chio bowls and cups we see in stores.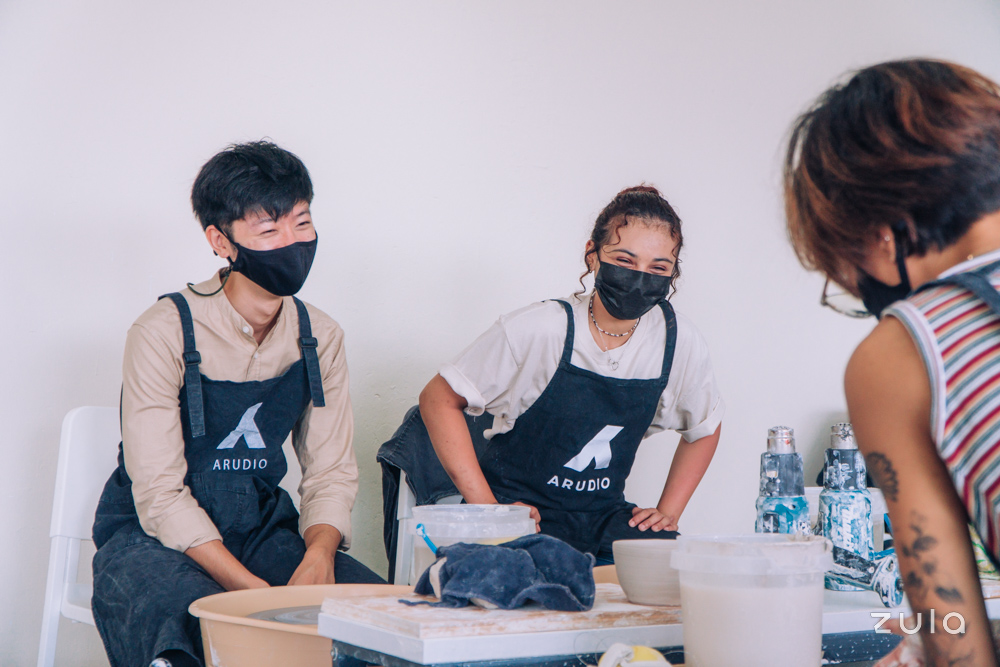 After the mini-tour around the space, take a seat and watch a demo of how you will be transforming lumps of clay into unique bowls, cups or even art pieces that you can display around your home. Don't be fooled by just how simple the instructor makes it seem though, the actual process is a little more tricky than you'd suspect. 
During the workshop, you'll have the opportunity to make not just one, but two different vessels of your choice, giving you more bang for your buck. Take this opportunity to create contrasting items to test your creativity. 
The wheel-throwing process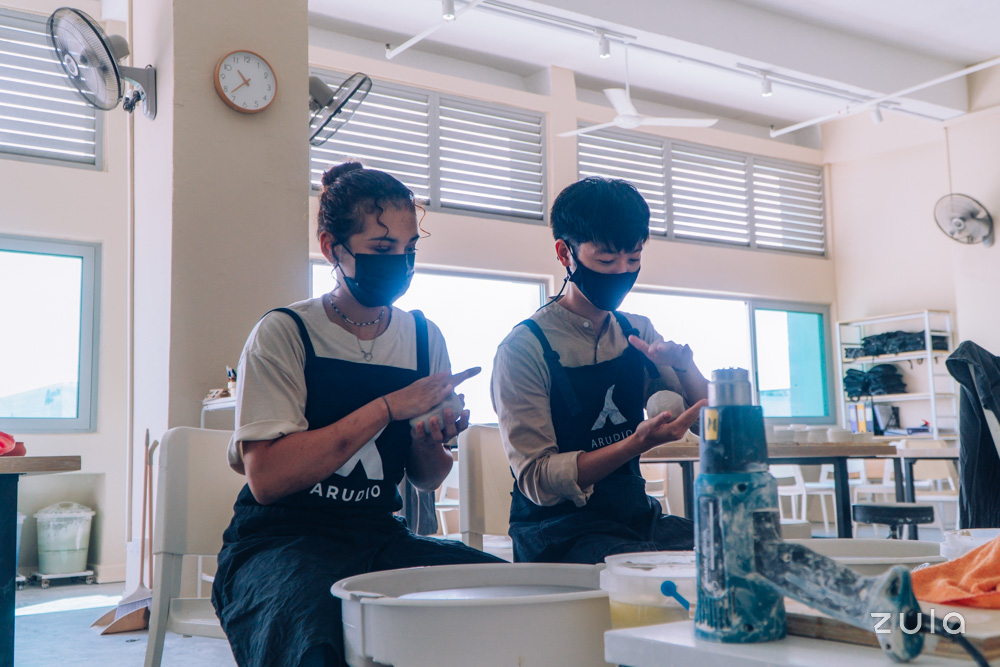 With an electric wheel in front of you, the process begins by patting the clay into a round ball that's free of any air bubbles. Throw down the clay firmly onto the centre of the wheel and press it down – now it's time to really get your hands dirty.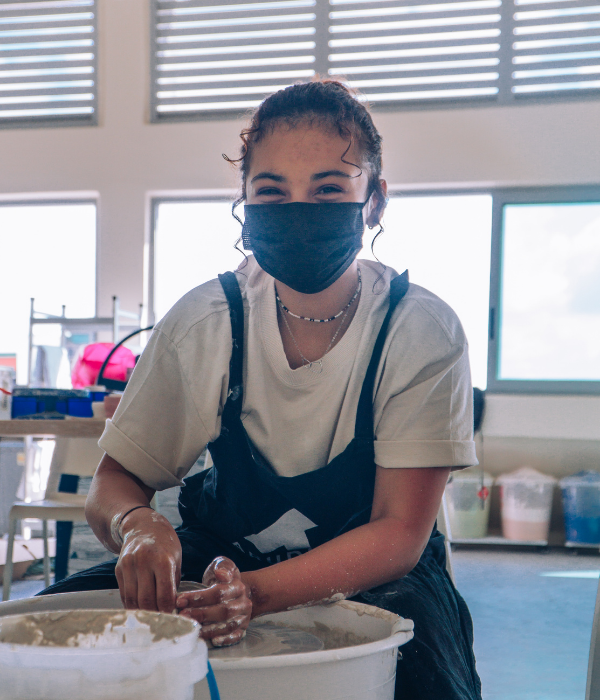 You'll start off with coning the clay to warm it up before shaping. Sounds simple enough? Well, this is the part where you or your partner's patience might be tested, and you'll get to have a peek at each other's crafting skills.
It might take a few tries before you figure out the right wheel speed and method to mould the clay. Luckily, the instructors are around to lend a helping hand while still ensuring that most of the clay making is done with your own two hands.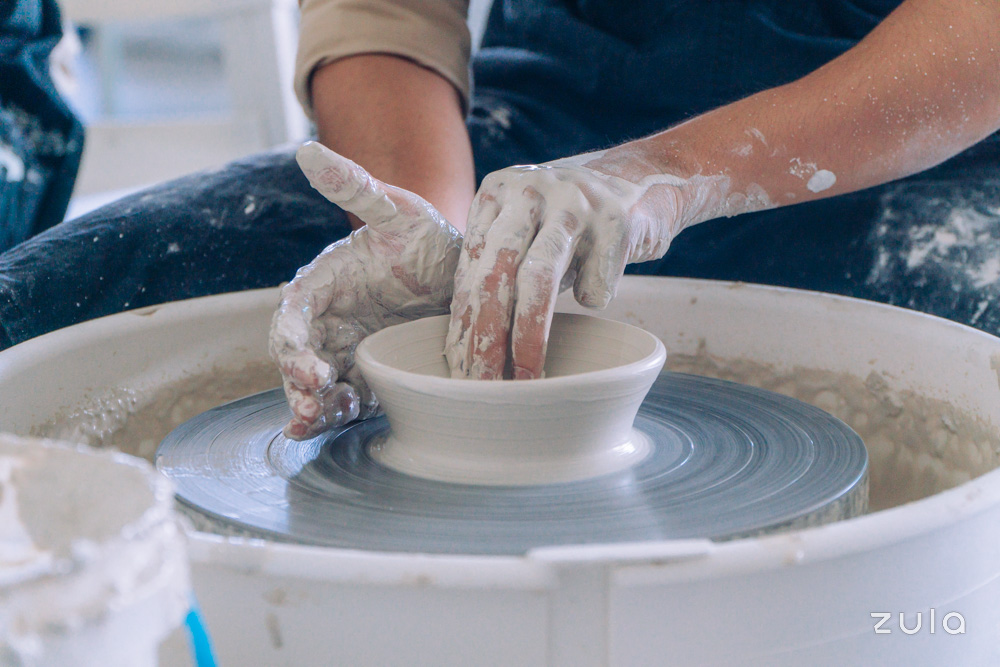 As you get the hang of adjusting the wheel speed with a pedal, you can start to shape the clay by gently using your fingers to mould the sides of the bowl or cup-to-be. By this point, if your hands aren't completely covered in clay, you're definitely doing something wrong. Personally, I managed to get clay on my forehead, so I guess you could say it was a crafting and facial session at the same time. 
Pro tip: Keep your nails short and wear clothes that you wouldn't mind getting messy because you never know where your sculpting skills – or lack thereof – are going to cause some clay to fly in various directions. 
Once you've warmed up to the process, you can get creative and use your fingers to mould the top of the vessel into a heart shape, flower or even add a little spout if you want to make a mini-milk jug.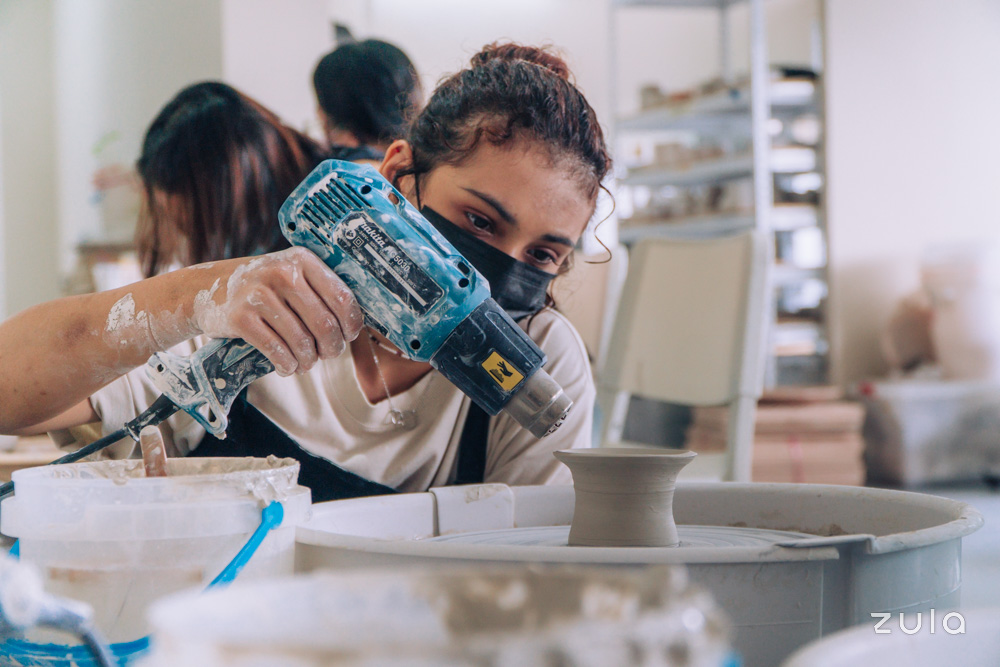 After you're satisfied with the shape of your creation, you can use the heat gun available to make your clay creation less flimsy so that you can remove it more easily from the base. 
While I was rather ambitious initially and wanted to try to make a fancy cup, things went far from as planned. The first round left me with a lot of clay lost and more of a hat-shaped abstract piece in the end. 
However, since Arudio generously gives you the opportunity to make 2 items, you'll be able to have a go at redeeming yourself in the second round.
Adding final details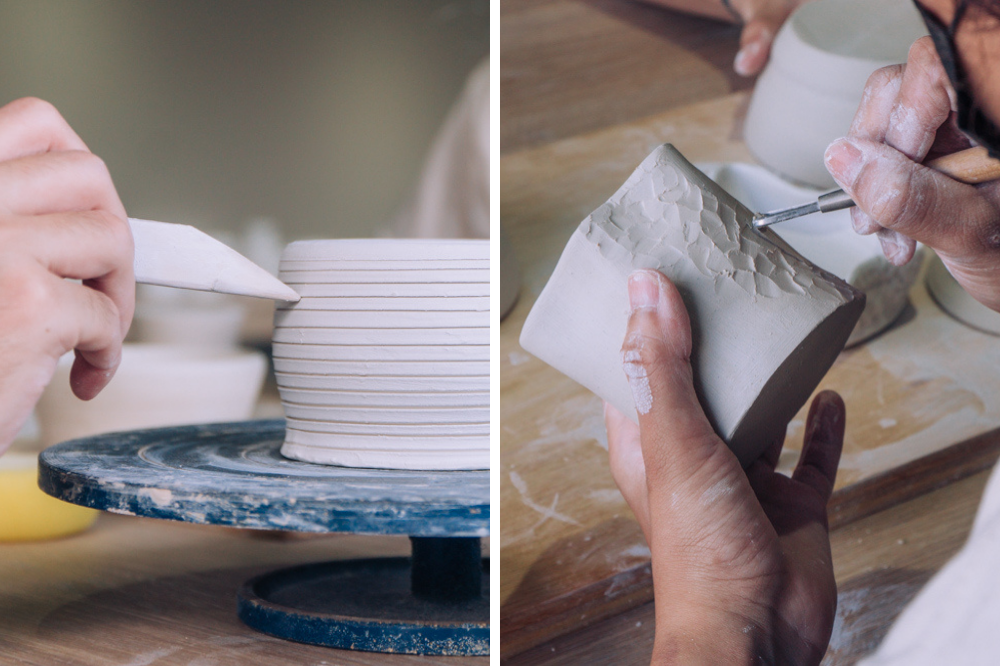 For the last hour of the class, you'll get to add in any final touches you'd like to your creations. You can choose to carve out stripes, textures and all sorts of designs using the tools provided, making your works truly unique. 
You'll also have to do a bit of tidying up after you're done using the wheel. After all, with the mess that we created, it was only fair.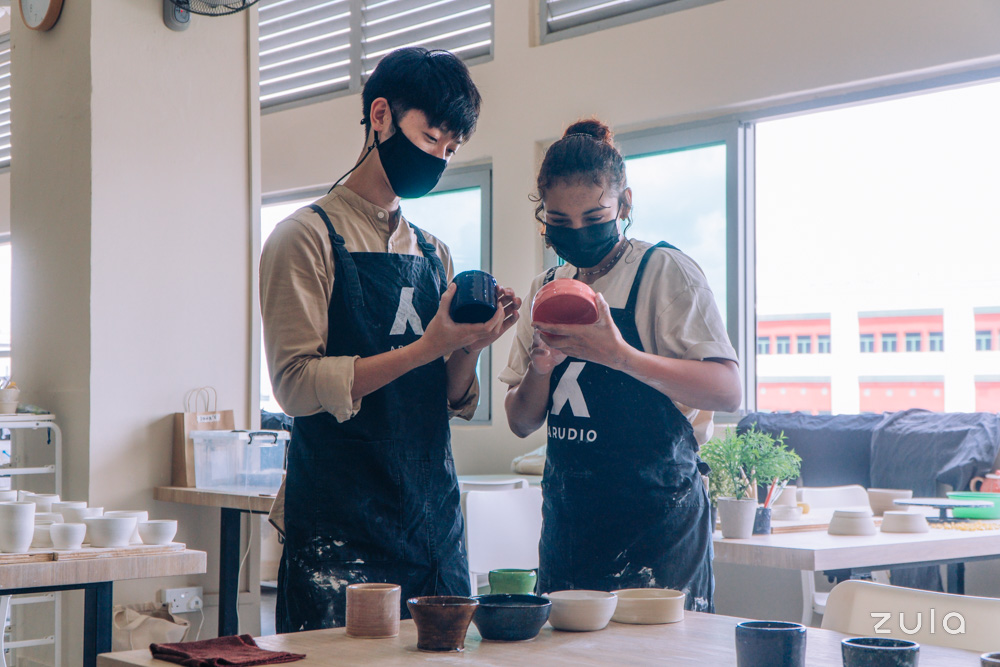 While "clay-white" is already a pretty nice shade for your new knick-knacks, you have the option of glazing your clay vessels in different colours for extra flair and making them food-safe. Glazing  Colour options include a galaxy blue, a light pink and even an interesting black and orange mix which gives the pieces an additional dimension. While you have full reign over selecting the glaze colour, the glazing itself will be done later on by the studio staff. 
Alternatively, you can opt to try out self-glazing, which costs an additional $35 per person for a 2-hour session.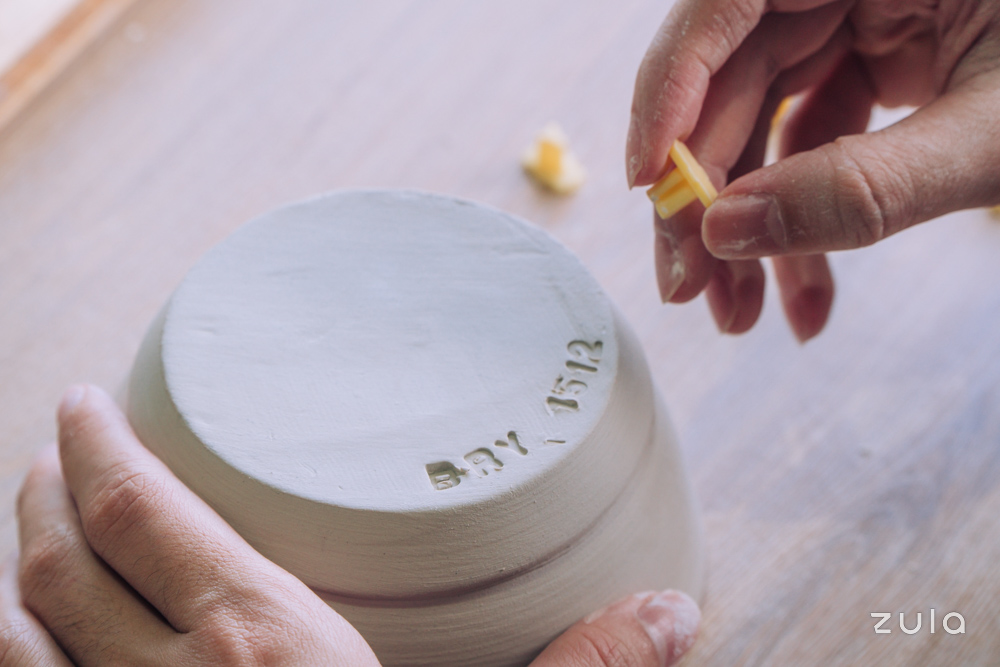 Label the bottom of your clay creations with your name, date and glaze colour and violah – all that's left to do is wait for them to be fully dried and fired in the kiln.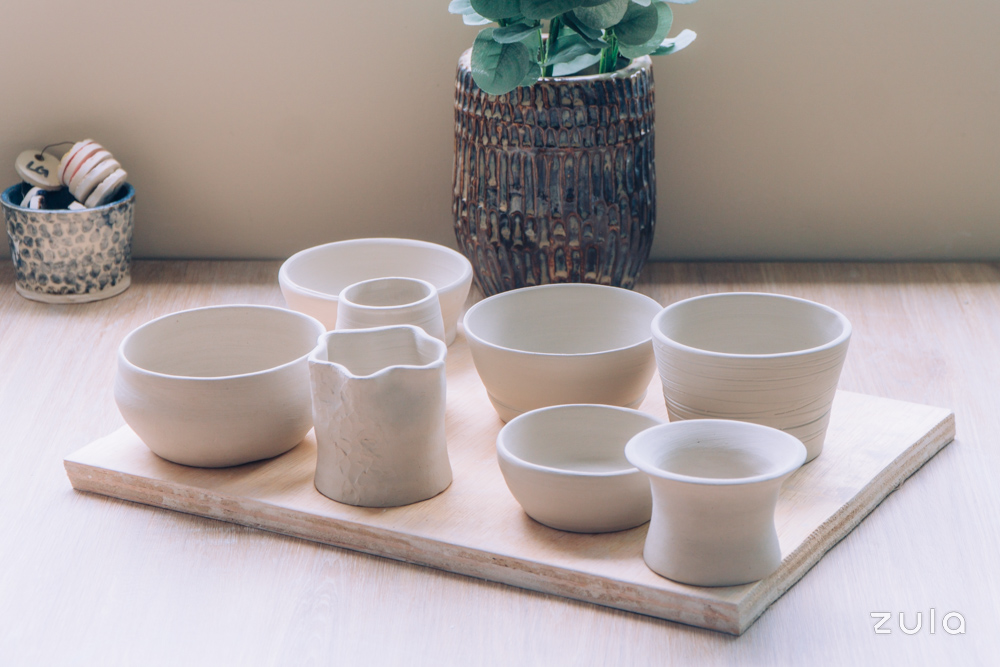 Creations of the day by us and other participants
As the works take some time to be fired and glazed, you'll have to return in 6-8 weeks to self-collect your final products. Alternatively, home delivery is also an option at $20 for 1 to 6 pieces and $30 for 7 to 12 pieces.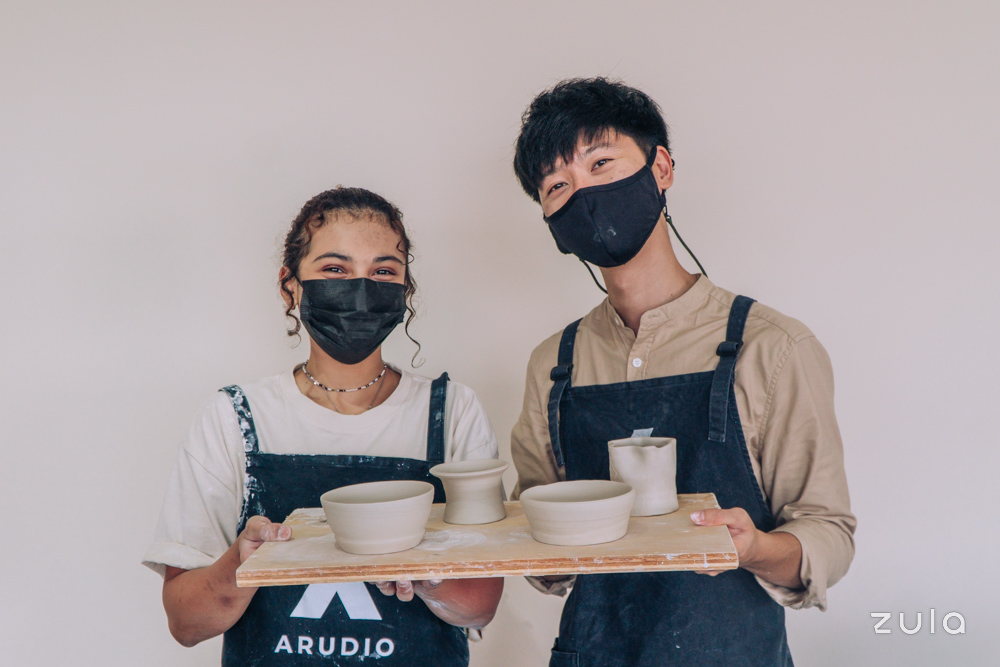 Don't forget to snap #craftingdate pics for the 'gram with your creations at the end of the session. You could even do a poll on Instagram to see whether you or your significant other's pottery skills seemed better to your followers, just for kicks. 
Arudio Studio Has Workshops For Couples Who Want To Channel Their Inner Artist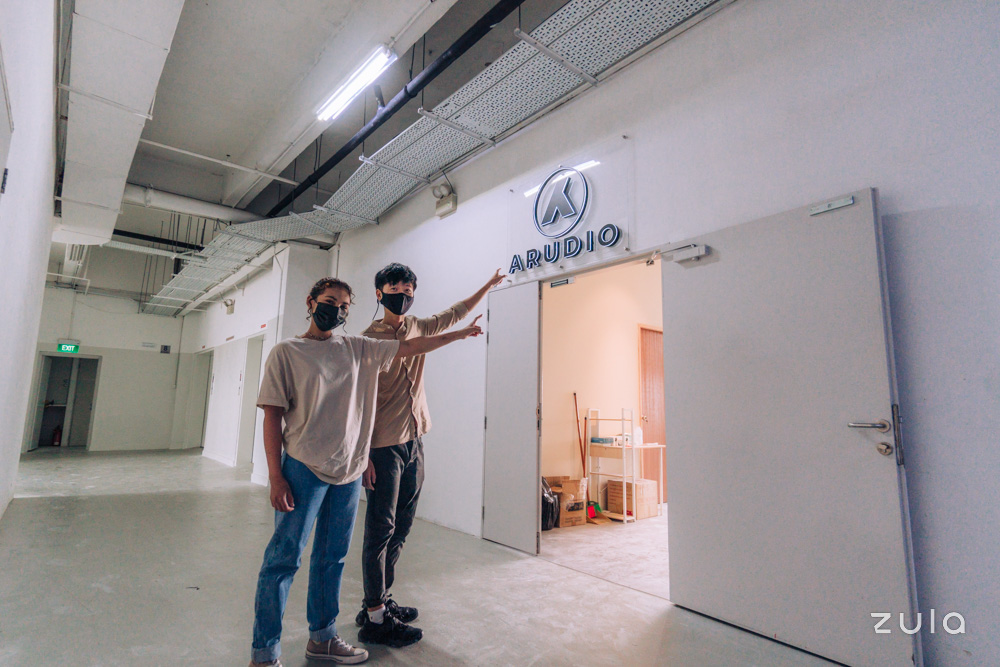 Overall, the Wheel-Throwing Workshop at Arudio was an experience filled with loads of giggles and, you'll even get to pick up a new skill. Sure, it might be challenging initially since it takes a bit of getting used to the texture of the clay, but once you get the hang of working the wheel, it feels extremely satisfying. 
The class also makes for a great first date idea that'll take the pressure off going out with someone new. Instead of jumping straight into a meal with awkward silences, an activity like pottery helps ease the tension and provides you with a common conversation topic. If you and your date get thirsty during the session, drinks are also available in their studio for $1 each. 
Apart from the wheel-throwing class, there's also a handbuilding workshop where you can learn to sculpt creations without the electronic wheel. 
To celebrate the new studio space, Arudio is offering 10% off the couple wheel-throwing class at either their MacPherson or Sembawang studio, for the first 20 signups from now till 28 February 2022. All you'll need to do is include the promo code "ZULAARUDIO10" upon check out at their website. A new year is all about new experiences, and who knows – pottery might just become your next favourite hobby with your loved one.
Arudio Macpherson
Price: $130/2 pax for a couple Wheel-Throwing Class ($70 for a single person sign-up)
Address: LTC Building C, 14 Arumugam Road, #08-07, Singapore 409959
Booking: Fill in the booking form here
Opening hours: 9.30am to 5.30pm (Monday to Friday) | 9.30am to 7pm (Saturday and Sunday)
Contact: Email arudioceramic@gmail.com
This post was brought to you by Arudio.
Photography by Ian Sim.