Miffy Staycation Package
If you've been looking for affordable hotel suites but haven't been able to settle on one just yet, this new staycation package might help make your decision easier. In celebration of Miffy's 65th anniversary, Fairmont Singapore has partnered with Klook on an exclusive Miffy Staycation package. It comes complete with free breakfast for 2 and merchandise to take home with you, so grab your bestie and get ready for a relaxing night in.
Miffy merch galore

Source
Spend a night or 2 in the Fairmont Room with Balcony (City View), accompanied by lots of Miffy merchandise to celebrate the upcoming holiday season.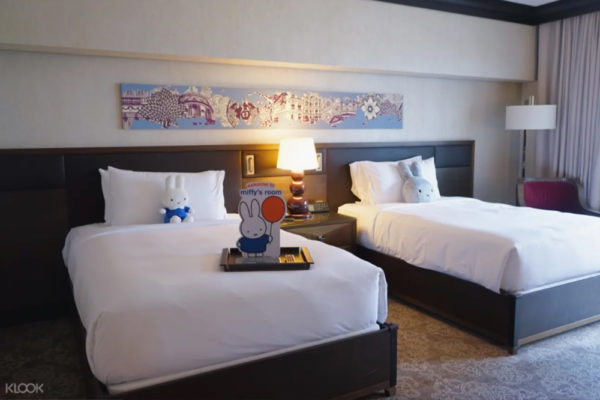 Source
Enter the room and you will be greeted by a Miffy plush toy and head cushion, along with a placard that states "Miffy's room". You can choose between a single king-sized bed or 2 double beds, if you don't like to share your blanket or sleeping space.

Source
The decor isn't just for show either. The plush and head cushion are part of the take-home merchandise set that comes with every package.
The Miffy head cushion comes in a greyish-brown tone. Depending on your luck, your Miffy plush toy will either be wearing a yellow or blue dress.

Source
Besides soft toys, the freebies include practical merch as well. There are Miffy cups in 2 different designs: one with 2 pictures of Miffy, the other a pattern of Miffy in the clouds or on a crescent moon surrounded by stars. You can sip a nice cup of tea while enjoying the city view from your room's private balcony.

Source
There's also a Miffy drawstring bag with more Miffy merch inside. One of the items included in the drawstring bag is a pack of Miffy mosquito repellent patches. It has 8 designs and is perfect for when you're exploring the area around Fairmont Singapore on your very own Singapoliday.

Source
The drawstring bag also has 2 keychains, one of Miffy the bunny and an elephant Miffy fans will also have seen in the books. They are absolutely adorable and would look super cute hanging from your handbag or purse.

Source
Lastly, a hand towel awaits in the bathroom, in a shade of blue that matches Miffy's classic blue dress.
Also read:
9 Hotels For A Solo Staycation In Singapore From $76.70/Night So You Can Have Some Quality Alone Time
The Miffy Staycation Package At Fairmont Hotel Is Available For Booking Now
You can now book the Miffy Staycation book directly on Klook Singapore's website. Bookings are open from now to 30 November for stay dates from 7 to 30 December 2020, subject to blackout dates and availability.
You can choose between a 2D1Night stay in the Fairmont Room from $359, inclusive of daily breakfast for 2 adults and up to 2 children. Or, if you have annual leave to clear, opt for the 3D2N package, and enjoy 50% off the room rate on your second night. However, the rate for the 2nd night is for only for the room, without any other inclusions. If your booking includes a child, an extra bed will be provided for both nights.
According to Klook, there will also be a Miffy pop-up concept store in Singapore, watch this space for more information as soon as it is available.
Also read:
10 Affordable Hotel Suites & Big Rooms In Singapore From $230/Night For Your Next Girls' Night In