Instagram OOTD Poses
Even if you aren't an indie film buff, you will probably agree Wes Anderson movies' trademark symmetrical backdrops and pastel colour palette create a visual feast.
From the Grand Budapest Hotel to the Isle of Dogs, his films evoke a sense of nostalgia which makes us believe life could be lived magically, if only we knew where to look.
So in an attempt to step into his quaint dreamscape, we went around the island hunting for accidentally Wes Anderson locations and jumped into his world with the help of some imagination, quirky #OOTD poses, and a filtered camera lens.
1. Raffles Marina Lighthouse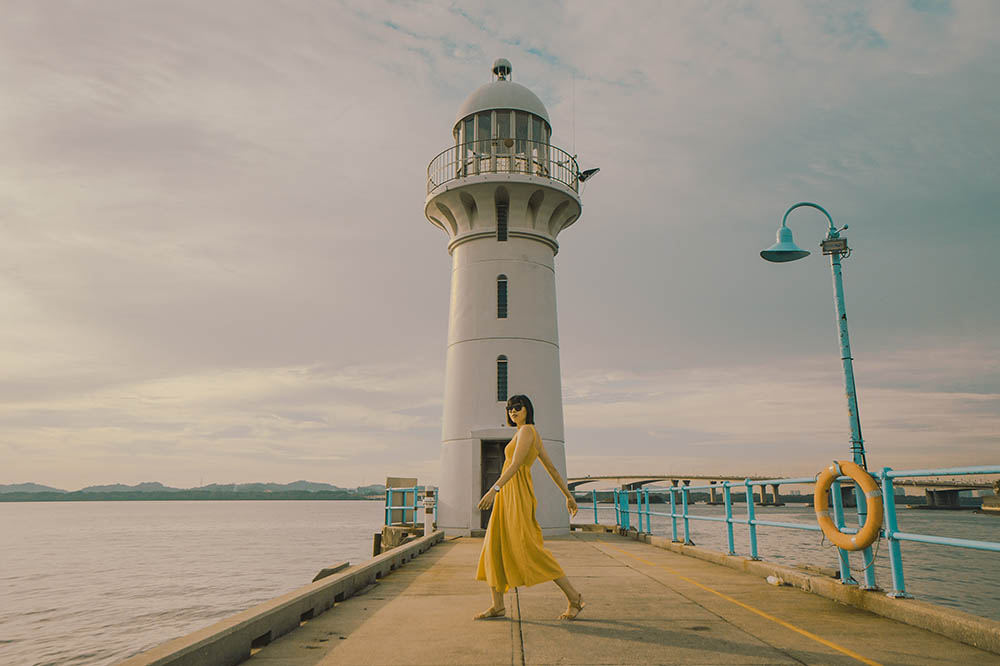 It doesn't get more Wes Andersonian with faded blue skies, emerald jade seas, and a sunset painting the lighthouse a hazy gold. To bring out the colours, we lowered the contrast and highlights, before adjusting the blues in the photo to be more yellow.
The muted, slightly off-kilter tones are reminiscent of the scene Suzy stood atop the lighthouse in 'Moonrise Kingdom', moving through the world in a languid, carefree manner.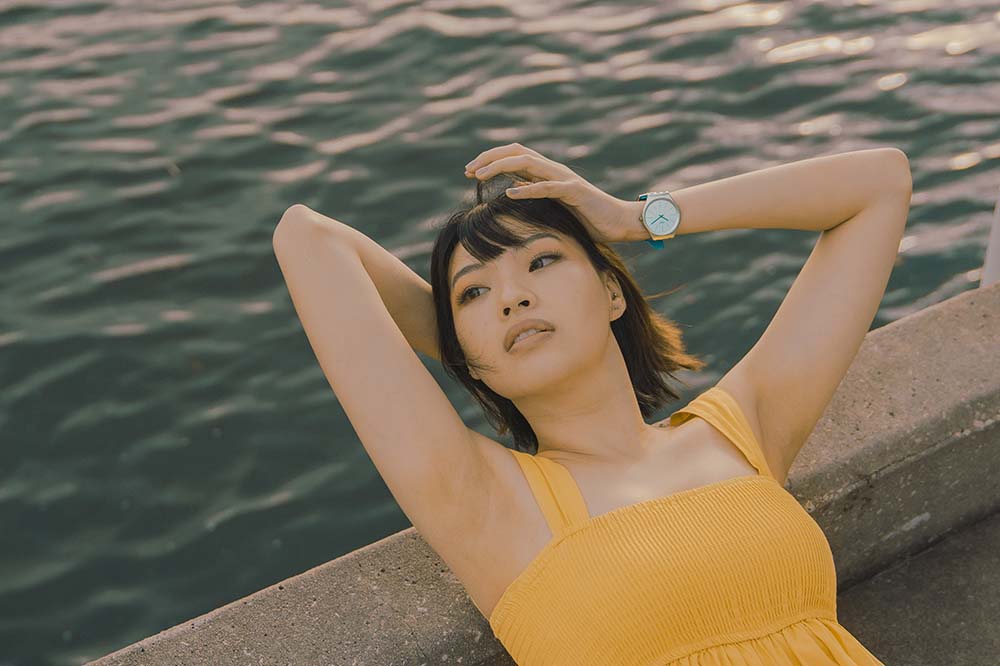 When taking glamour shots which require you to lie down, prevent a double chin by arching your back and tilting your chin slightly upwards. This will give your jaw definition.
Make sure to relax your neck completely though, if not you'll look stressed out with protruding neck muscles.
Tip: To prevent your hair from being thrown into disarray, some hairspray will do the trick.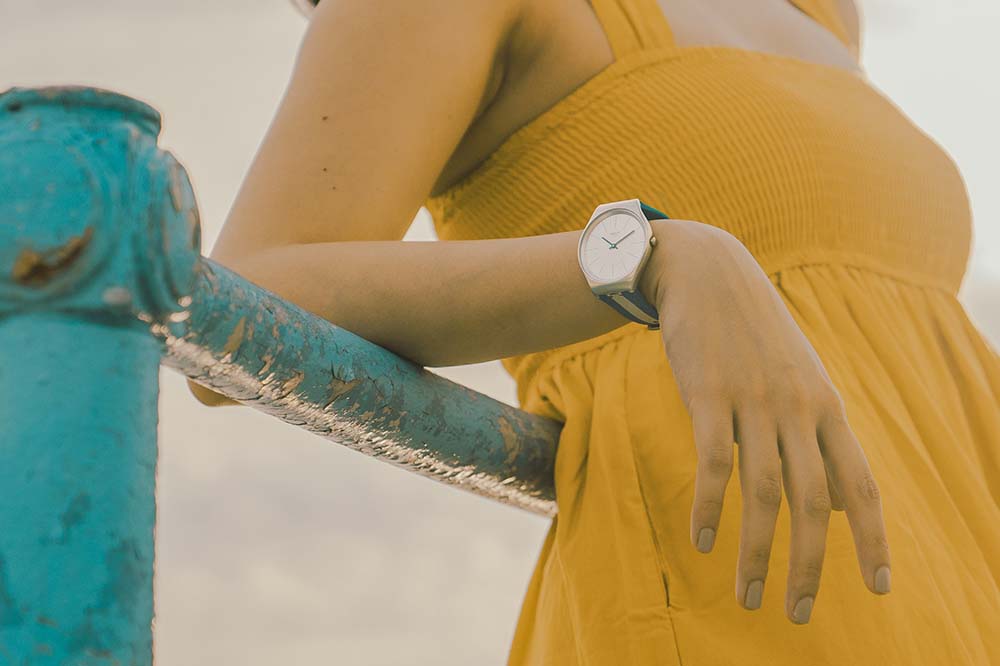 SKINSPRING watch (S$209)
Address: 10 Tuas West Drive, S(638404)
2. Sundial Garden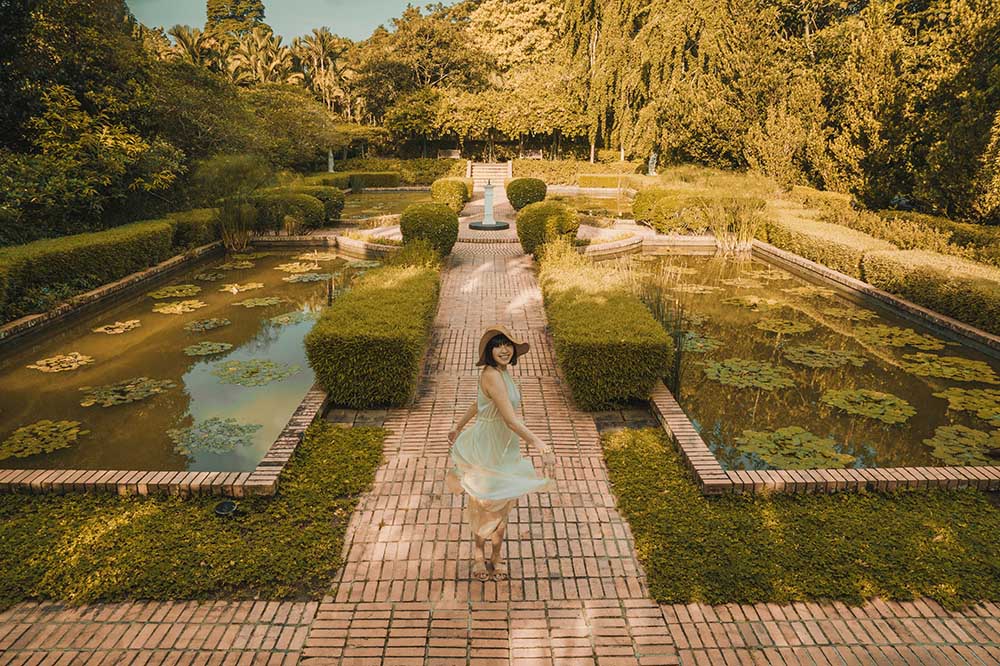 Originally built in 1929, the immaculately-manicured Sundial Garden in the Botanic Gardens offers a near-perfect symmetrical shot. Running past the lily ponds in a floaty white dress, we can almost believe we're late to a tea party.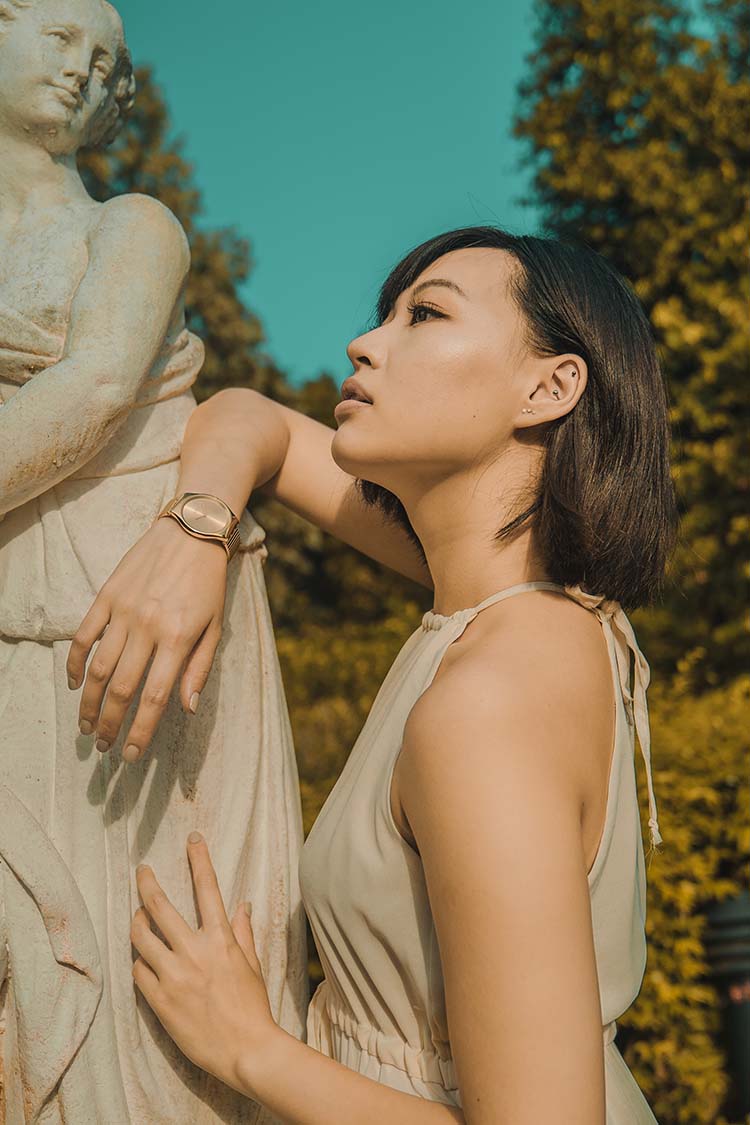 There are a few Greek-style marble statues littered about the garden you can use as props. We had our model parallel the statue's posture for a mirrored effect.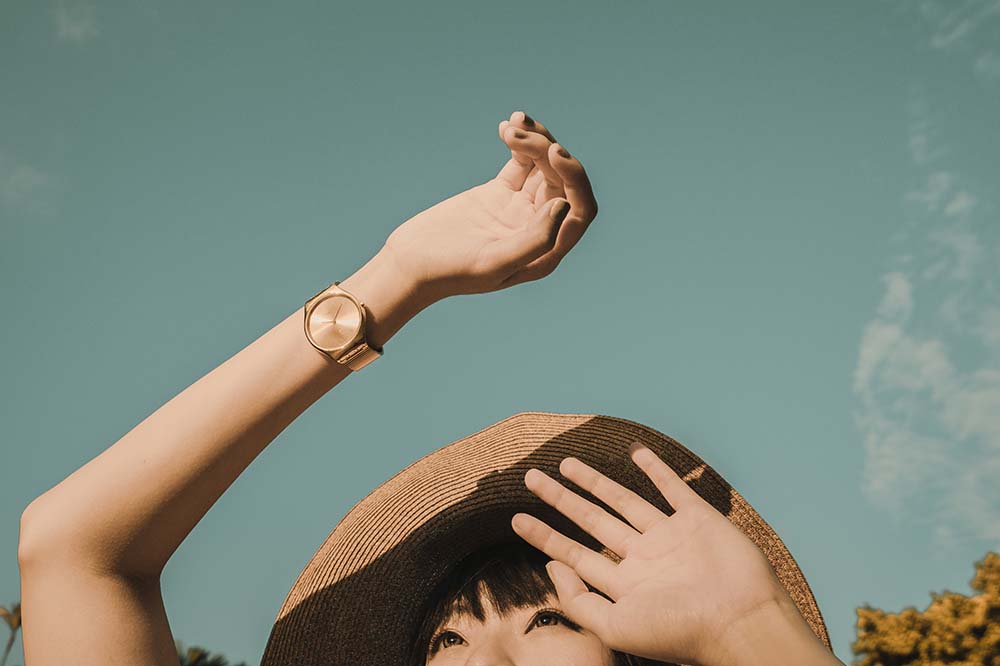 SKINLINGOT watch (S$279)
Address: Singapore Botanic Gardens, Sundial Garden, 4 Cluny Road, S(259572)
3. Redhill MRT Station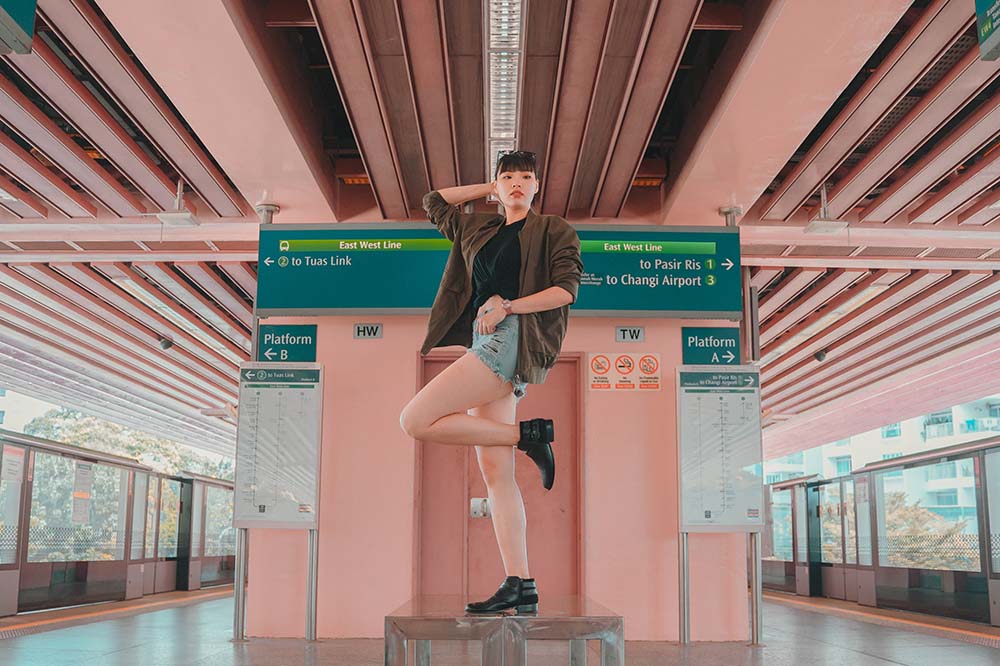 Washed in a soft shade of bubblegum pink, the distinguished hue is responsible for landing Redhill MRT Station a spot on the Accidental Wes Anderson subreddit.
Though standing in front of the escalators leading up to the platform offers a more symmetrical shot, they're currently undergoing construction.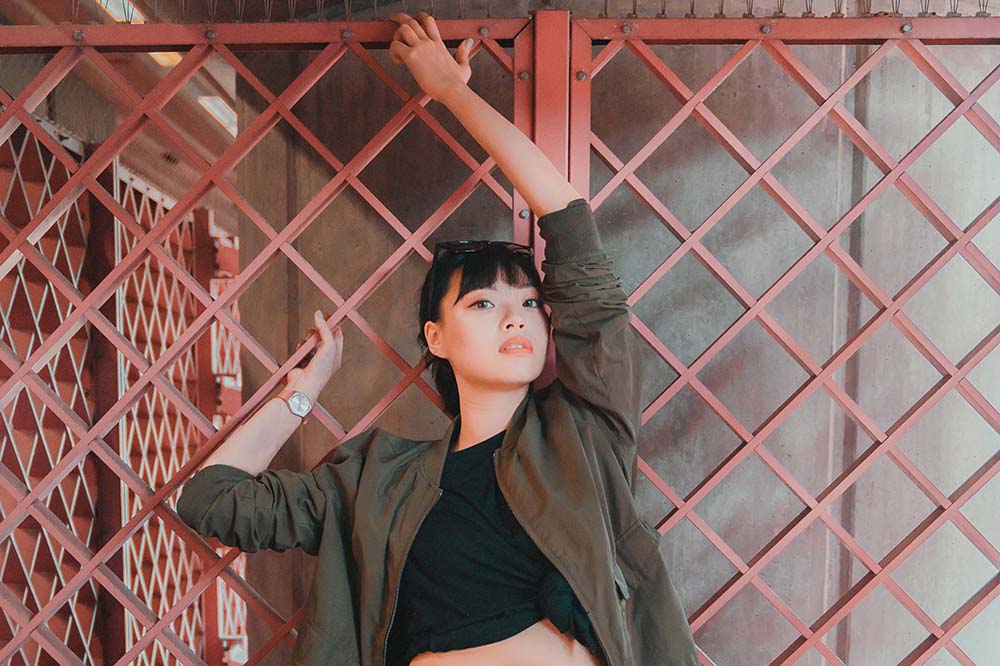 When posing against a fence, avoid placing your hands through the holes, if not you'll seem stuck in an uncomfortable position. Also, don't lean your face towards your raised arm, if not you'll look like you're taking a whiff of your armpits.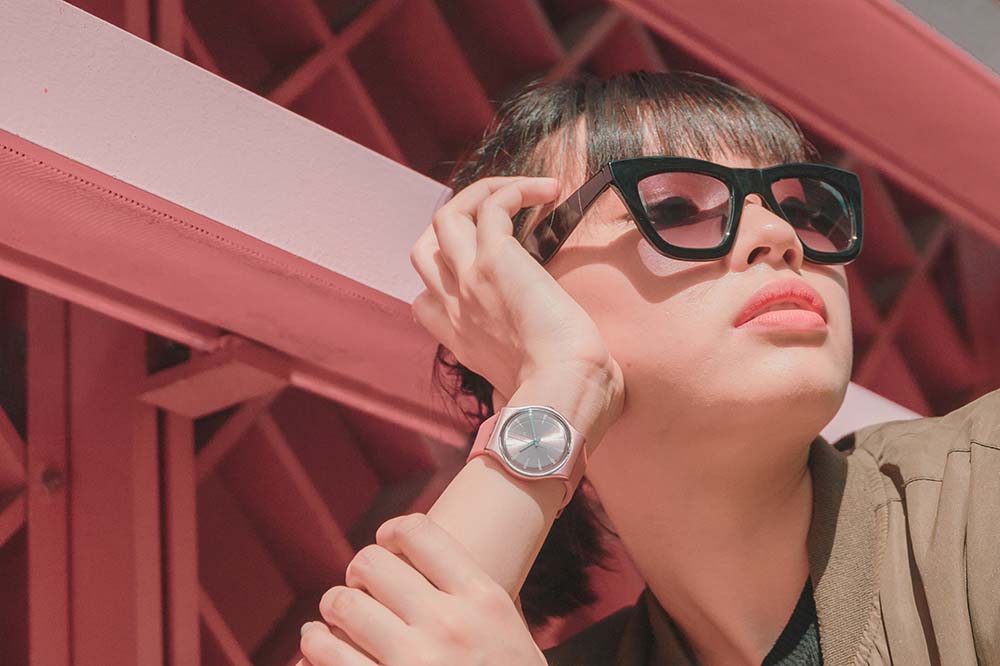 PASTELBAYA watch (S$90)
Address: Redhill MRT Station, 920 Tiong Bahru Road, S(158792)
4. Petain Road's Shophouses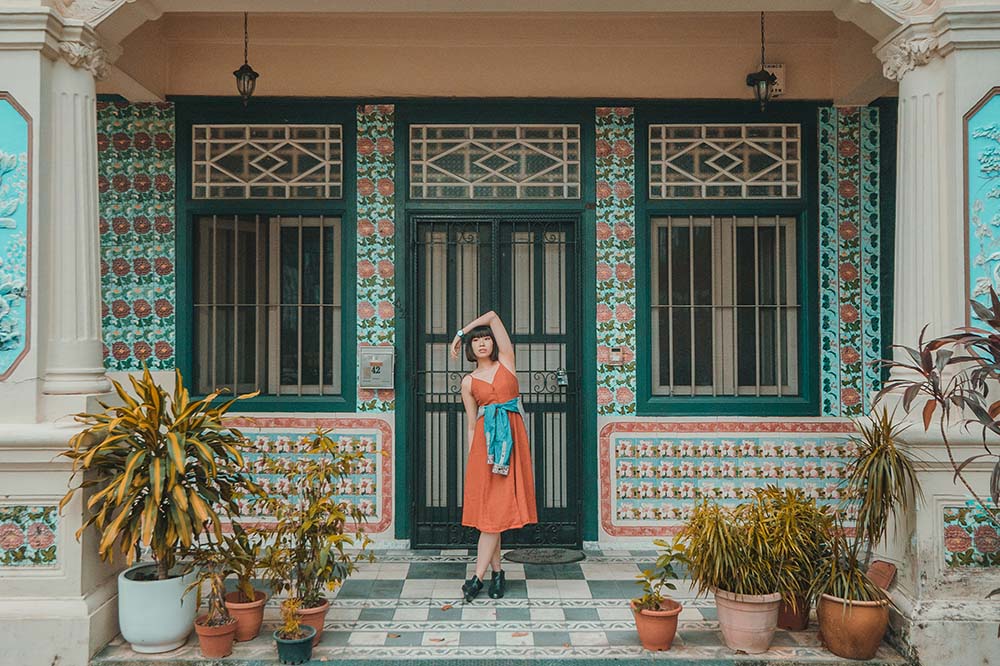 If Wes Anderson ever decides to film in the East, the vibrantly-hued motif tiles and retro facade of Petain Road's shophouses would be a top choice.
Alternatively, he could follow in the footsteps of Crazy Rich Asians and shoot a mahjong scene at one of Bukit Pasoh's well-preserved shophouses.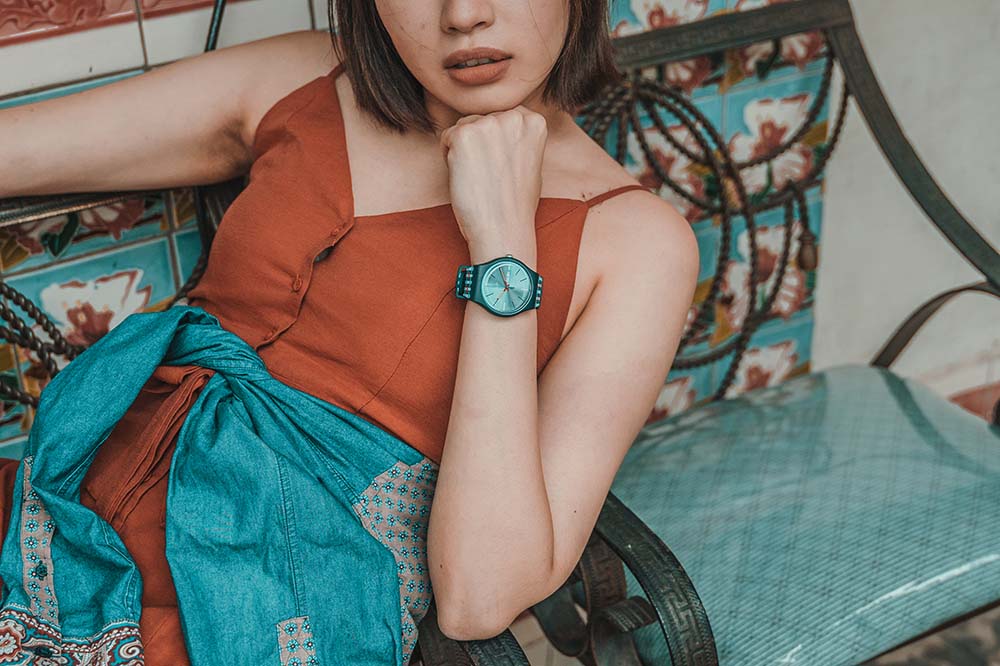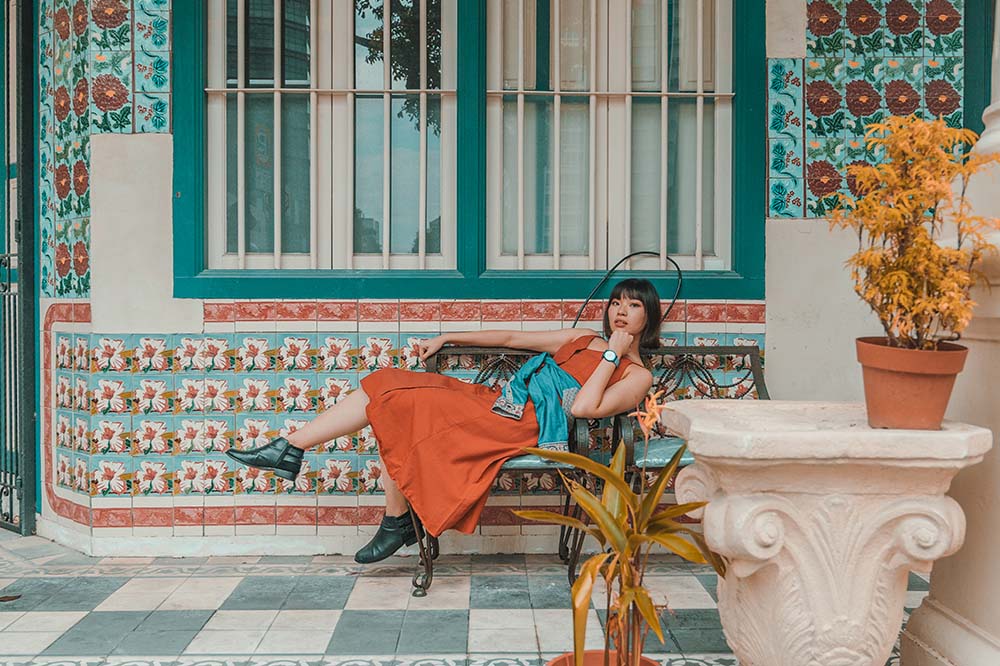 Instead of sitting typically cross-legged on the iron-wrought bench, casually drape yourself across the chair. But take care to support your body weight when leaning off one end if not gravity will have you fall off.
If you want to take a close-up selfie, use the back of your hands to frame your face instead of your palms. Your fingers will not only create the illusion of a slim face but also encourage you to move your head up and prevent an accidental double chin.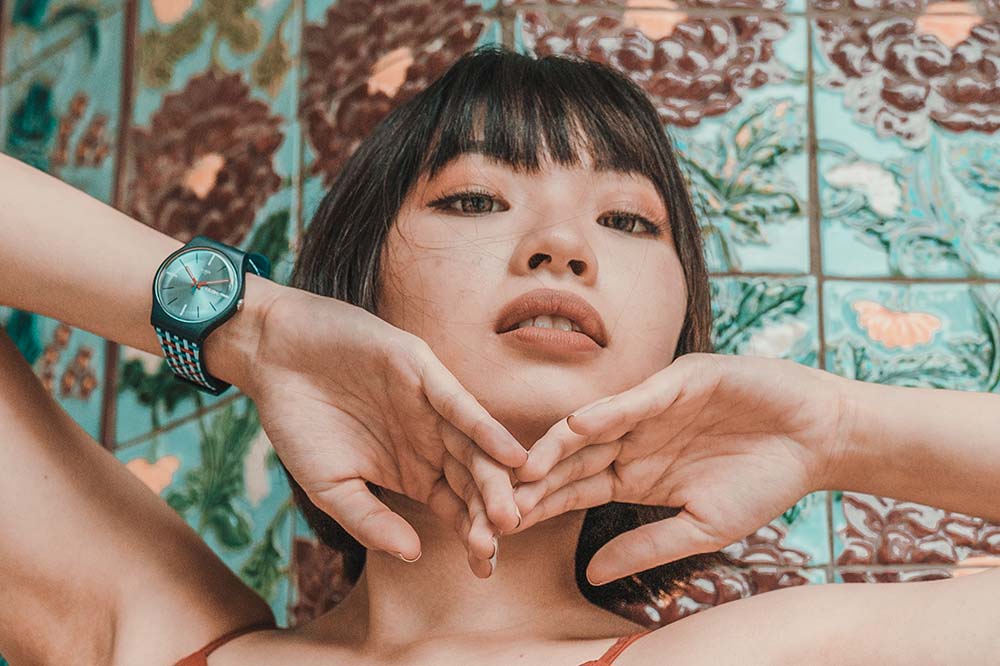 WOVERING watch (S$103)
Address: Petain Road, S(208097)
5. Hotel Mono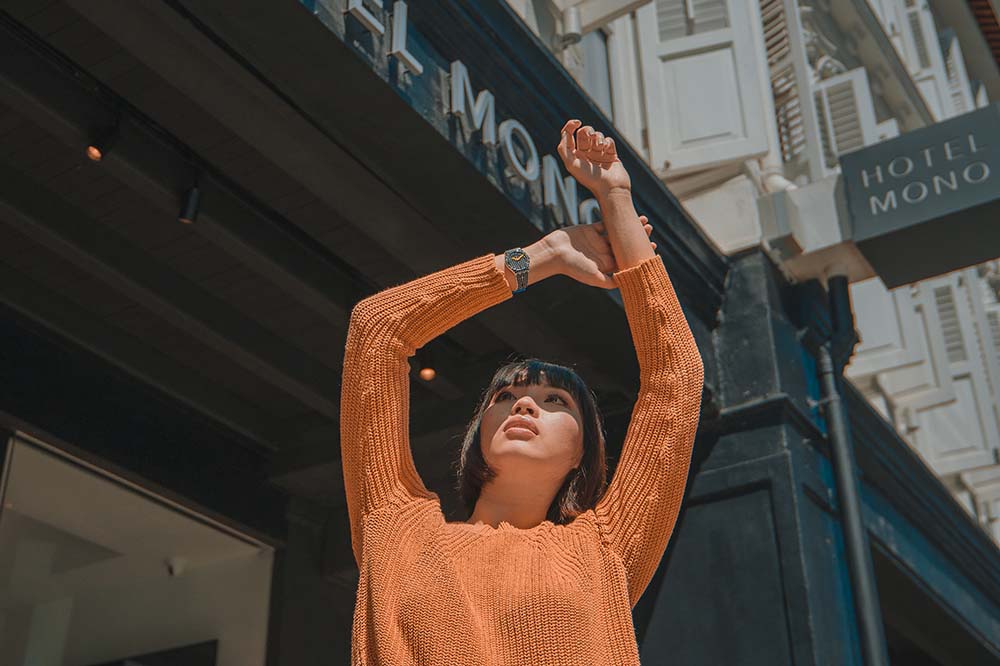 Spanning six shophouses, Hotel Mono is a monochrome hotel with sleek lines and an industrial aesthetic, providing a clean backdrop for your #OOTDs.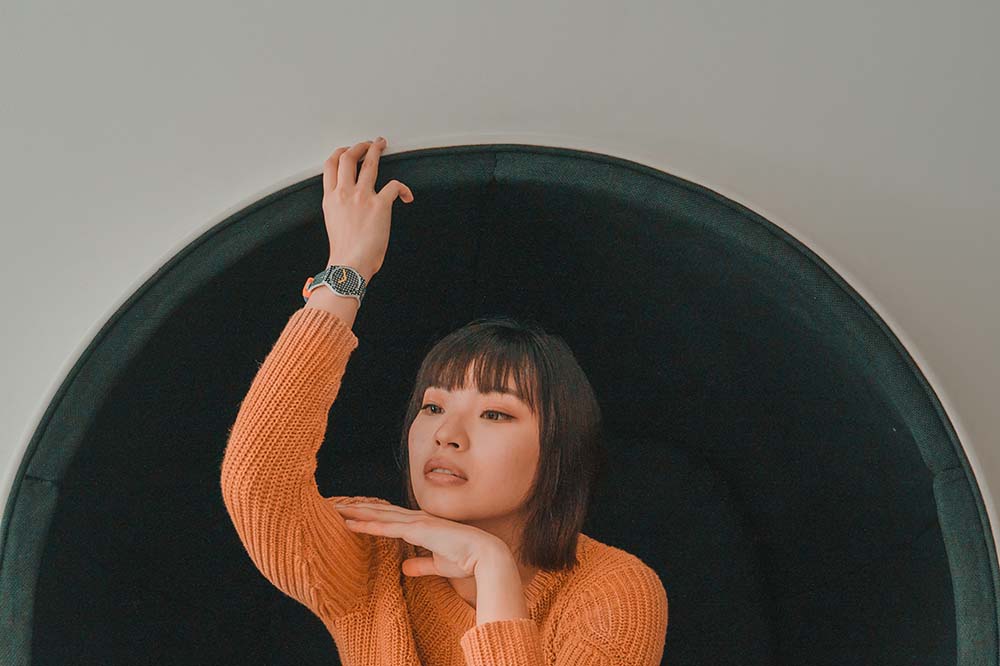 When striking a pose on the lobby's circular seat, most would go for a full-length pic. Instead, play with dimensions and lay your head gently on your hand to create the illusion of a clock face.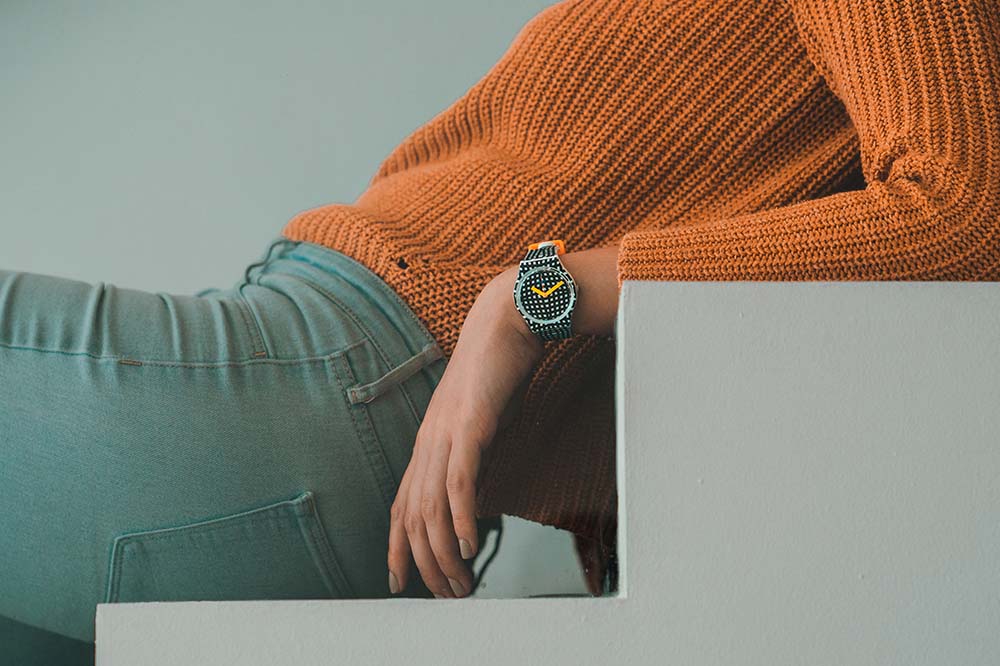 SIXTEASE watch (S$90)
Address: 18 Mosque St, S(059498)
6. National Gallery Singapore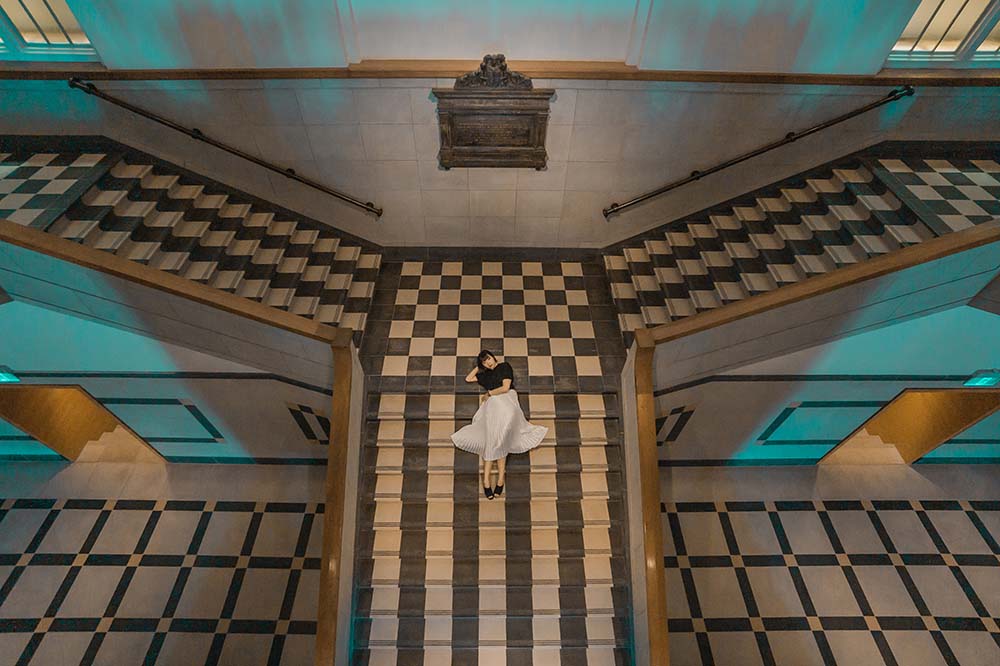 The ethereal blue light cast on the white and black checkered tiles of the National Gallery offered a sense of faded grandeur and got us imagining a time which could have been.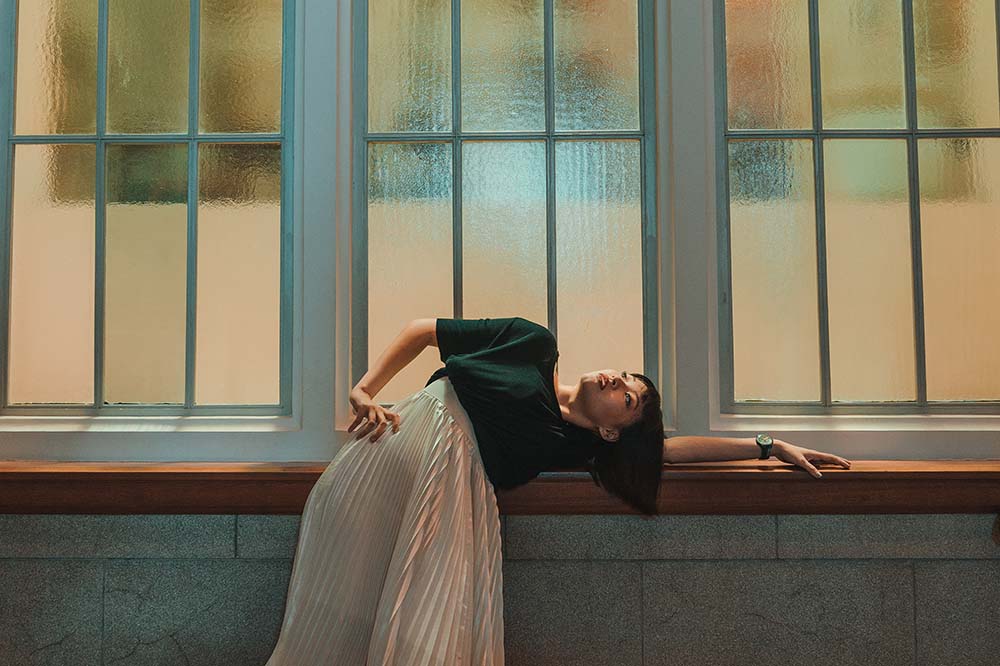 Instead of sitting on the window sill with your leg propped up like most, try laying on the banister instead. Use the natural angles in your body to create interesting shapes.
Here, we had our model make sure her hair is parted to only one side, to stop her locks from covering her face. To prevent her hands from lying awkwardly, we had her quirk an elbow up.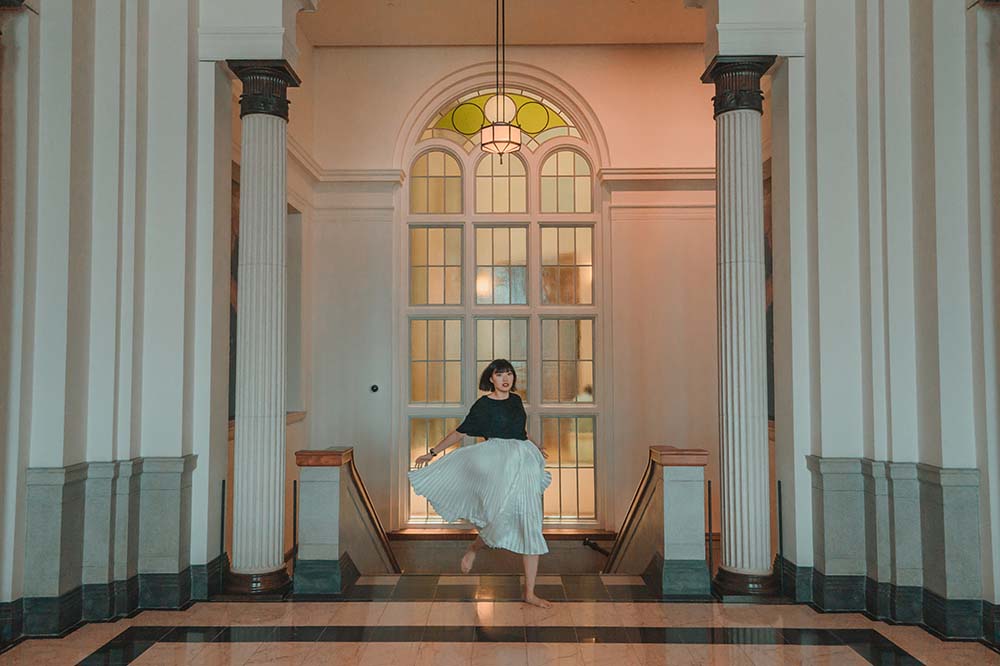 Play with movement by jumping forward with only one leg, leaning the rest of your body back. Remember to increase your shutter speed to freeze the moment.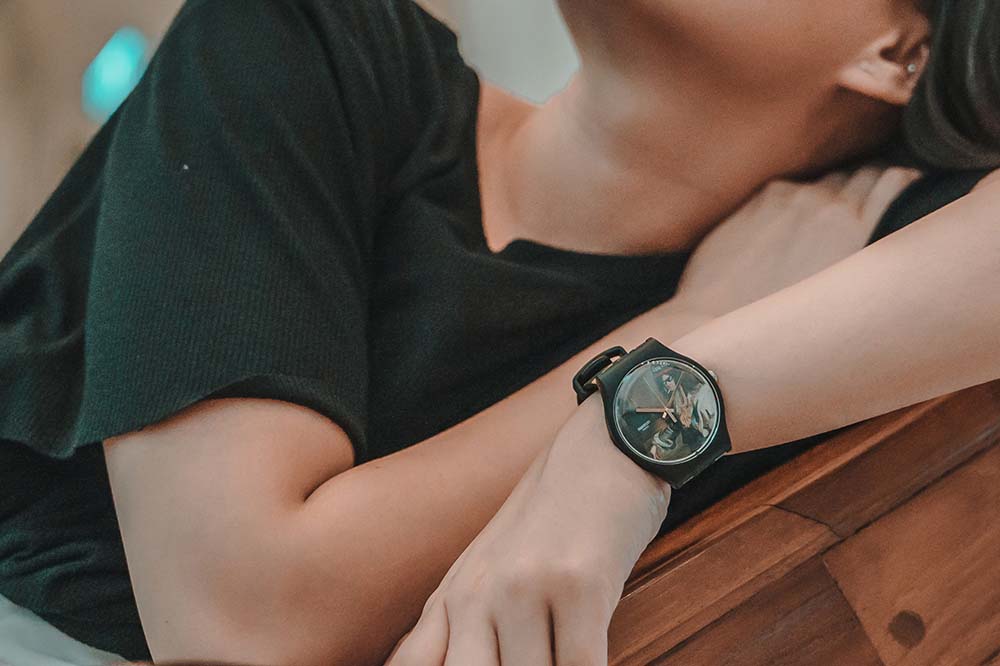 LEROICESTMOI watch (S$103)
Address: National Gallery Singapore, 1 St Andrew's Road, S(178957)
Swatch Watches Singapore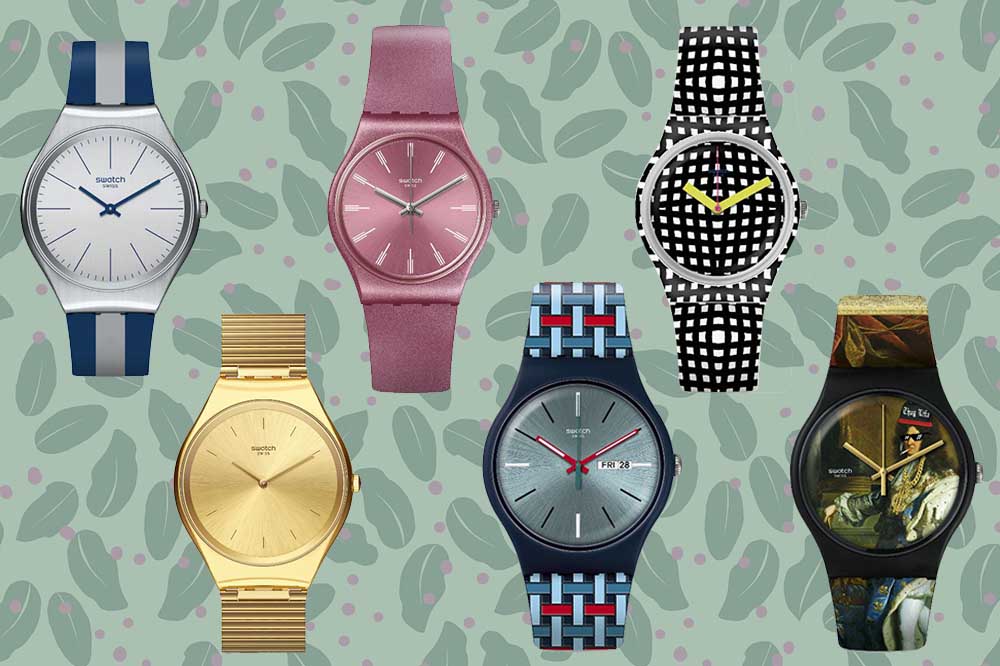 With this list of accidentally Wes Anderson locations, hopefully, you'll begin to look at the world with glittering eyes and live in a world of whimsy. After all, as Roald Dahl said, "those who don't believe in magic will never find it."
And if you'd like to see the full FW18 collection, head over to the SWATCH website.
This post was brought to you by SWATCH.
Also read: