Pew Pew Patches x Hello Kitty and Little Twin Stars
Previously, we wrote about how Sanrio and Pew Pew Patches had collaborated on patches featuring its iconic characters. The collaboration has been released in monthly drops: Kerokerokeroppi in June, then Gudetama in July. This coming Saturday, 1 August, the Hello Kitty and Little Twin Stars collections will be released. Zula got an exclusive sneak peek at the full collection before it launches, thanks to the good folks at Pew Pew Patches, and we're here to share the love with Sanrio fans.
Hello Kitty designs
According to Dawn Bey, founder of the homegrown label, Pew Pew Patches' collab with Sanrio was inspired by what the characters would be like if they were Singaporean. Of course, that means food takes a starring role.
Tutu kueh never looked more adorable than this. Although, we're not sure if we'd be able to eat this if it were for real, since it is so damn cute. Hello Kitty takes the form of the entire tutu kueh, with her whiskers blending seamlessly into the design.
The next patch dials up the cute factor even further with Hello Kitty dressed up in a dinosaur suit while sipping on a, you guessed it, Milo dinosaur.
The food theme continues with Hello Kitty chilling out in a steamer. She's sandwiched in between 2 pieces of lapis sagu, aka rainbow kueh. The patch is pretty substantial in size, which means you can use it to jazz up some of your more basic items, be it a sling bag or even a denim jacket.
Singaporean millennials are as passionate about nostalgia as they are about food. Double down on the nostalgia with these 2 designs. Hello Kitty makes an cameo on the rooster bowl spotted in kopitiams and households across Singapore.
The second one sees her blowing the perfect bubble from a tiny straw. All '80s and '90s SG kids will recognise the rainbow tube as a major blast from the past.
Also read:
The Sanrio x Pew Pew Patches Collab Is Inspired By Hello Kitty & Friends Taking A Little Trip Around Singapore Town
Little Twin Star designs
Since the collection was inspired by what the characters would be like if they were Singaporean, Kiki and Lala have been reinterpereted as kindergarteners. They're wearing what appear to be PCF pre-school uniforms from the '90s.
Their signature pastel aesthetic has been applied to another Singaporean icon, the Singapore Flyer. The giant ferris wheel has undergone a pink makeover, with the capsules transformed into star shapes.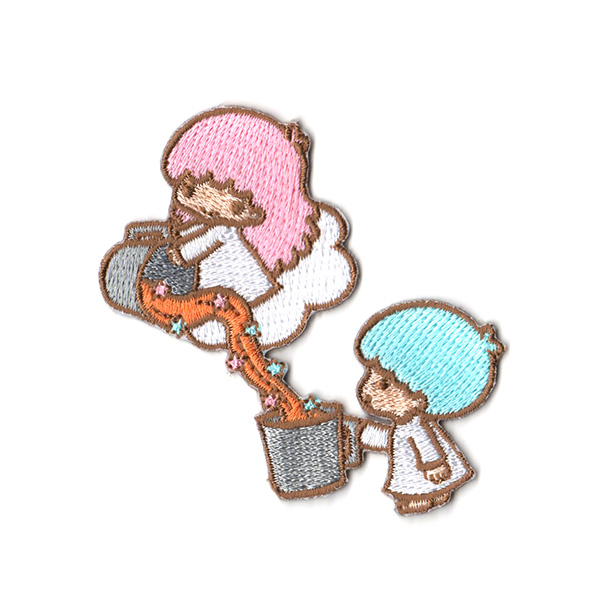 The last design comes full circle by taking us back to food yet again. This time, Kiki and Lala are the ones "pulling" tea, which happens to be sprinkled with shooting stars.
Pew Pew Patches x Hello Kitty and Little Twin Stars Will Be Available From 1 August 2020
The Hello Kitty and Little Twin Stars' patches will be available on Pew Pew Patches' website come Saturday, 1 August 2020. Selected items from the Sanrio x Pew Pew Patches collection will also be available at the Gudetama x Bad Badtz-Maru pop-up cafe at Kumoya from 30 July 2020. All the patches retail for $9.90 each.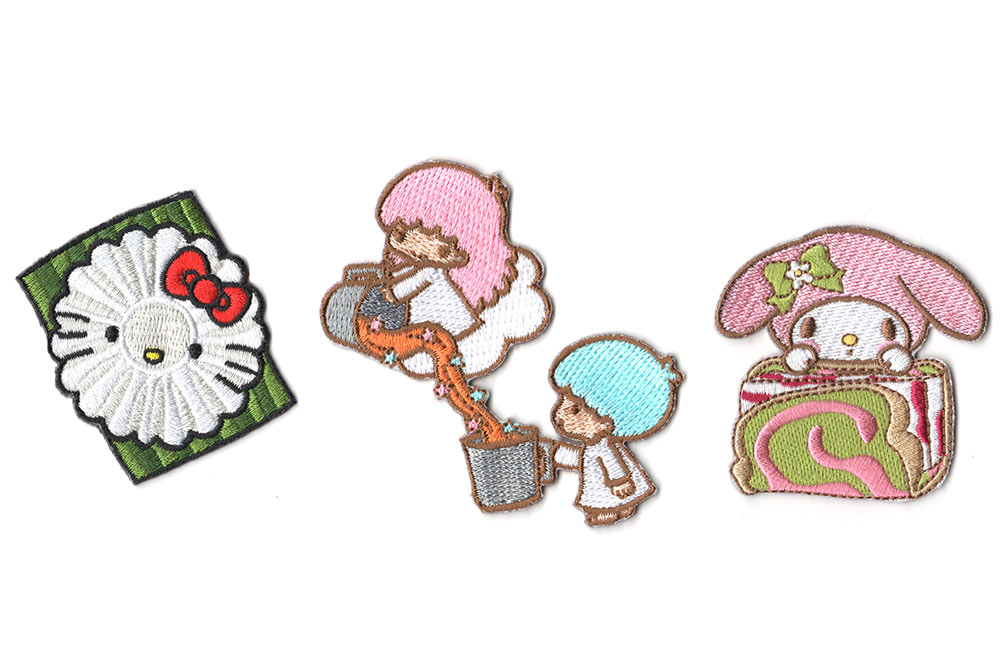 Those eyeing the tutu kueh and teh tarik designs will have to wait for a while to purchase them directly. From 3 to 31 August 2020, 1 of the 3 patches above will be given away to customers with a minimum purchase of 2 original-priced UTs from the Uniqlo x Sanrio UT collection and spend $60. The promotion is valid online at Uniqlo's website and in all Uniqlo stores except Changi Airport Transit. The patch designs will be given at random, while stocks last. After that, it will be available for purchase on Pew Pew Patches' website.
Mark your calendars for Saturday, and get ready to ring in National Day by showing your love for Hello Kitty, Little Twin Stars and Singaporean icons at the same time.
All images courtesy of Pew Pew Patches.
Also read:
Uniqlo x Sanrio UT Collection Features Hello Kitty & Aggretsuko As Rock Stars, KTV Fans Can Relate