Sanrio x Pew Pew Patches 
Pandan cake, kaya toast and chendol are some local delights we introduce overseas visitors to when they're in Singapore. Sanrio has teamed up with homegrown brand Pew Pew Patches on a limited-edition collab inspired by your favourite Sanrio characters going on an adventure around Singapore. Naturally, that includes feasting on the food listed above and indulging in other iconic Singaporean pastimes.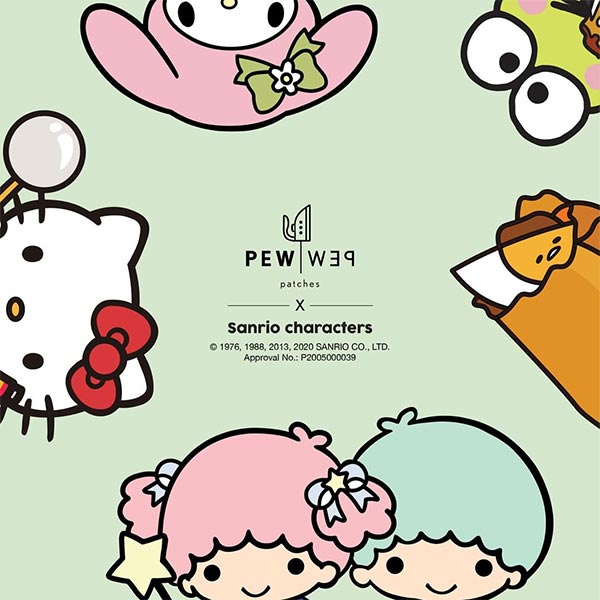 Starting from June, there will be 2 collections launched every month. The first drop featuring Keroppi is already available on Pew Pew Patches' website. The next drop for this month is Decorative Tiles, which sees the Sanrio characters integrated into Peranakan-inspired tiles.
Come July, Gudetama and My Melody patches will be released. Lastly, Hello Kitty and Little Twin Star patches will be out in August.
Let's take a look at the first collection!
Kerokerokeroppi collection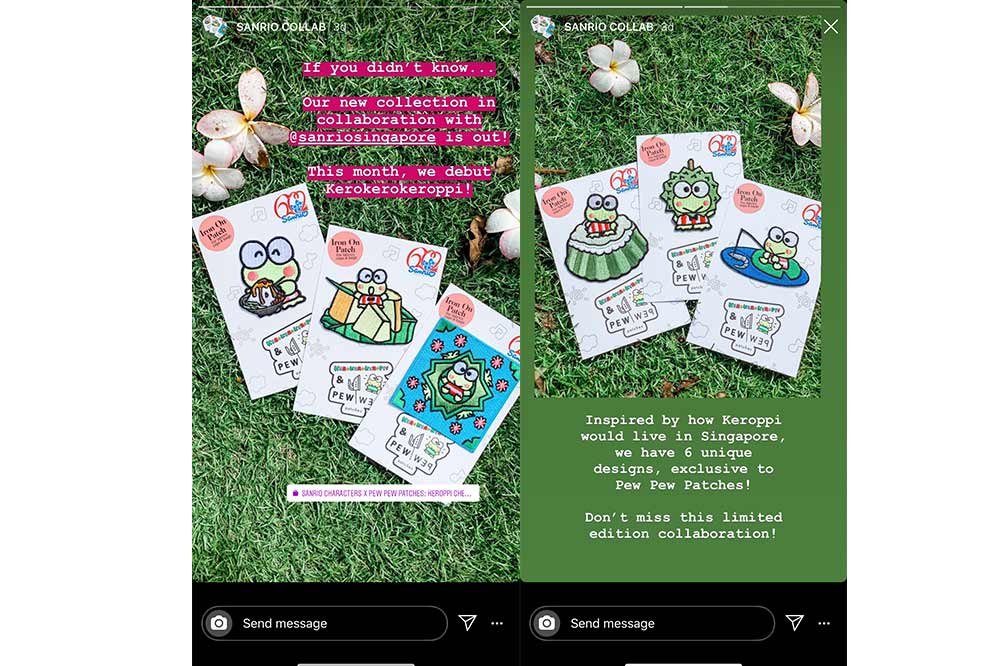 There are 6 Keroppi patches in total. You can choose from iron-on and sticker patches at $9.90 each. The colour palette is predominantly green, like the frog himself.
When asked about green-coloured food in Singapore, the first items you'd think of are probably durian and pandan cake. The Sanrio x Pew Pew Patches feature Keroppi in a durian costume as well as frolicking amidst slices of pandan cake. Wearing a red-and-white striped ensemble and a bow tie, he couldn't be more aptly dressed for his Singaporean adventure.
The Keroppi Durian patch measures 60mm tall by 49mm wide. The Keroppi Pandan Cake patch measures 54mm tall by 70mm wide.
Also read:
The next 2 dishes to be put in the spotlight are chendol and putu ayu. Most people would be familiar with the former. The latter, however, probably means Keroppi is getting a culinary tour from an in-the-know Singaporean foodie. The sweet treat consists of a steamed pandan sponge cake topped with coconut. You can find it in Singapore, Indonesia and Indonesia.
The Keroppi Chendol patch measures 55mm tall by 47mm wide. The Keroppi Putu Ayu patch measures 70mm tall by 64mm wide.
Singaporeans love food but that's not all there is to us. The last 2 Keroppi patches see the frog going prawning, which is pretty hilarious (or dark) considering he too lives in a pond. Lastly, he is depicted as part of a Peranakan-inspired tile, a sight tourists would be greeted by when visiting various cultural landmarks in Singapore.
The Keroppi Goes Prawning patch measures 44mm tall by 70mm wide. The Keroppi Tile patch measures 70mm tall by 70mm wide.
The Sanrio x Pew Pew Patches Collection Sees Sanrio characters Going On An Adventure In Singapore ⁠
If your favourite Sanrio character isn't Keroppi, fret not. You can look forward to seeing Hello Kitty, Gudetama, My Melody, Kiki and Lala reimagined as Singaporean food and more when the rest of the Sanrio x Pew Pew patches collections are unveiled. The image above is a clue to what fans can expect. Think: Gudetama as soft boiled eggs alongside kaya toast and My Melody having a dip in bandung.
The Keroppi patches are already available for purchase on Pew Pew Patches' website. Stay tuned to its Instagram account for updates on when the remaining collections will be released.
All images courtesy of Pew Pew Patches.
Also read:
These Kawaii Sanrio Glasses With Matching Stirrers Starring Hello Kitty & Friends Will Soon Be Available At 7-Eleven