Locations To Propose In Singapore
Congratulations if you searched for this article on where to propose. You have found someone you would like to spend the rest of your life with and it's time to take your relationship to the next level by asking the question of your life (and also to collect those keys to the newly constructed BTO).
We know that feeling. You want to 'trap' her, but you are clueless about how and where to ask her for her hand in marriage. So to help you increase the odds she'll say yes, we found these romantic places that will turn her eyes into heart-shaped emojis and convince her to say "I do".
Also because ZULA writers are hella extra, we also included detailed map descriptions on the shortest walking distance (if you are planning to blindfold her), parking locations, and parking charges for each location.
1. Hort Park
Hort Park is a popular spot for company and wedding events. We found two alternatives within the compound that would get her to say "I do". Other than her parents' approval, 5-minute speech and engagement ring.
Location 1: HortLawn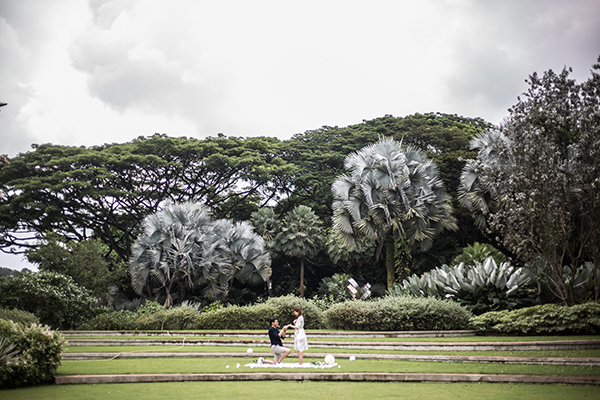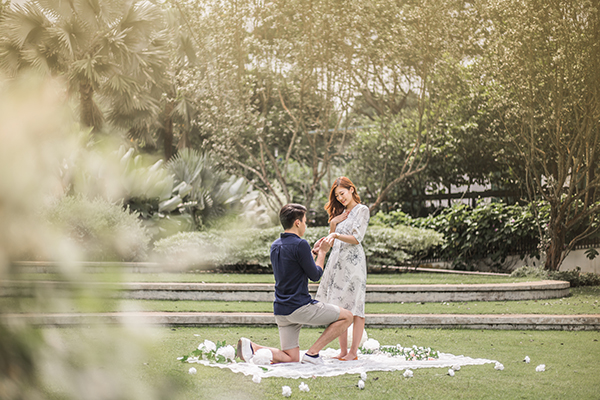 Hort Lawn is quiet enough with minimal disruptions for an intimate proposal surprise. A permit, which can be booked via their website, is required if you wish to use the location for events. The area can accommodate up to 600 people (standing) and 350 people (sitting). Not bad for an outdoor wedding dinner too, we think.
Bring portable fans to stave off the heat as Hort Lawn lives up to its name (it is really hot).
Location 2: Located next to the MPH (multi-purpose hall) parked next to the HortLawn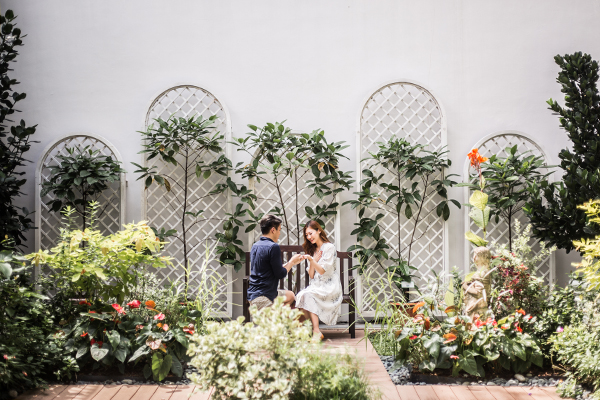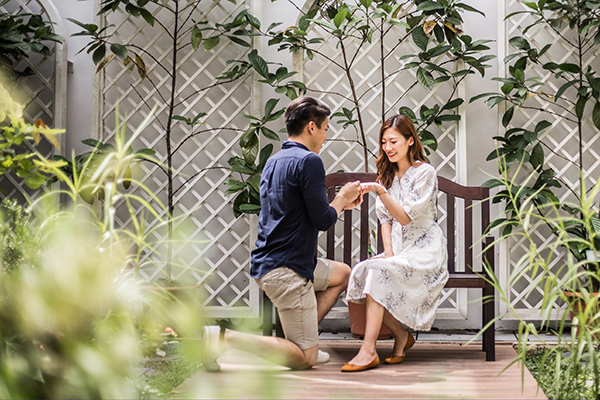 The indoor garden has a soft, Victorian vibe and would be great for the shy couple who wishes to have some private time together.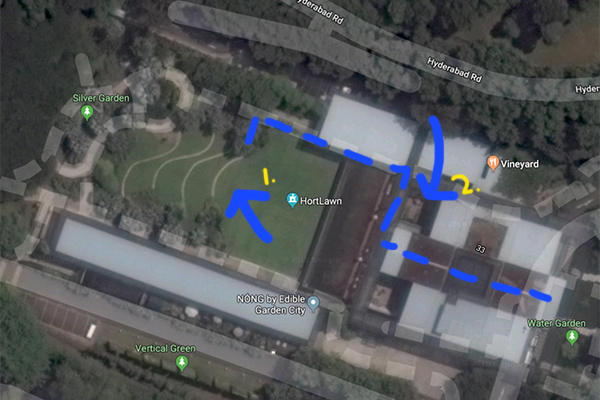 Address: 33 Hyderabad Road, S(119578)
Nearest parking: Hort Park (155 parking lots available, starting from S$0.50 per 30 minutes)
2. Swan Lake at Botanic Gardens
Forget about the over-hyped white pavilions at the entrance of Botanic Gardens. We found a similar venue at a secluded part of the garden, where people don't usually venture to due to its 2.2km distance from Botanic Garden MRT.
We highly recommend this alternative pavilion as it's next to a quiet swan lake (with two majestic white swans!) which you can walk along and take a romantic stroll to the MRT after.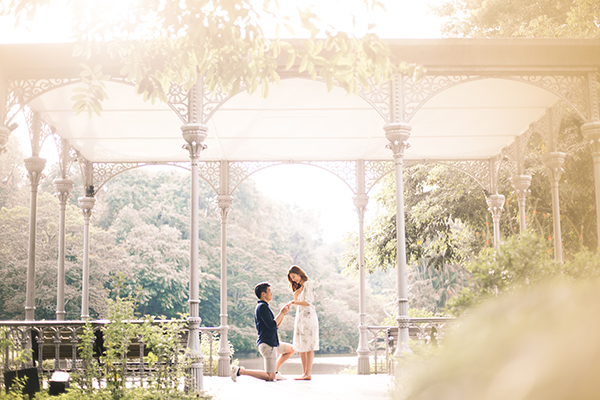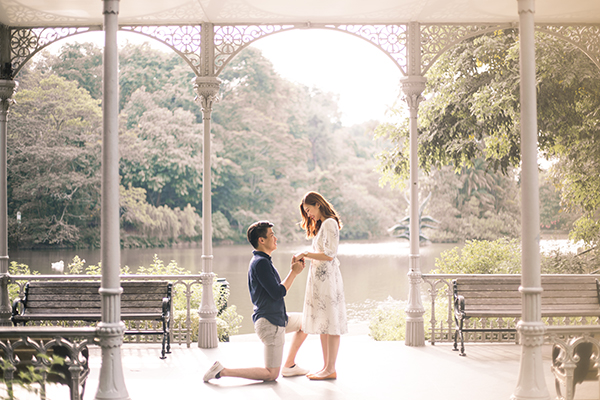 With the right photography skills, the pavilion offers a dreamy Korean vibe that will trick your friends into thinking you proposed in Korea. TBH, no one will notice unless they read this article too.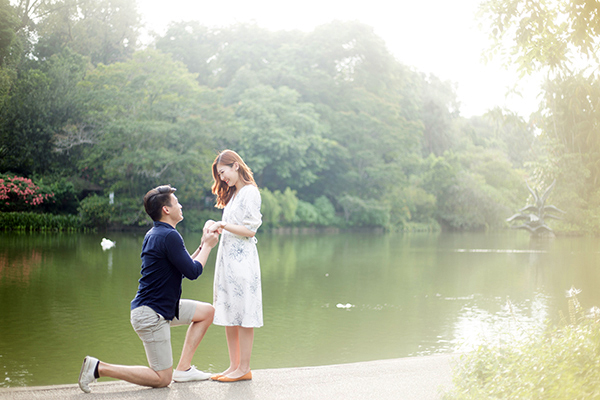 If you are going by car, head straight to the Cluny Park gate located along Tanglin Gate. I would recommend that you don't drive because the nearest parking lot is a seven-minute drive away (2.1km walk). The pavilion is hard to miss; take the left turn at the entrance and walk for about three minutes.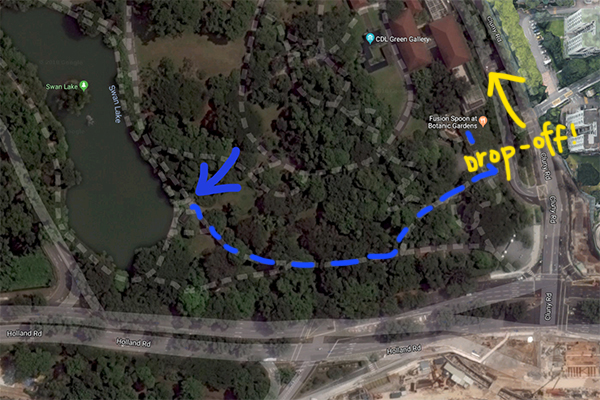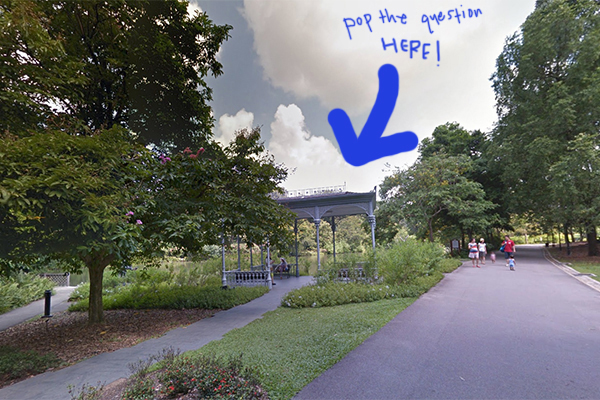 Address: 1 Cluny Road, S(259569)
Nearest parking: 1A Cluny Rd, Raffles Building, S(259597) (90 parking lots available, S$2 for two hours of parking)
3. Canterbury Road
Canterbury Road is bathed in a golden hue when the clock strikes 6.30pm, so set up your tripod on video mode and be on alert from 6.15pm onwards. Lead her to this spot for a romantic picnic away from the crowds and pop the question when the evening light hits.
Note: the golden hour differs according to the different areas in Singapore and is highly dependent on how cloudy the skies are as well.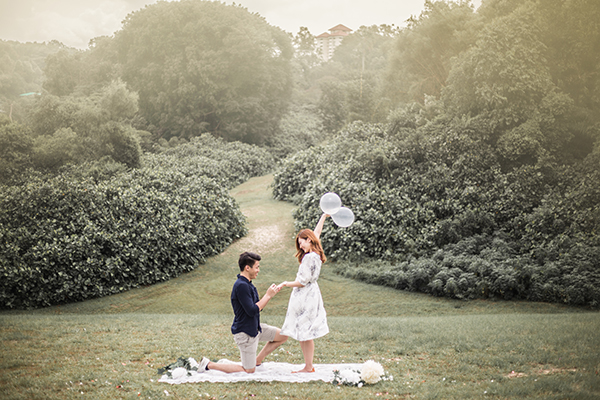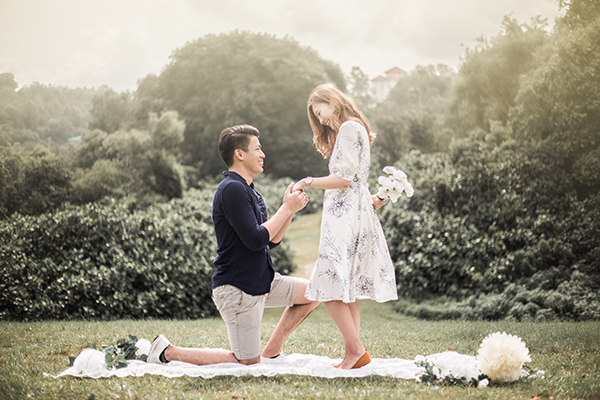 Pro tip 1: When proposing, don't bother about photos because holding a remote control, your (very expensive) ring and your lover's hands will probably cause panic. Videos are a more convenient and way more meaningful way to capture proposals. If you wish, invest in audio equipment which you can easily hide within a picnic set up to capture her saying "yes".
Pro tip 2: Canterbury Road gets pretty warm in the afternoon, so bring portable fans so that your girlfriend will not suffer a heat stroke and whine about going home before you pop the question.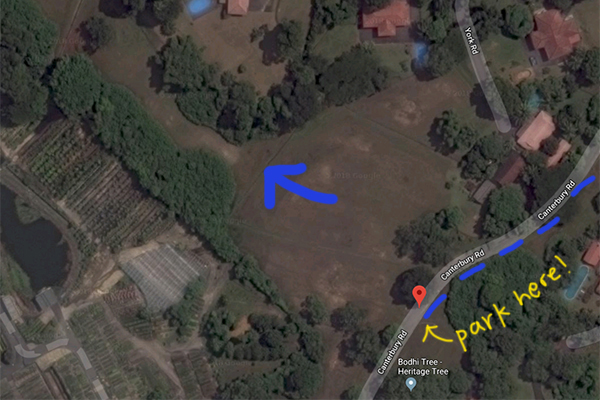 Address: Canterbury Road, S(119800)
Nearest parking: Along Canterbury Road, next to Bodhi Tree (can accommodate one car only, free parking)
4. The Rabbit Hole
The Rabbit Hole is famous for its cuisine and chapel-like architecture. After all, the restaurant is housed in an old chapel built in the 1930s. With such long history as a church previously, one food critic joked in his review you'd often hear praises such as "Hallelujah" and "Oh my God" while dining because the food is that great.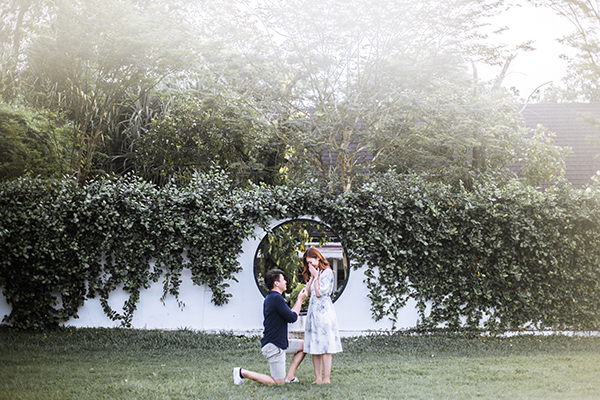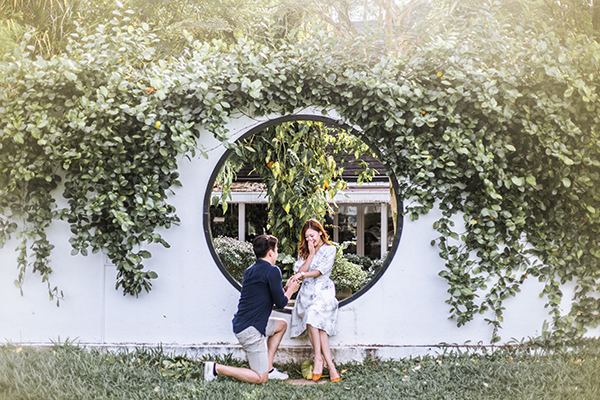 Most people would go straight to The Rabbit Hole signage inside the restaurant. But because you're a proactive boyfriend, look for alternative angles like this one at the back of The Rabbit Hole.
For an even bigger surprise, hide her friends and family in the restaurant so they can pop out behind her once you seal the deal.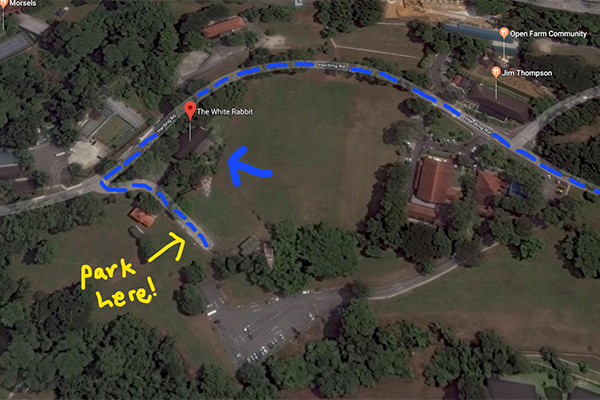 Address: The White Rabbit, 39C Harding Road, S(249541)
Nearest parking: Side road at the back of The White Rabbit (able to accommodate up to five cars, free parking)
Also read:

5. Chijmes
A classic location to consider would be CHIJMES. Set in the heart of the city, she wouldn't suspect a thing if you guys are set for a day of shopping. There are various sweet spots within the compound for the conservative girlfriend.
Location 1: Beside the chapel, at the main entrance of CHIJMES
Walk towards the left side of the chapel when you enter the premises.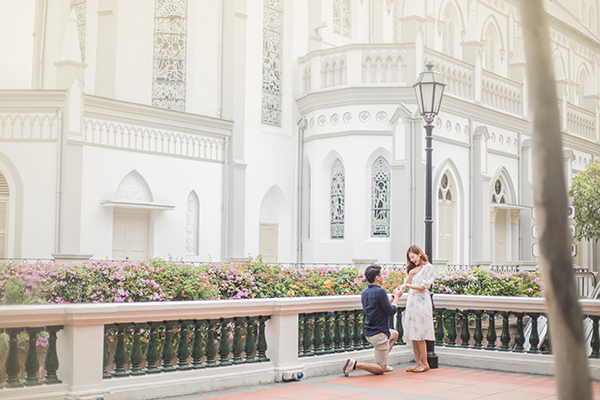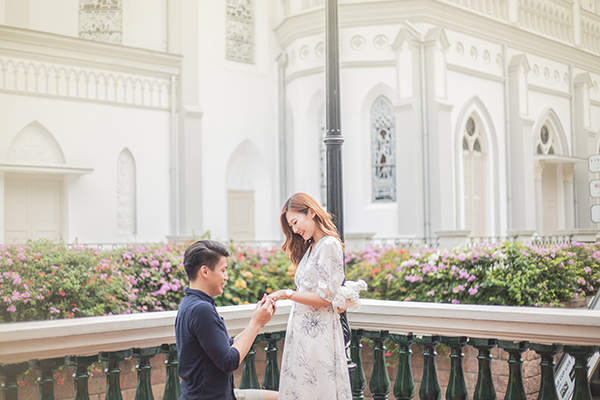 Location 2: Corridors of CHIJMES, left side of the chapel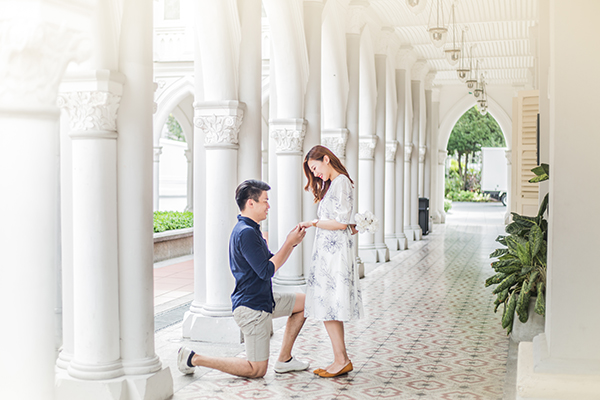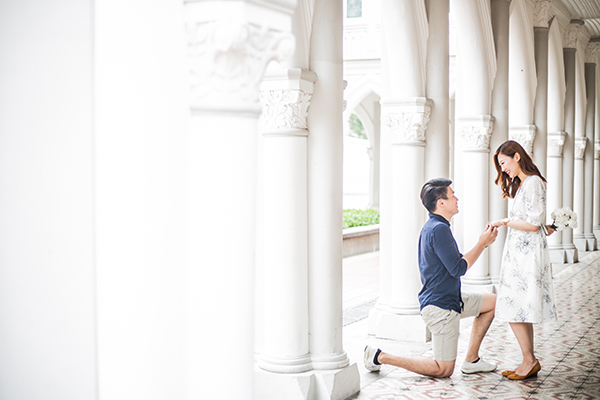 Location 3: Entrance of CHIJMES hall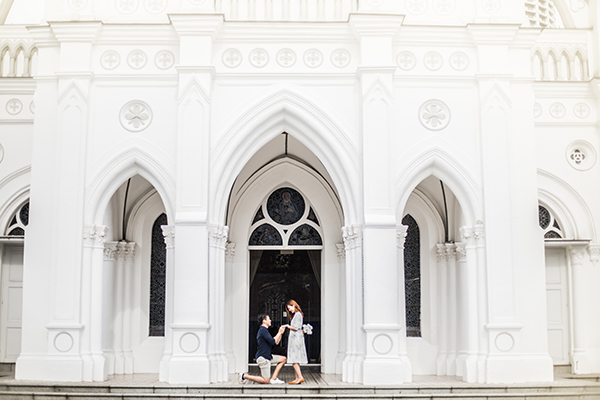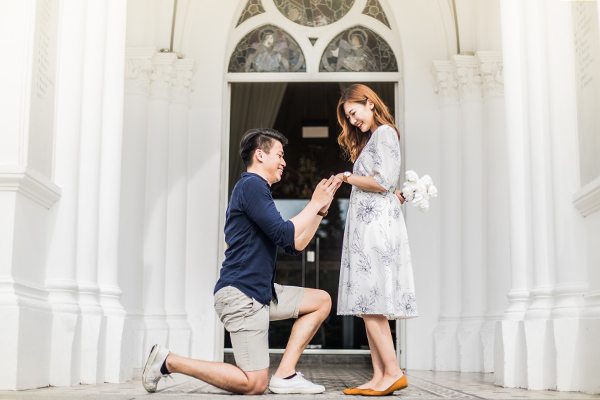 Set against the famous CHIJMES chapel built in the 1840s, the pristine walls make the building look as if it hasn't aged one bit. The whitewashed architecture and well-maintained corridors make for a beautiful photo op.
Make a reservation at one of the restaurants for a romantic candlelight dinner after. We recommend Tatsu for Japanese Cuisine and White Grass for fancy modern Australian fine dining.
Address: CHIJMES, 30 Victoria Street, S(187996)
Nearest parking: CHIJMES (99 parking lots available, starting from S$1.10 per hour)
6. Japanese Garden
We love how the Japanese garden looks nothing like Singapore so you can bluff your Facebook friends that you proposed overseas and not Jurong. We came up with three options you can consider for your proposal.
Location 1: Entrance to the Japanese Garden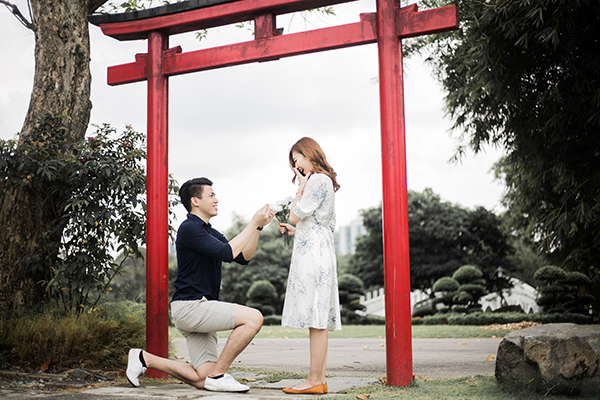 Location 2: Beside the main garden office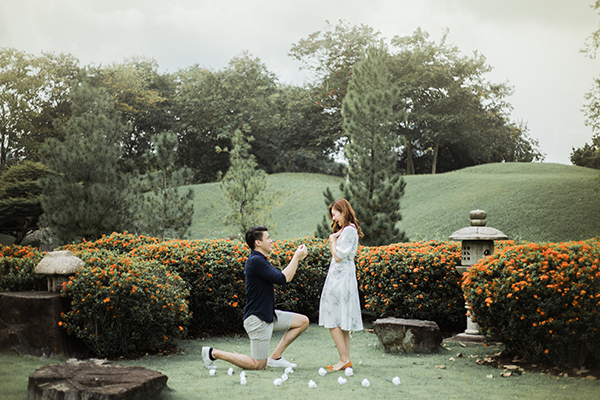 Location 3: Bridge across a stream/mini river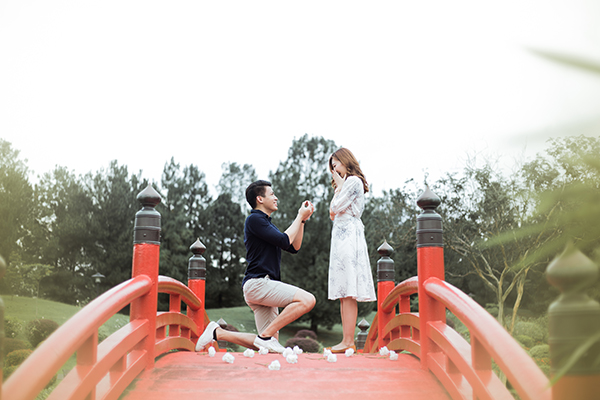 If you decide to bring friends and family, have them stand on the other side of the bridge. There is a 30-metre pathway next to the bridge which leads to a turn where they can comfortably wait.
As it is an estimated 15 minutes walk from the MRT station, plan well to make sure none of your friends and family are late. And because there's only one entrance, stagger their arrival as you wouldn't wish to bump into familiar faces and give away the surprise.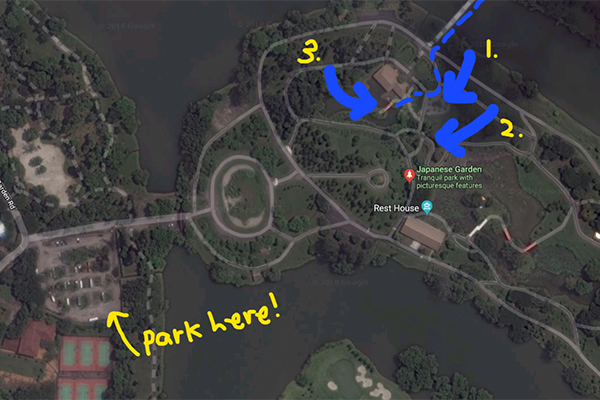 Address: 1 Chinese Garden Road, S(619795)
Nearest parking: Limited free parking lots from 6.00am to 7.00pm daily, next alternative car park at Chinese Garden
7. White Rainbow Bridge at Chinese Garden
The bridge that takes you from Chinese Garden to Japanese Garden was so photogenic we just had to add it to the list. Built in 1975, the white rainbow bridge is extremely photogenic.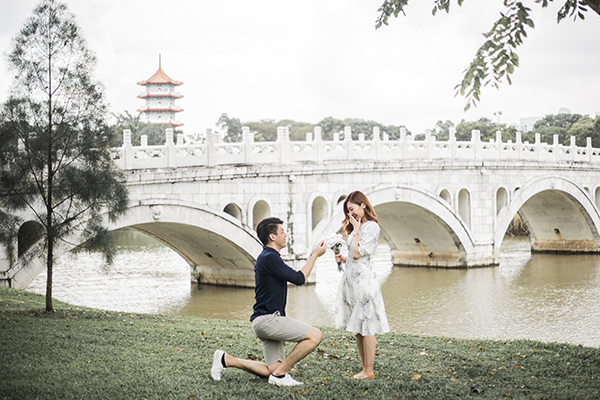 Address: 1 Chinese Garden Road,  S(619795)
Nearest parking: Japanese Garden Road (limited free parking lots from 6.00am to 7.00pm daily)
Popping The Question
If she doesn't mind the attention, arrange for friends and family to be there when it happens and if you prefer a more elaborate proposal, get help for venue decor (ask your arty friends for help or hire a planner).
Before you leave the house, calm your nerves and run through this mental checklist, have you:
-Formally asked her parents for their blessings?
-Double checked her ring size to make sure the ring fits?
-Packed the ring on the day of the proposal (set an unsuspecting alarm that she won't be suspicious of)?
And if you want a step-by-step guide on proposing and type of ring to get:

While the dreamy venue you picked out would definitely leave her with great memories, what comes from the heart is the most important. Prepare a sincere speech and make sure you follow through your promises and vows. All the best, and a big congratulations from the Zula team!
Also read: