Pomelo x Peanuts
May might be the month of graduation, but for those who are heading back to school for a new semester, Pomelo has got your outfits covered with their latest collection. 
Featuring the adorable characters of Peanuts like Snoopy and Charlie Brown, the collection includes statement pieces like vests and tops, which can be easily layered on. Read on to find out more deets about the fashionable pieces. 
Tops
T-shirts are foolproof tops that can never go wrong. On this piece of Snoopy & Charlie Brown Tee, Peanuts gives a nod to the two characters' friendship by connecting them with a telephone cord.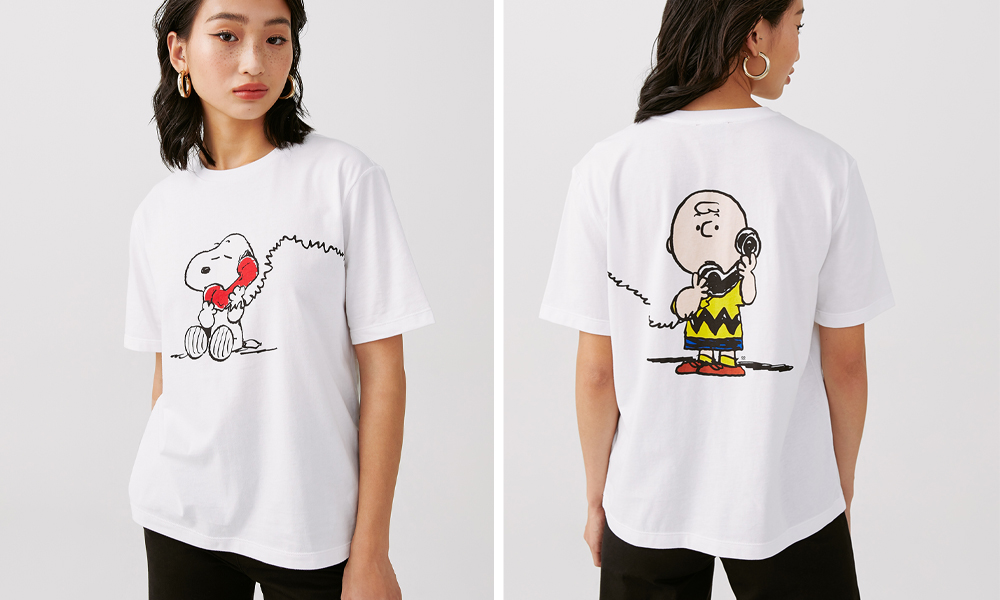 Snoopy & Charlie Brown Tee, $29.90
Snoopy appears on the front of the T-shirt, whereas Charlie Brown is on the back —  the receiving end of the phone call. Since the design of the telephone cord goes past the side of the T-shirt, the detail makes the T-shirt a lil' more unique.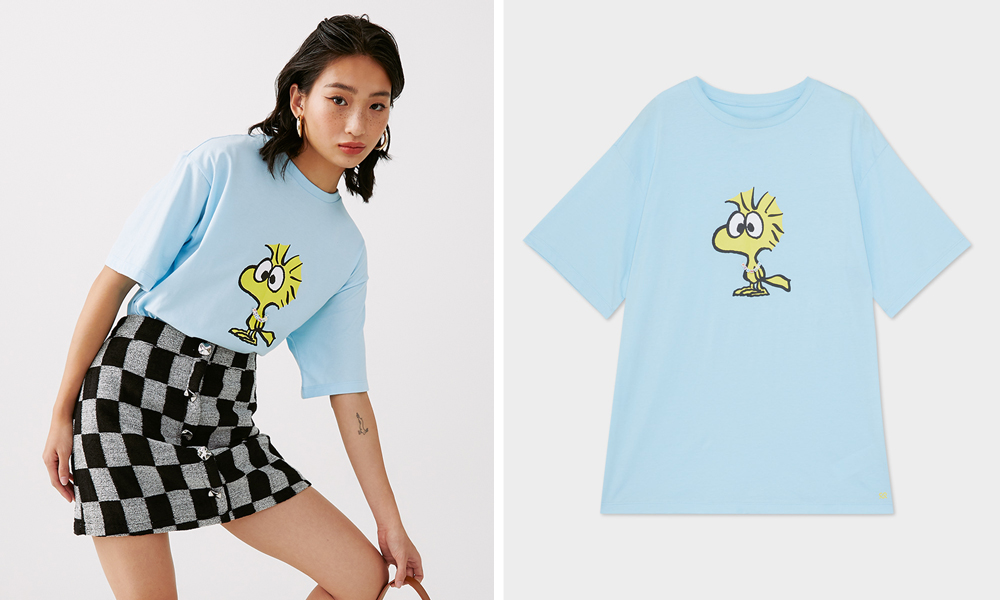 Woodstock Tee, $29.90
If you prefer something simple, this Woodstock Tee might pique your interest. Available in light blue, the T-shirt features Woodstock right in the middle, with a chain of colourful alphabet blocks that read "Peanuts" hanging around his neck.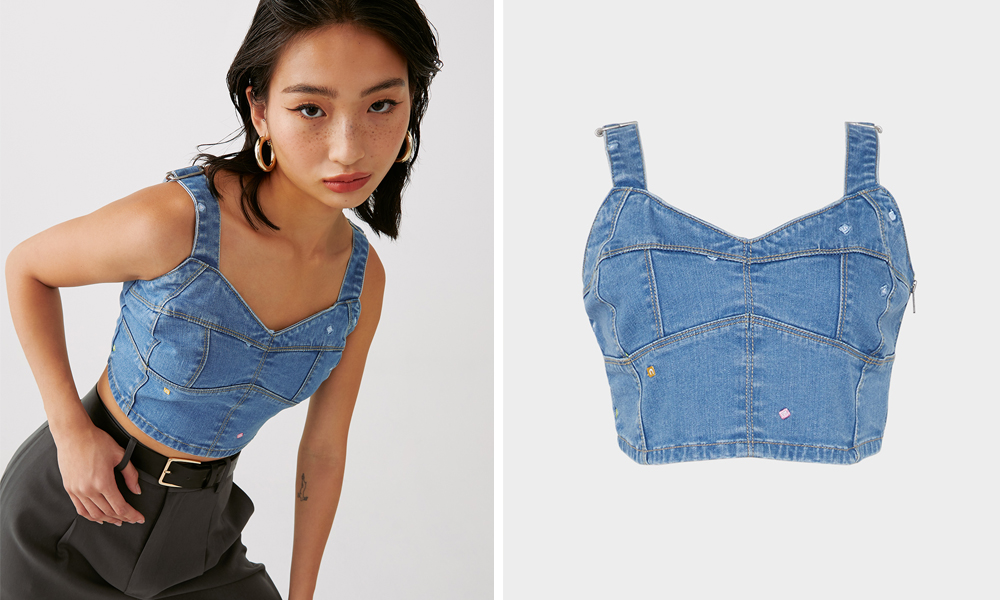 Embroidered Tank Top, $39.90
At first glance, the Embroidered Tank Top might appear plain, but upon closer inspection, you'll find embroideries of alphabets in different colours. Pair it with a pair of high waist pants for that retro and vintage look.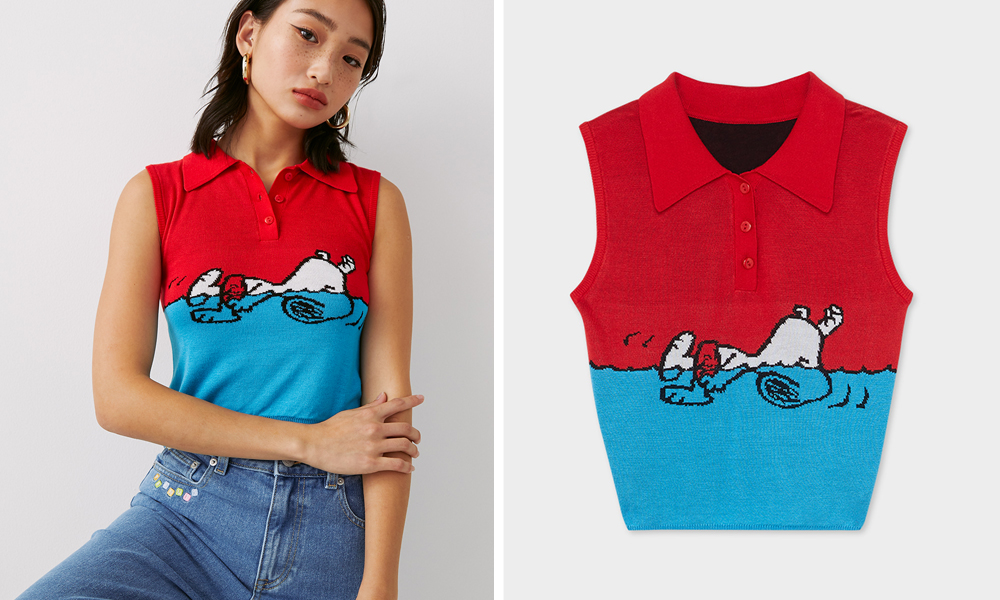 Snoopy Sleeveless Polo Top, $39.90
If you didn't already know, Snoopy actually enjoys swimming. Wearing a pair of red swimming costume, the happy-go-lucky dog relaxes in the water while backstroking as seen on this Snoopy Sleeveless Polo Top.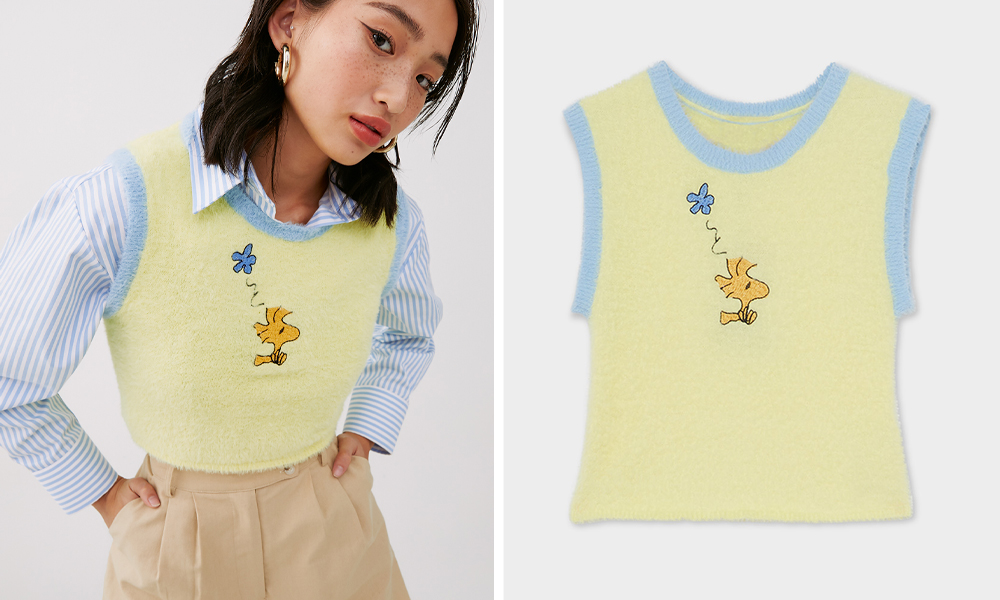 Two Tone Fuffy Top, $39.90
Sweater weather in Singapore is probably the rare chance when Singaporeans get to put on a vest. If you plan to wear one soon, consider this Two Tone Fuffy Top. The light blue and lime yellow colour palette provides a pop of colour to your OOTD, and the vest is also suitable for layering with other tops. 
Cardigans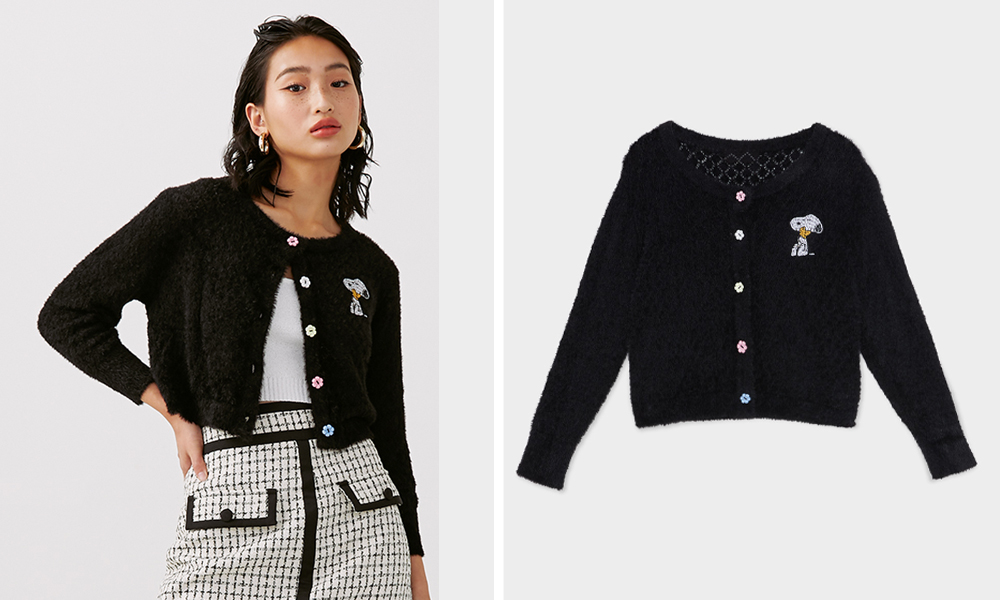 Snoopy Cropped Cardigan (Black), $59.90
Who says you can't look cute when you're feeling cold — especially when you put on this Snoopy Cropped Cardigan. Featuring an embroidery of Snoopy on the left, the cardigan also comes with pastel flower buttons for a snugly fit.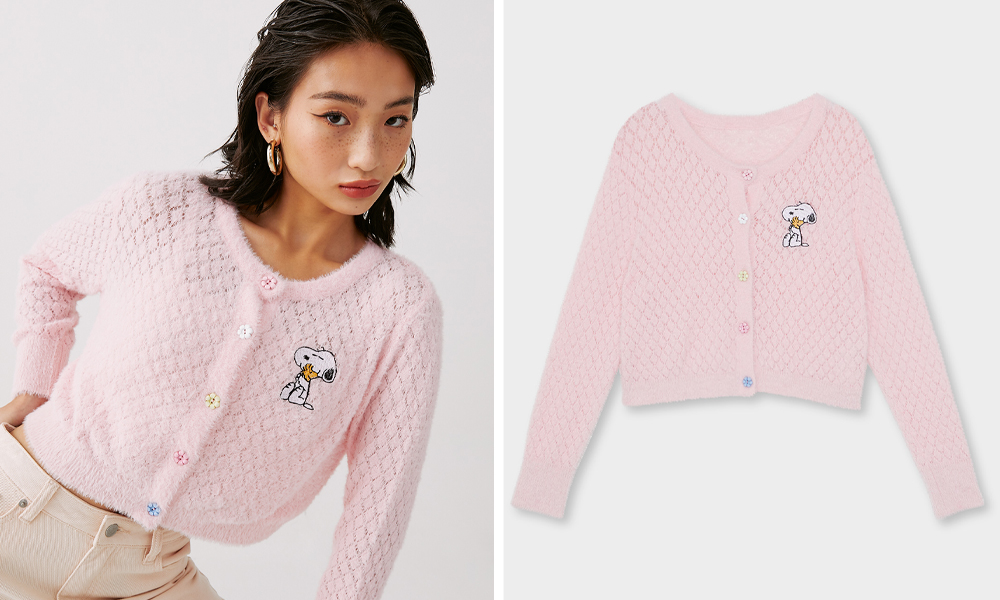 Snoopy Cropped Cardigan (Pink), $59.90
Don't worry if black is not your shade, as Pomelo also has the cardigan in pink. This way, you can go for a sweet and soft look when you rock the cardigan. As the cardigan has a fluffy texture, rest assured it would keep you warm throughout cold days. 
Bottoms
If you prefer to express your love for the Peanuts gang in a subtle manner, there's no better way to do it with this pair of Snoopy Embroidered Jeans.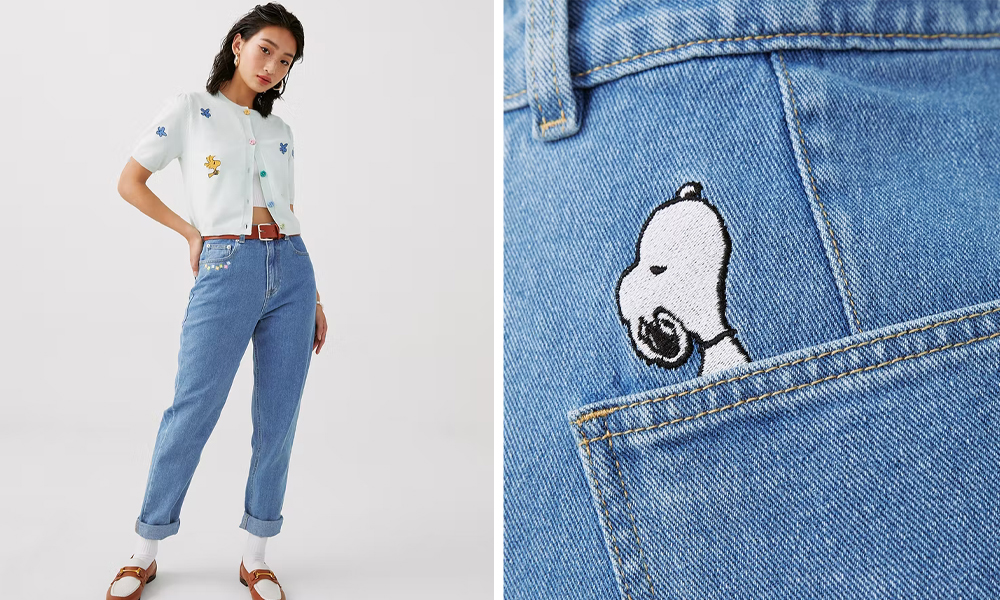 Snoopy Embroidered Jeans, $64.90
On the front right pocket, you'll find the embroideries of alphabet blocks making an appearance again. Whereas on the back, Snoopy makes a delightful surprise by sticking his head out from the back pocket.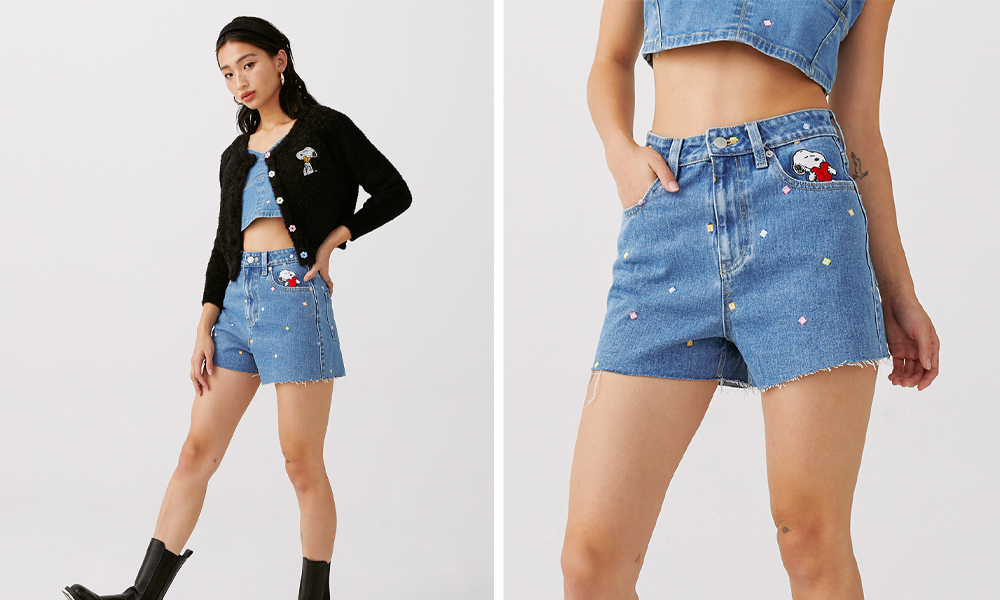 Snoopy Embroidered Shorts, $51.90
Chances are, you'll go uwu when you see this pair of Snoopy Embroidered Shorts, as Snoopy greets you while holding a heart. Apart from that adorable element, the embroideries of alphabet blocks also add colours to the denim shorts. 
The Pomelo x Peanuts Collection Adds Colours to Your Daily OOTD
If you're looking forward to attending a new school semester with unique looks and outfits, perhaps the Pomelo x Peanuts collection would provide you with some inspiration. The Pomelo x Peanuts collection is available from 11 May 2022 on the Pomelo iOS and Android App, online and in-stores worldwide. 
All images courtesy of Pomelo.
Also read: 
Pomelo x Betty Boop Has Y2K-Inspired Vests & Skirts To Prepare You For A Flirtatious Hot Girl Summer