DIY Pre-Wedding Photography
With Valentine's Day right around the corner, we paired up two photographers who were game to prove that pre-wedding photography could be done on your own with some creativity.
Armed with a camera (DSLR/compact), a tripod, and Photoshop, they visited various shoot locations in Singapore to recreate these looks, and show you how you can save your money for more Hai Di Lao dates.
1) Moody nature vibe with a tree trunk
Original photo: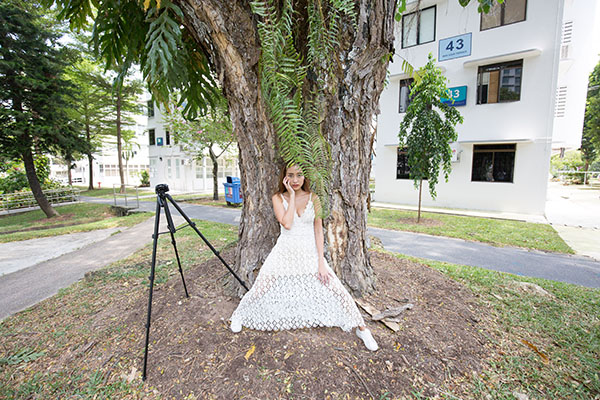 Address: Moh Guan Terrace next to Tiong Bahru Market
Play around with random branches and leaves as they provide an atas feel to any picture. If you struggle with facial expressions, a great trick is to look 'lost'. After all, you are in the wilderness.
Pro tip: Bring a small stool if you don't wish to have cramped thighs from holding a half squat.
2) Oriental vibe with Chinese New Year decorations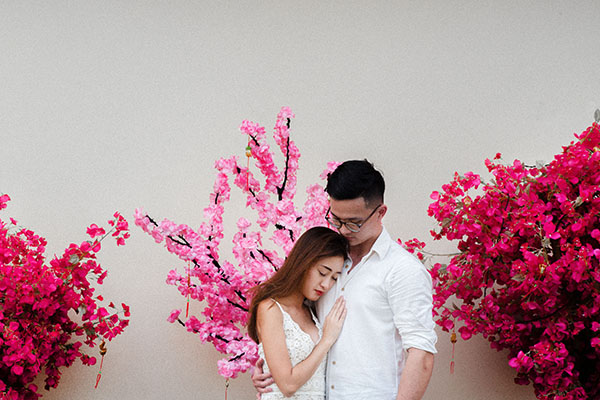 Original photo: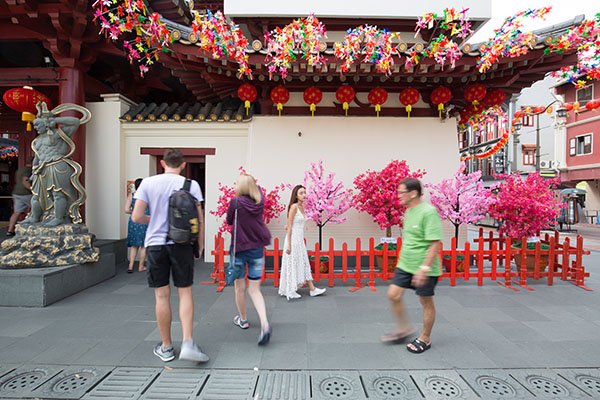 Address: Buddha Tooth Relic Temple and Museum, Singapore
Take advantage of the upcoming Chinese New Year decorations everywhere, and pretend you're in Hokkaido/not sweating to death in Singapore.
Pro tip: Plastic cherry blossoms in Chinatown can look real after you slap on a VSCO filter to your picture. We also shaded the 'cherry blossoms' in Photoshop to give the picture more 'depth'.
3) Minimalist chic at a HDB staircase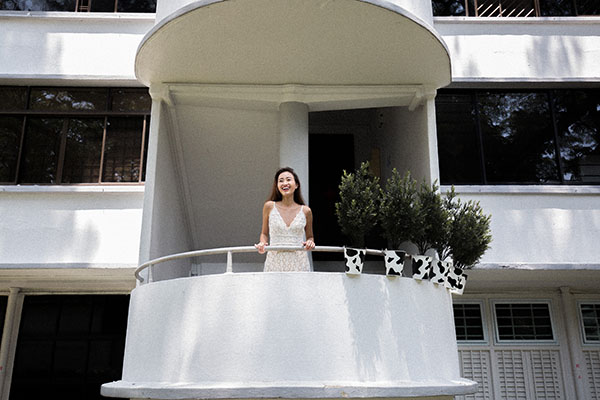 Original photo:

Address: Moh Guan Terrace
Some HDB staircases look so fly, they deserve more attention. But if you can't impress, distract.
It doesn't hurt to over-exaggerate your facial expressions if the location isn't fantastic. No one would fault a happy bride-to-be.
Pro tip: The magic word is "cropping". Unless you feel like giving oBike a quick shoutout in your wedding pictures.
4) Outdoor fun at a badminton court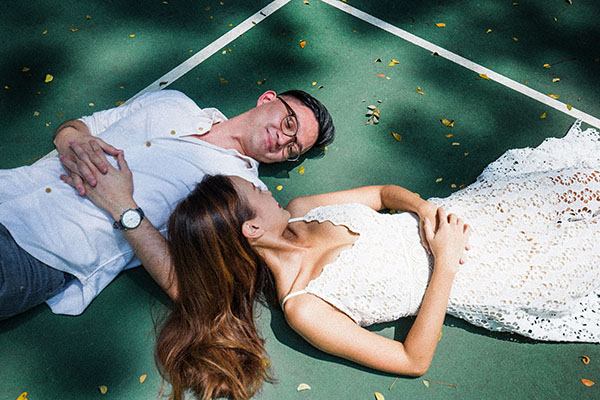 Original photo: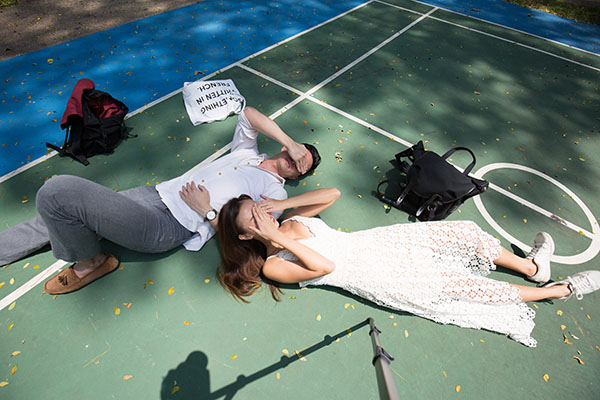 Address: Bukit Batok Central
Turn your weekly badminton games into a memory that'll last forever at the neighbourhood courts peppered around every estate.
You might get stared at by random neighbours, but hey, all for the gram?
Pro tip: Also, remember to use Meitu XiuXiu to remove all the birdshit stains on the floor like we did.
5) Traditional shoot at a Chinese temple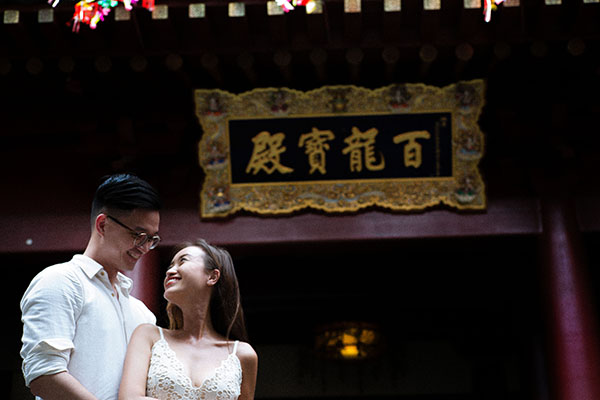 Original photo: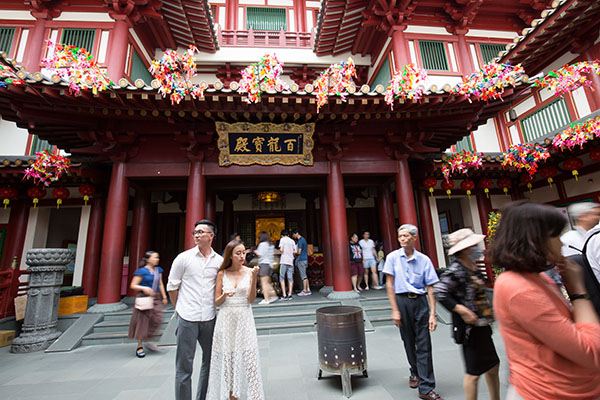 Address: Chinese temple opposite Ann Siang Street
The next time you walk past a Chinese temple, feel free to pop in for a shoot recce. If there are too many passersby, aim the camera upwards like how we did in the first picture.
Pro tip: Don't be shy about this one. There is a 50/50 chance that the security guard might chase you out, so try not to bring too many props and GTFO in 10 minutes.
6) Old school vibe at random person's house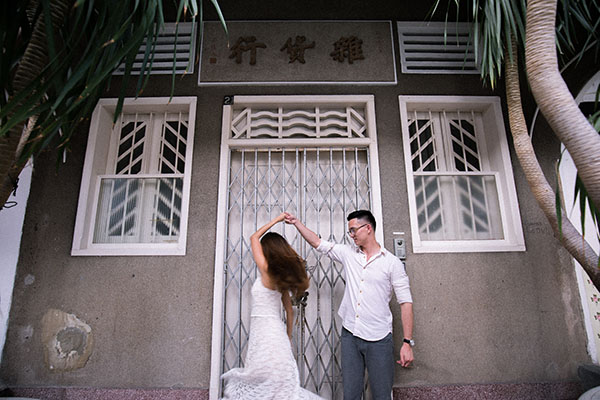 Original photo: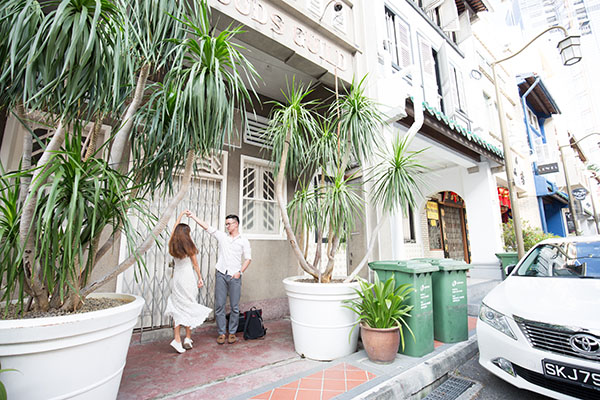 Address: Ann Siang Hill
Pro tip: People actually live here so try not to get caught. If you do, run away and remember to take your camera with you.
7) 'Beverly Hills' palm tree vibe at Tiong Bahru HDB estate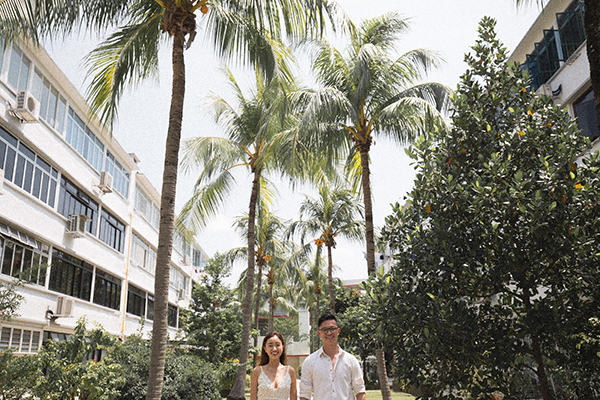 Original photo: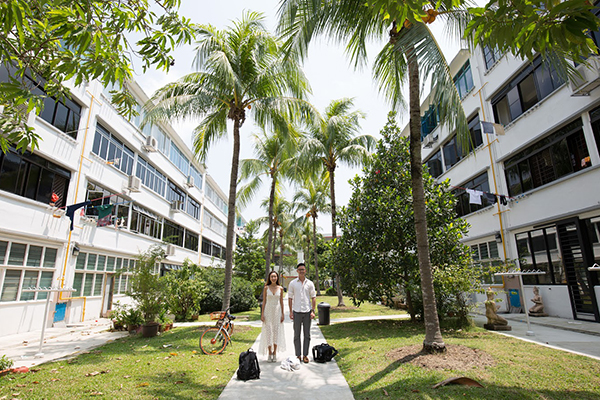 Address: Tiong Bahru
Pro tip: Not every picture needs to be a full-length shot. Play with angles and look for interesting details—coconut trees can magically transform Tiong Bahru into Beverly Hills.
Wedding Photography With Tripod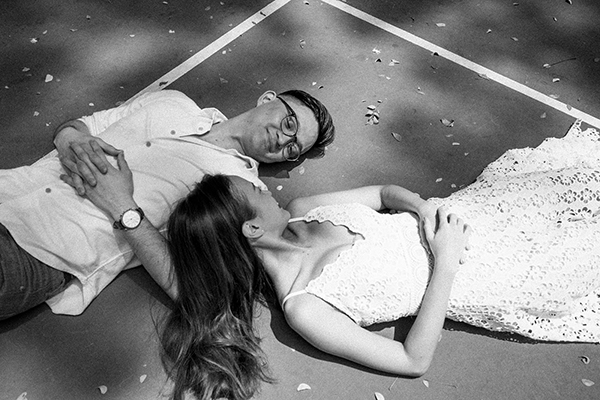 While there are certain angles and shots that are best taken with photographers who've had years of experience, more budget-conscious couples might wish to experiment with DIY photos. Perhaps not only for your wedding, but special occasions too.