Jacuzzis in Singapore 2017
When we daydream about the ultimate weekend getaway, we'd picture ourselves relaxing in a bathtub with a glass of bubbly and our eyes covered by cucumber slices. Better yet if our lovers are on the other end, massaging our feet.
While it's romantic to soak in a bubble bath together, having the powerful jet streams of a private jacuzzi massage our sore muscles is a definite upgrade.
If this sounds like your ideal date, here are 10 luxurious jacuzzi experiences found in Singapore to turn your daydream into reality.
Disclaimer: Prices vary according to season. Please check with each hotel for more information.
1. Klapstar Boutique Hotel, Klapstar Suite
Source
What better than an outdoor private jacuzzi which doubles as a bath tub? If you're feeling especially naughty, go skinny-dipping with your boo when it's late at night.
Price: S$550++/night
Address: 15 Hoe Chiang Road, S(089316)
2. THE RETREAT Spa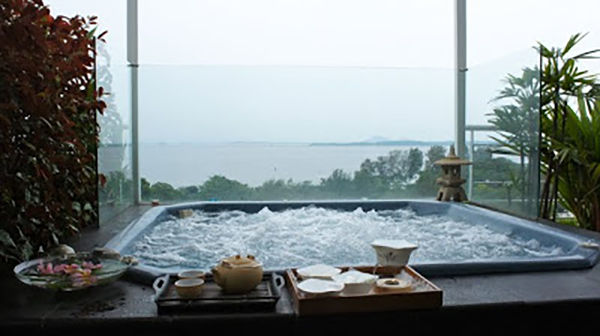 For those who don't want to book an entire room for a jacuzzi experience, enjoy the same jet stream powered massage at THE RETREAT Spa instead. Part of the premium spa package, the 45-minute session includes hot tea and a chocolate fondue for maximum indulgence.
Price: Packages start from S$90
Address: 1 Netheravon Road, S(508502)
3. Shangri-La's Rasa Sentosa Resort & Spa, Sentosa Suite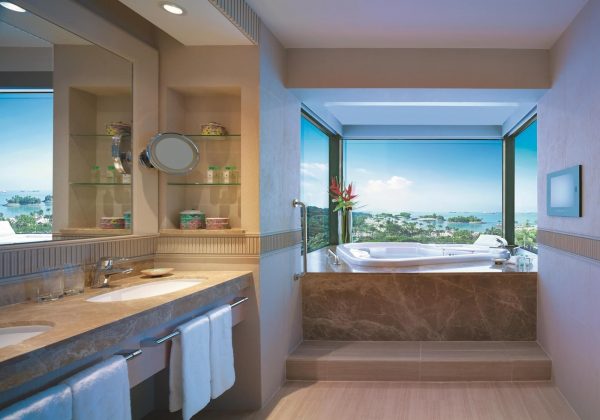 Unwind in your private in-room jacuzzi against the stellar backdrop of Sentosa island. If watching the sunset from your jacuzzi tub isn't romantic enough, head to one of the many seaside restaurants for an intimate dining experience.
Price: S$1200++/night
Address: 101 Siloso Road, Sentosa Island
4. The Scarlet Singapore, Passion Suite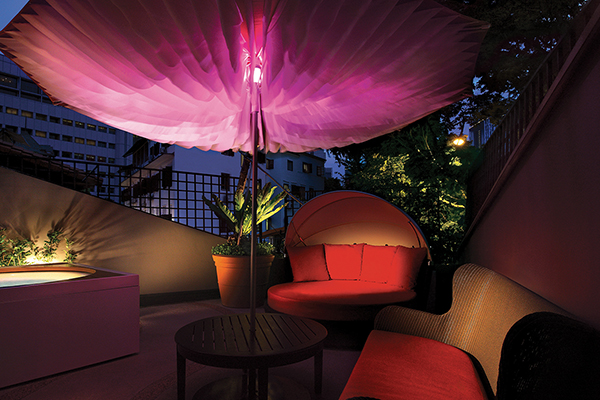 With exotic python, patent leather and leopard prints, the Passion Suite at the Scarlet Singapore makes for a sensuous rendezvous location. At this beautifully-furnished suite, the private outdoor jacuzzi is the cherry on top.
Price: S$700++/night
Address: 33 Erskine Road, S(069333)
5. Capella, Constellation Room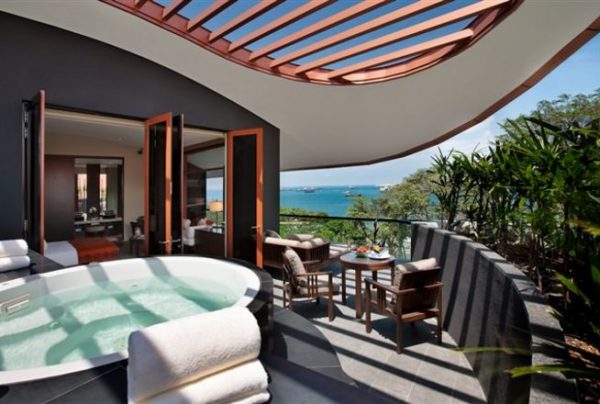 Fancy a private jacuzzi or an open concept shower in your very own balcony? At Capella's Constellation Room, you can choose between looking into the tropical rainforest, or the breezy South China Sea.
Price: S$1200++/night
Address: 1 The Knolls, Sentosa Island
6. Baysuites, Yacht Charter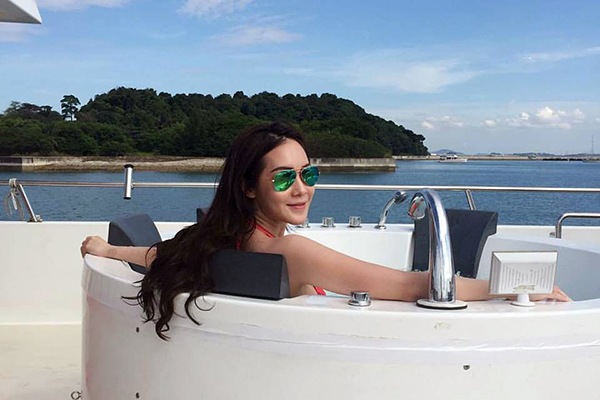 For a unique jacuzzi experience, hop on board a luxury yacht. Besides enjoying the sea view, you can enjoy fun activities like island-hopping and jet skiing as well.
Price: S$2200++/night
Address: (Baysuites yacht) 11 Cove Drive, #01-01, Sentosa Cove, S(098497)
7. Fullerton Bay Hotel, Premier Bay View room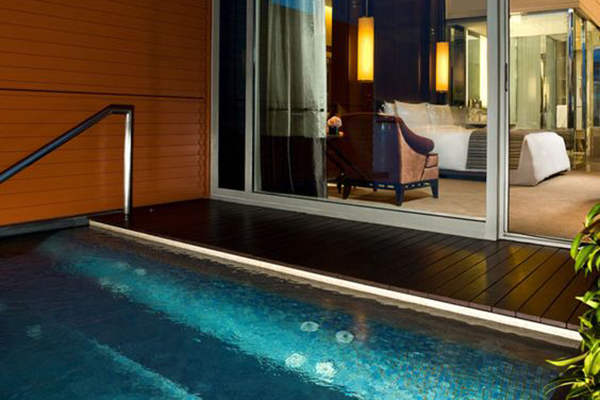 Adjacent to the Marina Bay waterfront, book the Premier Bay View room for an indulgent stay at the Fullerton Hotel. Sip on bubbly with your honey as you take in the Singapore skyline, all without having to leave the comfort of your ensuite jacuzzi.
Price: S$840++/night
Address: 80 Collyer Quay, S(049326)
8. Sofitel Singapore Sentosa Resort & Spa, Villa Du Jardin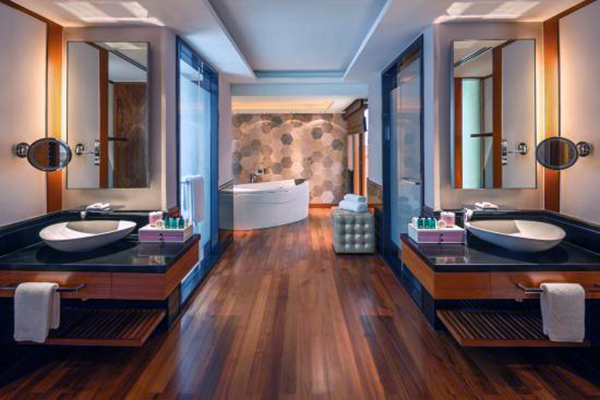 Run away from the concrete jungle and spend a weekend at the Sofitel Singapore Sentosa Resort & Spa. If you're done soaking in the jacuzzi, pamper yourself with the spa services available at the hotel.
Price: S$1800++/night
Address: 2 Bukit Manis Road, Sentosa
9. SO Sofitel Singapore, So Lofty Suite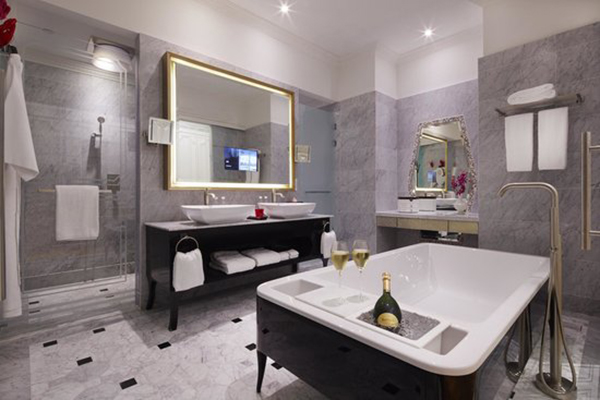 Get fancy with a weekend staycation at the Parisian-style So Lofty suite. Complete with a complimentary champagne breakfast, your boyfriend isn't the only one that'd make you go oui!
Price: ++S$960/night
Address: 35 Robinson Road, S(068876)
10. Hotel Clover, Double Room with Hot Tub (Outdoor)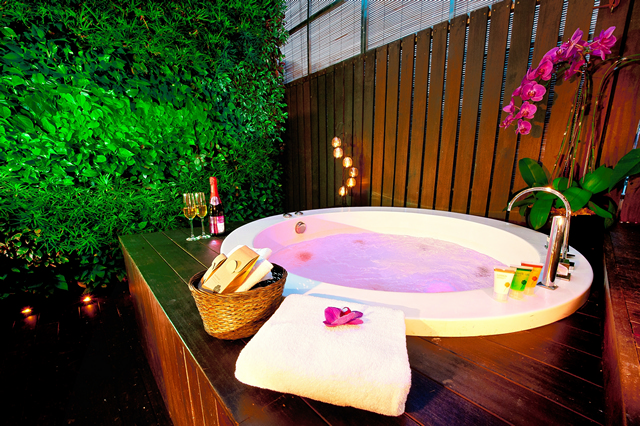 Conveniently located in the heart of the city, take star-gazing outdoors while easing tense muscles in a hot tub at Hotel Clover.
Price: S$420++/night
Address: 769 North Bridge Road
Weekend Staycation Ideas
With your own private jacuzzi, you don't just have to 'Netflix and Chill' in the hotel room or awkwardly share your personal space with strangers.
If you need more staycation ideas for a relaxing weekend, here are other beautiful bathtubs you can soak yourselves in.