Quarter-Life Crisis
As a child, people would always ask me what I wanted to be when I grow up, but now that I'm a grown up, all I wanna be is a kid again. We thought our 20s was going to be our heydey, but mostly, we're just wondering if we can go back to playing hopscotch after school instead of fretting about taxes and bills.
From financial struggles to premature body aches, here are six breakdowns we all go through as we inch towards quarter-life crisis.
Every tiny decision requires you to think twice
We can't even take an Uber without consulting every promo app available or cross-referencing it with Grab because every cent counts.
We used to get our hair done in all styles and shades on a whim. But now we're wondering if it's worth trying out that new rose-hued hair trend on Instagram. Can my brittle hair take it anymore? Is the hair loss or clogged follicles worth it?
And you literally start to lose your hair over things
It may be due to stress from trying to appear like you've got your shit together. Or the fact that you didn't budget your already-limited funds well this month. It's been instant noodles for dinner this week and the effects are showing.
You thought hair loss was reserved for your Ah Ma, but now you're starting to find clumps of black strands circling your bathroom drain.
 Well, at least no one can see our tears in the shower.
The dating game just isn't the same
The age old saying goes, "Men age like wine, and women age like milk". Probably because we've turned sour just hearing that snarky phrase.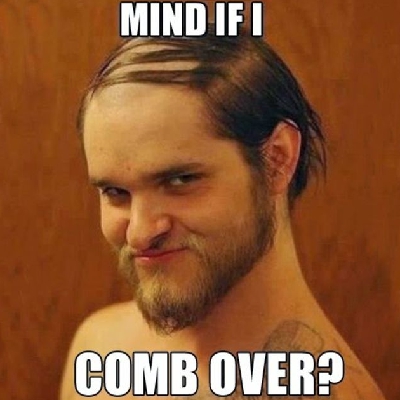 As you watch the "eligible bachelors" get snatched up, gone are the days of, "He has to be gorgeous, romantic, musically-inclined and 180cm tall!". You start to appreciate the smaller attractive traits in your partner. For example, not being a serial killer with a receding hairline.
Even your Instagram feed is rubbing it in
Baby pics, engagement statuses, wedding photos, proposals, more baby pics, more engagement statuses, and the list goes on. I'm happy for you I swear, but sometimes I'd like to surf the internet without being hit by an existential crisis TQVM.
How is it that I don't have a life, or money, but seem to be the only person stuck in the office while you guys sunbathe in Bali for the 10th time this year?
"Adulting" costs begin
You've spent too many years pursuing an expensive sheet of paper but now that you're stepping out into the "real world", you realise your degree isn't getting you to the places you want to go. Is it too late to turn back when you've only just started?
And what's this letter from the gah-men? Did I miss last month's bill? What's this tax about? Why is it that I can work my way through the most complicated algebraic equation, but still struggle in budgeting my expenses? More importantly, why do I have to visit the chiropractor for premature back pains at this age?
No one tells you just how expensive it is to insure your own life. Plus now, there's even COE and ERP to worry about.
When you're not tired from partying, you're just tired. Period.
No, you're not trying a new smoky eye, this is just your face by default. It's so severe that even your eye bags have eye bags. And when the light hits your face at the worst angle, you start to realise your days of fresh-faced adolescence left you without even saying goodbye.
TBH you can't remember the last time you let loose. Why would I want to wake up dry-mouthed, exhausted, and in pain from your head to your wallet? You know there's no party that could make the morning hangover worth it. On second thought, I'd rather stay home in my fluffy PJs, knowing I'd be able to get more than just my recommended seven hours of sleep.
Learning to Grow Up
Learning to accept things that can't be changed and changing things that you can't accept is part of growing up. It's time to start listening to our ageing bodies and start treating it with the TLC it needs.
We may have 99 problems, but hair loss doesn't have to be one of them. If your drain is starting to get more clogged with Sadako-looking black strands, it's time to get a scalp consultation from Beijing 101 to understand your unique hair struggles.
Each hair treatment is customised for your specific needs, giving *90% of customers visible hair loss improvements.
Now all us struggling "adult-ers" can breathe a momentary sigh of relief because Beijing 101 is giving us a Hair Gro Treatment at $42 w/GST (U.P $366) including a FREE Hair Glow Essence (worth $68). For more information click here.
*Beijing 101's claim based on research conducted by Nielsen, 1st to 15th Oct 2016 among 169 Beijing 101 customers, aged 18 years old & above who are receiving hair treatments.
This post was kindly sponsored by Beijing 101.