Rent An Oppa In South Korea
The first time I heard the word "oppa" was when I was introduced to the world of K-pop at age 14. Quickly, I became obsessed with these handsome on-screen oppas, and they cemented my impression most South Korean men are hella swoon-worthy.
When news broke that South Korean tourist service, Oh My Oppa, was renting out hot men to bring visitors around the city, the internet exploded.
And, knowing I like my men spicy like kimchi, ZULA #blessed me with the opportunity hire a dream hanguk boyfriend for a day during a work trip to Seoul.
How Oh My Oppa works
Having begun its first test runs in March 2018, the site makes clear the oppas aren't professional tour guides but friendly locals.
There are eight oppas to choose from. Each oppa conducts their own route tailored for different interests.
Love music and art? Explore Gyeongbokgung Palace with Aiden and check out hipster Ikseon-dong after. Prefer to go shopping? Have Sean pick out your outfits in trendy Hongdae and chill in the Raccoon Cafe when you get tired.
To book an oppa, you simply check his availability and make payment through Paypal. Then download the Kakao talk messaging app so your oppa can contact you a day before the tour.
Each tour group is kept to a maximum of three people; both men and women are welcome.
Currently, tours cost USD$60 to USD$70 (~S$80.67 to ~S$94.12) per pax for a standard two and a half hour tour. However, this fee doesn't include any additional food or transport charges.
While you can't get touchy-feely or go drinking with your oppa, he'll cut up food for you, give encouraging comments, and take your Instagram OOTDs.
After considering all the oppas available, I picked Arami because he seemed most my type with his boyish charm and angelic face.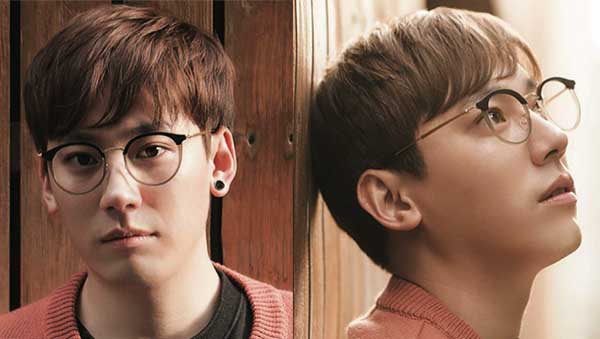 With my flight and oppa booked, I flew to South Korea and eagerly awaited the day of my 'date'.
Meeting Arami oppa
Arami and I agreed to meet at Jongno 3-ga metro station at 3.30pm. On the journey there, I got the first-date jitters. What if he thought I was weird? What if the meeting was awkward or we didn't get along? What if I was stuck in an introvert's hell for the next four hours?
But my fears were allayed when Arami greeted me with a warm smile.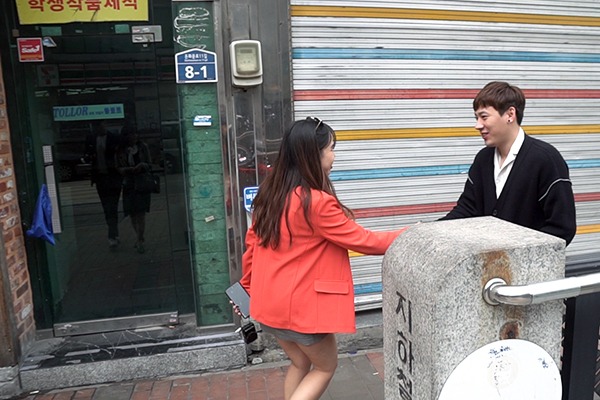 In a knitted sweater and jeans, Arami looked every bit like the pretty boy in his photos. After the perfunctory introduction and niceties, he led me to Teum, a cafe in Ikseon-dong for some coffee.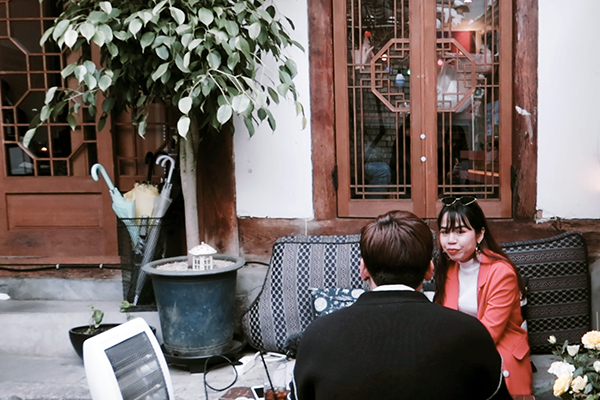 Over drinks, Arami revealed he was actually born in New Zealand. He had only recently moved back to South Korea to help his sister run their Korea-based online spectacle shop.
"I didn't go to uni because I was always interested in business. A few years ago, I was looking for ways to do online marketing for some of my products, and I found Bigo," Arami shared.
"I started live streaming and that's how I learnt English, by talking to people on Bigo."
Offhandedly he added, "I have 164k followers now."
I quietly choked on my coffee as I processed this information. With his income from the spectacle business and his Bigo live-streaming earnings, I couldn't understand why he would need to put himself up as an oppa for rent for extra cash.
The 'date'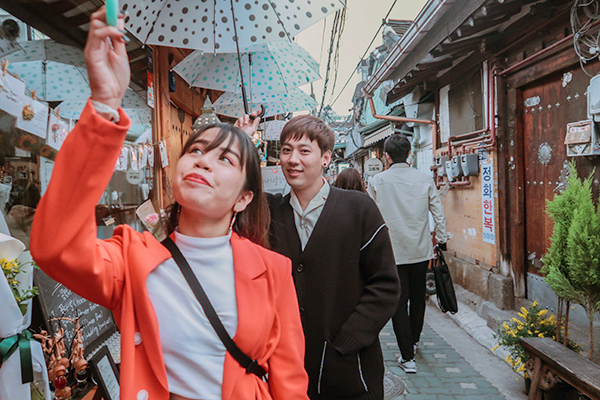 After we were done with coffee, we explored Ikseon-dong. Arami was every bit the gentleman; he opened shop doors for me, translated Korean into English without prompt, and was my personal GPS.
As the sun began to set, Arami suggested for us to head to the Cheonggyecheon stream as the canal looks particularly beautiful during the golden hour.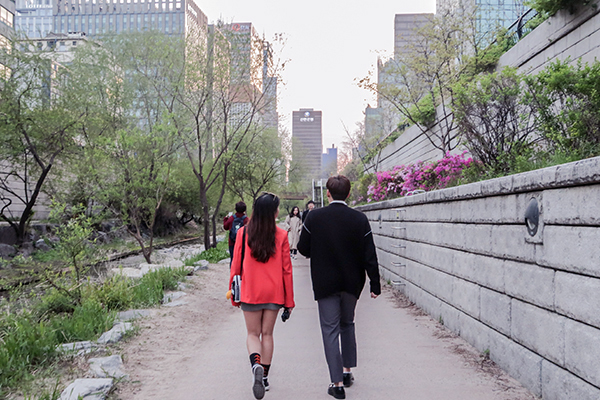 Mid-stroll, he whipped out his phone and started live streaming. I wasn't bothered or camera-shy, but things took a bizarre turn when he asked me to teach him how to dance.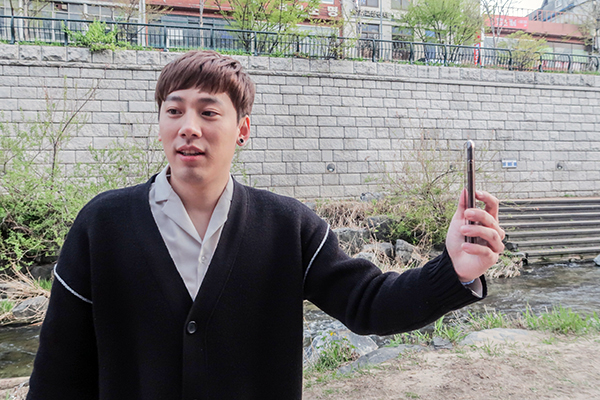 I didn't know what was going on but I just went with the flow. Laughing, we continued our walk to the Cheonggyecheon night market.
Dinner at the Cheonggyecheon night market
We broached the topic of home and Arami confessed that as a foreigner in Korea, he has always felt a little out of place.
For him, being a rented oppa and a Bigo streamer are jobs he loves because they allow him to connect with a community and to make friends. And while fun, his unusual jobs constantly challenge and put him out of his comfort zone.
Over time, I became aware being a rented oppa isn't as easy or glamorous as it's made out to be. Aside from prepping for the tour, most have to struggle with playing host in an unfamiliar language.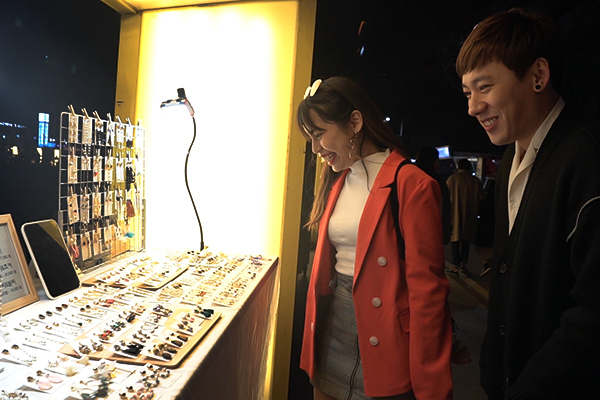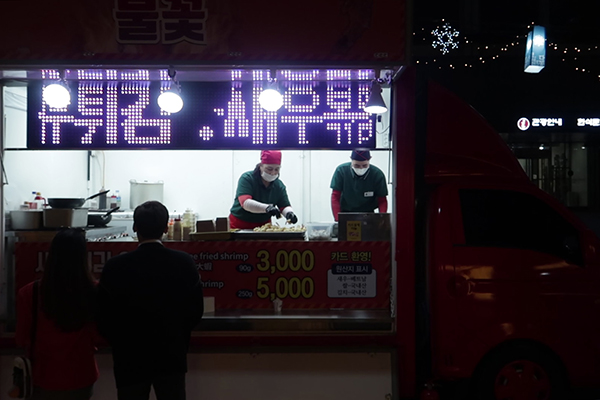 Eventually, we arrived at the night market for dinner. At 9.00pm, we said our goodbyes and promised to hang when he came to Singapore.
Having A Personalised Tour Guide
Going on a one-on-one tour with Arami was an intimate experience.
Signing up for Oh My Oppa, I was expecting Arami to be polite but aloof. I had imagined him to be all too aware of his good looks, and a person who enjoyed the thrill of having girls fawn over him.
Instead, I spent an enjoyable afternoon with a fun-loving and genuine guy who unabashedly embraces his goofy personality.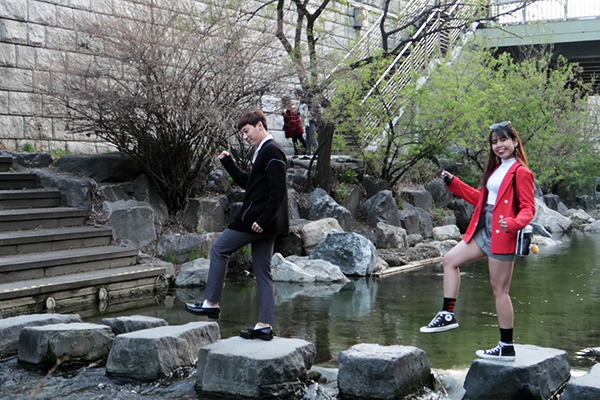 Hanging out with Arami made me realise despite our cultural differences, we weren't so different–we're both Millennials trying to make our way in the world.
And that's what Oh My Oppa is about–it's not a dating service, but a friendship-making platform to connect like-minded travellers and locals.
If you happen to be visiting Seoul and you're unfamiliar with the city, maybe you can consider renting an oppa. Who knows, you might leave having made a new friend.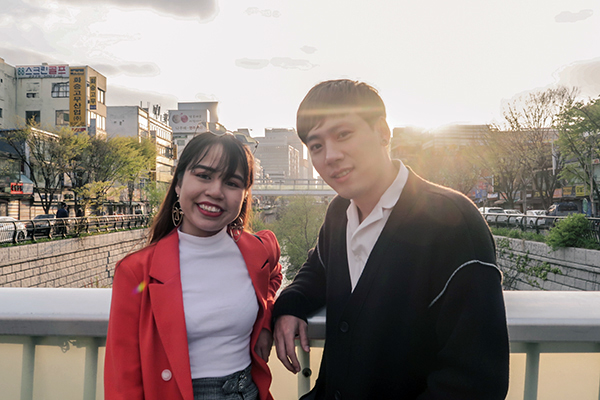 Also read: