Going On A Road Trip To New Zealand With My Parents
In 2018, my parents announced that they would like to go on a road trip to New Zealand. I'd been living there for 2.5 years and this was their chance to visit me and for us to spend some time together. They had all the important questions like: should we learn Maori, do we need to wear earthquake hats at all times and, most importantly, should we bring Maggi Asam Laksa? (No, no, yes!)
Thus, I embarked on a 10-day road trip with my parents all around the South Island of New Zealand. It was one of the most entertaining, hilarious, challenging yet memorable trips I have ever experienced. It also made our relationship stronger and helped me see them in a new light.
They were young once (keyword: once)
When I started planning the itinerary, I asked my parents about the kind of trip they preferred. They began reminiscing about their road trip around Europe when they were in their 20s and how they didn't need a plan. "We can go camping throughout New Zealand, just like we did in France!" my dad announced. "It saves costs and we can really immerse ourselves into the Kiwi culture and nature." I was slightly sceptical but booked the first night in a campsite. However, I made sure it also had alternative accommodation options.
We arrived at the campsite after a long day of driving. Mum's knees were hurting as her arthritis was playing up. Dad had a headache. Both didn't look particularly excited to pitch tents, so I suggested that we could spend the next hour trying to set the tents up or we could stay in a little cabin with hot showers and comfy pillows? Needless to say, Dad was asleep within 10 minutes of walking into the cabin.
There may be instances when your parents want to relive parts of their adventurous past, as it makes them feel young again. Humour them and give them options, but make sure some of the options are more comfortable and realistic.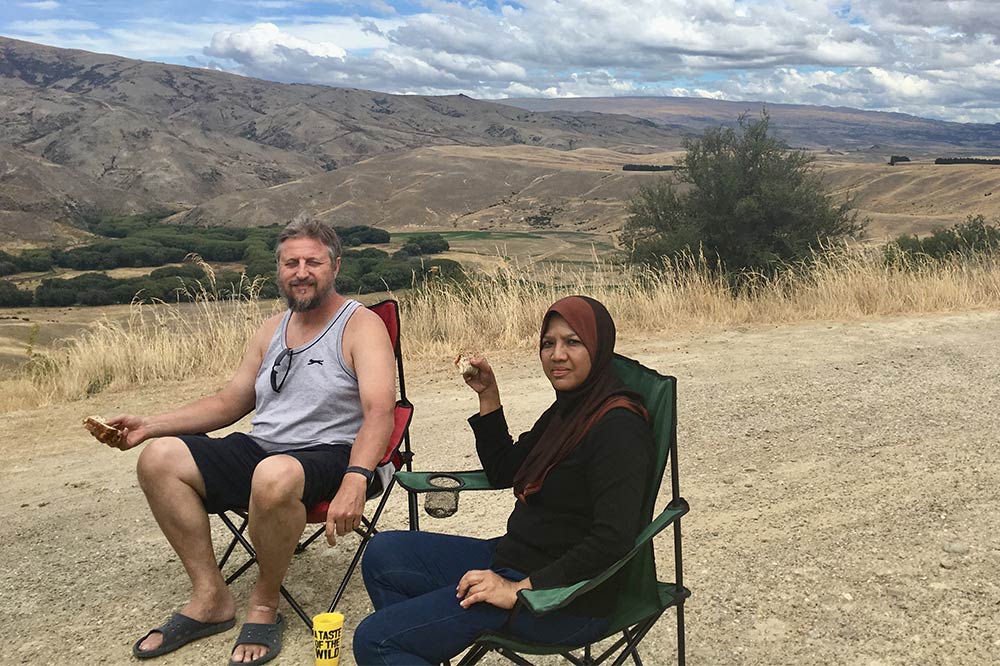 P.S. We did end up camping one night in Lake Tekapo
It might cost more—but it's worth it 
When travelling with friends, you might not mind sharing a toilet in a hostel or eating a no-frills meal to cut costs. Travelling with your parents, however, might cost a little more as you will need to take into account their comfort and accessibility. But if you can't spend your hard-earned coins on your parents, when can you spend it eh?
Little pockets of comfort go a long way when you have been travelling on the road and they make the trip all the more enjoyable. I always booked accommodation that had cooking facilities and standing showers so my parents would feel more comfortable. I even found a reasonably priced guest house with a spa pool. Seeing my parents soaking in the spa pool like a pair of contented seals is a beautiful memory I will carry for life.
They are kids at heart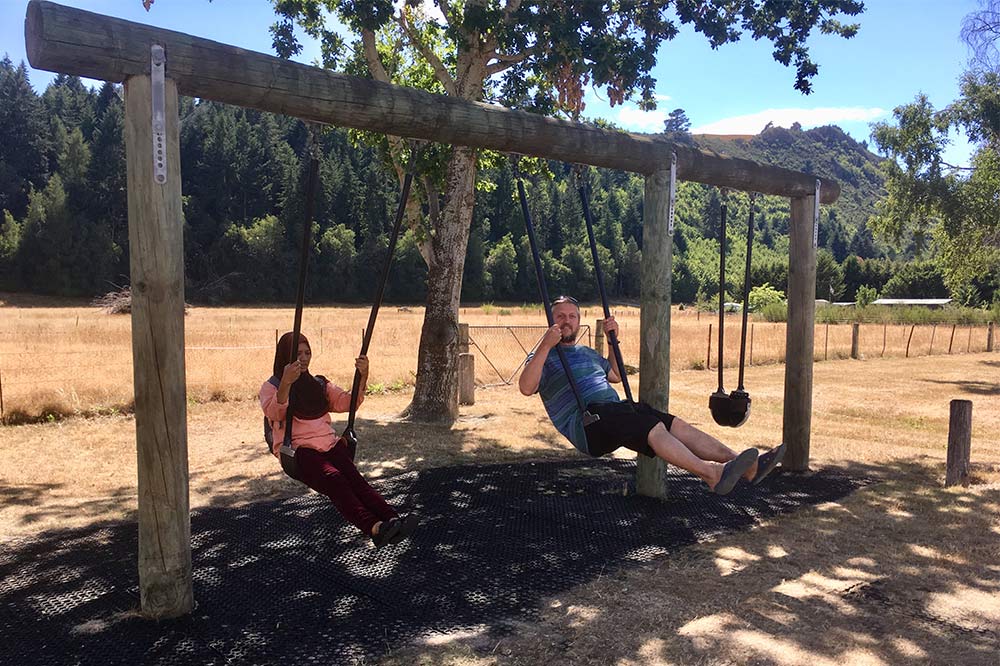 My parents having a swinging competition
Sometimes we forget that our parents were once our age, with hopes, dreams and plans that we now have. They are basically the older, wiser (well sometimes… sorry dad!) version of us. Allow them to relive their youth. Obviously, we need to be careful they don't injure themselves but plan activities for them to have fun and feel like kids again.
For instance, I took my parents cherry picking in Cromwell. I heard a squawk and saw my dad hoisting Mum on his shoulders. "More stable than any ladder here," he proudly proclaimed. A grand total of 10 minutes later and I had to help Mum get back down as the 'stable ladder' needed a break.
While I did most activities with my parents as I enjoyed seeing their joy and pleasure when encountering anything new, I also planned a couple of activities for them that I had done on my own before.
I booked a boat cruise for them to see glow-worms in Te Anau. They came back bursting with excitement and told me all about their trip. Not only did it give them the chance to experience a sense of fun and child-like wonder again, it also gave us the mental (and physical) space we needed and allowed us to appreciate each other more.
You will disagree but it will not be worth ruining the trip over
I had a semi-Asian upbringing and if you are like me, you were taught not to answer back to your parents. To respect what they say, even if you disagree. As you get older, you sometimes realise that you do know better, but you won't necessarily voice it to them in the way you would with your friends. So, you bottle it up and then suddenly, you are that moody teenager on the brink of a tantrum all over again.
It's natural to have disagreements but learn to manage them so they don't escalate and ruin the trip. I had one big disagreement with my dad and we both walked away quite upset. I called my sister and she reminded me how sad I would feel if Dad was no longer with us and how I would give anything just to spend another day with him. Give someone a call to take a breather and then remember all the times your parents put up with your annoying self when you were young—it really helps put things into perspective.
They are more adventurous than you think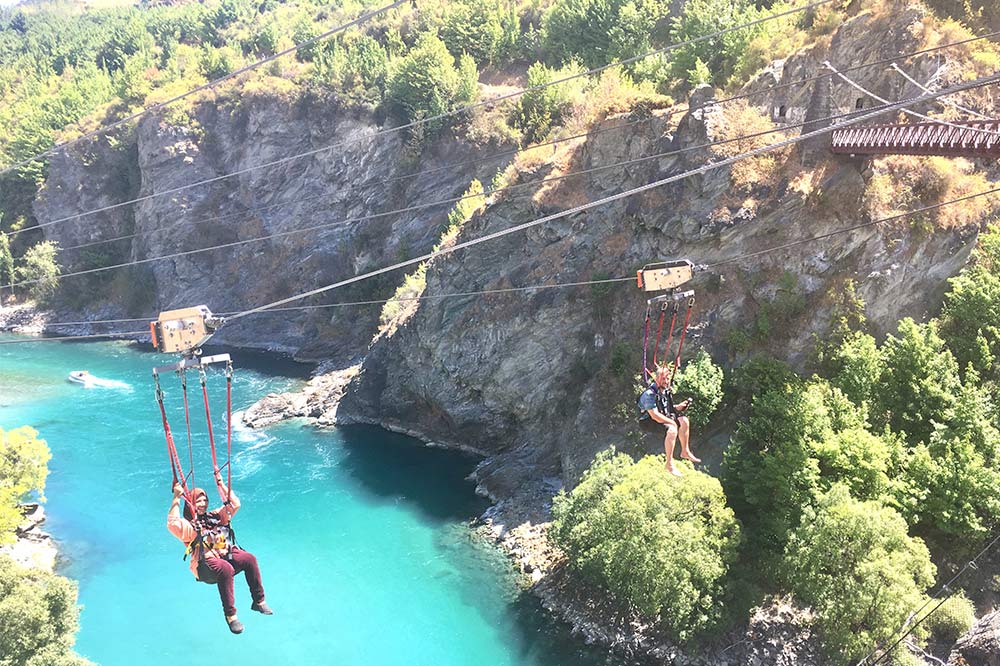 This might come as a surprise but your parents were young once and if you have any sense of wanderlust, you might have inherited it from them.
I suggested ziplining in Queenstown as a joke and was shocked when my parents were game. We went go-karting down a mountain in Queenstown and hiked 10km to see the Franz Josef Glacier. I also took my parents to the turquoise waters of Lake Pukaki and before I even had time to blink, my dad had ripped all his clothes off and thrown himself into the icy lake. Having said that, my mum drew the line at bungee jumping. "I know I'm going to die one day, I don't need to encourage the Grim Reaper to come sooner!"
Okay, Mum, you win.
They will need to have rest days  
If I could change one thing about my trip, it would be to plan more rest days. I was eager to show my parents as many beautiful sights as possible. We covered extensive parts of New Zealand on our road trip and they saw many exquisite views. But they probably left feeling quite exhausted, needing a vacation from the vacation!
I have since realised there is value in having a couple of days on the trip where parents can have a lie in, potter about and do nothing. It will recharge them and allow them to rest their tired muscles. It also gives them a few days to buy gifts for friends and family back home.
They still need to feel needed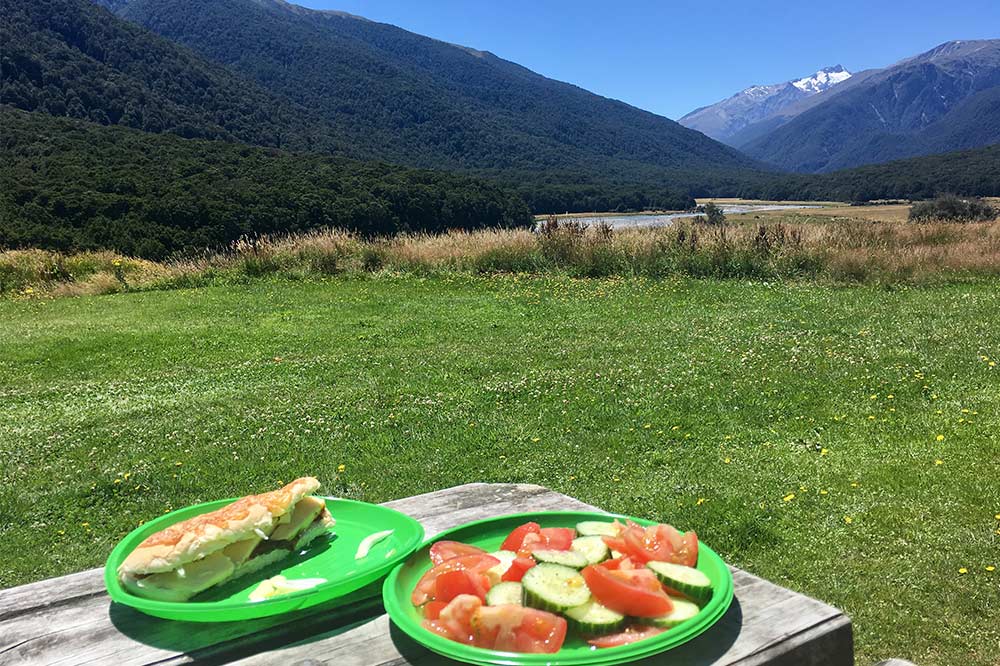 A sandwich and salad lovingly prepared by Mum
One of the biggest signs of successful parenthood is if your kids become self-sufficient enough to flee the nest and no longer need to rely on you every step of the way.
Nevertheless, the trip taught me that it's important to let my parents feel needed. So, when my dad insisted on looking at my car engine to fix the rattly noise, I let him even though I knew what it was and how to fix it. When Mum insisted on cooking meals even though I wanted to eat out sometimes, I let her. I wanted to let them know they played—and will continue to play—a pivotal role in my life.
You will see your parents from a new perspective
We grew up seeing our parents as our heroes, fixing and solving everything. But over time, the roles change, and you become their protectors. I'll never forget the worry in my mum's eyes when we were stopped by a policeman. I had gotten carried away singing along to The Beatles with my dad and must have exceeded the speed limit of 100km/h.
''What if you get thrown in jail? What if the fine is $10,000?" she cried in despair as the policeman approached us. "Calm down mum, I'm not going to jail. I'll take care of this," I told her. After a long-drawn-out chat with the police and a lot of vigorous nodding from my nervous mum, he let us away with a $100 fine. But for a second, I felt like the parent and it made me realise I needed to be a bit more responsible to avoid making my parents worry.
My relationship strengthened with my parents on the trip as I learnt to enjoy and understand them from a different perspective. I discovered their fears and hopes, and saw how they tackled challenges with a fresh pair of eyes. Most importantly, I learnt how to laugh with them as a friend.
A Road Trip To New Zealand With My Parents
The road trip with my parents to New Zealand was a whirlwind journey full of laughter, songs and adventure. I would do it all over again but maybe next time, I'll bring a camping mattress.