Rooftop Bars In Singapore
With the panoramic views they offer as a backdrop to your night, rooftop bars are the perfect level up to regular bars. Add interesting tipples and delicious grub to the mix, and you've got yourself a fantastic night out.
If you're looking for places to hang out with your girlfriends or date, check out these 10 rooftop bars in Singapore.
1. The Great Escape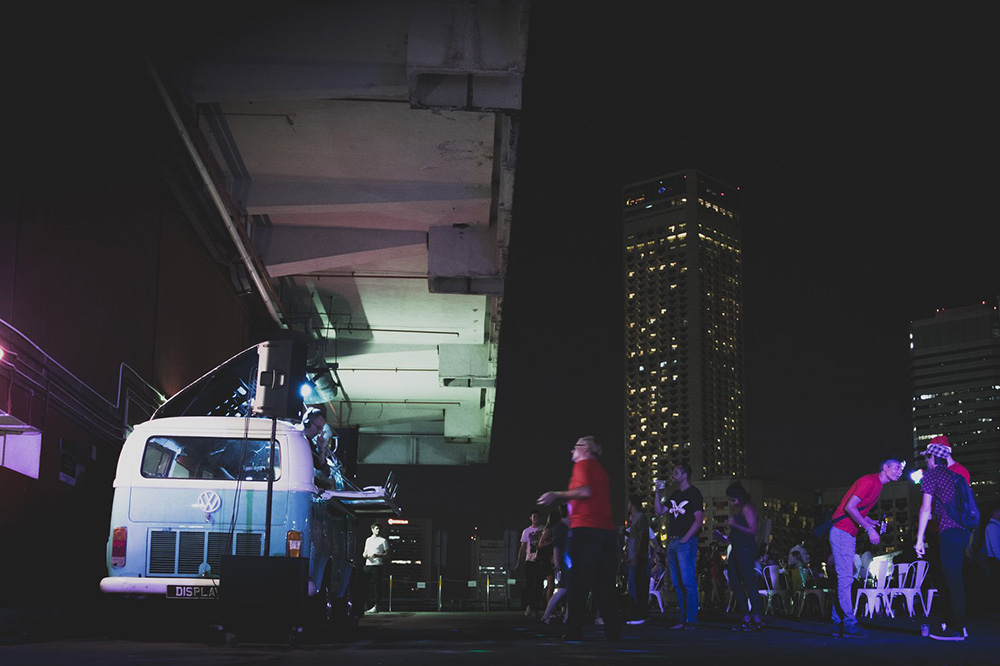 Situated on the 11th floor of Shaw Towers, The Great Escape offers a view of the state-of-the-art architecture of the Singapore Sports Hub and the Marina South basin. The eclecticism of this car park-turned-rooftop-bar makes it one for hipsters and free spirits. Order your drinks and grub from a camper van converted into a food service station cum bar. You won't find fancy cocktails here but affordably priced alcohol such as bottled beers and ciders.
Address: 100 Beach Road, #11-00, Shaw Towers, Singapore 189702
Opening hours: 6pm to 2am (Fridays and Saturdays) | 6pm to 11pm (Sundays)
2. The Other Roof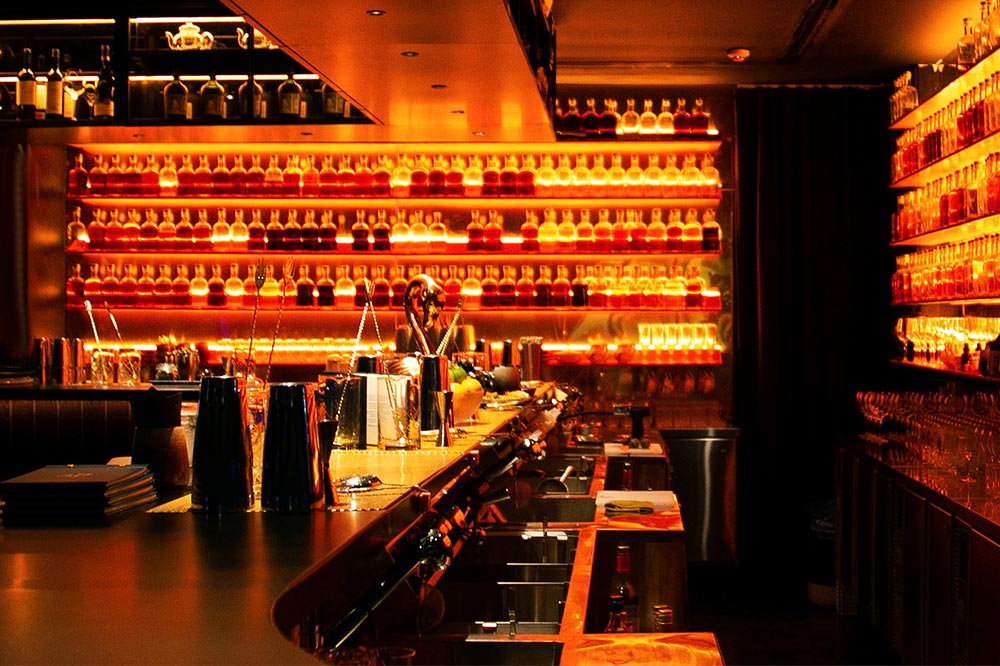 The Other Roof presents a different concept from the usual bar tipples. Located on the top of boutique hotel Ann Siang House, the bar boasts over 400 different spirits, all tea-finished and concocted in-house.
Order the Flamenco Martini ($22), a combination of egg white, ginger, honey, passionfruit, cinnamon and muchacha tea vodka. Or if you like your tea with floral notes, Whole Lotta Love ($22), a mix of pear blossom, lemon, lavender, golden gai tea, triple sec, lillet blanc and vodka, will hit the spot. For the peckish, give the Jamon Iberico ($30) and Steak Tacos ($18) a try.
Address: 28 Ann Siang Road, Ann Siang House, Singapore 069708
Opening hours: 4.30pm to 12am (Tuesdays to Sundays)
Website | Facebook | Instagram
3. 1927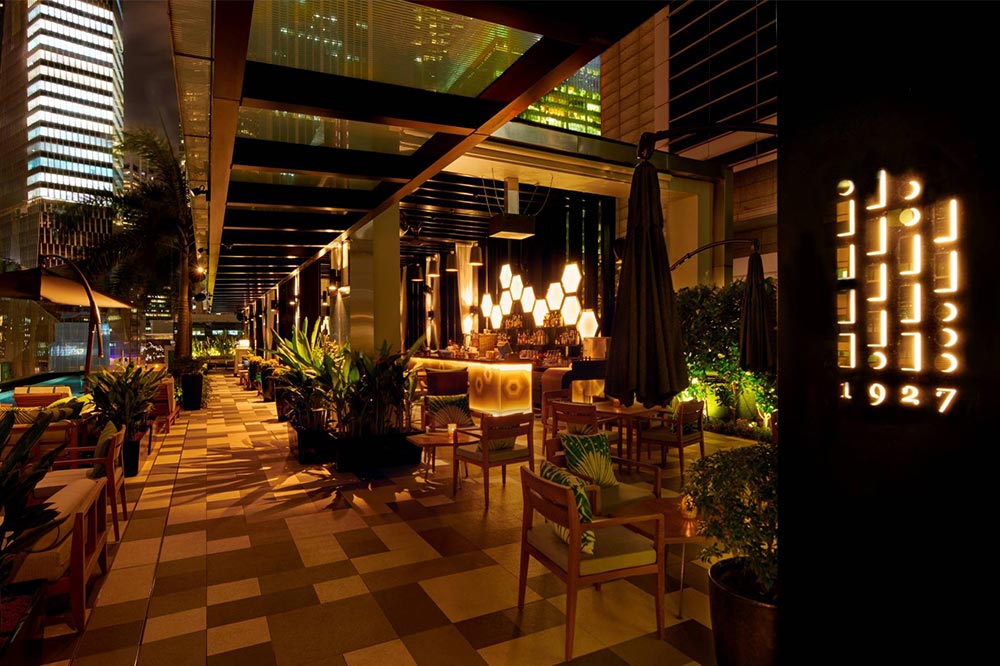 Kick back and get buzzed after a long day at 1927, a watering hole in the CBD area set atop SO Sofitel Singapore. Here, recipes from the 1900s are blended with modern mixology techniques for a menu that's categorised into three collections: Equatorial Classics (1930s – 1950s), Contemporary Classics (late 1990s – 2000s) and Contemporary Equatorial (house signatures).
Go tropical with the Pain Killer ($22), made with Plantation Original Dark, pineapple juice, coconut cream and orange juice. Or try the house signature Hashtag Frosé ($26) made with rosé, St-Germain, Mancino Secco and sweetened with champagne syrup.
Address: 35 Robinson Road, level 6, SO Sofitel Singapore, Singapore 068876
Opening hours: 5pm to 2am (Mondays to Fridays) | 2pm to 2am (Saturdays, Sundays and public holidays)
Website | Facebook | Instagram
4. Blue Jasmine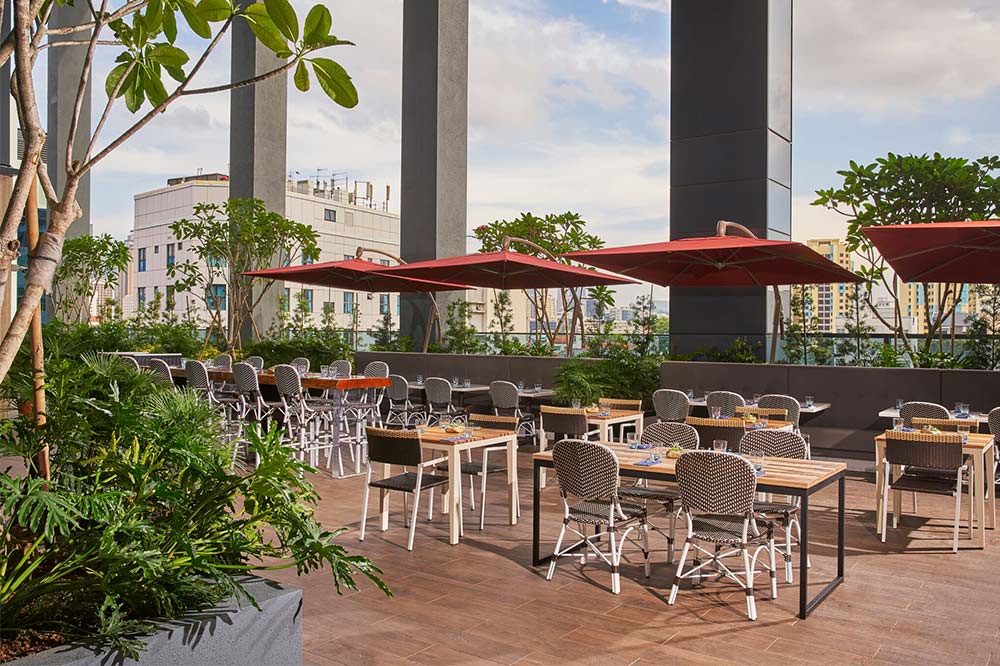 Thai restaurant Blue Jasmine recently unveiled its new gastro-bar with al fresco seating, serving up tropical cocktails, wines, beers and spirits. Head to the fifth level of Park Hotel Farrer Park and feast on classic and authentic Thai dishes and street food, accompanied by happy hour deals starting at $10 per glass from 5pm to 7pm daily.
Address: 10 Farrer Park Station Road, level 5, Park Hotel Farrer Park, Singapore 217564
Opening hours: 11.30am to 12am (Daily, all-day dining from 11.30am to 10pm)
5. Urbana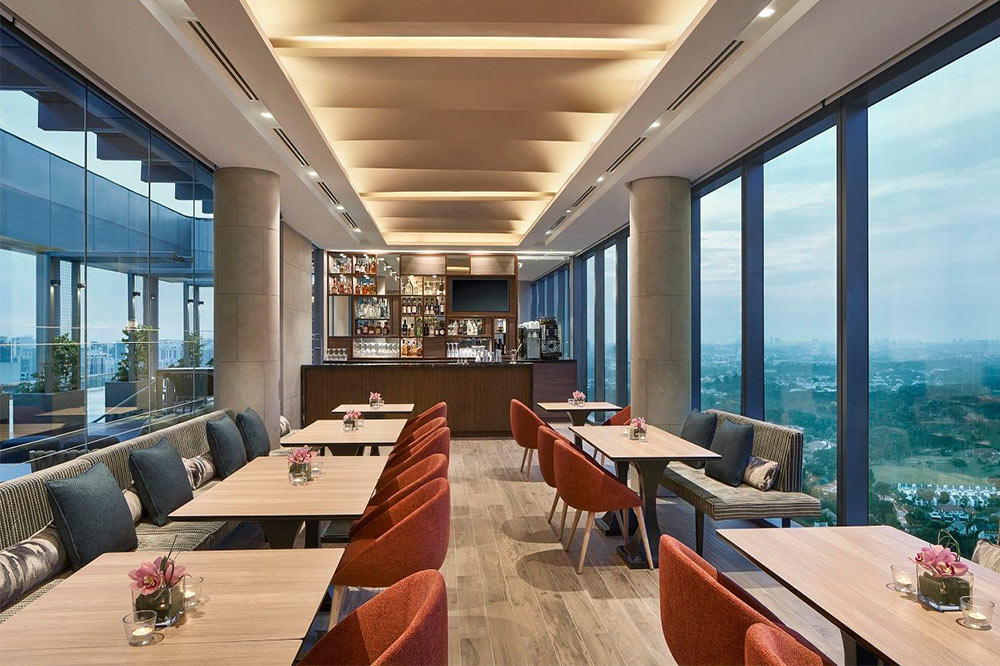 This stylish rooftop bar on the top of Courtyard by Marriott Singapore Novena offers both indoor and outdoor seating, where guests seated outside can enjoy amazing views of the infinity pool backdropped by Singapore's cityscape. Sip on a selection of 25 different cocktails, from the classic Mojito ($19) and Mai Tai ($20), to spicier picks such as the Moscow Mule ($17), which combines vodka with ginger ale and a touch of lime. For snacks, chow down on the Urbana Classic Nachos ($20) and more substantial options such as the Singapore Chilli Crab Pizza ($26).
Address: 99 Irrawaddy Road, Level 33, Courtyard by Marriott Singapore Novena, Singapore 329568
Opening hours: 5pm to 1am (Mondays to Fridays) | 11am to 4pm, 5pm to 1am (Saturdays and Sundays)
Website | Facebook
Also read:
12 Bars For Meeting Working Adults IRL If You've Lost Hope In Dating Apps
6. Lin Rooftop Bar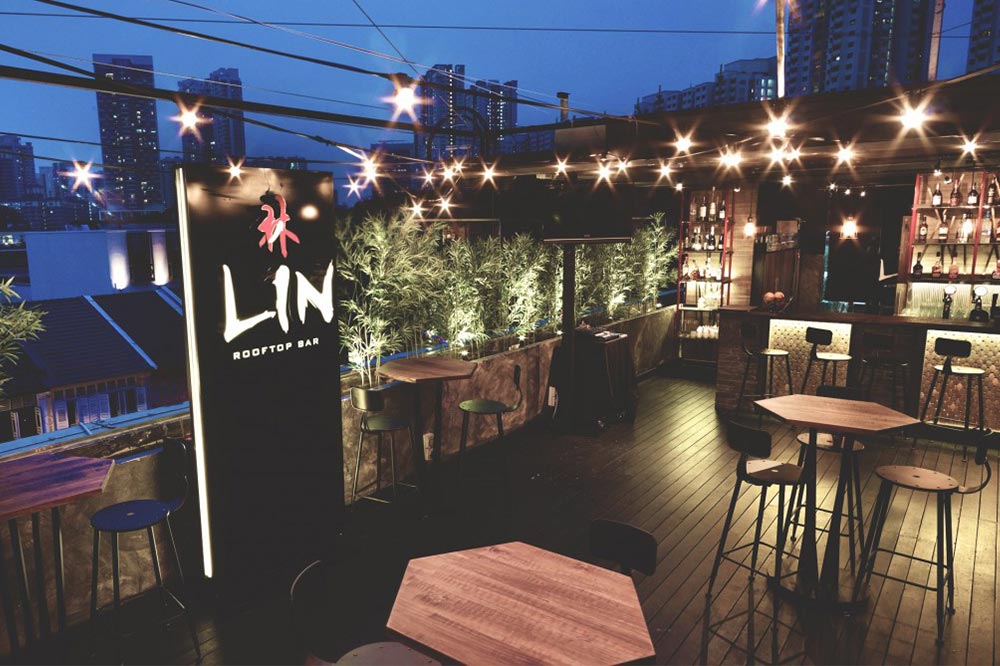 Dine under the stars at Lin Rooftop Bar in the Tiong Bahru enclave. The space is rustic, and decked with furniture and elements exuding a rich blend of cultures. Besides the classic cocktails, you'll find LIN's signature Asian-inspired drinks on the menu. Think: Rustic Sky ($18)–a blend of vodka, sour plum mix and lime juice; and Princess Lotus ($18), a concoction of vodka, grapefruit syrup and liquer, grapefruit wedges and mint leaves.
Address: 50 Tiong Bahru Road, Link Hotel, Singapore 168733
Opening hours: 5pm to 1am (Mondays to Saturdays) | Closed on Sundays
Website | Facebook | Instagram
7. Sum Yi Tai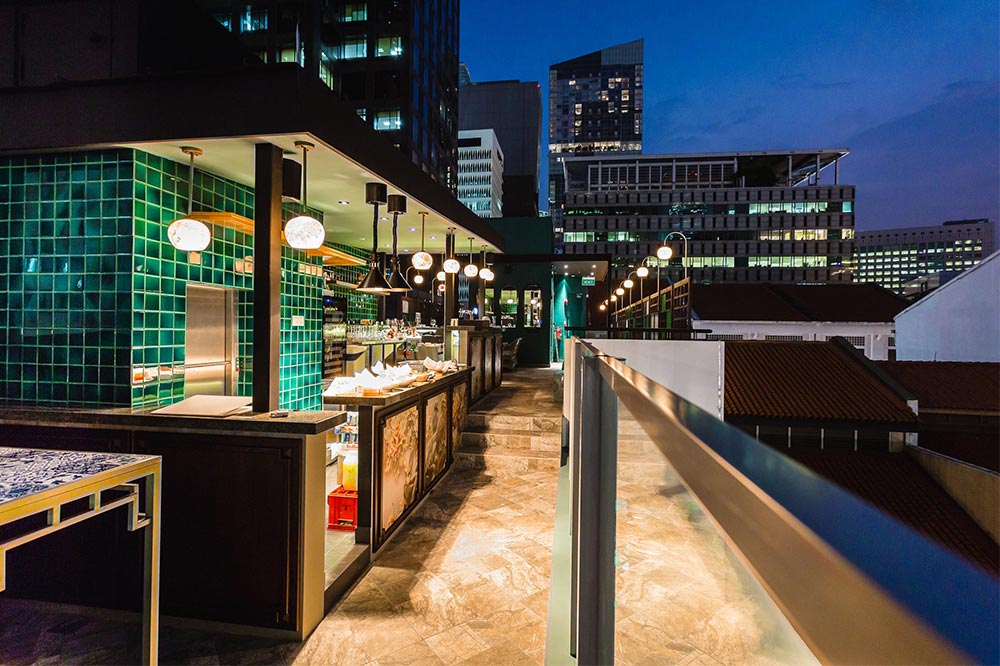 From the dim sum dishes to the decor and the retro canto-pop tunes playing in the background, a visit to Sum Yi Tai is like stepping back in time to 1980s Hong Kong. There are the usual draught and bottled beers here, along with whiskeys and premium pours by the glass and bottle. Don't go home without trying the bar's signature cocktails, such as Dai Lou's Breakfast ($19), which combines coffee and pandan Monkey Shoulder whiskey with black walnut bitters and pandan syrup. Or, try the Asian-inspired Chinese Mojito ($19), which has chrysanthemum rum spiked with mint and lime.
Address: 25 Boon Tat Street, Singapore 069622
Opening hours: 11.30am to 2.30pm, 5pm to 1am (Mondays to Fridays) | 7pm to 1am (Saturdays) | Closed on Sundays
Website | Facebook | Instagram
8. Smoke and Mirrors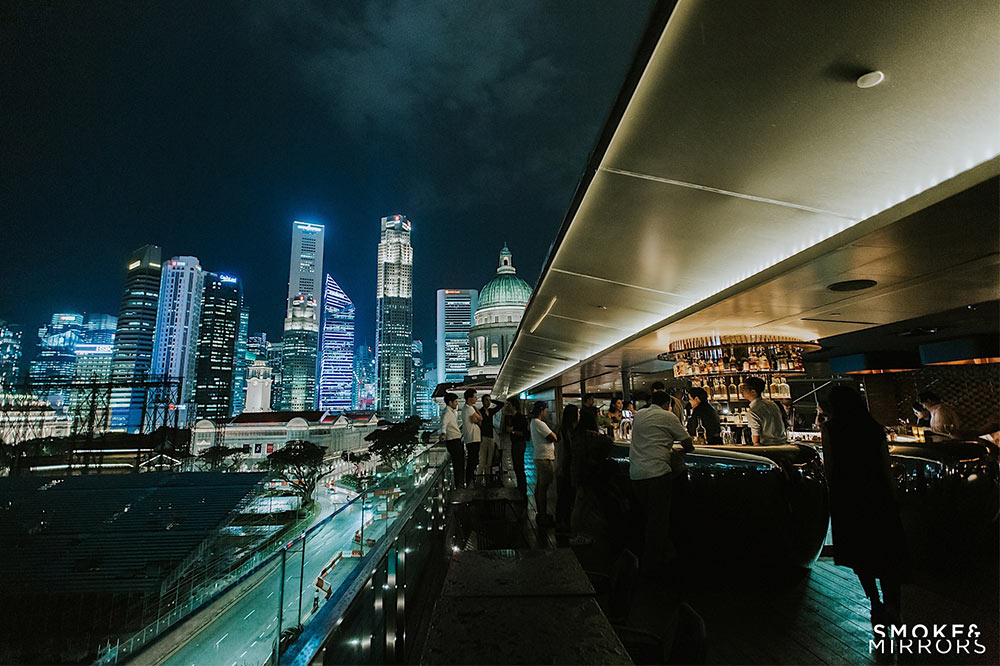 With indoor lounge seating and an outdoor terrace atop the National Gallery Singapore, Smoke and Mirrors offers stunning views of the Padang and Marina Bay area. Jack of The Jungle ($25) is an interesting cocktail that's fruity, spicy, smokey and citrusy from the blend of spices used, and the addition of 48h fermented agave. For something more classic, go for the Le Paix 75 ($25), a concoction of London Dry Gin, locally-sourced dog fennel, bubbles and green olives.
Address: 1 St. Andrew's Road, #06-01, National Gallery Singapore, Singapore 178957
Opening hours: 3pm to 1am (Mondays to Thursdays) | 3pm to 2am (Fridays) | 12pm to 2am (Saturdays and eves of public holidays) | 12pm to 1am (Sundays)
Website | Facebook | Instagram
9. Mr Stork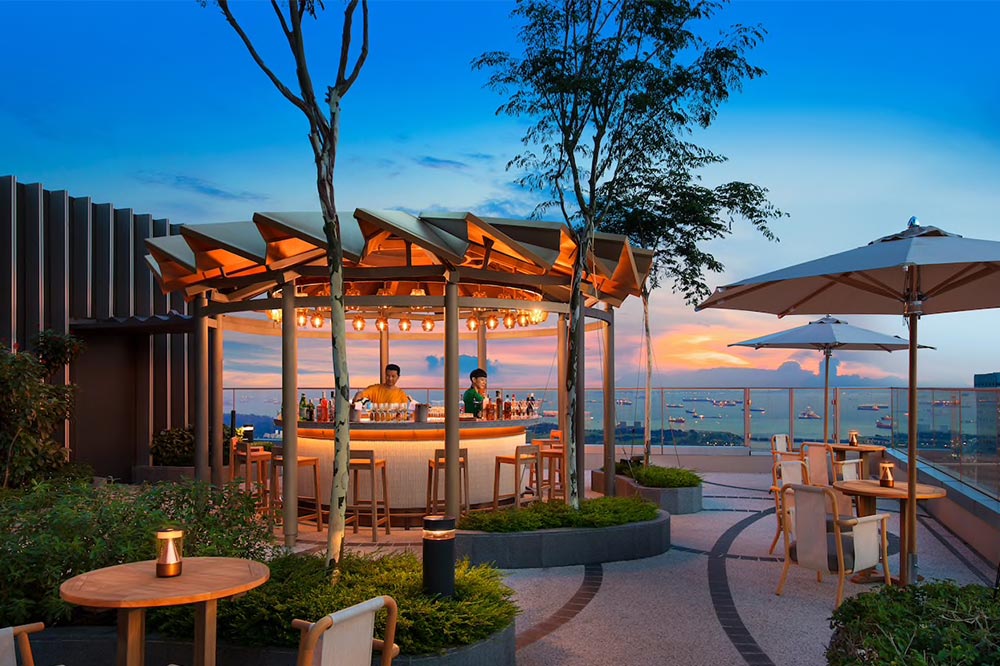 One of the most Instagram-worthy rooftop bars in the city, you can find Mr Stork on the 39th floor of Andaz Singapore. Here, you can take in 360° views of the city under its IG-worthy teepee huts, which provide a comfortable and relaxing space to spend a Friday night with your squad. (Protip: If you're eyeing those huts, get there early to secure a spot.)
Drinks-wise, you can find cocktails priced from $22 and up, and the usual spirits, champagne, beer and wine. The Grapefruit ($22) is a tangy concoction of fresh grapefruit juice, lime juice, bitters and tequila, and is great as a refreshing beverage or a palate cleanser when you're scarfing down greasy sides such as the Truffle Fries with Aioli ($18) and Fried Chicken Rice Risotto Balls ($18).
Address: 5 Fraser Street, level 39, Andaz Singapore, Singapore 189354
Opening hours: 5pm to 12am (Mondays to Thursdays) | 5pm to 1am (Fridays) | 3pm to 1am (Saturdays) | 3pm to 12am (Sundays)
10. Aria Roof Bar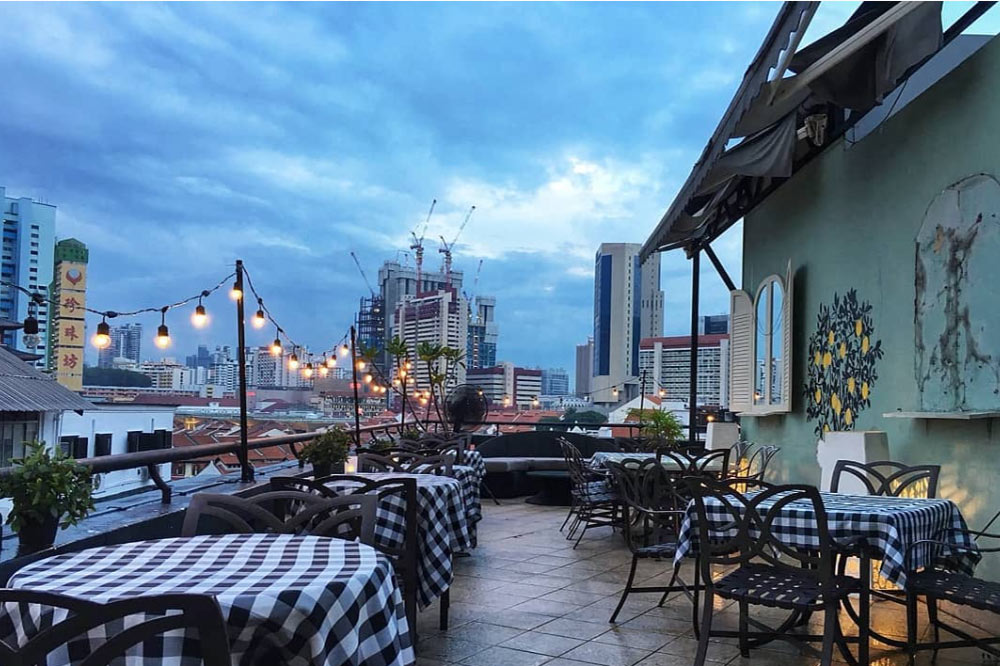 Paint the town red with your girlfriends at The Scarlet Hotel over an extensive drinks list at Aria Roof Bar. Sip on the finest Sicilian wines and its signature cocktails while you quell your hunger pangs over Sicilian street food such as Arancine ($8), crispy rice balls with tomato, mozzarella and saffron. Interesting cocktails include the Nina ($16), a sparkling citrus drink that combines fresh blood orange juice with Sicilian sparkling wine, and Tammy ($18), where jasmine-infused Mancino Bianco Ambrato Vermouth meets lemon juice and runny-honey syrup.
Address: 33 Erskine Road, level 4, The Scarlet Singapore, Singapore 069333
Opening hours: 5.30pm to 11pm (Mondays to Saturdays) | Closed on Sundays
Website | Facebook | Instagram 
Rooftop Bars In Singapore
Whether you prefer a quiet, charming space to clink glasses at, or a chill space to hang out with your gang, we've got you sorted with this list of rooftop bars in Singapore. Now, all you need to do is to jio your bar-hopping friends, and plan a wild night out!
Also read:
8 Sake Bars In Singapore For All Budgets For Japanese Rice Wine Lovers