Rugs In Singapore
Redecorating can feel amazing. You get to whip-out all your Pinterest board finds and piece together a space just for you. From picking a theme that reflects your personality to incorporating your furniture inspo into your design, it's an exciting experience altogether.
One piece of furniture that always seems to capture attention and make the room's decor pop? Rugs. Here's where you can get tasteful rugs from online or in-stores to spice up your home's appearance. With a fancy-looking rug, any area of your home will immediately transform into an aesthetically-pleasing sight. 
Online Stores
1. IRugs

IRugs offers a wide range of rugs, from simple jute rugs (right) to uplift the rustic feel of the room to bright Chindi Trellis rugs (left) that come in a whole prism of colours. With the multitude of rugs available, you'll be able to find the right pieces for every space in your new home, all from a single site. 
You can even pair the rugs with a knitted pouffe that'll make for a comfy reading space and bring out the patterns in the rug at the same time. 
IRugs has regular sales and discounts too, which include daily flash deals of up to 59% off for selected items, so you can cop a rug without having to burn a hole in your wallet. 
Price: From $59
Shipping fee: Free shipping
Contact: Call 800-852-3936 
Website | Facebook | Instagram
2. AMARA

AMARA is an online store specialising in rugs that are anything but run-of-the-mill. Their site offers a spectrum of peculiarly shaped rugs to complement both your room and personality at the same time. They have rugs designed to resemble comic book art (right) for that animated-retro feel to animal rugs (left) of every kind that'll go along with nautical or farmhouse-themed decor. 
The rugs come in a range of sizes, so you can utilise their smaller rugs to add colour to any corner of your home or the larger rugs to tie the decor of bigger spaces together. 
Delivery is also made promptly within 3 to 4 days, so last-minute purchases can be timed to be received just in time for any housewarming plans. 
Price: From $63
Shipping fee: $28.57, free shipping above $571.38 spent
Contact: Email customerservices@amara.com
Website | Facebook | Instagram
With Showroom
3. 3 Little Picks

On the hunt for something more playful for the kid's rooms or to supplement a pastel colour scheme? 3 Little Picks has a select number of rugs that come in warmer tones, like pink and orange, to help pull together rooms with more vibrant-coloured decor. Their pastel rugs are also apt for kids rooms and help with keeping the floors scratch-free. 
The site sells other decor with similar designs as well, so you can pick out all the pieces you'll need for that complete pastel vibe. If you need the items in a rush, they offer express shipping at $10, so you can receive your rugs by the next working day. 
Price: From $25.33
Shipping fee: $5.99 for orders below $30, $3.99 for orders above $30
Contact: Call 8748 3901 or email ask@3littlepicks.com
Showroom Address: 2 Gambas Crescent Nordcom 2 Tower 2 Singapore, #08-24, Singapore 757044
Opening hours: 10am to 5pm (Mondays to Fridays), by appointment only | Closed on weekends
Website | Facebook | Instagram
4. FortyTwo

FortyTwo is a home decor and furniture store with rugs that have a more classic design. The tribal-print rug (left) with simple geometric patterns, for example, will suit a room layout with a darker colour scheme. They also have textured rugs (right) with a multitude of furry features so, at day's end, you can rest your feet on a cloud of softness.
Some of their rugs additionally have playful pastel designs for children's rooms so, while shopping for a round jute rug for the dining room, you can buy a piece to make your kid's rooms a little more snazzy. 
In terms of the price range, they offer rugs that are more affordable at around $20, so you can buy multiple rugs without having to break the bank. 
Price: From $9.60
Shipping fee: $7.90 for rugs, free above $300 spent
Contact: Call 6777 7667 or email cs@fortytwo.sg
Showroom Address: homely, 5 Toh Guan Road East, Block 1, #05-01, Singapore 608831
Opening hours: 12pm to 9pm (Tuesdays to Fridays) | 11am to 9pm (Saturdays, Sundays & PH) | Closed on Mondays 
Website | Facebook | Instagram 
5. Ruby Slipper, Badger and Fox

If you're aspiring to give your home a beachside villa look, you can take a peek at the rugs from Ruby Slipper, Badger and Fox. Their Moroccan- style rugs are all handmade and give off a boho-chic vibe with striking patterns and vibrant colours. 
The cotton dhurries they sell (right) are thin and easy to wash when they get dirty. Furthermore, these rugs are reversible, which means if you've made a stain on one side and you don't quite feel like washing it off just yet, you can flip the rug over and it'll look as good as new. 
The brand prides itself in the artisans used, ensuring safe and fair labour, with rug materials and its production process being entirely ethical. The products purchased online will come within 2-3 days, meaning you can enjoy your new rug almost immediately. 
Even if you don't find a rug that matches your room's thematic nature, you can make a custom order for a rug of the right colour specifications and size. 
Price: From $300
Shipping fee: Free shipping
Contact: Call 9171 1251 or email info@rubyslipper.com.sg
Showroom Address: 163 Tanglin Road, Tanglin Mall, Floor 2 at Badger and Fox, Singapore 247933
Opening hours: 10am to 8pm daily
Website | Facebook | Instagram 
6. Crate & Barrel

Crate & Barrel offers rugs that are the perfect pairing to a room with woody ascents and more muted colour tones. Their rugs have more neutral, tan hues which give the rugs a very clean-cut look, so the collection will be right up your alley if you're someone who prefers things simple and timeless. 
All of their rugs, when added to a room, instil an elegant edge to the space. You can have a go at picking rugs to place in the dining room that'll open up the space and prevent the dining table and chairs from damaging the floor as well. 
If you need a rug pad to put under your carpets, they have a range of those too which will prevent carpets from slipping and moving around. 
Price: From $79.95
Shipping fee: Calculated in cart depending on item and address, free shipping above $500 spent
Contact: Call 6634 8488 or email customerservice@crateandbarrel.sg
Showroom Address: ION Orchard, 2 Orchard Turn, #04-21/22, Singapore 238801
Opening hours: 10am to 9pm daily
Website | Facebook | Instagram
Also read:
10 Aesthetic Tableware Sets In Singapore From $15 For New Homeowners Who Love Hosting
7. HipVan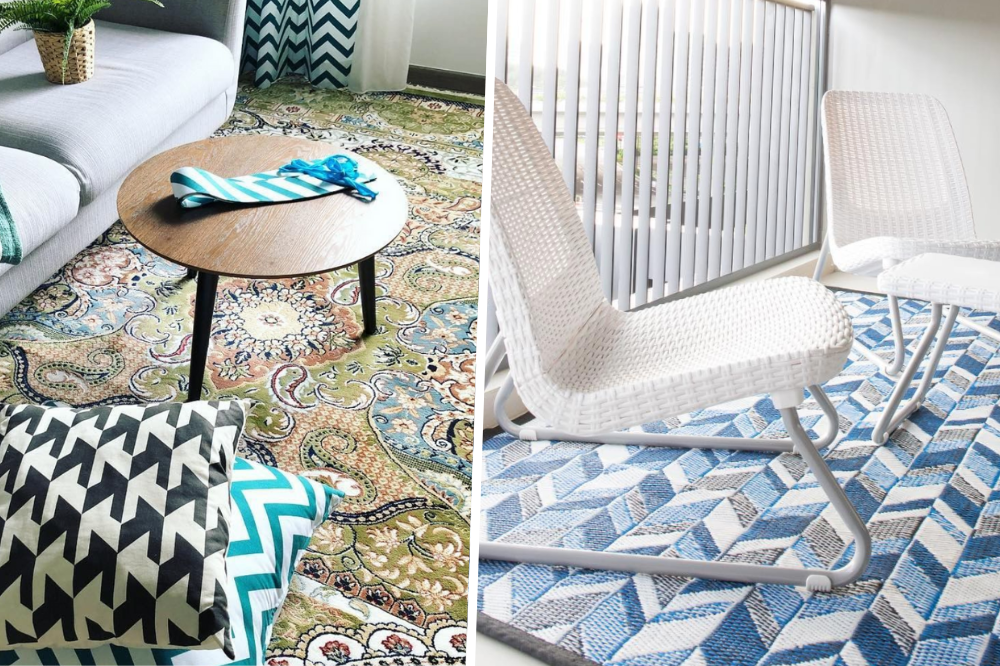 HipVan is a furniture store where you can get a wide variety of rugs and carpets. The rugs they sell include solid coloured rugs, paisley-patterned Persian rugs (left) and rugs with abstract designs (right) in eye-catching colours. The rugs available can be purchased in a wide number of sizes and shapes, so you can find a rug that'll fit into odd-shaped corners of your home. 
If you haven't picked out what colour palette to work with for your room or home, you can choose one of their 3 or 4 toned rugs and base the rest of your room furnishings around the rug. This will make the room appear neater and help you pick out decor that will definitely work well together.  
Price: From $19.90
Shipping fee: $6.99 for home furnishings, free shipping above $250 spent
Contact: Call 6291 1725 or email wecare@hipvan.com
Showroom Address: 3 Temasek Blvd, Suntec City Mall Tower 3 East Wing, #02-728/729/730, Singapore 038983
Opening hours: 12pm to 9pm (Mondays to Fridays) | 11am to 9pm (Saturdays, Sundays & PH)
Website | Facebook | Instagram 
8. Living DNA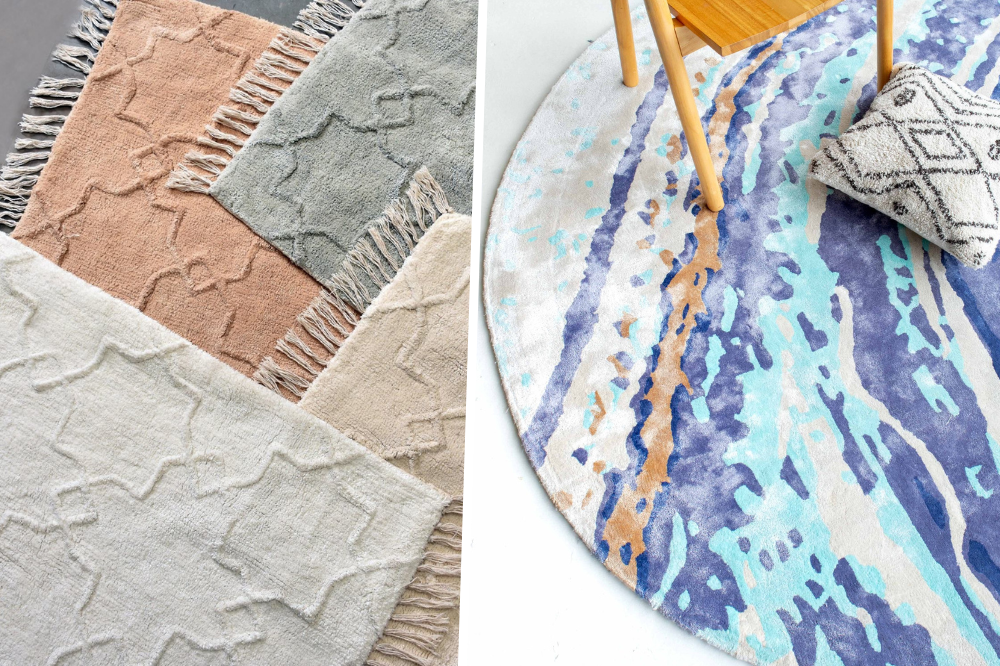 A local brand, Living DNA, focuses on creating ethically and environmentally friendly rugs, all of which are handwoven. The designs of their rugs lean towards a Scandi-rustic feel, with abstract graphics and muted tones. Plus, they have a select number of vibrantly-coloured rugs, including one with hues of blue and grey (right) to remind you of an ocean view. 
Their rugs are all of high quality, made by artisans from Nairobi, Ho Chi Minh or Cebu. This means not only do you get a fresh new rug for your home, but a glimpse into the heritage of rug-making as well. 
For fickle-minded folks, their website is categorised accordingly too so you can pick a rug that works best for your home, without getting overwhelmed by the options. 
Price: From $152
Shipping fee: Free local delivery for orders above $100
Contact: Detailed contact information is available here
Showroom Address: 18 Tampines Industrial Crescent, Space@Tampines Furniture Gallery, #01-10B Singapore 528605
Opening hours: 11am to 6pm daily, closed on Mondays 
Website | Facebook | Instagram 
9. Rug.sg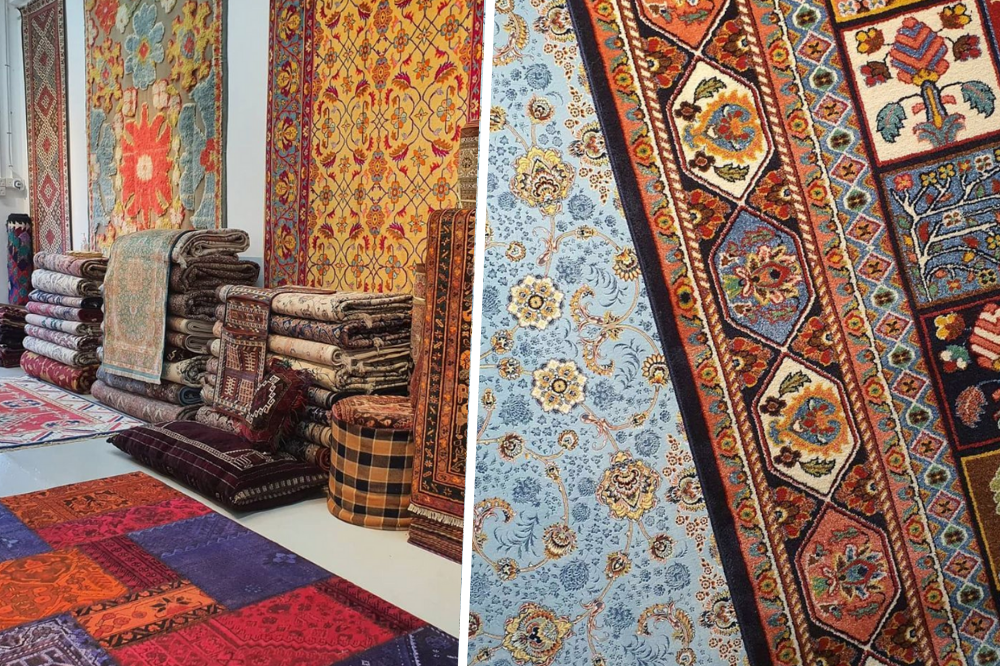 Started as a family business that's had generations of experience working with upholstery, Rugs.sg offers a range of colourful handmade rugs. They specialise in Persian-style rugs with bold, saturated prints. The rugs alone are a statement piece that'll add vibrance and warmth to any room. 
Their classic rugs are not only of high quality that can last for years – a great long-term investment. 
If you favour more daring styles, they also have patchwork carpets (left) made from pieces of antique Persian rugs reassembled to form a unique one-of-a-kind design. 
Price: From $150
Shipping fee: $50 for local delivery, free for orders above $1000
Contact: WhatsApp 9118 1700 or call 69705000
Showroom Address: 315 Outram Road, #04-07 Tan Boon Liat Building, Singapore 169074
Opening hours: 10.30am to 7pm daily
Website | Facebook | Instagram 
10. Finn Avenue

Finn Avenue carries modern designer rugs for that elegant, luxe flair. Despite the more muted, earthy tones, the rugs make a statement with the addition of gold and silver features and posh embellishments. 
Similar to most of their rugs, the Labyrinth Gray rug (left) comes in softer greyish-blue tones so you can subtly highlight any metallic furniture and decor in your room without facing colour clashes.
Some of the rugs are hand-tufted pieces that are imported from Turkey and New Zealand. The classy designs will easily give any room a lift, offering an air of old Hollywood glam. 
Price: From $169
Shipping fee: Delivery fees and information can be found here
Contact: Call or WhatsApp 8699 3466 or email Home@FinnAvenue.com
Showroom Address: 201 Henderson Road, Apex@Henderson, #04-18, Singapore 159545
Opening hours: 11am to 7pm (Mondays to Fridays) | 12pm to 6pm (Saturdays, Sundays & PH) 
Website | Facebook | Instagram 
11. The Cinnamon Room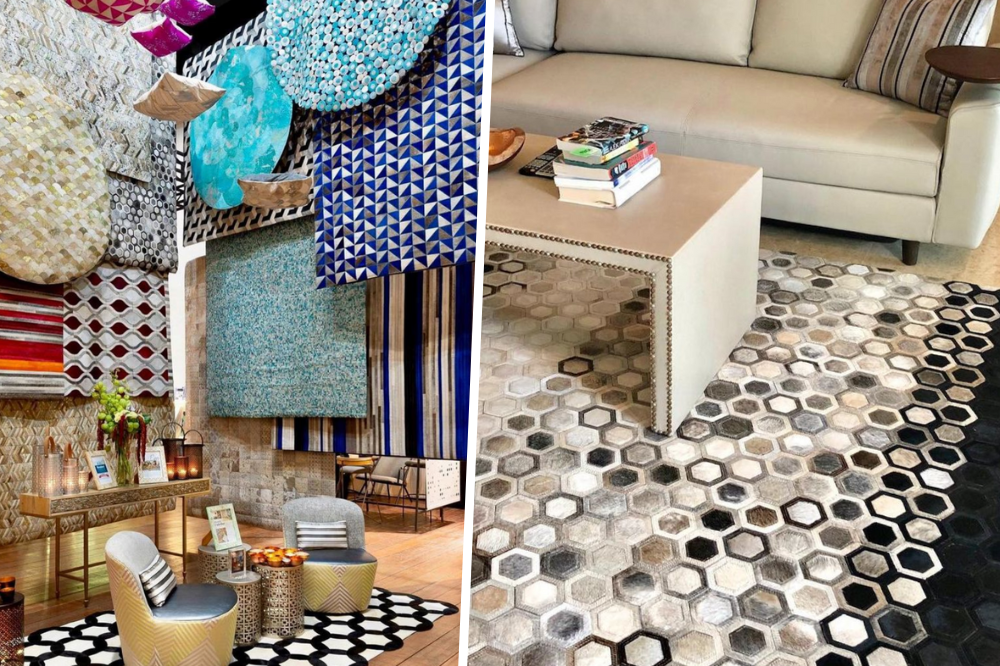 The Cinnamon Room has rugs that are artisan-crafted with bold geometric prints made from materials like hyde, jute and other natural fibres. This makes the rugs spill-proof and easy to clean, as well as an appropriate option for outdoor use. 
The collection has a series of rugs with metallic finishes and woven jute details with elaborate patterns to liven up your rooms with an air of cheerfulness. The hyde rugs come with subtle laser-etched designs for a unique finishing touch. 
All the rugs from the brand are made ethically and sustainably too.
Price: From $249
Shipping fee: Calculated in cart depending on item and address
Contact: Call 9727 3051 or email vishanelson@thecinnamonroom.com
Showroom Address: 43 Jalan Merah Saga, #02-74, Singapore 278115
Opening hours: 11am to 4pm (Tuesdays & Thursdays) | 11am to 5pm (Saturdays), Closed on other days
Website | Facebook | Instagram 
12. Hooga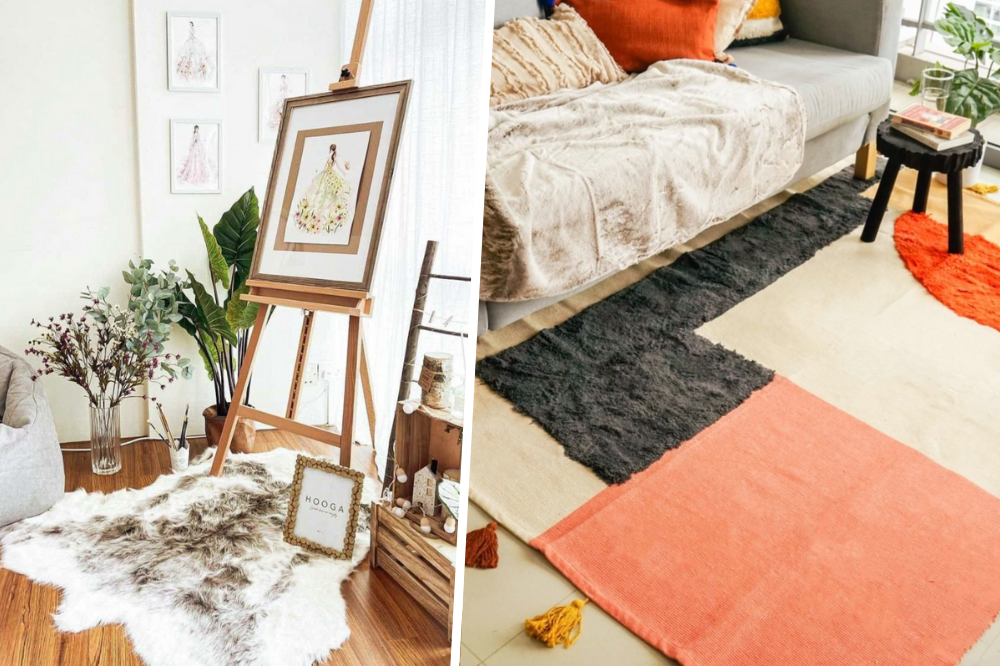 Hooga has a selection of textured rugs with added details to give the pieces a homier feel. The rugs they sell come in a variety of colours and modern designs that'll go along nicely with any coloured decor to give the room a sophisticated edge. 
Their faux sheep fur rug (left) is not only soft to the touch but an interesting addition to any room. Hooga's website also has a wide variety of furniture and home decor items that are just as unique as their rugs. 
With multiple outlets around Singapore, you can head down to any one of them to get a feel of the rugs before making a purchase. 
Price: From $63.20
Shipping fee: Calculated in cart depending on item and address
Contact: Call 6816 0150 or email customerservice@findinghooga.com
Showroom Address: Branch locations found here
Opening hours: 11am to 10pm daily
Website | Facebook | Instagram 
DIY Rugs
13. Tuft Club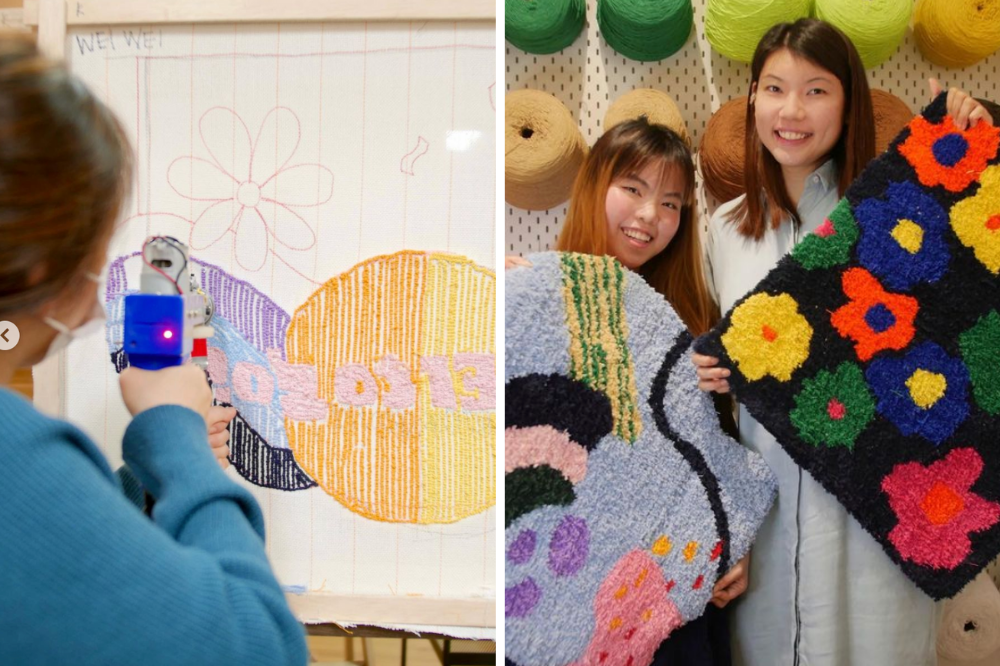 Instead of buying a rug, you can also try making and designing your own, at Tuft Club. During the session, you get to try out traditional rug-making using a tufting gun. The rug base is a 70cm x 70cm monks cloth which you can then adorn with coloured cotton or wool yarn to create a one-of-a-kind rug to take home or gift to a friend. 
There's no need to worry about messing up because the staff at Tuft Club will also be around to guide you along as you piece together a rug. 
Aside from ending off the session with a new chic rug, you can even make a date out of the workshop with your significant other. Once you've both made your rugs, you can compare them to see who managed to do a better job. 
Price: $195 per session
Address: 57 Circular Rd, #03-01, Singapore 049412
Opening hours: 10am to 10pm daily
Contact: Call 8023 0237 or email hello@tuftclub.com
Website | Facebook | Instagram 
14. With Autumn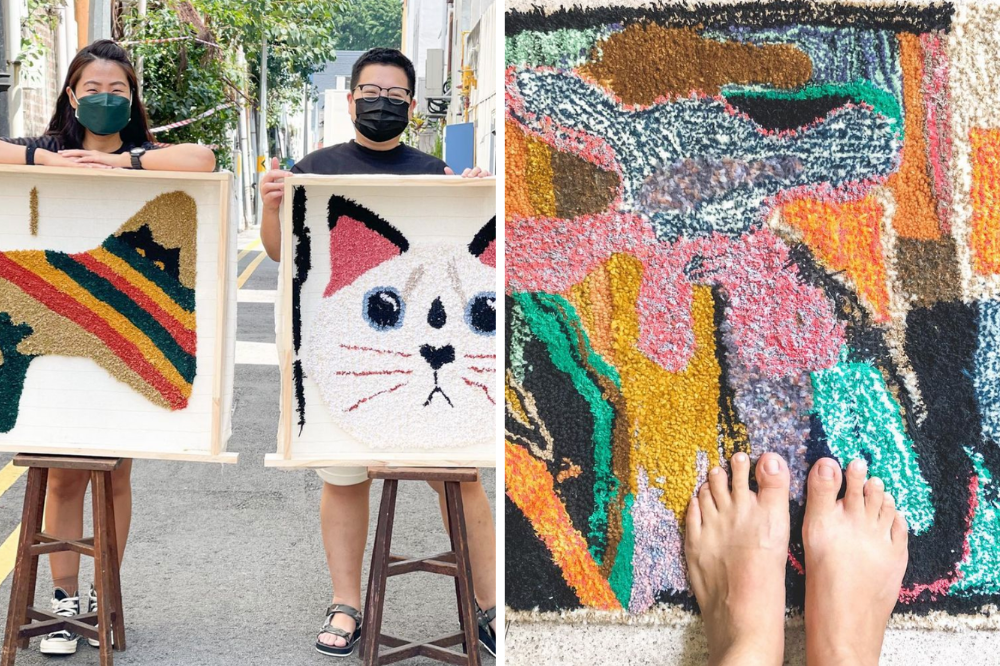 At With Autumn, you can have a go at a multitude of different arts and crafts workshops, which includes a tufting workshop where you can make your own rug. 
During the workshop, you get to try out punch needling in a session with 4 other participants or go for their tufting 101 workshop which allows you to learn the art of tufting in 2 split sessions. The 2-day workshop has a more intimate group size of 3, so you can invite your 2 closest friends and make rugs over a catch-up session at the same time. 
If you don't have time in your busy schedule to fit in a 4-hour workshop, they have take-home kits so you can try making your own rugs at home.  
Price: $229 for tuft your own rug, $329 tufting 101 workshop
Address: 245 South Bridge Road Singapore, Singapore 058794
Opening hours: 11am to 5pm (Tuesdays to Fridays) | 10am to 6pm (Saturday), Closed Mondays & Sundays
Contact: Call 9022 0132 or email hello@withautumn.com
Website | Facebook | Instagram 
Places To Get Aesthetic Rugs To Add Pizzazz To Your Homes 
Whether you plan on giving your room a makeover or you're moving into a new home, adding a unique and bold rug to your list of furniture must-haves will completely elevate any space. There's no need to even fork out money on a pricey subpar designer rug when there are affordable rugs to consider from this list. 
After all, it's been said that when it comes to your home, you should only live with what you love. 
Also read:
10 Places To Buy Full-Length Mirrors In Singapore So You Can Snap Aesthetic OOTDs At Home