Female Artists in Singapore
It's not easy to break it to your Singaporean parents that a career in the arts is something you're after. "Huh, why you don't want to work in office." "Can earn money meh?" Being Asian, it doesn't help that most of our parents, have the conservative perception that being an artist is hard to sustain a living in Singapore, in comparison to a 9-5 job in an office.
Dropping societal conventions, here are 25 local artists who pursued their dreams regardless.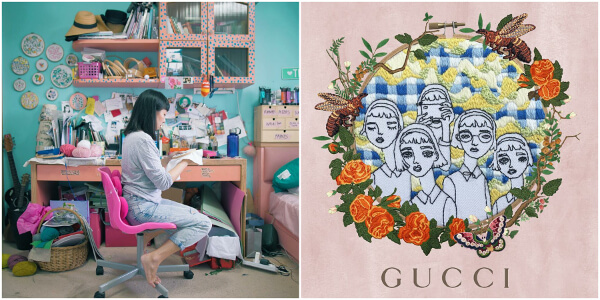 Graduating with an Honours degree in Fashion Design and Textiles, Teresa Lim's work is a marriage of her illustrations and passion for embroidery. Catapulted to fame from embroidering travel souvenirs, she's also driven by themes of womanhood and gender and intricately weaves them into her designs.
Today, she has worked with clients such as Gucci, H&M, Swarovski and Coach.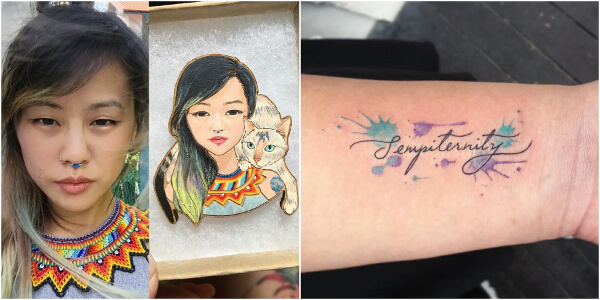 Jen wasn't originally from the tattoo industry but her desire to express herself through art led her to become a tattoo artist. Mostly known for her simple handwritten script tattoos and line work, she's also ventured into geometric, dot work and watercolour tattoos.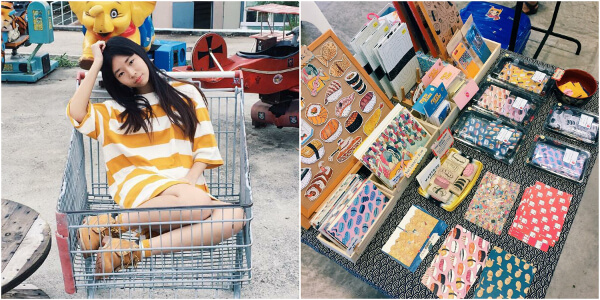 If you're a fan of sushi, sashimi and Studio Ghibli, you'll love Si Hui's Japanese-themed merchandise. With an assortment of kawaii illustrations, you'll find stickers, handphone cases, greeting cards and even tote bags.
Besides animals and botanical elements, Jocelyn's work is also influenced by girly and symmetrical objects, which explains her specialty in dots and lines. She's currently pursuing printmaking at Lasalle while juggling her job at Horikawa Tattoos.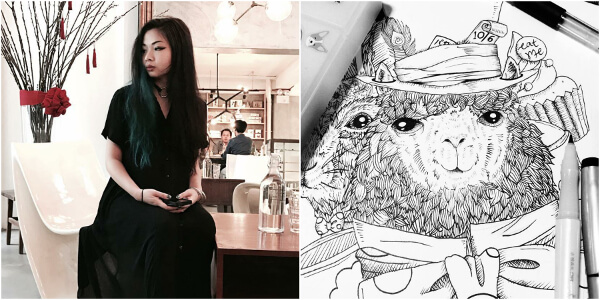 Alpacas are one of the Internet's favourite animals. No surprise why local illustrator, Vernice, loved them so much that she created an online store selling merchandise for her hand-drawn alpacas; which includes sling bags, pouches, stickers and even tees.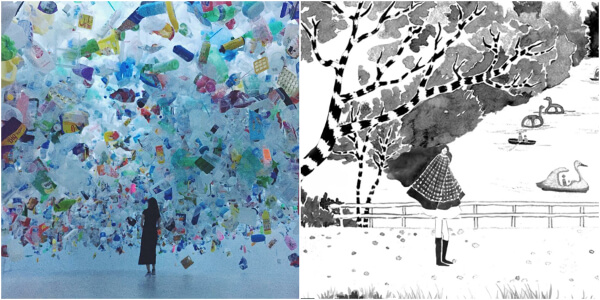 Singapore-born and London-trained artist and illustrator, Zi Xi, is known for her unique style that springs from moments of spontaneity and inspiration.
Her latest work featured at the Singapore Art Museum, 'Plastic Ocean', scrutinises our daily consumption of plastics, and reinforces empathy and consciousness for underwater creatures and landscape. Recently, she even bagged a gold award from the Singapore Creative Circle Awards 2015 for her animation, dododo, commissioned by UNTITLED Japan.
7. Tiffany Lovage (@lovage)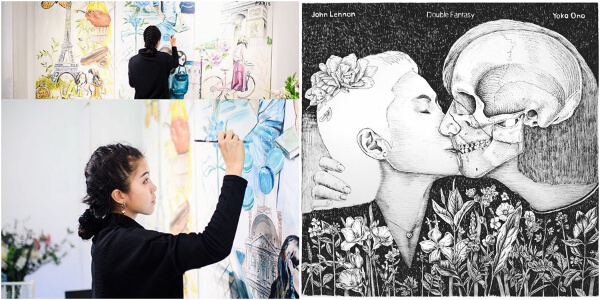 Born and bred in Singapore, Tiffany Lovage is an artist and illustrator whose works are influenced by astronomy, botany and whimsical components. When she isn't doodling on paper, she'll be experimenting on skin through henna art.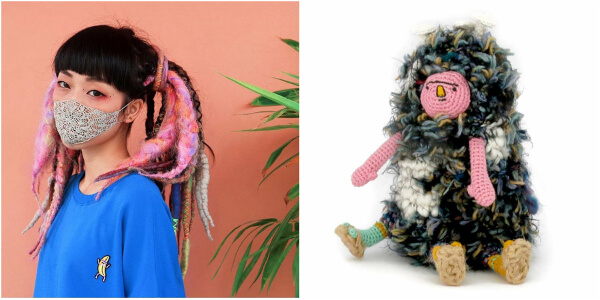 If anyone dares tell you that knitting and crocheting's just for grandmas, point them to Kelly. Besides her outstanding wool dreads, the self-taught knitting artist is also recognised for her love for 'kimo-kawaii'—a Japanese term for grotesque-cute—which led up to her passion for knitting quirky figures.
Using yarn as a medium, she also crochets pins and kitchen accessories for sale on her website.
An illustrator and character designer based in Singapore, Candice graduated from the National University of Singapore with a BA in Arts (Architecture) and also holds an Advanced Diploma in Graphic Design and Visual Communications.
Her background in both fields allows her to perceive art from a unique perspective, with works often represented by dotty characters clad in vibrant colours and clown-like features.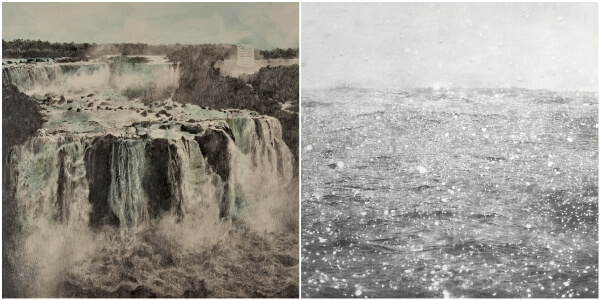 Ashley's monochrome pieces stand out in the sea of bold-coloured artworks in a museum. With muted tones and intricate details, her hyperrealistic drawings might fool you into thinking they're pictures rather than sketches of a scene.
11. Marina Ahmad (@mrn.a)
Marina's eye-catching illustrations will grab you with their vivid shades and trippy artwork, reminiscent of the neon colour disco era of the 80s. Apart from illustrating, Marina's also the art director for local band, Disco Hue.
12. Sam Lo (@skl0_)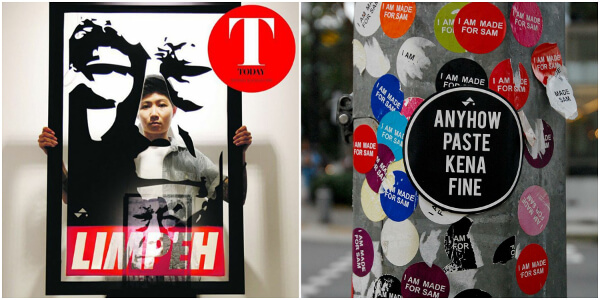 Known to many as the sticker lady, urban visual artist Sam Lo is recognised for her controversial installations—such as pasting stickers reading "press until shiok" at traffic lights and spray-painting the colloquial phrase "my grandfather road" on several streets in Singapore.
Besides her urban art works, Sam also founded Indigoism, a platform for creative and synergistic collaborations, and RCGNTN Mag, a platform that celebrates independent culture in Singapore.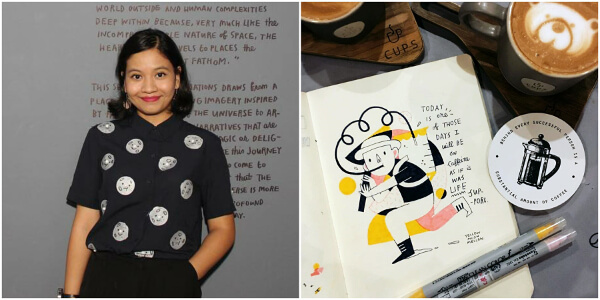 Graduating with a Bachelor of Fine Arts from Visual Communication in NTU in 2014, Aida moved on to bring her imagination to life in the form of illustrations. Today, she has worked with brands such as Starbucks, McDonald's and Red Bull.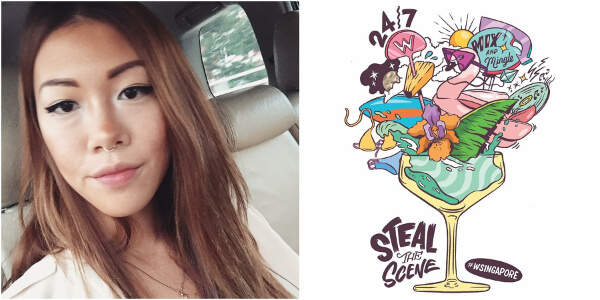 Lydia, the illustrator best known by her moniker, Oak and Bindi, is a Visual Communications Illustration graduate from Temasek Polytechnic, Singapore.
On top of working with companies such as W Hotel Singapore, Nike Singapore, and Rockstar by Soon Lee, she's also a part of the creative collective, Tell Your Children. Her latest project in Singapore was a t-shirt release called "Nikes"—named after the first song of Frank Ocean's latest independent album.
Victoria's known for minimalistic monochrome tattoos, ranging from dotwork to geometric patterns. She gained interest in tattooing since young, and began her apprenticeship in 2012. Check out her Instagram for more of her client works or drop by Killswitch Tattoo Parlour if you're itching for her artsy service!
Combining her background in business marketing with her creative side, Grace Ciao has helped numerous leading luxury fashion brands bring their visions to life—some of which include Fendi, Elie Saab, and Chanel.
Drawing inspiration from nature, she incorporates flowers and watercolours with delicate illustrations, to mimic the exquisiteness and delicacy of fabric.
The wispy strokes of Lucinda's botanical illustrations demonstrates her love for nature and keen eye for detail. Besides being known for her floral illustrations, Lucinda also offers watercolour painting workshops in her art studio and established Within.sg, an online editorial inspired by creative muses derived from nature.
Born out of boredom during her gap year, Ultraaviolets' quirky and brightly-coloured illustrations oozes with personality.
On top of busying herself with flea markets and art and craft workshops, she collaborated with Allscript Magazines to reproduce illustrated remakes of magazine titles—including indie ones like Oh Comely, Lula, and The Gentlewoman.
Visual artist cum illustrator, Rachele, pairs pastel tones with life-like human portraits. While her work doesn't typically carry a theme, much of her art revolves around the notion of identity, loss, and a certain kind of heaviness.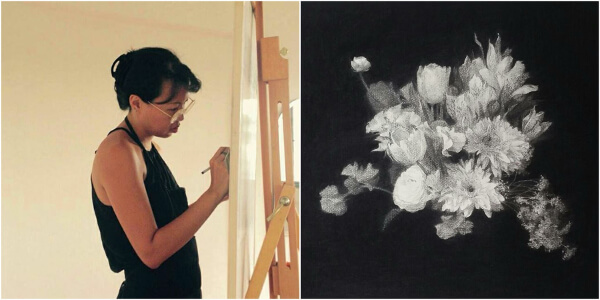 Unlike most artists in this article that use vibrant colours to bring their work to life, Yanyun's pieces draw bystanders in through sombre images depicted through charcoal drawings. Her drawings surround dark themes such as death and dying, memory and memorials.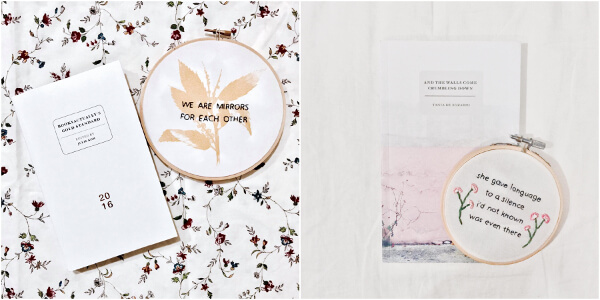 There are people who love to read, and people who love to read so much that they'll turn literary works into art. Jamie immortalises words in thread and makes keepsakes of her favourite books through embroidery.
An avid supporter of the local literary scene, she also provides live demonstrations of her works inspired by her favourite authors.
Melissa's work are based on nature and themes of ephemerality. She enjoys translating geography and textures of rock into artwork through different mediums such as paper cutting and silk-screen techniques.
Her work has also been exhibited abroad at Ile des impressionists in Paris, and Strarta Art Fair, Saatchi Gallery in London. Recently, she even completed a commissioned piece for the Singapore Biennale 2016.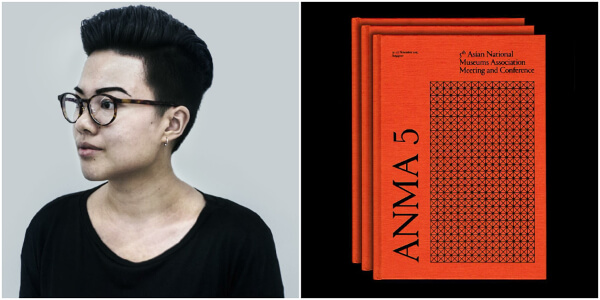 A graphic designer and self-taught photographer based in Singapore, Vanessa completed her degree in typo/graphics at the London College of Communication. She uses graphic design as her medium to convey her interest in human and social issues, and photography to document and express her personal and artistic growth.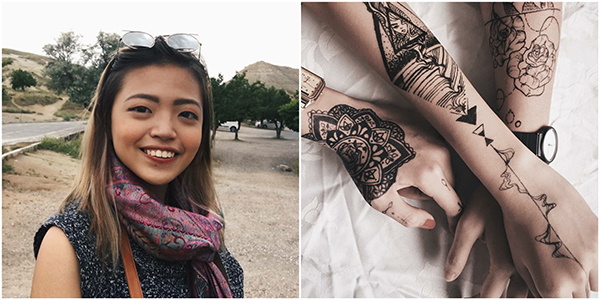 Sociology student at NUS by day, and henna artist by night, See Min uses henna and jagua ink to create various designs from complex tribal mandalas to ornate floral patterns.
25. Izziyana Suhaimi 
Using thread as her medium, Izziyana weaves life into her pencil and watercolour illustrations. And has had her work exhibited in Singapore, Japan, the Philippines and Taiwan.
Singapore Arts Scene
Art provides perspective and evokes emotions. Through it, we find ourselves and even lose ourselves; and that's what makes art so meaningful.