Starbucks Singapore Holiday Collection 2021 
The Christmas season basically starts the second November hits – so time to put up the tree and play Michael Bublé on shuffle. To add to that holly jolly feeling, Starbucks Singapore has already launched a wide collection of holiday-themed items.
And, to set your spirits on high, the collection includes a selection of mugs and tumblers spruced up with polar bear motifs. It's time to get the festivities properly started. 
Polar Bear-themed items
What's more festive than snow globes? This polar bear snow globe doubles as a mug, so you can take a sip of hot cocoa while picturing yourself in the winter wonderland depicted within. 
The polar bear snow globe mug is priced at $64.90.
Alternatively, you can opt for this other snow globe that features our fluffy white friend cycling around a Christmas tree. The base of the snow globe mimics colourfully wrapped presents stacked together, under the tree.
Together with the globe, you can also consider getting the polar bear and arctic fox ornaments as decorations to stir up the festive spirit. 
The snow globe is priced at $80.90 while the ornaments are priced at $16.90 each. 
These dainty drinkware items are all coloured pastel purple and have different polar bear motifs printed on them. While the 2 tumblers feature our polar bear pal preparing Christmas gifts, the mug showcases him delivering the wrapped goods on a bike. 
And to ensure your drinks stay nice and warm, all 3 of the items have a cover attached. 
The 12oz tumbler is $48.90, the 16oz tumbler is $29.90 while the mug is $42.90.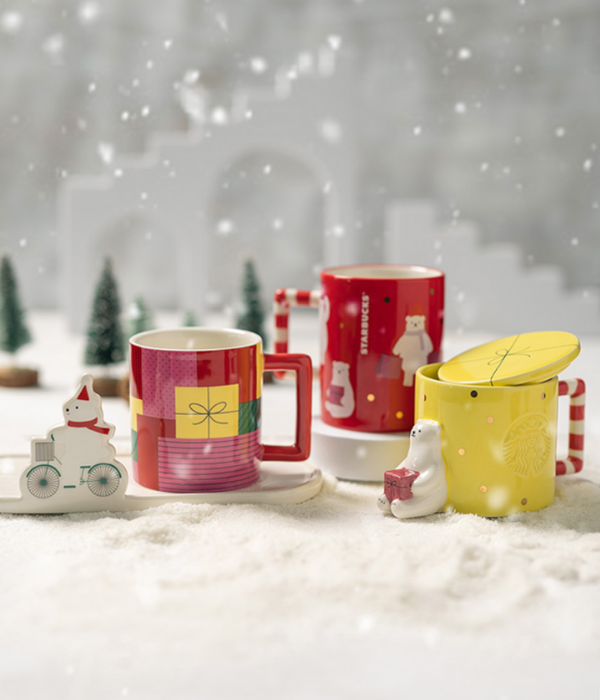 From left to right: the mugs are priced at $48.90, $24.90 and $34.90, respectively. 
The next items in the collection are these themed mugs which come in 3 different designs. The first is a mug adorned with present motifs, paired with a white polar bear saucer. 
In yellow, there's also a mug that has a candy cane coloured handle and a polar bear embellishment attached to it. The cover of the mug completes the look with a bow printed onto the top. 
Finally, the third mug is a simple red version with a candy cane coloured handle as well, and polar bear motifs printed all over. 
If you enjoy taking sips of your favourite tea to keep warm on a rainy day, this white kettle could be your new best friend. The kettle is shaped like a polar bear, finished with a red scarf and pointed hat for that warm and cosy vibe. 
To pair with it, you can also get the white polar bear espresso mug, which has a red and white handle – perfect for enjoying a tantalising brew. 
The espresso mug is priced at $18.90 while the kettle is priced at $65.90.
Given how magical the season is, this pink straw tumbler adds to the vibe with a glittery finish to its exterior. On the front, the same white polar bear makes an appearance yet again, with a gift held tightly in hand. 
The pink tumbler is priced at $23.90. 
Festive red coffee cups & tumblers
From left to right: the items are priced at $32.90, $26.90 and the final 2 are both $22.90 each. 
The holiday collection also includes these special edition red and green tumblers and coffee cups. The bold colours and block lettered words that grace their design help to amp up the yuletide vibes of the collection.  
Deck the halls themed items 
From left to right: the items are priced at $59.90, $31.90, $45.90 and $65.90, respectively. 
If you want items that fit the Christmas theme in a more subtle way, you can consider 1 of these 4 different drinkware pieces. For that friend who loves artisanal coffee, you can get them the translucent hand-pour coffee flask, with a filter attached to the top and a polar bear printed on the front. 
To complete the gift, you can add in the clear mug with a wreath printed on the front, that's jazzed up with a shiny green and gold handle. Additionally, there's also a cream coloured tumbler and kettle with the same wreath design printed on the front. 
Colour changing cups
Stay tuned for weekly surprises too, such as this set of 6 colour-changing reusable cups which would make great matching gifts for your clique. Fill them up with a hot bevvy and watch as they change their external hues to shades of purple, pink and green.
Make repeated visits to your nearest Starbucks outlet on your year-end agenda to check out other upcoming merch like coffee run accessories, beach items and the classic Starbucks Studded Cold Cups.
The Starbucks SG Christmas Collection Will Fill Your Mornings With Jolly
As The Chipmunks sang in their iconic 1959 album, "Christmas, Christmas time is near", so let the holiday spirits arise. 
All the items in the Starbucks Christmas collection here, along with other variations are now available on Shopee, Lazada and in stores. 
All images courtesy of Starbucks Singapore.
Also read:
This Hello Kitty Holiday Homeware Collection Includes Christmas Ornaments & A Beauty Organiser