Starbucks x Kate Spade New York 
Following the success of the first Starbucks x Kate Spade New York collection, Starbucks is back with another one. This time, they're bringing you on a "trip" to New York City with their drinkware and accessories, inspired by the whimsical elements of the city. 
Also featuring Kate Spade's signature dots and stripes, the collection is filled with colours and adorable motifs. Continue reading to find out what is included in this collection. 
Tumblers
Because of Singapore's erratic weather, who knows when it will be cold or warm? To help you stay hydrated no matter what the weather is, store your favourite beverage in one of these adorable tumblers. 
From left: Stripe Mocha Tumbler 12oz $45.90, Stripe Tumbler 16oz $49.90
Available in two shapes and sizes, the green and pink stripe tumblers feature Starbuck's siren logo in the middle. Topped with a vibrant pink cap, both tumblers provide a dash of colours when you place it on your desk.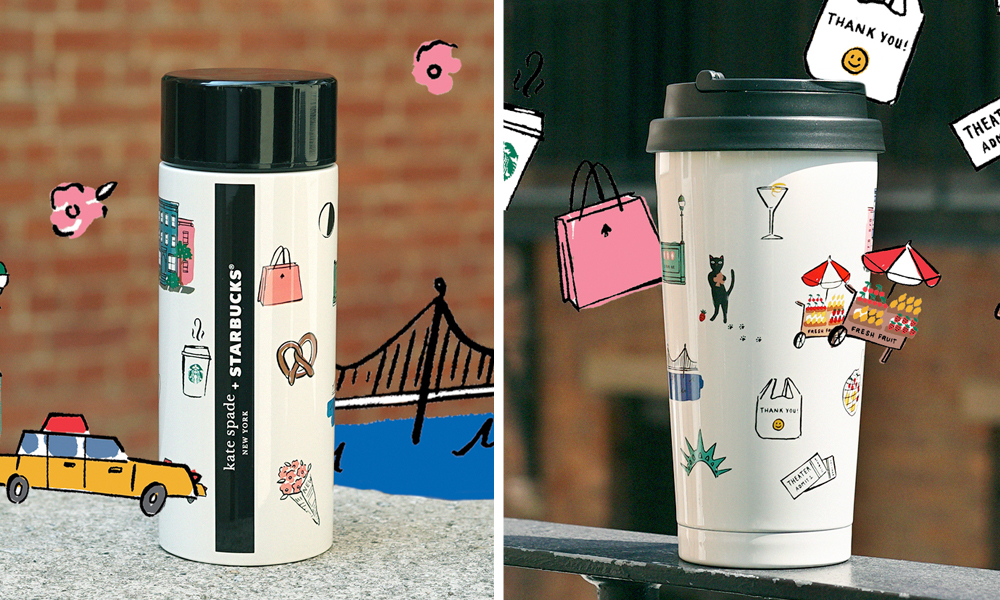 From left: NYC Mocha Tumbler 12oz $45.90, NYC Tumbler 16oz $49.90
Iconic landmarks like the Statue of Liberty and the Brooklyn Bridge easily come to mind when you think of New York City. Incorporated into the design of these tumblers, these landmark motifs provide an idea of NYC for those who've never been there. 
Additionally, you'll also find other motifs like a fresh fruit stand, a glass of martini, and a plastic bag that reads "Thank you!".
Polka Dots Tumbler 16 oz, $49.90
For minimalists, consider this tumbler with white polka dots and a green base. Despite its simple design, the tumbler makes a bold statement with its eye-catching green. 
Water bottle
Instead of your usual water bottle, quench your thirst while you drink from this flask-water bottle hybrid. Thanks to its slim figure, you can keep the bottle easily in your bag.
As it is designed with motifs of strawberries and Kate Spade's iconic spade logos, the pink cap on top also adds a dose of cuteness to the bottle. 
It has a capacity of 14oz and retails at $30.90.
Mug
Start your day right when you take a sip of your daily cuppa from this stainless steel NYC Mug. Featuring the same motifs found on the NYC Tumblers, the mug has a capacity of 16oz, and retails at $49.90. 
Accessories
Apart from drinkware, you'll find limited edition accessories like jewellery pouches, luggage tags, and umbrellas in the collection. 
Despite dimensions of 10.5cm x 10.5cm x 5.5cm, this jewellery pouch has enough storage to keep a variety of your favourite accessories.
Lined with a pink material on the inside, the pouch comes with ring organisers, necklaces hooks, and compartments to keep your bling bling organised. Now, you won't have to resort to keeping them in tiny ziplock bags the next time you head overseas or for a staycation.  
The jewellery pouch retails at $50.90. 
Imagine taking the wrong luggage from the conveyor belt – that'd be rather embarrassing. To prevent such an incident, one solution is to differentiate your luggage with a luggage tag. This luggage tag features strawberries and Kate Spade's spade motifs, and is completed with an adjustable pink rubber belt. 
The luggage tag has dimensions of 18.5cm x 7cm, and retails at $25.90.
Whether you're going on an errand run or catching up with friends, this tote bag makes a subtle fashion statement with the New York City-inspired motifs. You get to see them all in a glance, and they also let you express your love for the city that never sleeps. 
The tote bag retails at $39.90.
It is not common to see umbrellas released as Starbucks merchandise, but there is one in this collection. Suitable for any day, this white polka dots umbrella shelters you from both rain and shine. 
The umbrella is 99cm long, and retails at $29.90. 
This Starbucks x Kate Spade New York Collection Bring Colour Into Daily Life
Spruce up your home aesthetics when you take home one of these colourful drinkware and accessories. 
The collection will be available at selected Starbucks stores in Singapore and on Starbucks' official store on LazMall and Shopee Mall on 16 March 2022. Starbucks Reward Gold Members will also get the chance to preview and shop first on 15 March 2022.
All images courtesy of Starbucks. 
Also read: 
Starbucks Has A New Cherry Blossom Collection With Drinkware & Accessories Decked In Pastel Blooms