Starbucks Cherry Blossom Collection
As we're approaching the end of February, it's time to welcome a new season — Spring. Though Spring is commonly associated with cool weather and blooming flowers, these are things that we can't fully experience here in Singapore. Not to fret, as Starbucks is bringing the joy of Spring to us instead, with a new collection of drinkware in cherry blossom prints.
Mugs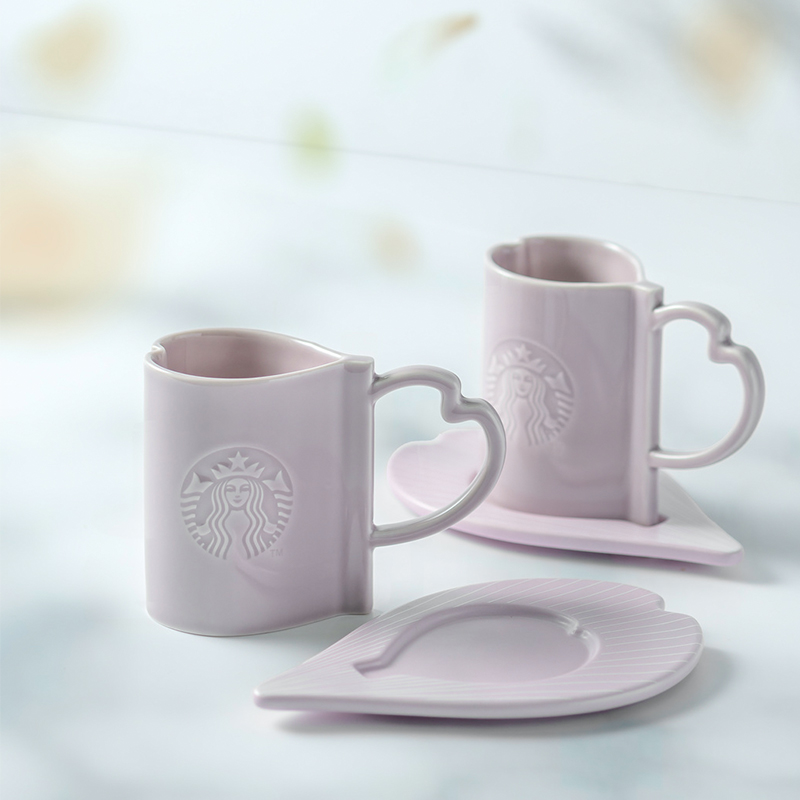 Enjoy your morning coffee in these chio 10oz mugs shaped like cherry blossom petals in soft pink hues. Retailing at $42.90 each, the mugs also come with a matching petal saucer to protect your table from heat damage.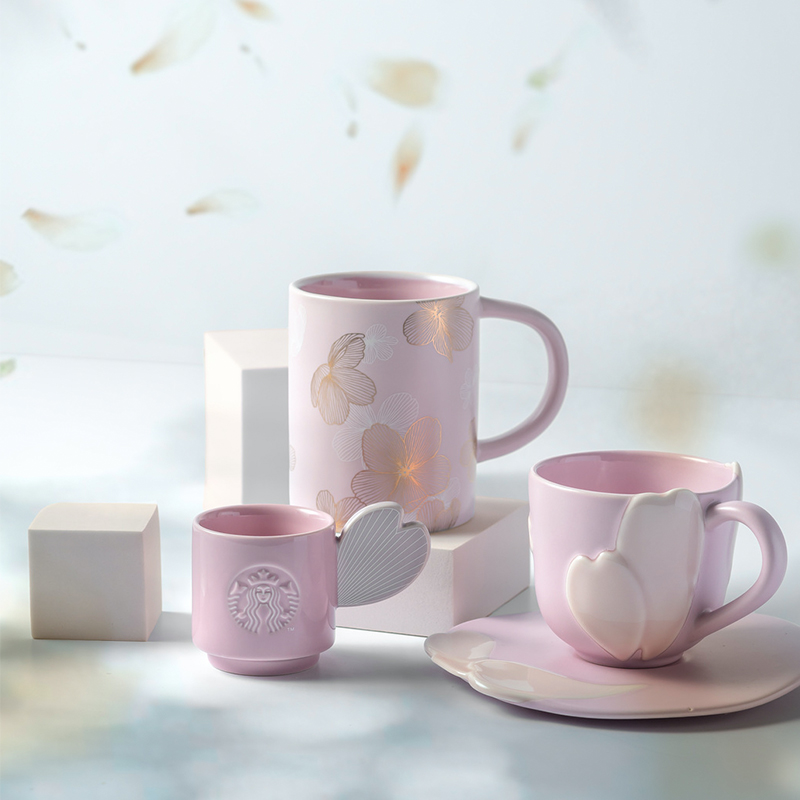 From left: 3oz mug, $22.90; 12oz mug, $29.90; 8oz mug, $42.90
More pink mugs can be found in different sizes and designs to suit your preferences. Whether it's a 3oz mug for your espresso shot or a large 12oz mug for hot chocolate and marshmallows, these elegant designs are a must-have for Starbucks fans.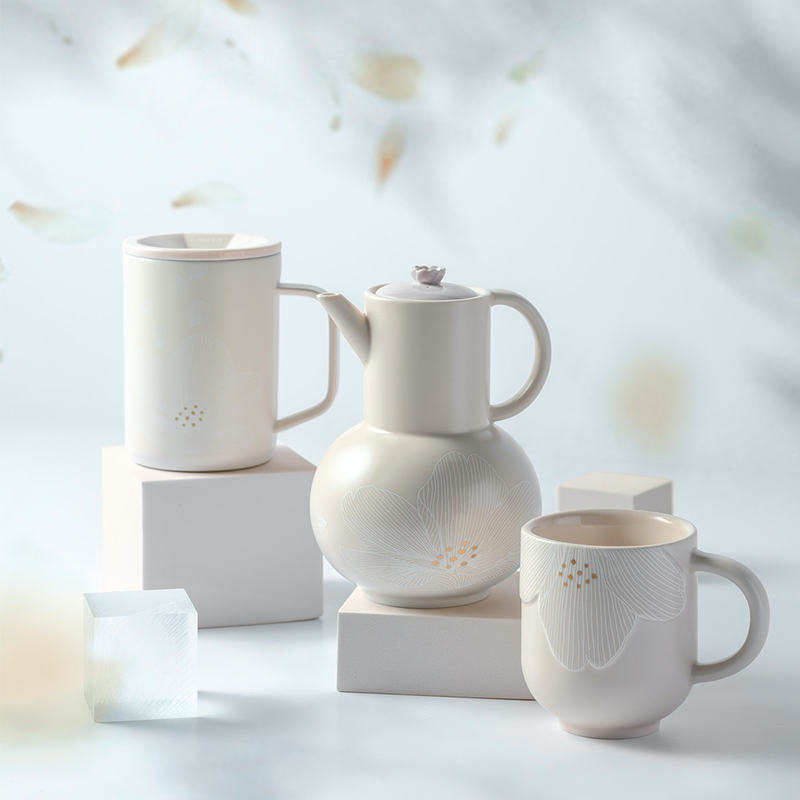 From left: 13.7oz mug, $66.90; 22oz teapot, $52.90, 10oz mug, $25.90
Minimalists can go for the white cherry blossom mugs instead, with subtle flower designs surrounding the mug. Impress your guests by serving tea in the matching teapot with a unique round base, made with ceramic stoneware and topped with a flower lid.
Drinkware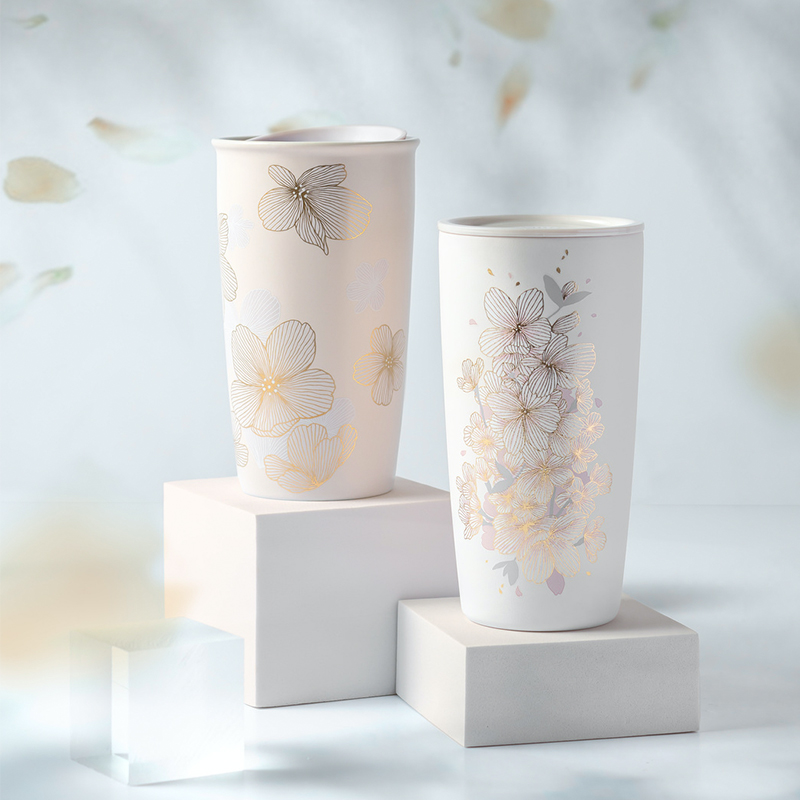 From left: 12oz tumbler, $34.90; 16oz tumbler, $45.90
It's not a Starbucks collection without their iconic tumblers, and these white tumblers come in intricate flower designs that have us hyped for Spring. Perhaps you can take these with you on your next VTL trip and catch the cherry blossoms blooming IRL while sipping on a hot drink.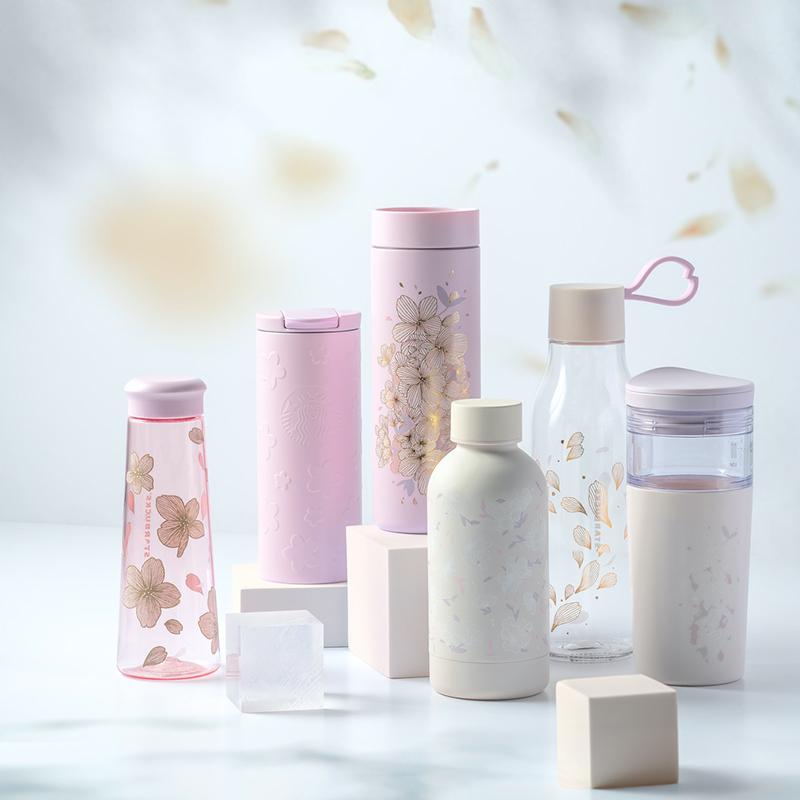 From left: 12oz bottle, $25.90; 12oz tumbler, $42.90; 16oz tumbler, $49.90; 13oz bottle, $34.90; 24oz bottle, $30.90; 16oz tumbler, $29.90
While coffee remains an essential for most of us, it's important to stay hydrated too. The collection includes a range of water bottles and tumblers in more floral designs, with transparent options to add on to the chio aesthetics.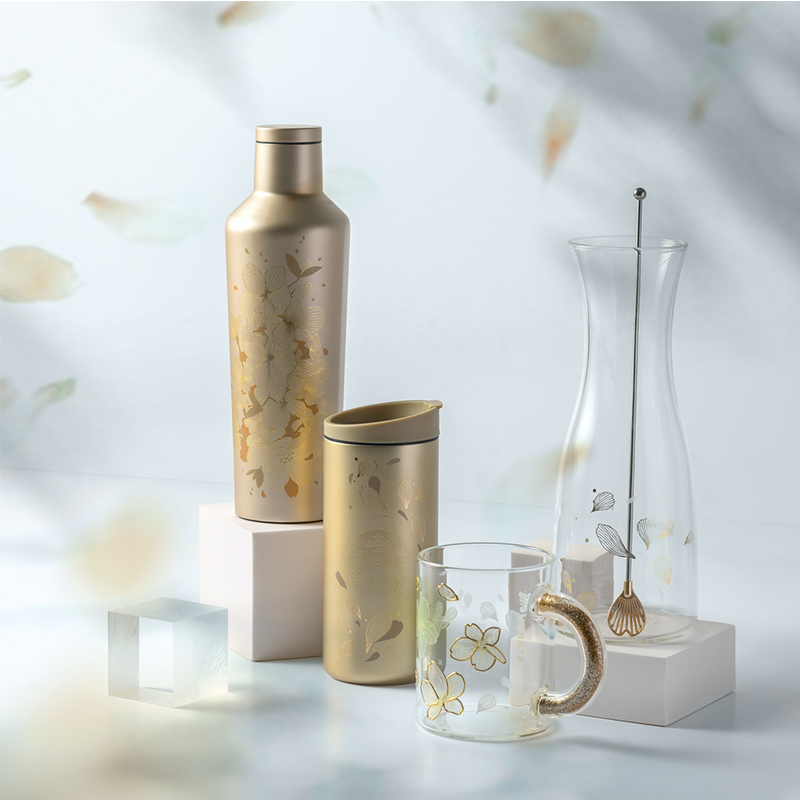 From left: 16oz bottle, $64.90, 12oz tumbler $42.90; 12oz mug, $36.90; 25oz carafe, $52.90
Gold-themed drinkware are also available, featuring a stainless steel water bottle and tumbler, as well as a transparent mug and carafe. The carafe comes with a petal-shaped stirrer, so you can conveniently mix up fun concoctions to serve your guests.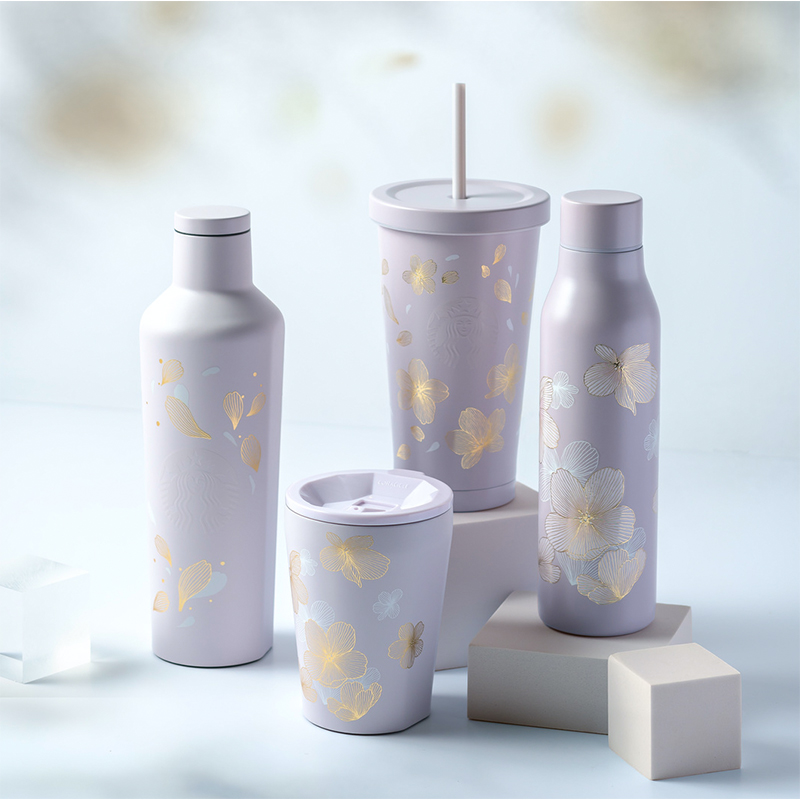 From left: 16oz bottle, $64.90; 10.4oz tumbler, $53.90; 18oz Cold Cup, $44.90; 13oz bottle, $34.90
Opt for the pastel purple drinkware, featuring more cherry blossom designs on bottles, as well as a mini tumbler and Cold Cup. All of the purple drinkware are made of stainless steel, perfect for keeping your drink cool as you grab your iced latte to-go.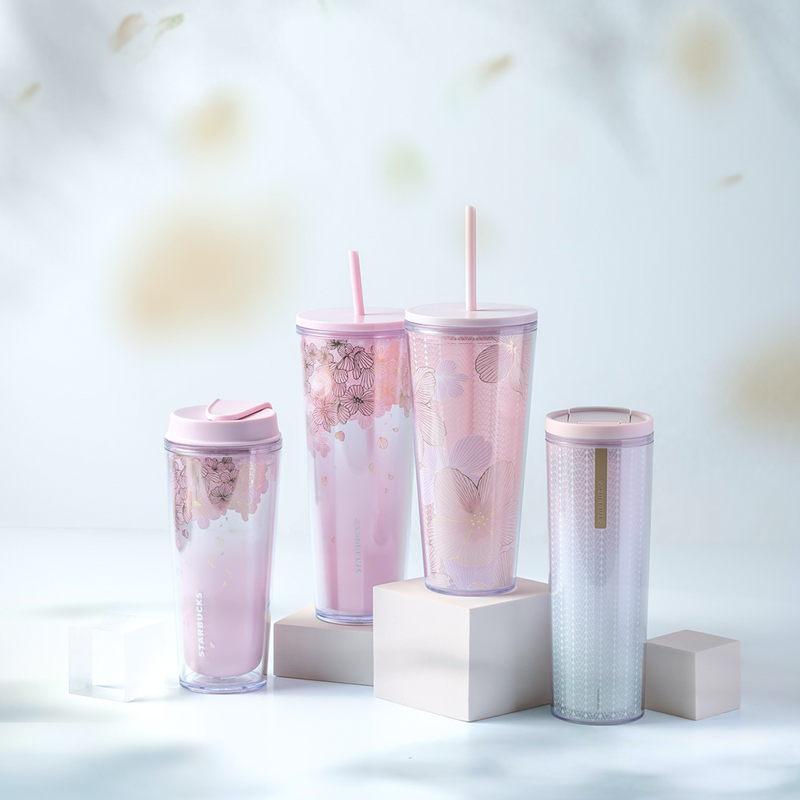 From left: 16oz tumbler, $29.90; 24oz Cold Cup, $29.90; 20oz Cold Cup, $26.90, 16oz tumbler, $29.90
Dream of dancing around falling Sakura petals while taking sips in these pink tumblers and Cold Cups. Instead of getting a bouquet of flowers for bae, why not get matching drinkware in these blooms as a promise to see the cherry blossoms together someday.
Accessories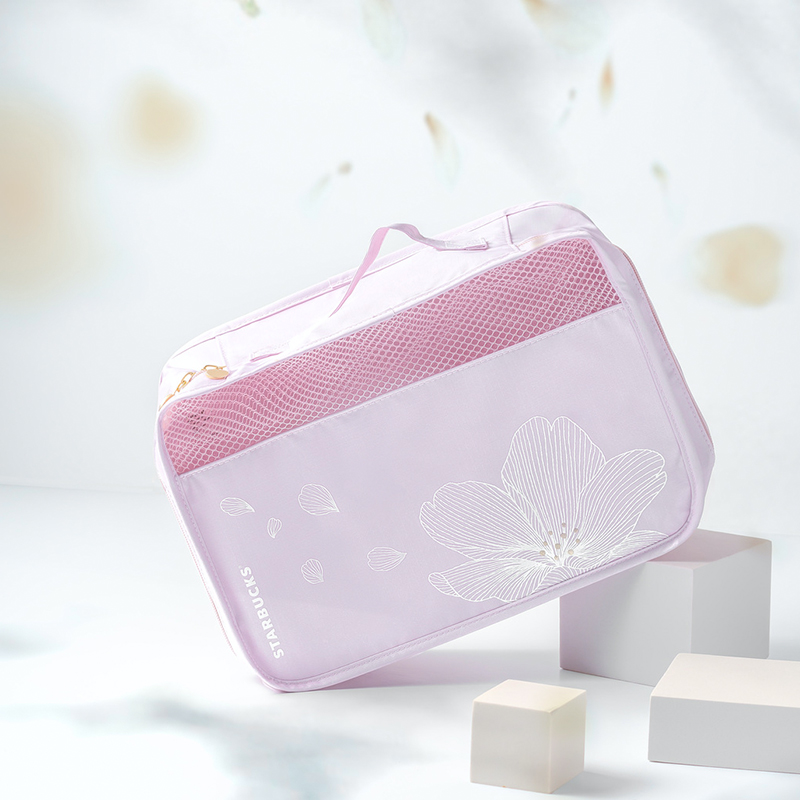 For those who are getting ready for their next VTL trip, the travel organiser will be your lifesaver when it comes to sorting out essentials. Retailing at $26.90, it comes with 3 inner storage pockets, complete with a pink cherry blossom design on the front.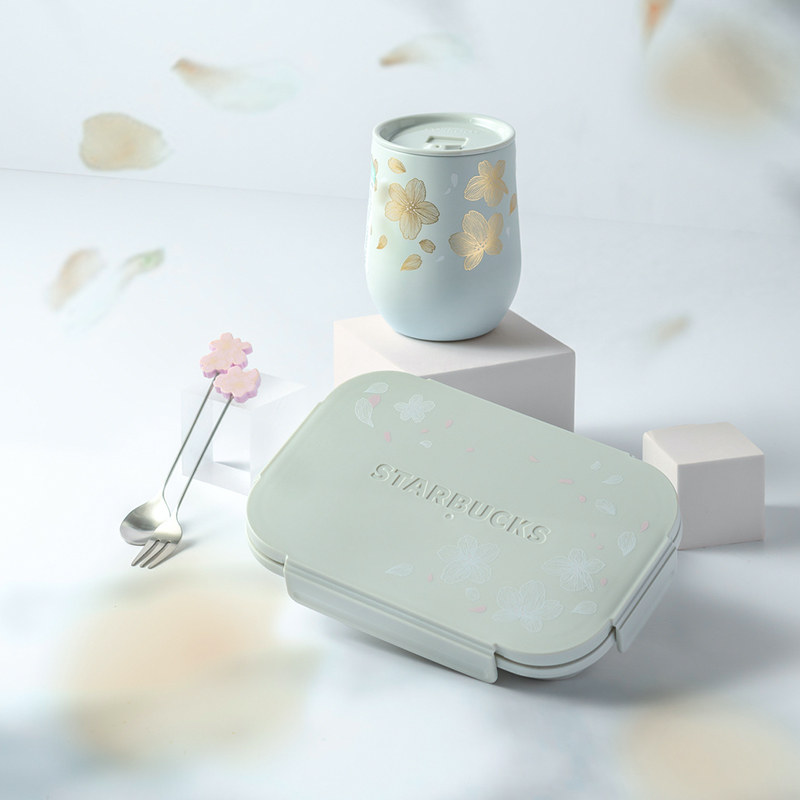 From left: cutlery set, $26.90; collapsible lunch box, $29.90; 11oz tumbler, $53.90
Go green with the cherry blossom cutlery set and collapsible lunch box the next time you dapao your lunch. Wash your meal down with a drink in the matching 11oz tumbler, small and compact enough to fit into your lunch bag. 
Whether it's protecting you from thundery showers or harsh UV rays, this cherry blossom umbrella is one that you'll always want to carry. It's 60cm long and retails at $35.90.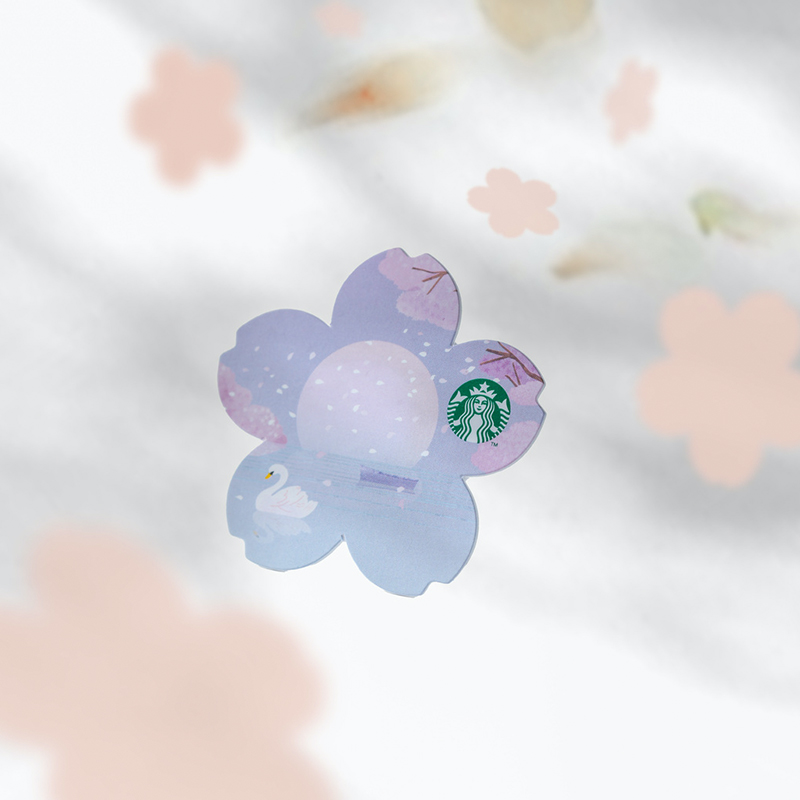 Treat a special friend to a well-deserved coffee break with this unique cherry blossom Starbucks card. It's shaped like a flower with a sweet design of cherry blossoms raining down on a swan, available with a minimum load of $10.
The cherry blossom card is not available at stores located in Changi Airport except Jewel.
This Starbucks Cherry Blossom Collection Brings Spring To Singapore
As Starbucks Japan launched their chio sakura-themed collection earlier this month, we're welcoming the new cherry blossom collection to Singapore with open arms too.
The collection will be available in Starbucks stores islandwide from 23 February 2022 onwards, and also on Starbucks' official Shopee and Lazmall websites. Head over to Starbucks Singapore's website for more details on this aesthetically kawaii collection. 
All images courtesy of Starbucks.
Also read:
Starbucks Japan's Sakura 2022 Collection Gets Ready For Spring With Tumblers And Mugs In Pastel Hues