Starbucks Mid-Autumn Festival Collection
Mooncakes, Chang'e and the immortal jade rabbit. If "Mid-Autumn Festival" isn't the first thing that comes to mind after hearing these keywords, then we're here to remind you that the traditional festival is just around the corner on 29 September 2023. 
To celebrate the upcoming mooncake feast, Starbucks has just launched a Mid-Autumn Festival collection with adorable bunny motifs.
Dark blue collection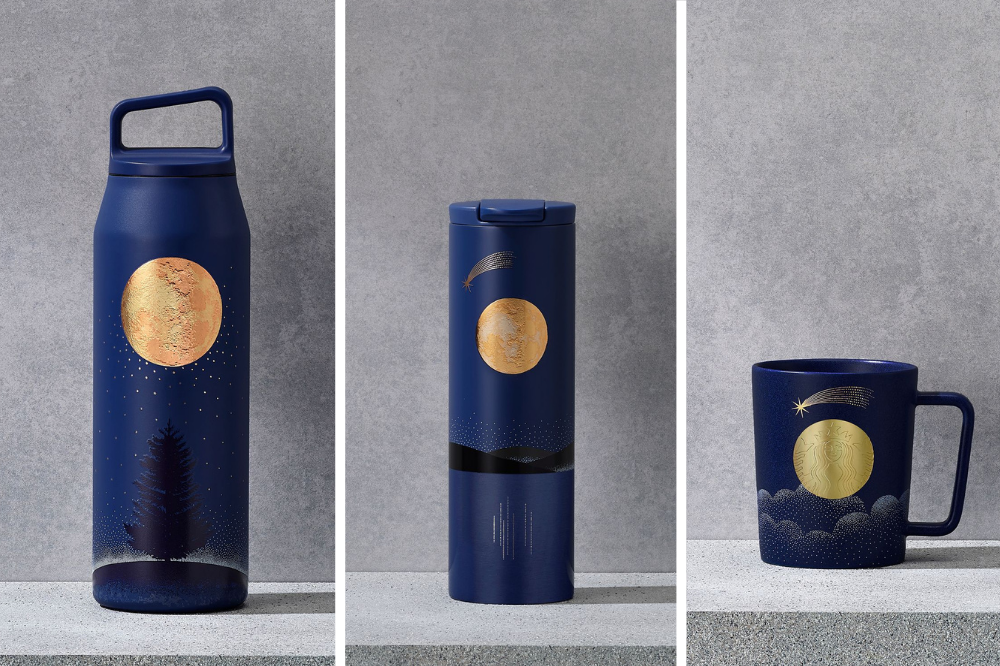 From left: 31.05oz water bottle, $65.90; 16oz tumbler, $49.90; 14oz mug, $34.90
At first glance, the dark blue drinkware from this collection reminds us of Vincent Van Gogh's iconic painting, "Starry Starry Night". 
Water bottles, tumblers and mugs sport navy hues to resemble the night sky, complete with a full moon in the centre to commemorate the festival.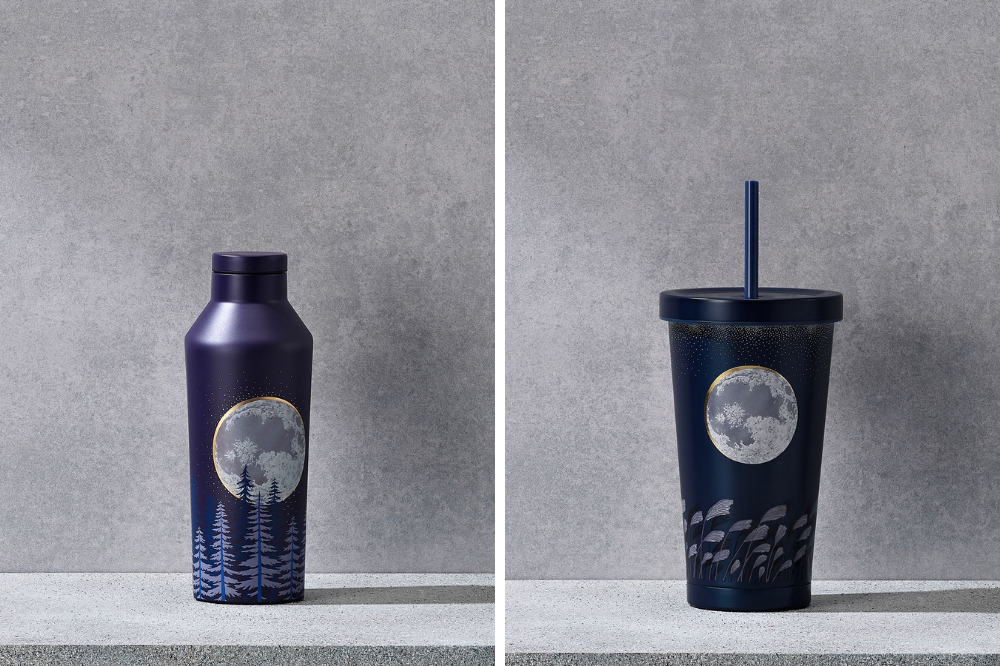 From left: 9oz water bottle, $42.90; 18oz Cold Cup, $49.90
More moon-inspired drinkware are also available as water bottles and Cold Cups, highlighting the natural elements of a forest. It's a quiet escape away from the hustle and bustle of our usual city life, serving as a reminder to take a coffee break whenever you can.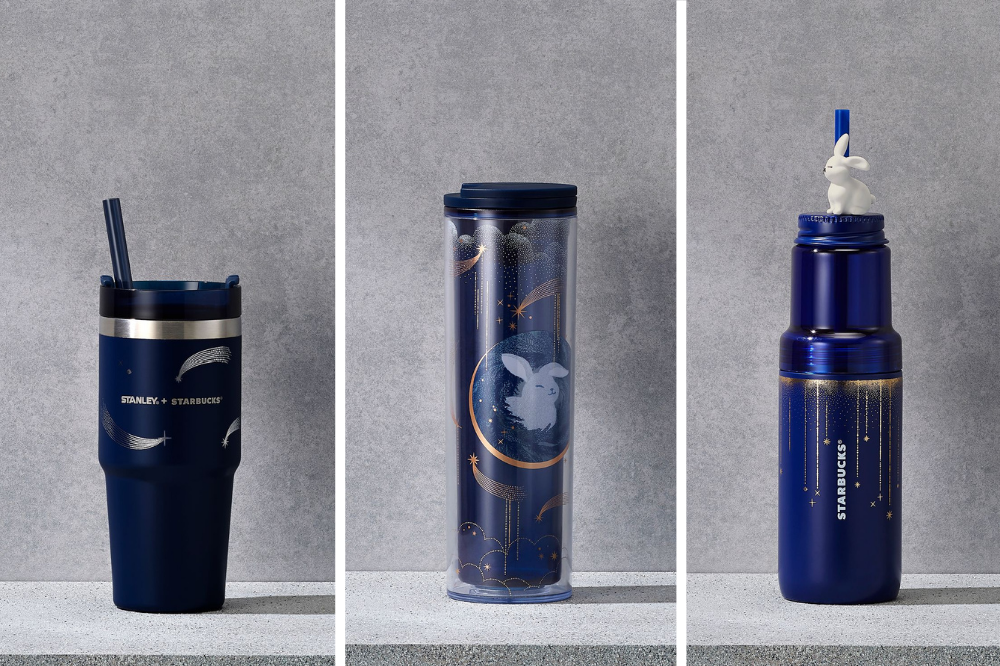 From left: 16oz Cold Cup, $49.90; 16oz tumbler, $30.90; 15.50z water bottle, $50.90
Don't miss out on the Starbucks x Stanley Steel Cold Cup, complete with meteor stars to bring out a whimsical night mood.
If you prefer cuter designs, go for the tumbler and water bottle with rabbit designs. According to the myth, the jade rabbit accompanies Chang'e on the moon, so you can take these drinkware to accompany you on your next coffee date.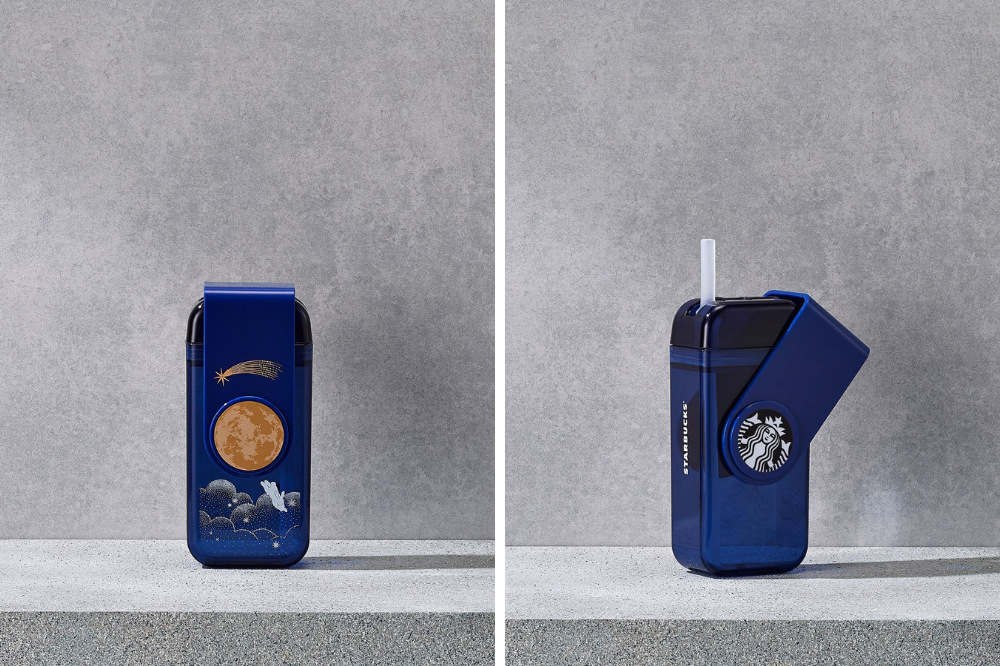 The collection stars this unique 8oz water bottle with a rotating cover and silicone nozzle. It retails at $26.90, featuring the jade rabbit, full moon and the stars soaring in the night sky.
Light blue collection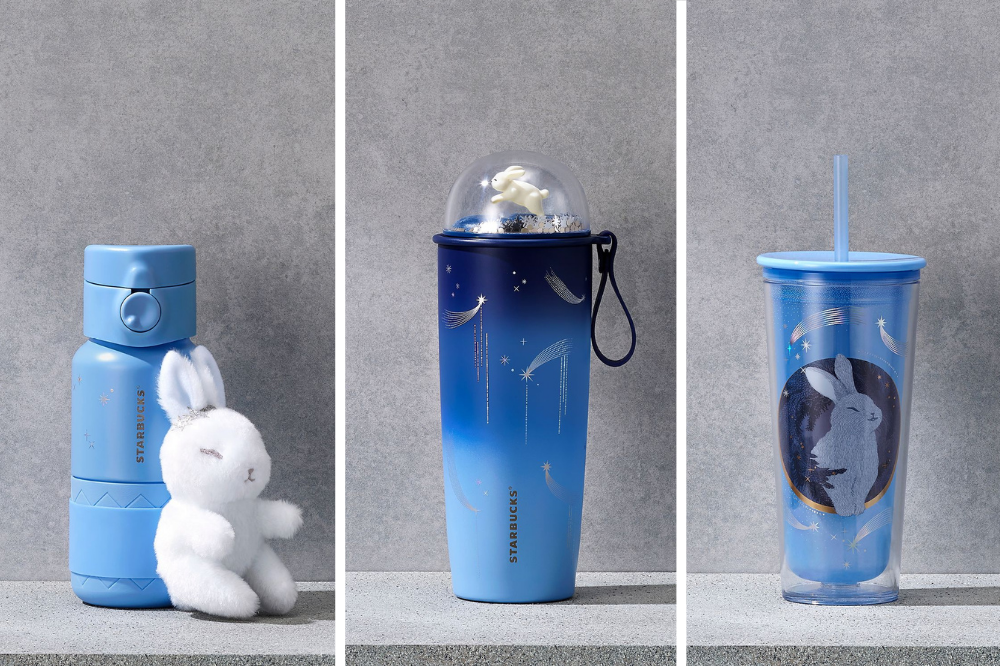 From left: 12oz water bottle with rabbit plush, $69.90; 20oz tumbler, $74.90; 16oz Cold Cup, $26.90
For those who prefer pastel hues to zhng up your soft girl aesthetics, Starbucks has gotchu. The baby blue water bottle comes with a rabbit plush attached to a silicone band, perfect as a gift for your loved ones.
The Dome Lid Stainless Steel Tumbler features a rabbit figurine and glitters on the lid, adding a fun touch to your daily coffee runs.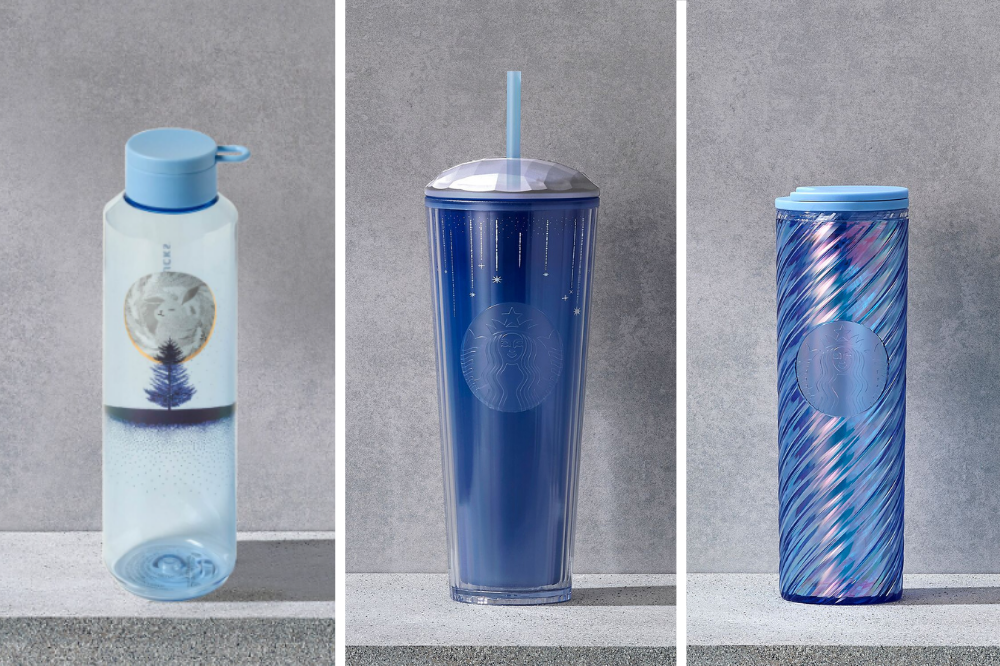 From left: 24oz water bottle, $33.90; 24oz Cold Cup, $34.90; 16oz tumbler, $30.90
Minimalists who prefer simpler designs can check out these light blue drinkware to add to their collection.
Additional accessories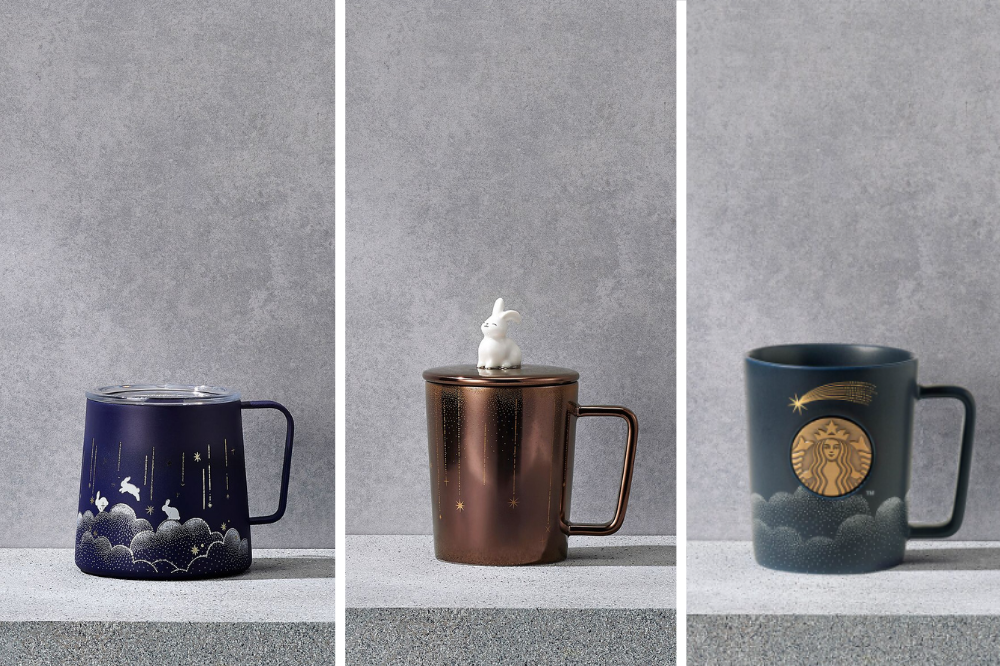 From left: 12oz mug, $49.90; 10oz mug, $45.90; 14oz mug, $34.90
For those who like to pamper themselves with a hearty breakfast and a warm mug of coffee on work-from-home days, you'll need a trusty mug to set the mood. The cute mugs from this collection come in various colours and designs of rabbits and meteor showers.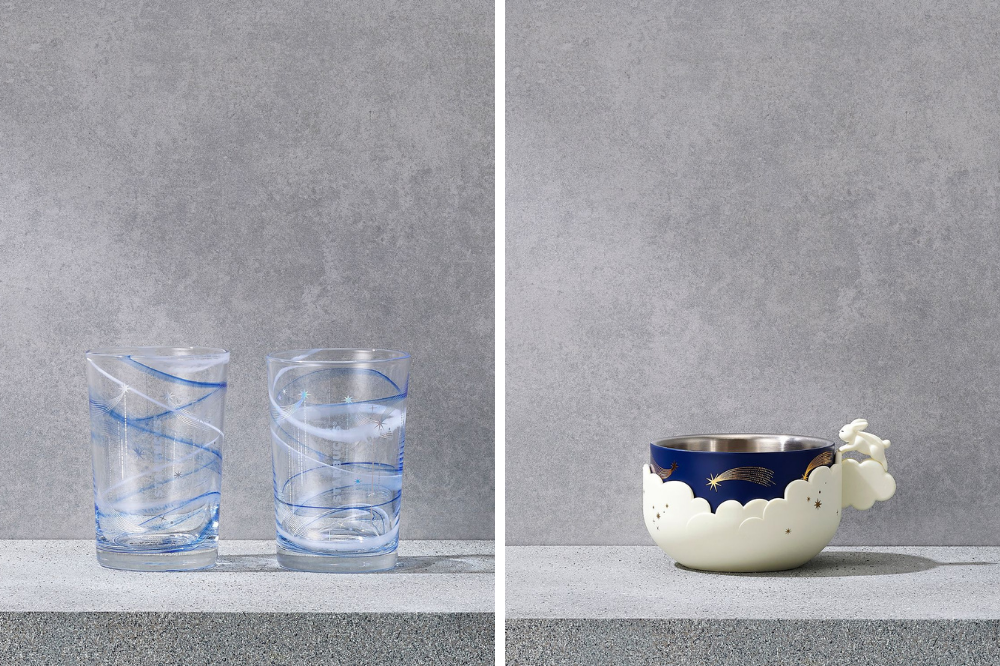 Impress your guests with the 10oz blue meteor marble glass mugs, available at $29.90 per set. Or if you're into unique tableware, opt for the 8oz mug with a rabbit cloud holder, retailing at $34.90.
The New Starbucks Mid-Autumn Festival Collection Has Whimsical Rabbit Designs Under The Moon
As we enter the 8th month of the Chinese calendar, it's impossible to miss out on the endless mooncake deals stealing our attention as we walk through shopping malls. The full Starbucks Mid-Autumn Festival collection will be available from 6 September 2023 onwards on Starbucks' online store and in-stores islandwide. 
While waiting for the collection to drop, look out for the Starbucks Summerfield Collection featuring floral-themed drinkware. 
All images courtesy of Starbucks.
Also read:
Starbucks Singapore's New Summerfield Collection Has Floral-Themed Drinkware & A Picnic Mat For Outdoor Dates