Plastic Surgery In Korea
It's normal to not be 100% satisfied with our looks. Heck, even K-pop idols and Victoria's Secret supermodels will have the occasional bad hair day or a physical flaw they're insecure about. That's why these days, we turn towards plastic surgery as a way to help achieve our beauty ideals. 
But plastic surgery isn't merely for the sake of vanity—it also gives our self-esteem a much-needed boost. To understand the appeal of plastic surgery, we sat down for a chat with Amanda Feng from TSL's video team. Having done plastic surgery in Korea – such as double eyelid surgery and nose fillers – during her early twenties, she shares her experiences here: 
Deciding to have plastic surgery
It all started when she was a young teen. She was never quite satisfied with how her eyes looked in photos, describing them as "very dull and very tired—a bit like one big, one small". She tried everything, from makeup to double eyelid stickers. None of these hacks quite worked for her. 
Amanda was never happy with her eyes in photos and gave up on using double eyelid stickers: "I look into the mirror and I can see two lines—damn ugly." 
She then decided to look for more permanent options, something that would make her eyes look bigger and brighter. Admittedly, plastic surgery is a huge decision, but it was something Amanda had thought about since she turned 20. To her, it wasn't like "one day I woke up and I was like I need to get my eyes done". 
It was something she was pondering over for years, having done the research and having asked her friends who've done similar surgeries. There wasn't exactly a turning point, but instead:
"It was always something I wanted to get done…I felt like this is what I wanted to look like and I've achieved most of it, so I do feel better about myself. I wouldn't say "wah, I'm so beautiful now, I look like a Korean idol now or whatever". It's not true. It's just a small change that I feel happy about." 
As she continues, "I just thought it's a bit like makeup but more permanent. It's enhancing whatever you have". 
The experience of plastic surgery in Korea
Korea, as the mecca of plastic surgery, was Amanda's first choice. After all, when she first considered eyelid surgery in the early 2010s, it was when the Korean wave was just starting to pick up. Besides BTS, Big Bang and Girls' Generation, it was also medical tourism that truly propelled Korea's fame as the plastic surgery capital of the world. 
It's so prevalent in Korea that when strolling around post-surgery, with bandages or splinters, the locals "don't even glance at you." You'll know who the foreigners are because they'll occasionally point and stare, with whispered comments like "oh my gosh" and "her face is swollen". 
Amanda before surgery
Not exactly a surprise since Korea is the most popular country in terms of plastic surgery, with Amanda saying that "people go there to really just do their face". You can even get free minor treatments like fillers or botox at some clinics, if you're already forking out money for a more complex procedure—similar to the concept of banchan (complimentary side dishes).
For those wondering about the cost of it all, Amanda's surgery was under $10K for both eyes but of course, it varies from person to person. It's naturally more expensive in Singapore since it's not as common. Amanda also hints at the normalcy of it all in Korea, jokingly referring to the doctors cutting double eyelids as common as "cutting vegetables". 
Also read:
Being Kicked Out Of A Clique In School Taught Me To Appreciate My Self-Worth
Handling the language barrier in Korea
While on a leisure trip to Korea, Amanda decided to take the plunge. For her double eyelid surgery, she went down with her mum whereas her nose fillers was an impulsive decision made during a holiday in her mid-20s. Based on her online research, she settled on a clinic that was fairly popular among foreigners: they had English-speaking staff and it was centrally-located in Gangnam.  
Yet, she still faced a language barrier. Before flying to Korea, she had a web consultation via Skype with a consultant which was all "a bit rabak lah to be honest". They would ask what you want to get done, offering many different types of packages or methods, but the consultant won't be able to tell you exact prices or procedures till you're there in person. 
Their website wasn't user-friendly either since everything was in Korean, and the research process was "very troublesome". But take in mind that this was almost a decade ago, and now, there are many multilingual liaisons who'll help you get in touch with clinics. 
Going through consultation & surgery
The world of plastic surgery is filled with endless choices—something you'll find out during the consultation. First, they'll ask if you want a permanent or semi-permanent solution. In the case of rhinoplasty aka a nose job, Amanda says that you can either pick cartilage (permanent) or fillers (semi-permanent). 
When it's time for the doctor to step in, it might all seem very intimidating at the start. The doctor will never say "you're ugly or this part is ugly" but be prepared to answer what features you'll like to enhance. In Amanda's words, "it's like he's pointing out every single flaw your face has", but you just have to keep in mind that they're not intentionally roasting you. 
It wasn't perceived as a complex surgery, so the procedure happened right after the consultation. Everything that you imagine to happen before surgery was as per normal: changing into scrubs, being injected with anesthesia and drifting off to sleep. But then Amanda faced one of the worst things that could possibly happen.
Waking up in the middle of eyelid surgery
She woke up right in the middle of her surgery. 
For anyone undergoing surgery of any kind, this seems like the stuff of nightmares—to be awake mid-surgery while in a foreign country. 
What she remembers the most vividly is the scalpel, describing it as "basically a knife cutting into your skin". With the blood dripping into her eyeball and not being able to move, she admits that it was the scariest 10 to 20 seconds of her life. Thankfully, the doctor and nurses soon realised that she was gaining a bit of movement so she was again injected with anesthesia. 
Amanda wouldn't say that her surgery was botched, but to this day, she still likes her eyelid on the other side more—the side that stayed under anesthesia for. 
How people view plastic surgery in Singapore
Plastic surgery isn't anything to ogle over, but you might still end up being a popular topic between your neighbourhood Karens. In Amanda's opinion, plastic surgery in Singapore is "still hovering between taboo and accepted". 
As she says: "People would say "what did she do to her face?" but they don't ostracise you outright. At that time, I think plastic surgery was really not that common among Singaporeans. Most people were just curious."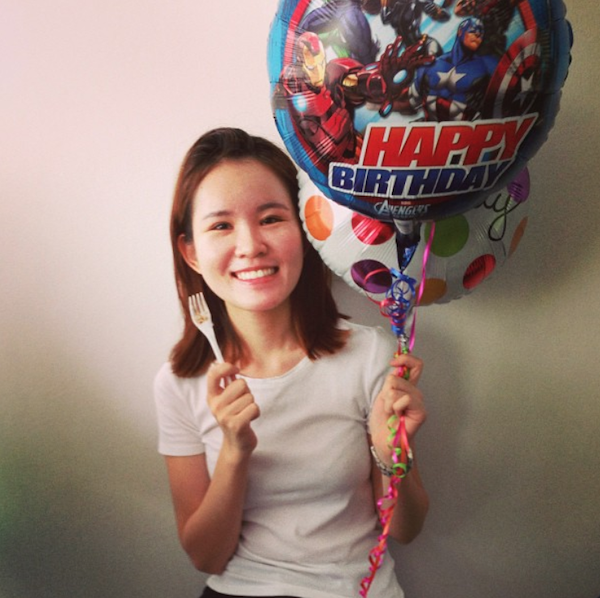 Amanda celebrating her 21st birthday when her eyes were still recovering
On the flip side, it's a "really big no no" for some people—for those who are more conservative or traditional, possibly due to religious reasons. 
While some of her friends were a little taken aback with her new appearance, with one of them even saying "I prefer your previous look", Amanda stood by what she wanted for herself. She shared with them that she never liked her previous look and that she was finally happy.  
These days, there's nothing wrong with one admitting that they've done plastic surgery. Amanda doesn't announce it to everyone she meets, but she doesn't hide it from her circle of friends or family either. She suggests that people form connections over shared experiences instead.

"I think it's high time people stop dehumanising plastic surgery. It's so common, but some people are afraid to admit that they have done something or they want to do something. I think it's a great community to share experiences."
Getting Plastic Surgery As A Confidence Booster
Everyone has their own opinions on plastic surgery, but it's evidently "not just for cosmetic reasons". In Amanda's case, she had a major confidence boost and she does feel better about herself now—she appreciates the small, everyday things like being able to draw her eyeliner without it smudging. 
But deciding whether or not to get plastic surgery is a big decision. Amanda's advice? First, make sure to internalise the idea, to "step up and say I want to get this done on my face". It also helps to mentally prepare yourself for what your friends and family's reactions might be. 
Then comes doing a ton of research, whether it's hearing about the experiences from people who've already done it or scrolling through plastic surgery forum posts. And lastly, making sure that you have the financial means for your chosen procedure. 
Plastic surgery gave Amanda a confidence boost
As someone who has gone through double eyelid surgery and nose fillers, Amanda emphasises that it has to be your own choice, not because your partner or friends have been pushing you into it.

"If someone pressures you into getting work done, I would reevaluate that relationship. If you really want to do it, make sure it's for yourself."
All images courtesy of Amanda Feng. 
Also read: 
Double Eyelid Surgery In Singapore: Plastic Surgeon Shares What You Need To Know Before Undergoing The Procedure